While backpacking through Malaysia, Myanmar, and Hong Kong earlier last year, I found my new favorite travel buddy. It's soap.
I built several days into my trip to laze around on beaches and by the pool in between sightseeing of cities, markets, and temples. But traveling out of a backpack meant that my pack inevitably became filled with dirty clothes and sandy towels. Combine that with the area's high humidity, and bacteria and stink were unavoidable.
Luckily, I brought along a leak-proof travel container of Dr. Bronner's soap to clean both myself and my gear throughout the trip. The soap is highly concentrated, biodegradable, and can be used to clean nearly anything.
Cleaning Everything From Towels To Teeth
I initially bought Dr. Bronner's eucalyptus liquid soap -- which now instantly reminds me of dreamy days on Asian beaches -- for laundry. I'd booked a small cabin in the Perhentian Islands right on a beach with a teeming reef that I could access by simply putting on a snorkel and walking into the ocean from my deck. The only downsides were all of the sand I tracked back into my cabin, and the mix of dried seawater and sweat stains the shorts, tanks, and dresses I was wearing daily.
That's where the versatile Dr. Bronnner's came in. The highly concentrated liquid soap is quite thin, so it's important to carefully pour an appropriate amount for whatever you're cleaning. Dr. Bronner's website lists recommended dilutions, but rest assured that a small container can be used for weeks if squirted sparingly.
Daily clothes washing is a travel habit I developed walking the Camino de Santiago with a pack I had to keep under 15 pounds, and thus couldn't bring a ton of extra outfits. In the shower, I'd often use Dr. Bronner's first to wash my swimsuit, and then to wash my hair and body. I'd then fill up the sink, add a squirt of soap, and handwash the rest of the clothes I'd worn that day.
But that's not where Dr. Bronner's usefulness ends. Need to shave? Dr. Bronner's works just fine as a lubricant. Water bottle getting a little green after laying out in the heat? Dr. Bronner's works as a dish soap. The stuff is so safe it can even be used as toothpaste in a pinch, or to wash fruits and vegetables.
Who Was Dr. Bronner?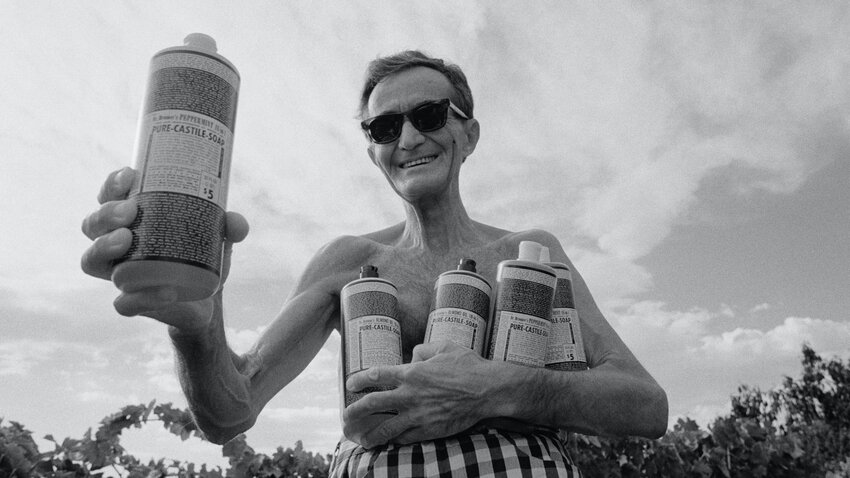 First of all, Dr. Emmanuel Bronner wasn't a doctor. He called himself a doctor and a rabbi, and he did complete a soapmaking master certificate from a guild school, and earned a university chemistry degree. But he never earned a doctorate.
Bronner was a third-generation Jewish soapmaker from Germany who fled the holocaust to the USA, but was unable to convince his parents to join him -- they later died in concentration camps. He began traveling around the U.S. lecturing from his soapbox about world peace and his "Moral ABC" philosophy, which is now printed on every bottle of his soap. When he refused to leave a dean's office after giving a lecture on his philosophy at the University of Chicago, he was arrested, admitted to a psychiatric institution, and given shock treatments. He escaped eight months later, and after restarting his peace and love roadshow, he started to give away his soap. Upon realizing the soap was more popular than his words, he started to print his lectures directly on the labels.
Dr. Bronner passed away in 1997, but the company he left behind is still run to this day by his grandson, Jim Bronner.
What's In The Soap?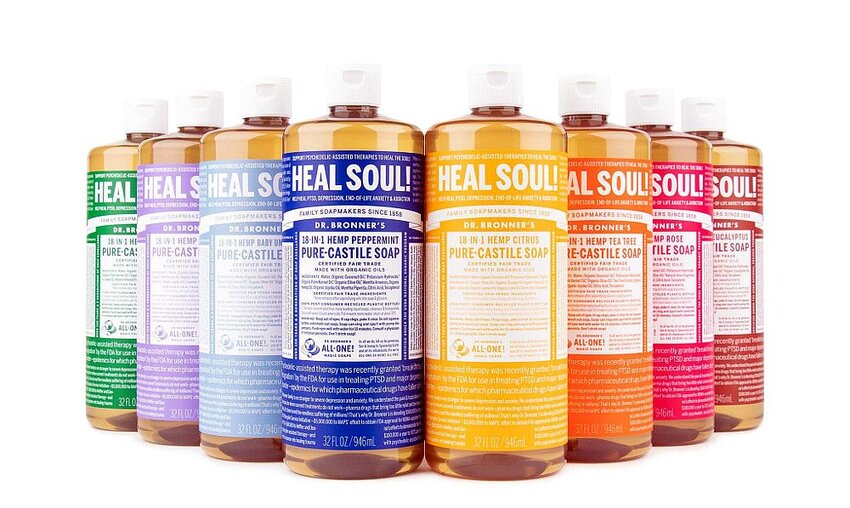 Dr. Bronner's is a pure castile soap. Castile soaps, named after olive oil soaps first made in Castile, Spain, are made with plant oils, making them non-toxic and biodegradable. Dr. Bronner's contains olive oil, as well as coconut, palm, hemp, jojoba oils, and all natural scents. You can even try out the most popular scents with this sampler pack.
The soaps were originally sold in a sinus-clearing peppermint scent, but now come in unscented, almond, tea tree, and more. Dr. Bronner's makes both liquid and bar forms, and if you go for the bar form, Dr. Bronner's recommends grating or chopping it into small pieces and dissolving it. The grated bar is more moisturizing than Dr. Bronner's liquid soaps, and would be ideal for trips where you need to pack light, but also have access to water.
Activism, Rather Than Advertising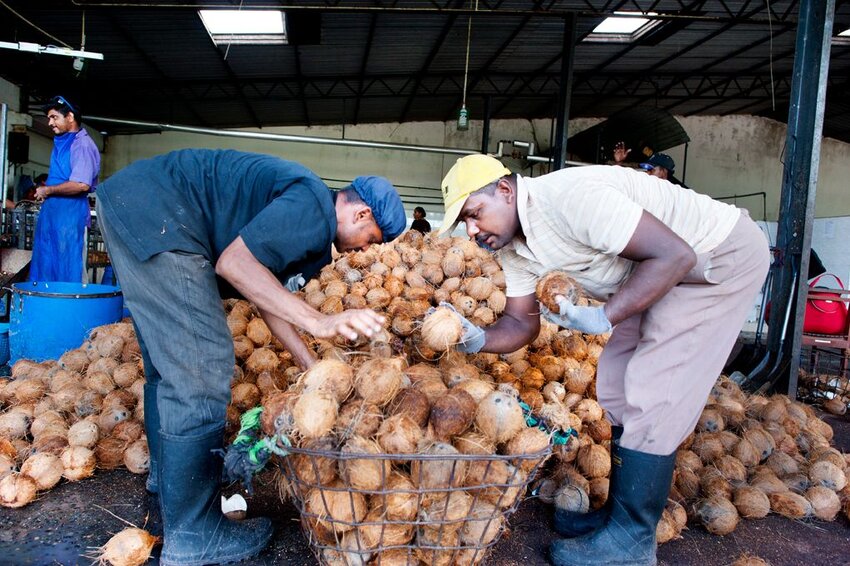 Dr. Bronner's ingredients come from fair-trade agreements with small-scale farmers around the world. In keeping with its late founder's desire to unite the world, the brand works with olive farmers in both Israel and Palestine, sources coconut oil from Sri Lanka and Samoa, gets palm oil from Ghana, and buys its mint oil from India, just to name a few partnerships.
Dr. Bronner's is kind to the environment, to its suppliers, and to your body. But just as importantly, it can clean just about anything, and is perfect for travelers. Take it on your next trip, and keep everything (everything!) smelling fresh.