I wouldn't normally recommend a piece of clothing that doesn't look 100% great on me — especially one I initially bought for the wrong reasons. In truth, I was seduced by the picture of Eddie Bauer's attractive, form-fitting Women's IgniteLite Stretch Reversible Jacket in the pretty dusty blue option. But when it arrived, I was disappointed. I loved the color, but I was expecting something longer and trimmer-looking, instead of the boxy-shaped jacket I saw in the mirror.
To appease my vanity, I considered exchanging it for the smaller size or returning it altogether. But the falling winter temperatures reminded me of why I'd spent more money than I normally would on a jacket: to participate in my favorite outdoor sports despite cold, wet, or windy conditions and to have something comfortable to wear when I transition into warmer settings. As a travel writer accustomed to packing lightly, I make sure every piece of clothing serves multiple purposes. To this end, my new jacket, which is part of Eddie Bauer's First Ascent collection and has been tested on the world's highest peaks, delivered.
Warm Yet Light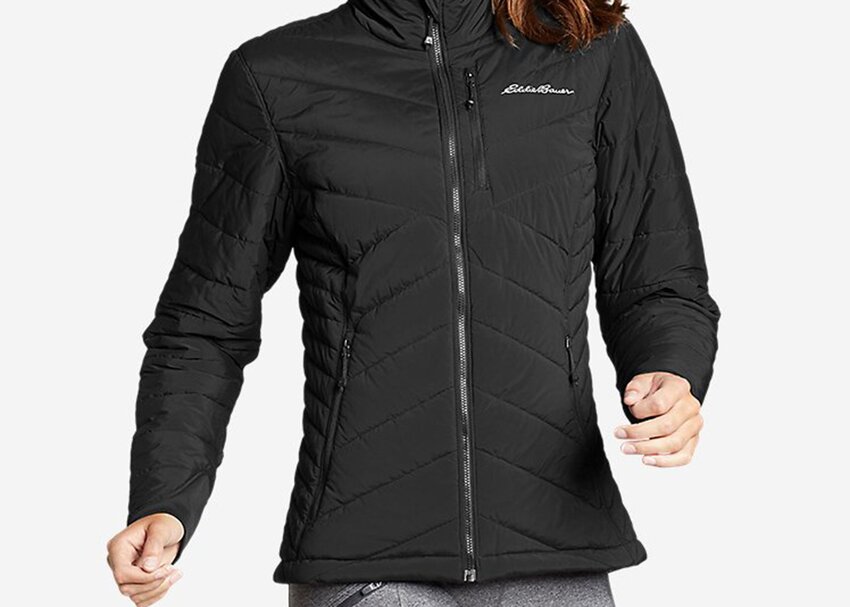 The waist-length combination of stretch nylon and spandex comprising the insulation, lining, and shell (weighing a mere 12.8 ounces) worn over a medium-weight polyester hoodie and a long-sleeved base layer enabled me to skate, hike, and cycle freely and comfortably. The jacket zipped up tight to my chin without feeling restrictive and, along with the drawcord at the waist and the snug fitting sleeves, withstood cold winter winds in below-zero temperatures. My girlfriends looked skeptical that this jacket could keep me warm as they opted for long, heavy coats when we skated together around the outdoor rinks, but I felt great and vowed never to wear a heavy coat ever again.
Thanks to the durable water repellent coating on the outer fabric, I stayed warm, dry, and cozy on a recent cycling jaunt when the weather turned suddenly from light snow to gusty, freezing rain. Because of the breathable material, I was able to conquer hills and oncoming winds during the hour-long ride home without overheating.
Recently, following an afternoon of cross-country skiing, I reversed my jacket and wore it gray-side out to have fireside drinks with friends. Exchanging my base layer for my favorite cream-colored, spaghetti strap top and ski pants for my light black wool ones, I kept on the jacket and seamlessly transitioned it from day-to-night without overheating.
The Hood Takes it up a Notch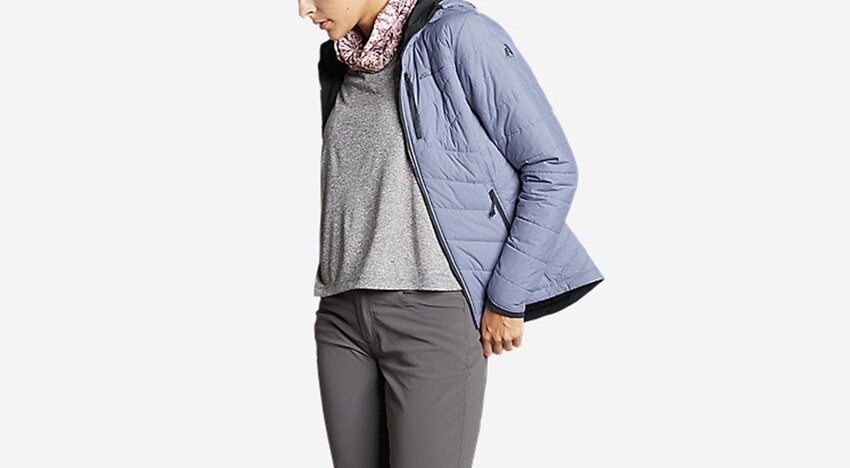 There's also an additional version of the jacket that comes with a non-detachable, insulated and elastic-bound hood, for a snug fit. The hood increases the jacket's warmth rating to minus 10 degrees Fahrenheit while adding less than two ounces to the total weight.
I still prefer the versatility of my hoodless version for warmer weather activities and nights out. If I ever need something more substantial — which hasn't happened yet — I'll just throw a longer down coat over my now favorite, almost new jacket.