When you travel, you pretty much need a shirt, a pair of underwear, and a pair of socks for every day that you're away from home. But you can get by with a lot fewer pairs of pants, if you pack the right ones.
While a nice pair of jeans has never let anyone down, your One True Travel Pant should probably be a bit more formal, in case you have to go into an office, or get reservations for a nice dinner. But those pants still need to be comfortable enough to wear all day, easy to clean without a washing machine, and built to endure lots of walking without stretching out or wrinkling. I've yet to find a pant that ticks all of those boxes as well as the Everlane Performance Chino.
Walk the Walk
For a completely reasonable price of $68, the Performance Chino looks just like a nice pair of Dockers, but wears like a hiking pant. The 4-way stretch material means your movement is never compromised, and you'll never feel the pants pinch if you eat a big meal or have to fold yourself into an airplane seat for several hours.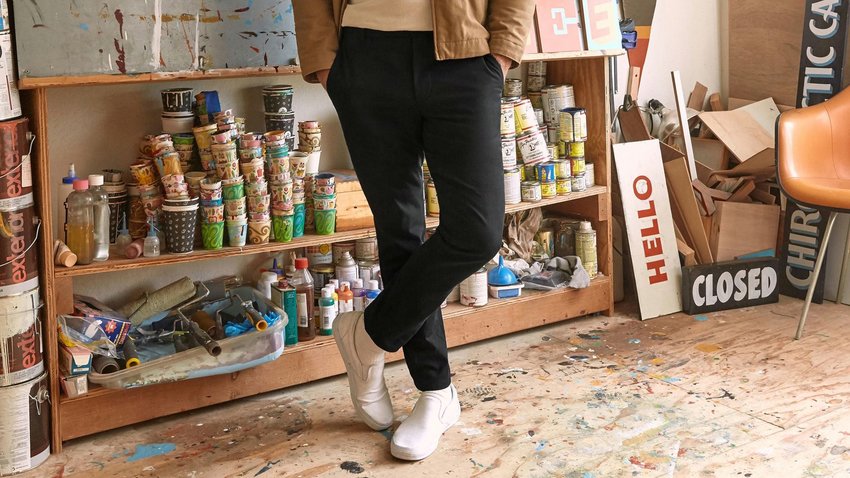 The secret is the 6% elastane blended into the pants' otherwise completely cotton fabric. There's no nylon or polyester like you'd get in most "performance" pants, which means they don't have a weird sheen, and they don't make an unsettling crackling sound whenever you take a step. They're formal-enough pants that you can dress up or down, but with a little extra stretch that goes a long way.
And while they don't feature a waterproof coating like some more technical pants to completely repel water, they are sweat wicking and fast drying, so if you were to stain them in the middle of a trip, it wouldn't be too difficult to spot treat them in your hotel sink and hang them overnight.
The Performance Chino is available in every color you'd expect chinos to come in, and in two different fits: slim and athletic. I've been wearing the slims for over a year, and appreciate that it isn't too skinny, but has a flattering taper. They look as good on me as any pants that I own, but without sacrificing range of motion. Plus, every Performance Chino is backed up by Everlane's Uniform 365 day guarantee. If they get a hole, lose a button, fade in the wash, or have any other reasonable issues, Everlane will replace them with a new pair for up to a full year.