If you're like me, then you will agree: traveling is wonderful, but packing is loathsome. When preparing for a big trip, I'll fuss over which outfits to bring, the toiletries I'll need, and how to fit it all inside my suitcase. But as a chronic over-packer, I mostly struggle with the age-old battle of form versus function: how can I bring practical, wearable items while still maintaining some semblance of personal style?
This very question was how I found Forsake, a footwear company dedicated to travel and adventure. A couple of years ago, I was headed on a 10-day trip to Spain, which included a wedding in Costa Brava, sightseeing in Barcelona, and several days of hiking in Mallorca. Somehow, I had to pack everything I needed for these various events into a carry-on suitcase. At the time, it seemed impossible.
Aside from finding a wrinkle-free dress for the wedding, bringing appropriate shoewear was my biggest problem. We love Cole Haan's All-Day trainers for urban exploration, but I needed a boot with ankle protection on the rugged trails of Mallorca, and a sneaker to wear while walking around Barcelona. I didn't want to haul my heavy-duty hiking boots across the Atlantic and I certainly didn't want to wear them in a stylish European city. What was I to do?
Sneakerboot Saves the Day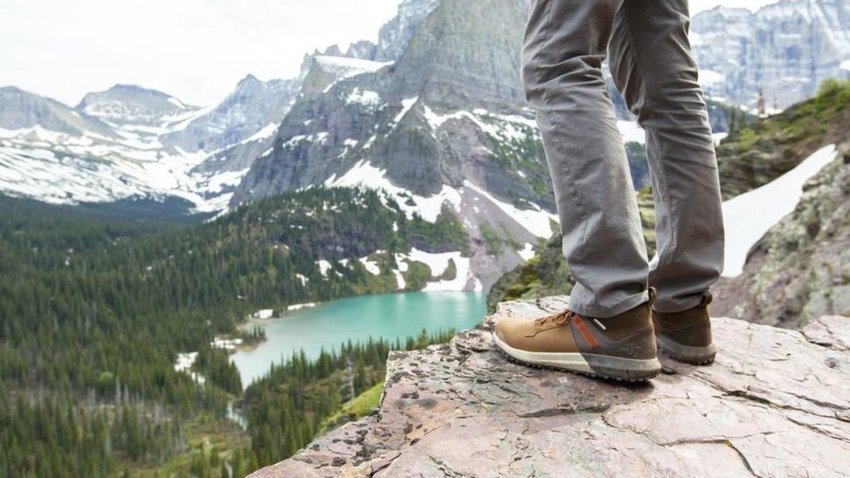 Thankfully, Forsake's Patch Boot for women solved my predicament. The shoe company designs something called a "sneakerboot," which is exactly as it sounds — an all-weather shoe that fuses the functionality of a hiking boot with the lightweight sportiness of a sneaker.
Available in a variety of two-toned colors, I chose the Fog/Azure, as I wanted a neutral color to play down the boot's ruggedness. However, it was a difficult choice to make. I also loved the classic appearance of the Brown/Navy and the sleekness of the Black/Tan. With so many colors to choose from, Forsake makes it easy to find a boot that fits with your personal style.
In the end, the Patch worked perfectly on my trip to Spain. It provided good grip and stability on the primitive European trails, while still managing to be breathable and comfortable on city streets. The shoes adapted to my needs throughout the trip, and since then, have become a favorite for every day as well.
As a combo boot and sneaker, Forsake shoes are comfortable for walking, they have good ankle support, and they're extremely waterproof. In the winter, the leather uppers keep my toes warm, while the sturdy outsole prevents slippage on the ice. During spring, aka mud season in Maine, they keep my feet dry on my favorite walking trails. And when I wear my Patch boots out and about around town, I get complimented on them all the time.
A Wide Range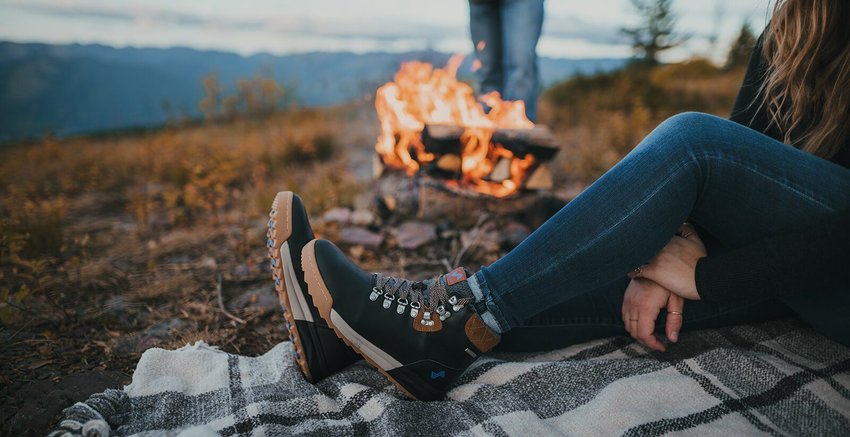 In addition to shoes for women, Forsake offers a wide range of footwear, including sneakerboots for men. The men's Patch equivalent is called the Halden, and it comes in two basic colors, Tan/Navy and Black/Tan. It's a sharp-looking shoe that has all the versatile qualities I love in the Patch, except that the design is a bit more burly.
The Range is another durable sneakerboot available for both men and women. It has a wider footprint for hitting up gnarly trails, but comes in both a high and a low style, depending on whether you prefer added support. The low style looks exactly like a sneaker but offers the performance of a boot, and with this one-two punch, you'll never have to decide between the two again.
Best of all, Forsake is aware of the environmental impact of their product. The leather used in their shoes and boots is sourced from reliable suppliers at the Leather Working Group, and in 2019, Forsake was declared Climate Neutral Certified, using their purchased carbon credits to support rainforest conservation in Brazil.  All in all, Forsake makes a great shoe and is a good company for conscious travelers and outdoors people who want utility, ruggedness, and a little bit of flair in their footwear.