Geography buffs, world travelers, and topography nerds can all agree on one thing — maps are pretty cool. Not only are they educational and inspirational, but they also evoke a sense of nostalgia or a feeling of home. And these days, maps aren't just for your glove compartment. They can be carved out of wood, etched onto drinking glasses, or turned into personalized works of art. Here are ten holiday gift ideas for the map-obsessed person in your life.
Carved Nautical Maps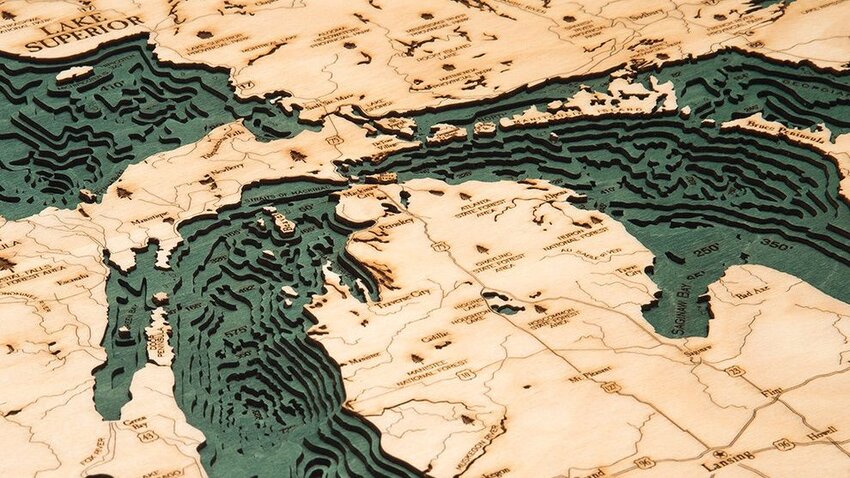 Map enthusiasts will love getting up-close-and-personal with these intricately carved nautical maps from Woodchart. The beautifully crafted pieces may resemble abstract art installations from afar, but upon closer inspection, they reveal themselves to be detailed maps with chiseled water depths. Since the company is able to create maritime and freshwater maps from various locations across the country, including Cape Cod, the Great Lakes, and Lake Tahoe, most people will be touched by the sentimentality of this personal gift.
Buy it here: 3-D Nautical Wood Chart | $178-$298

Atlas of the World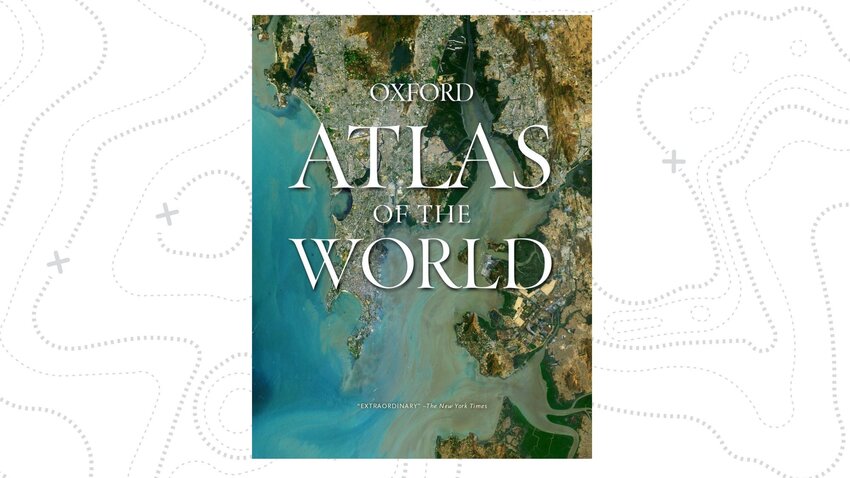 If you know someone who would rather study maps than read a book, the Oxford Atlas of the World will satisfy their curiosity for years to come. This particular atlas is both thorough and sizeable and is sure to be a welcome resource in any library. In addition to meticulous topographical maps of the seven continents, the atlas includes detailed demographic information on countries, cities, and regions around the world. It's also truly beautiful to look at, and is sure to quench any geographer's insatiable thirst for knowledge.
Buy it here: Atlas of the World | ~$80

Map Coasters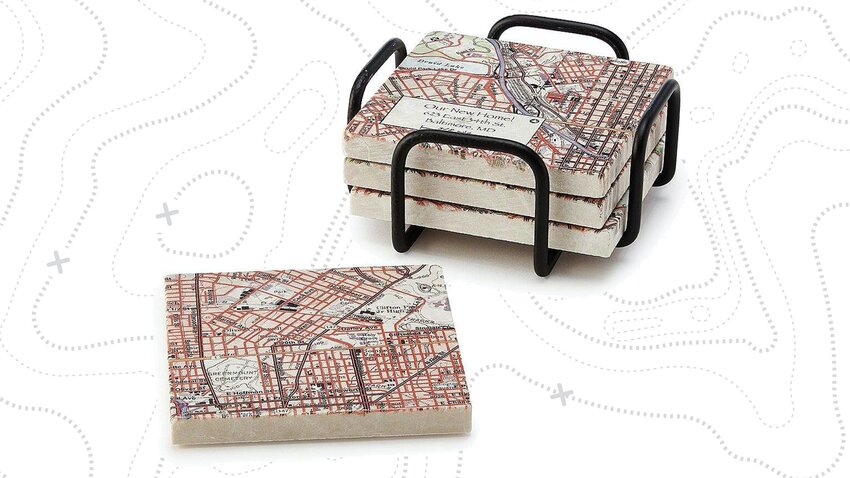 Coasters make great gifts to start, but when they feature maps, they're sure to be a hit. Uncommon Goods sells coasters that can be personalized to display any neighborhood based on a given address. It's a thoughtful gift for anyone who is fond of maps, especially if that person is a new homeowner or a recent transplant. The set of four coasters can be placed together to view the larger map and for an additional $10, the gift can be shipped with a coaster stand for easy storage.
Buy it here: Custom Map Coaster Set with Stand | $75

Cartographer's Toolkit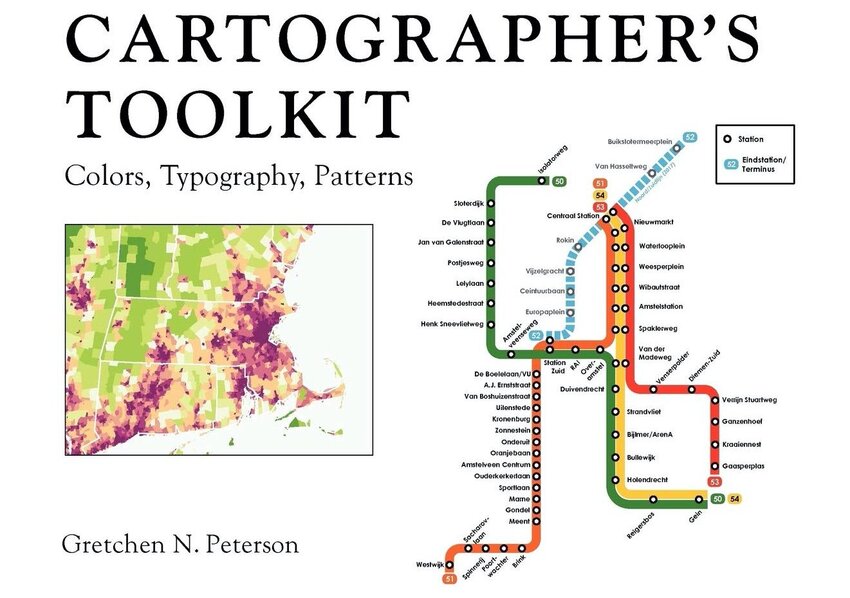 Some people like to study maps and other people like to draw them — this gift is for the latter. The Cartographer's Toolkit is the ultimate resource for someone who wants to learn how to accurately produce maps of their own, which is a bit more complicated than it might sound. From choosing a color palette and typography to understanding how to create the correct composition, this book explains it all. Even better, it lays the information out in a clear straightforward manner, so cartography rookies won't be intimidated to learn a new art form.

Buy it here: Cartographer's Toolkit | ~$40

Personalized Map Art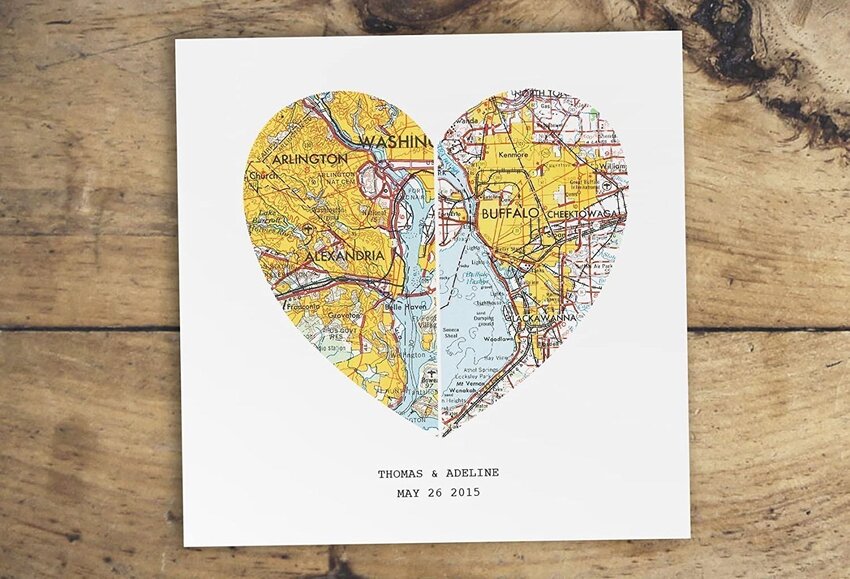 This sweet and personalized gift is perfect for the map-loving duo. The handcrafted print fuses two distinct maps to create the image of a heart. Whether the maps represent the individuals' hometowns or their favorite places to travel, it's a beautiful nod to people sharing a life together. Since the piece is highly customizable, from the map locations to the typeface, the buyer maintains most of the creative control regarding the artwork. Framing is also an option for an added cost. The end result is a thoughtful, special, and totally unique gift that will bring two people lots of joy.
Buy it here: Personalized Heart Map Art Print | $55
Earth Jigsaw Puzzle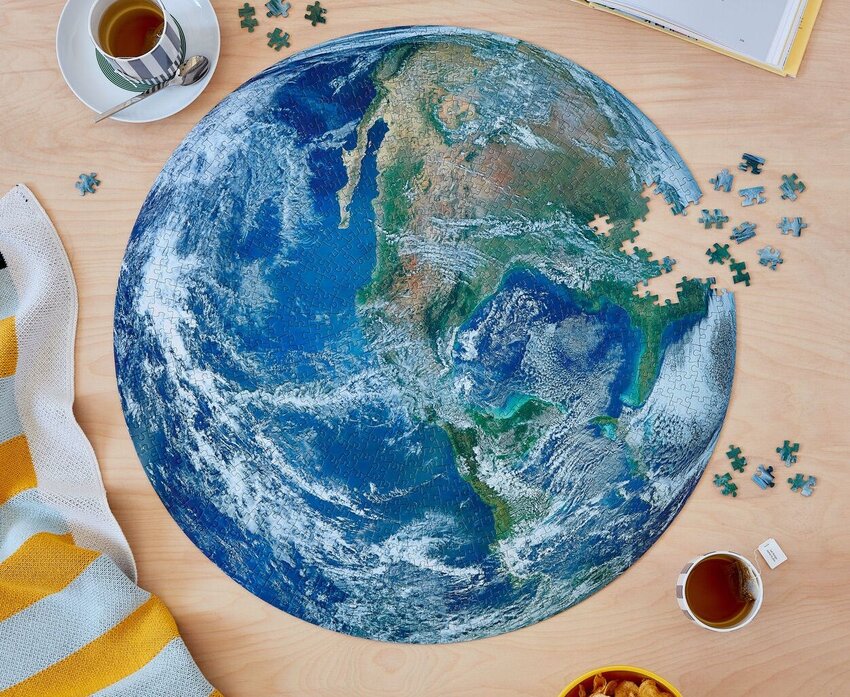 Puzzle addicts and map lovers unite! This incredible 1,000-piece Earth Jigsaw Puzzle, available from the MoMA Design Store,  will thrill anyone who's looking for a challenge. The brain teaser, which depicts a NASA photo of the Pacific Ocean and the Western Hemisphere, is like putting together a highly detailed map. At 25.6 inches in diameter, the circular puzzle is rated medium to high in difficulty, with cloud formations and topographical colors adding to the intrigue. Best of all, 10% of Earth Puzzle Sales are donated to wildlife and habitat conservation groups, which makes the purchase all the more worthwhile.
Buy it here: The Earth Jigsaw Puzzle | $25

State Gazetteer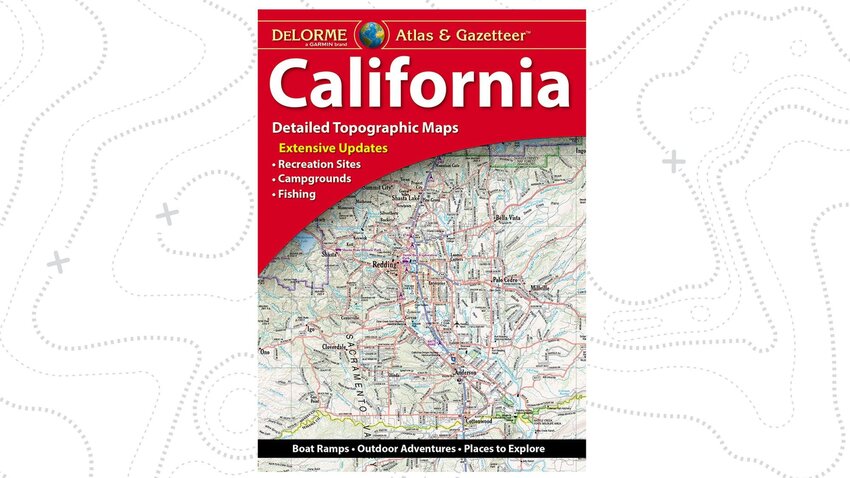 What's better for a map lover than a geographical booklet of the place they live? A handy resource for travelers, Delorme makes individual Atlas and Gazetteer Paper Maps for all 50 states. It's a particularly useful gift for anyone who uses maps as a means for exploration. Each page in a gazetteer features a detailed map grid, with key infographics that can't easily be found on internet maps. Over the years, I've used my gazetteer to find parks, campgrounds, hikes, dirt roads, historic sites, canoe launches, fishing spots, and scenic drives. They're excellent resources for someone who likes to explore, and they'll serve as a tried-and-true adventure guide for the travel-loving wanderer.

Buy it here: DeLorme Atlas & Gazetteer Paper Maps | $20-$25


Map Glassware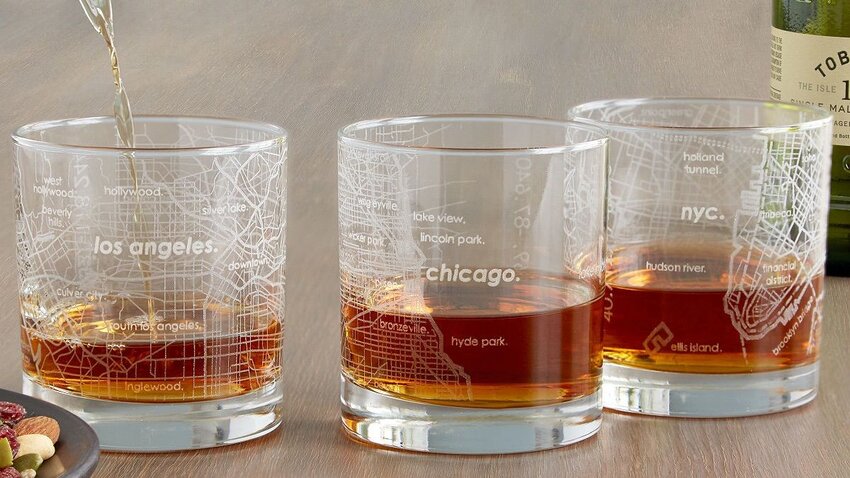 Even if they didn't love maps, anyone would appreciate sipping their bourbon from these stylish map glasses. Etched into each piece is an accurate urban map that encircles the glass. Sold individually, it's possible to buy glasses representing several destinations for a complete set.  It's a perfect, personalized gift to commemorate a beloved hometown or a favorite destination. I was given these glasses in a set of four, each glass depicting a different U.S. city where I had lived. Not only do they bring back fond memories of my favorite places, but they're also excellent for telling glasses apart when friends are over for drinks.

Buy it here: Urban Map Glass | $16

Solar System Pop Chart Map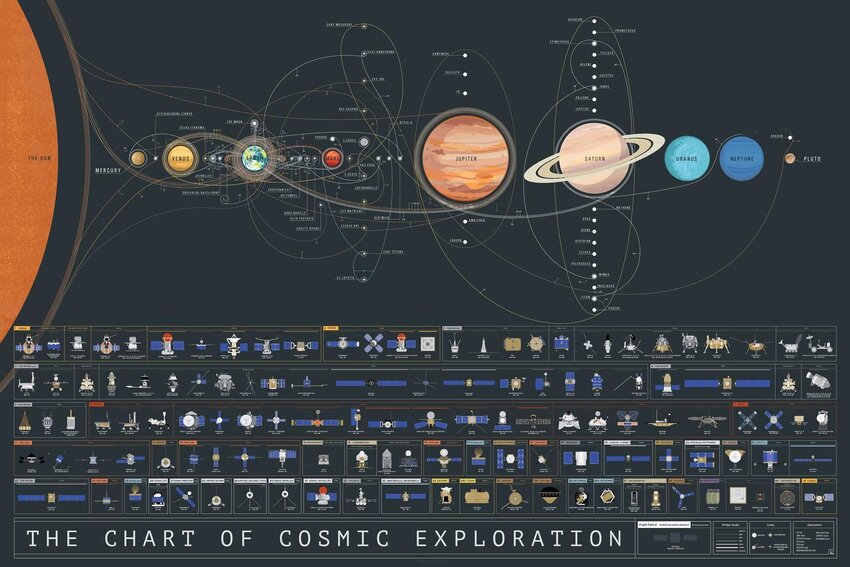 When maps of the Earth aren't enough, it's time to start exploring the universe. This mesmerizing Solar System Pop Chart Map will enthrall anyone who has an interest in cosmic exploration. The color-coded chart outlines the trajectories of every single exploratory spacecraft that has been launched from Earth. Tracing the path of over 100 instruments, the handmade map offers a fascinating perspective on our relationship to other planets in the solar system. PopChart also offers numerous other chart maps, like the Compendious Coffee Chart, the Very, Very Many Varieties of Beer, and Pro Football Stadiums. All prints can be mounted on a panel or purchased in a black, white, or walnut frame at extra cost.
Buy it here: Solar System Pop Chart Map | $40 - $185
Scratch Off Travel Map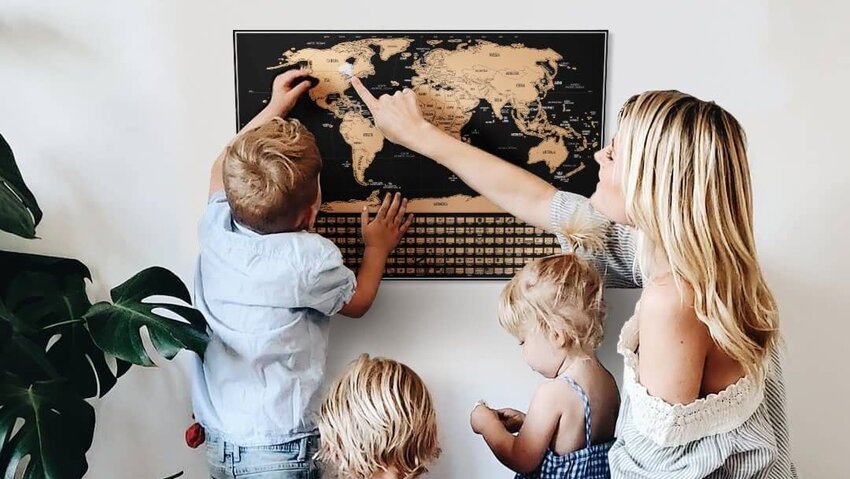 World travelers are always trying to find creative ways to document their adventures, and this Scratch Off Travel Map does just that. The black and gold poster depicts a map of the world, allowing travelers to scratch off the places they've been to reveal bright colors beneath. The map also features world flags that can be scratched off for an added dose of color. The conversation piece can be used to remember someone's beloved travel adventures, while also serving as inspiration for their next big trip.
Buy it here: Landmass Scratch Off Map of the World | ~$18