Going green is no longer a trend, it's a necessity. More people are choosing to support companies that are committed to sustainability, preferring to buy products that are friendly to the environment, free of plastic, or produce zero waste. Since purchasing eco-friendly products is a small step toward making a positive impact on the planet, here are ten gifts that would be appreciated by the eco-conscious traveler.
Plastic Free Toiletries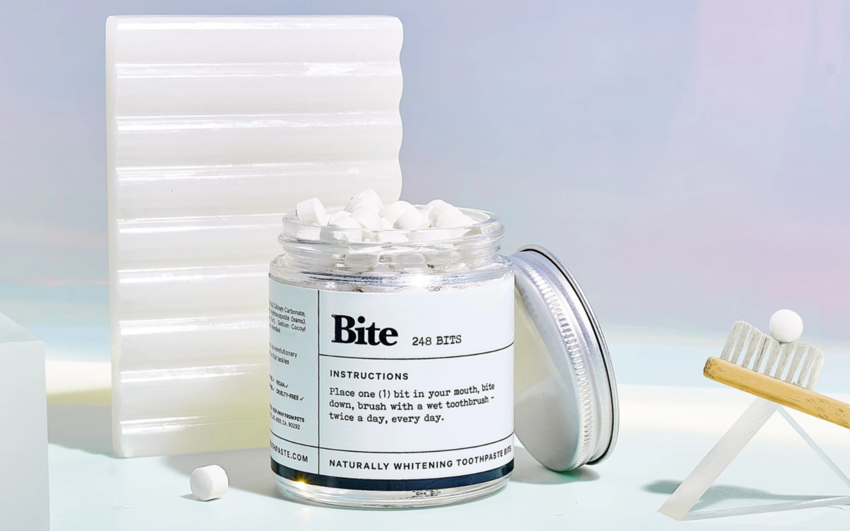 Eco-Friendly Travel Utensils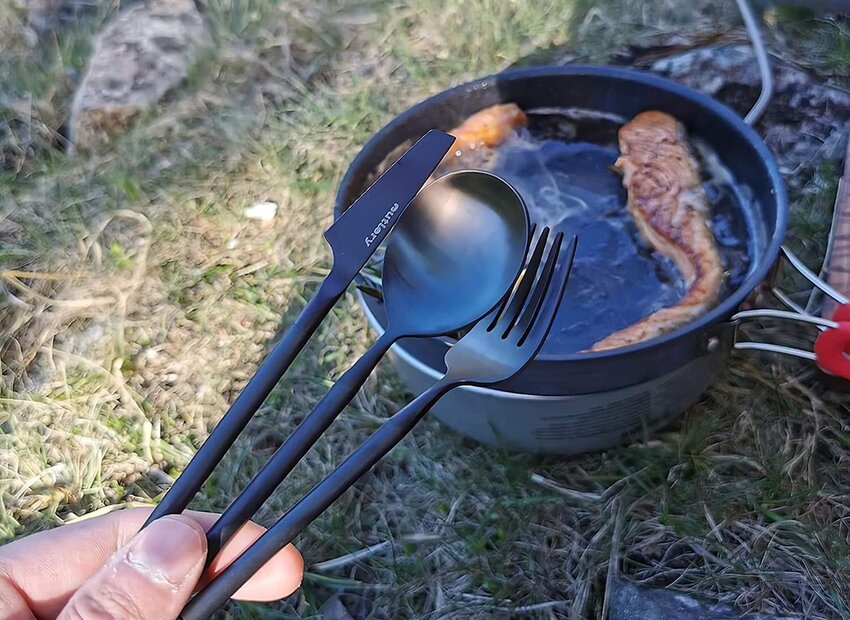 One of the simplest ways to be more conscious of the environment while traveling is to bring your own cutlery and straws. Originally funded from a Kickstarter campaign, Outlery sells an ingenious portable cutlery kit, featuring stainless steel utensils that fit inside a conveniently-sized travel case. For smoothies and iced coffees on the go, this Printed Straw Kit from United By Blue features two stainless steel straws, a silicone tip, and a bristled cleaning brush, all of which fit inside a handy case. With these two kits, travelers will never have to use plastic forks or straws again.
Buy it here: Outlery Portable Stainless Steel Cutlery | $40
Buy it here: United by Blue Printed Straw Kit | $15
Travel Yoga Mat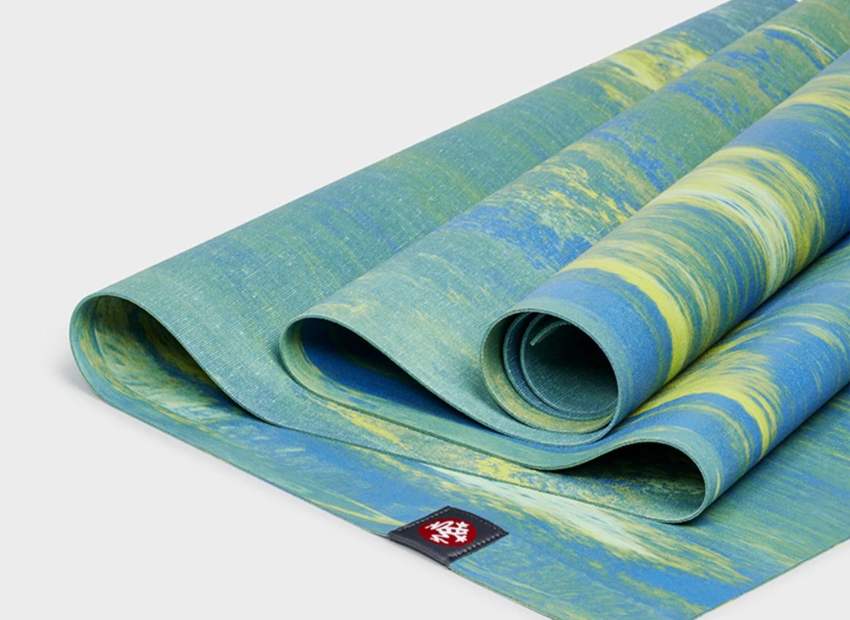 For the traveling yogi, an eco-friendly and lightweight yoga mat is essential. Made from sustainably harvested tree rubber, the Eko Superlite Travel Yoga Mat from Manduka is as light as they come. Unlike other yoga mats, which are bulky when rolled up, the Eko folds up into the size of a laptop, which means it fits inside of a suitcase. The mat itself is grippy, with a non-slip texture that will keep hands and feet stable when moving through a morning vinyasa flow. Plus, it's biodegradable and made in a zero-waste manufacturing facility, which makes it a no-brainer for the eco-conscious.
Buy it here: Eko Superlite Travel Yoga Mat | $44

The Lorax Collection Sweatshirt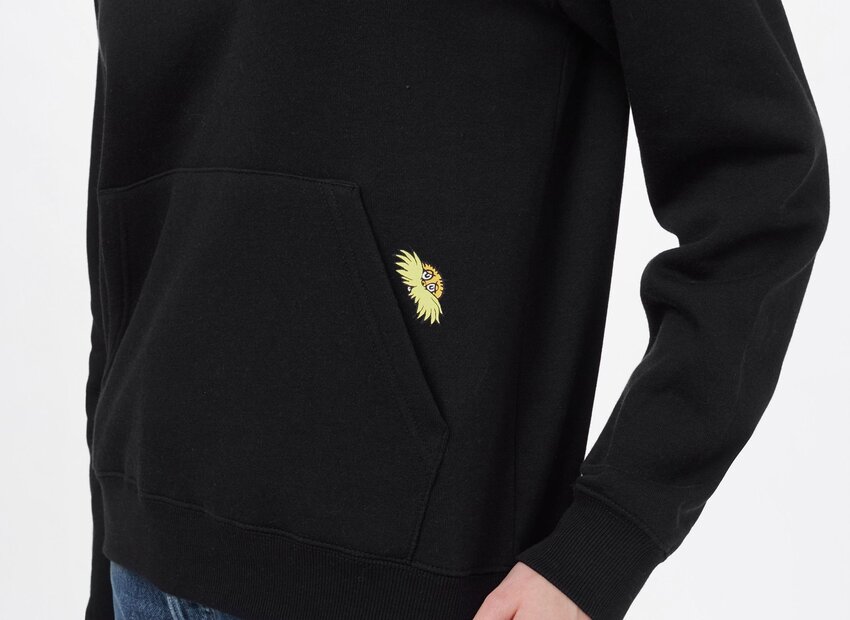 Sustainable Down Jacket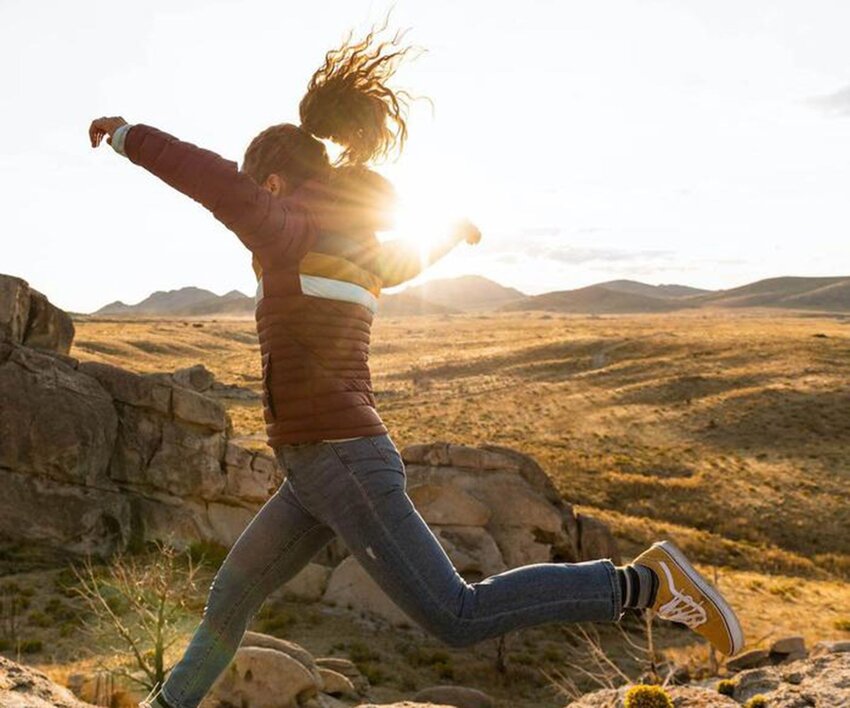 Adventure travelers love down jackets and for good reason. For one, they're warm, and they can double as a pillow or a blanket in a pinch. They also pack down easily, fitting into a suitcase or backpack without taking up too much space. For a sustainable option, Cotopaxi features a hooded down jacket for men and women that contains responsibly sourced down, while the company itself is known for its ethical and eco-friendly practices. Available in an array of bright colors and featuring vibrant stripes, these jackets are truly a standout in the outerwear department. They also come with a convenient stuff sack, making them ideal for travelers on the go.
Buy it here: Fuego Hooded Down Jacket (Men's) | $250
Buy it here: Fuego Hooded Down Jacket (Women's) | $250
Solar Charger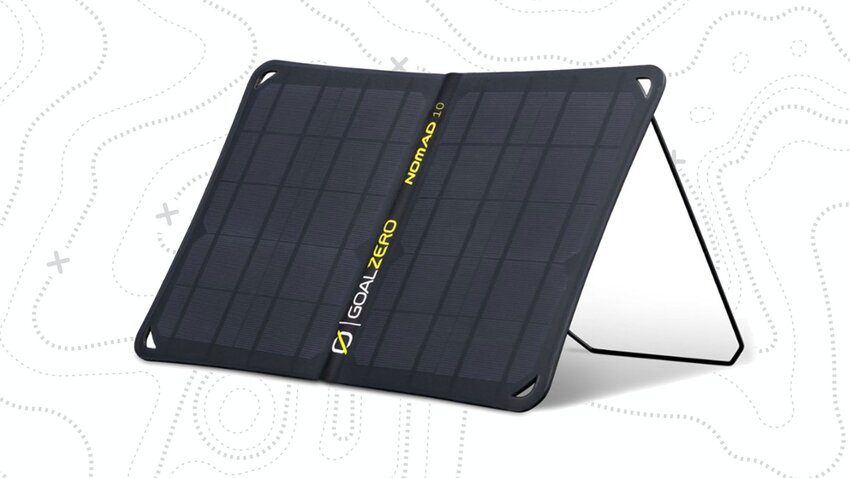 The reality of modern life is that most of us rely on electronics to communicate, work, and entertain ourselves. Since electricity isn't the most sustainable of power sources, charging devices with a solar panel can make a difference. Goal Zero's Nomad 10" Solar Panel is able to charge Goal Zero power banks, smartphones, and rechargeable USB devices. The foldable charger is lightweight and easy to carry, and with a 10-watt output, it's fairly fast for a renewable energy source. This sort of gift would be especially helpful for travelers and campers who need a consistent way to charge their electronics on the road.
Buy it here: Goal Zero Nomad 10 Solar Panel | $100
Buy it here: Goal Zero 12 Power Bank | ~$15
Travel Carbon Offsets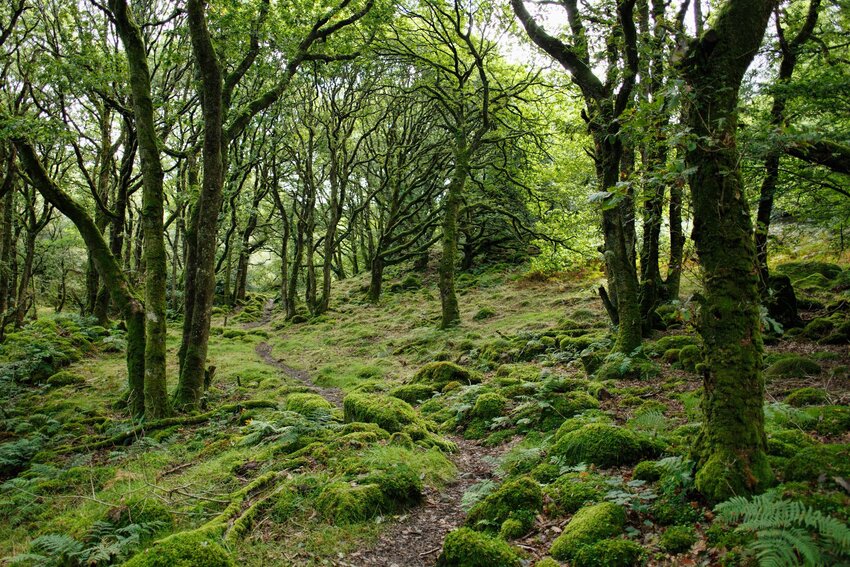 Traveling and sustainability don't always go hand-in-hand, especially since the travel industry is a large source of greenhouse gas emissions. Fortunately, that problem is remedied by purchasing the gift of carbon offsets. Terrapass sells Carbon Offsets to help reduce carbon emissions by supporting environmental projects throughout the states. To figure out the number of carbon offsets needed for a trip, you can use the Carbon Footprint Calculator — a roundtrip ticket from New York to L.A. is roughly 3,000 pounds CO2e, or $15, for example — or you can just buy in bulk to make up for a year of emissions.
Buy it here: Terrapass Carbon Offsets | ~$14

Plastic-Free Travel Containers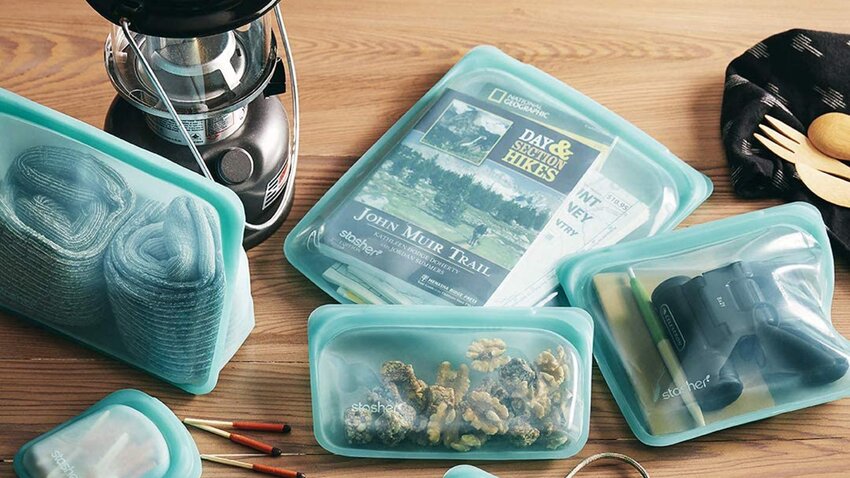 Another way to forego single-use plastics is to skip the sandwich bag and pack lunch in a reusable storage bag. Made out of silicone, Stasher bags are the perfect alternative to Ziploc. They can hold fruit, crackers, chips, and sandwiches to take on the go, and are also freezer-friendly, and microwave and dishwasher safe. The 4-piece bundle is ideal for starting a collection, offering a variety of sizes including sandwich, snack, stand-up, and half-gallon bags. With Stasher, eco-conscious travelers will be relieved to not rely on disposable baggies when they pack food for a trip.
Buy it here: Stasher Reusable Storage Bag, 4-Piece Bundle | $50
Portable Drinking Vessels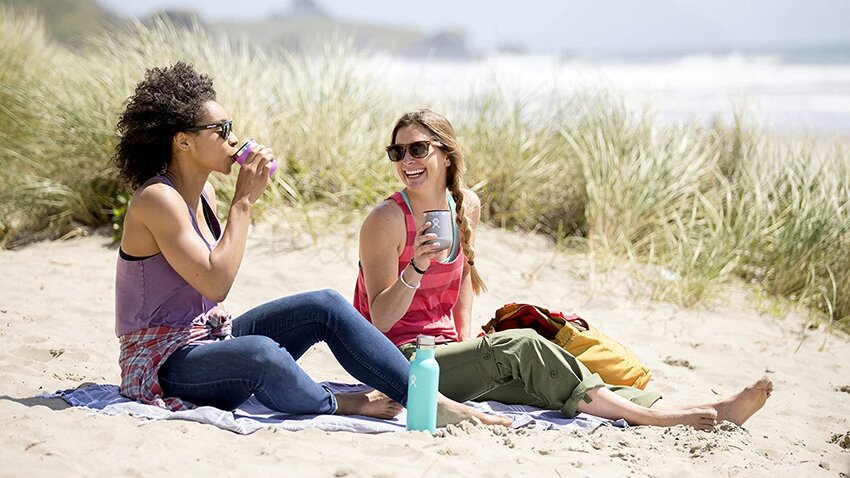 Whether you prefer water or wine, one thing should be clear — you shouldn't be drinking anything out of plastic. For those who want to stay hydrated, the Tamra Ayurvedic Copper Water Bottle is both eco-friendly and good for you. Unlike plastic, copper is 100% recyclable, which makes it a sustainable choice for a water bottle. And according to Ayurvedic principles, drinking out of copper vessels balances the doshas and brings good health. For those who enjoy wine at the end of the day, Hydro Flask sells a wine tumbler, complete with a lid, for situations that are BYOB. Since it's insulated, it also can double as a portable mug for hot coffee or tea.
Buy it here: Tamra Ayurvedic Copper Water Bottle | $55
Buy it here: Hydro Flask 10 oz Wine Tumbler | $30
Eco-Friendly Hip Pack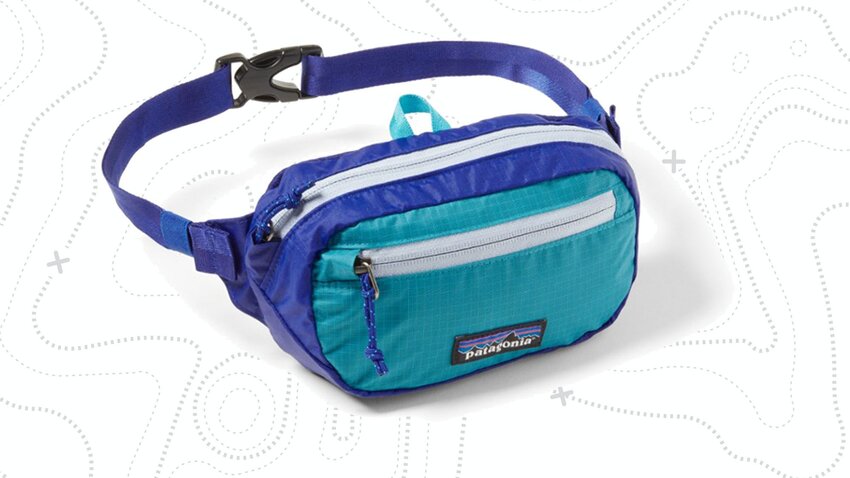 For active travelers, a hip-pack is a multipurpose solution to a purse or backpack — it's small enough to fit into a suitcase but large enough to carry basic necessities, such as a phone, wallet, and hand sanitizer. This hip pack by Patagonia is particularly favored by runners, as it's lightweight, and can be worn around the hip or slung across the torso. These qualities make it ideal for traveling as well, especially since it features a security pocket and a key clip to keep valuables safe. It's also made of recyclable materials and with Patagonia's Repair and Worn-Wear Program, it's guaranteed to last for as long as you need it.
Buy it here: Patagonia Ultralight Black Hole Mini Hip Pack | $29
Main photo by Holly Mandarich/Unsplash