Women who love to travel may be daring, but they also happen to be discerning. When you're accustomed to living out of a suitcase, every item needs to have purpose and function, and anything else just won't do. It can be difficult to find the right gift for the woman-on-the-go, but here are ten ideas that are sure to make the cut.
Infinity Scarf with Passport Pocket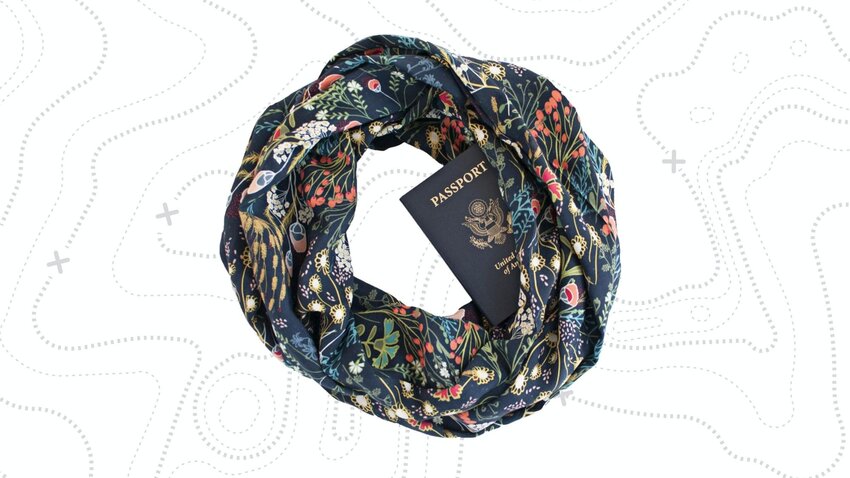 Many women rely on stylish layers to wear on their travels and scarves usually fit the bill. But unlike a normal scarf, this Infinity Scarf from Speakeasy has a trick up its sleeve. Posing as a lightweight layer in a bold pattern, the scarf contains a hidden pocket within its folds. The zippered pocket is large enough to hold a passport, phone, and cash, transforming the simple accessory into a protective carry-all. Whether they're walking through a crowded street or traveling solo, the traveler in your life will appreciate knowing their valuables are safe and on their person.
Buy it here: Speakeasy Travel Scarf | $50
Travel Skincare Kit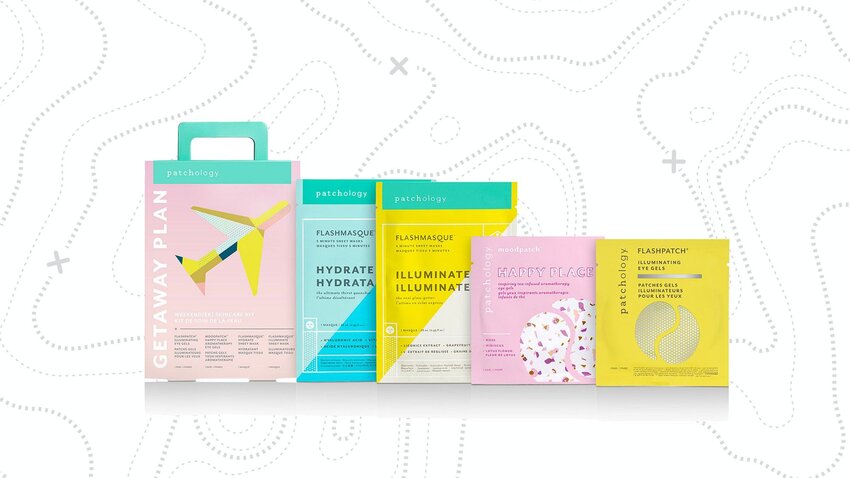 Air travel can wreak havoc on the skin and cause unwanted breakouts. Fortunately, a Travel Skincare Kit from Patchology is the perfect way to pamper a jet setter. Containing a variety of TSA-friendly skincare products, such as face sheets, eye brightening patches, and lip gels, this kit will rejuvenate skin, banish puffy eyes, and hydrate dry lips. Best of all, Patchology's skincare routine needs no longer than five minutes, so it's an easy way to fresh up after — or even during — a long flight.
Buy it here: On the Fly Multi-Masking Travel Skincare Kit | $20
Silk Sleep Mask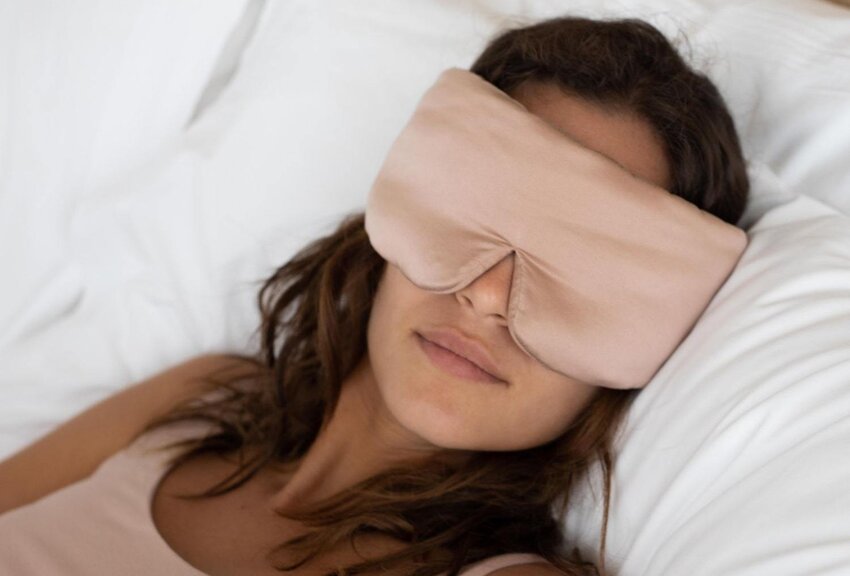 From dozing on planes to sleeping in strange hotel rooms, it can be difficult to get shut-eye on the road. Thankfully, wearing a Silk Sleep Mask will make catching those precious ZZZs much more attainable. Wrapped in washable silk, this sleep mask by Lunya comes with a small travel case, so it can be stashed in a suitcase or carry-on. And unlike other sleep masks, Lunya's version is fashioned with a wide, elasticized band that is designed to stay in place overnight. "Like a cloud" for your eyes, the combination of the soft silk and weighty polyester will block out light and reduce noise to ensure tired travelers get some rest.
Buy it here: Lunya Washable Silk Sleep Mask | $48
Turkish Towels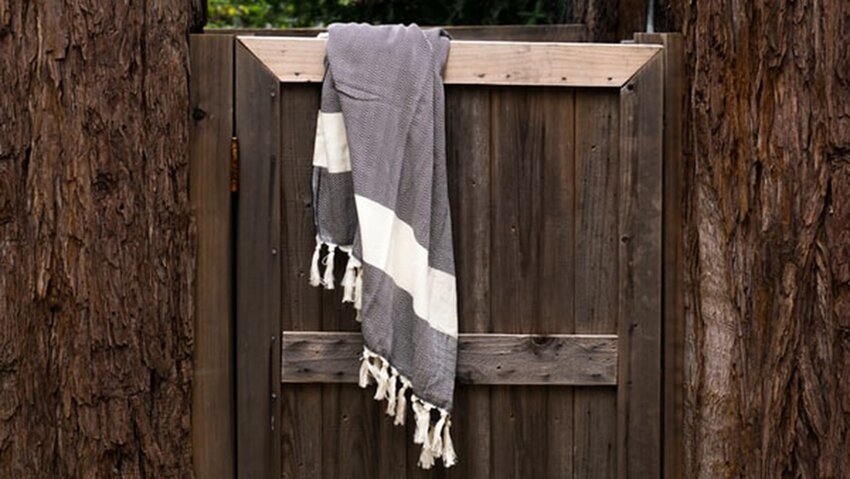 Dating back to the Turkish baths of the 18th century, Turkish Towels are perfect for women-on-the-go. Large enough to be used as an everyday towel, but small enough to pack down, Turkish towels can be rolled up and stashed in a lounge bag, carry-on, or suitcase
Since they are less plush than a traditional towel, the thinner material softens with every wash and dries quickly between uses, so you don't need to worry about packing a wet towel. Plus, the colorful and handwoven patterns add to the towel's ability to be multi-purposeful, morphing into a beach towel or picnic blanket at a moment's notice.
Buy it here: Herringbone Turkish Towel | $30
Base Layers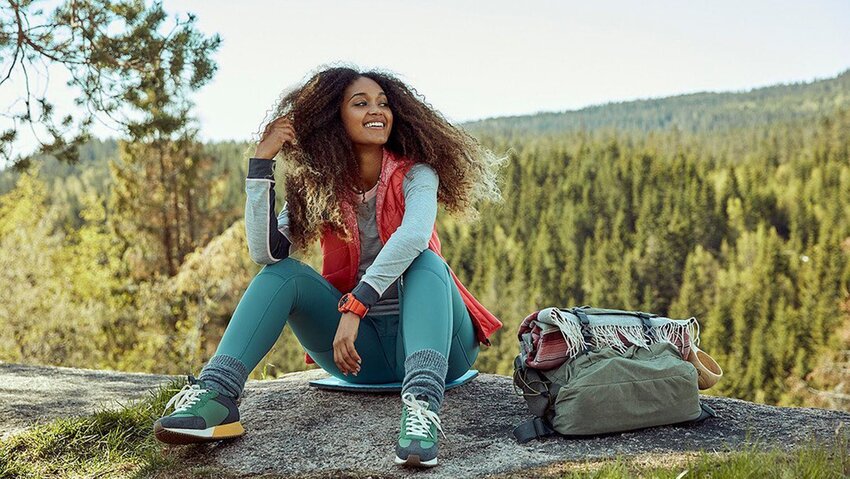 Adventurous women need clothing that can keep up with anything they do, and Kari Traa does just that. Created for women by a woman, the company's namesake and founder is a female freestyle skier from Norway. Offering an array of tops and bottoms in colorful patterns and various weights, these base layers are designed for the female form in movement and can be worn under or over clothing as needed. I've become accustomed to packing Kari Traa base layers on every trip I take, whether it's an outdoor adventure or a weekend getaway. For winter, my personal favorite is the Rose Half-Zip Top and matching Rose Pant — the Nordic print is uniquely feminine, while the Merino wool keeps me warm on the coldest of days.
Buy it here: Rose Half-Zip Top | $110
Buy it here: Rose Pant | $100
Kindle Paperwhite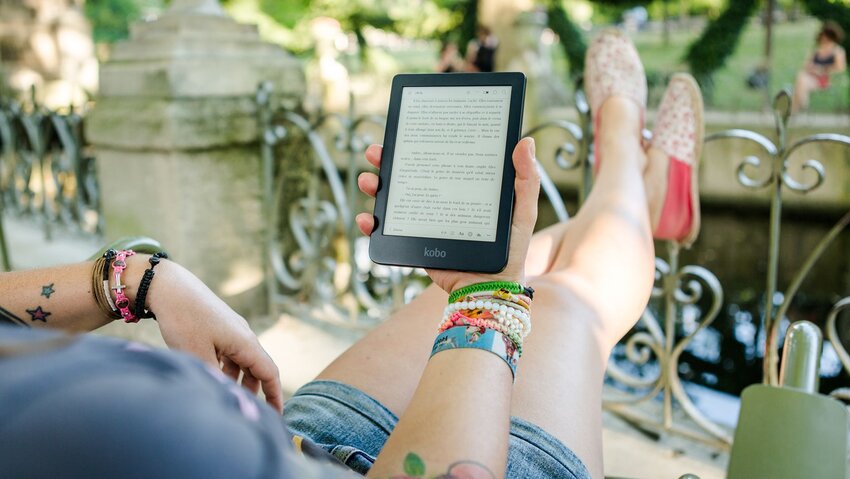 Travelers who love to read will be thrilled to receive a Kindle Paperwhite this holiday season. I was given one this past year and not a day has gone by when I haven't been thankful for it. As someone who requires a book to read at all times, I used to struggle to find enough room in my suitcase for all of my books. Now, before a week away, I simply download multiple reads onto my Kindle, which is slim enough to fit into my purse. In addition to being available to buy on Amazon, ebooks can be downloaded through any local library that has Overdrive, which is the borrowing system compatible with Kindle.
Buy it here: Kindle Paperwhite | $100
Travel Sunglasses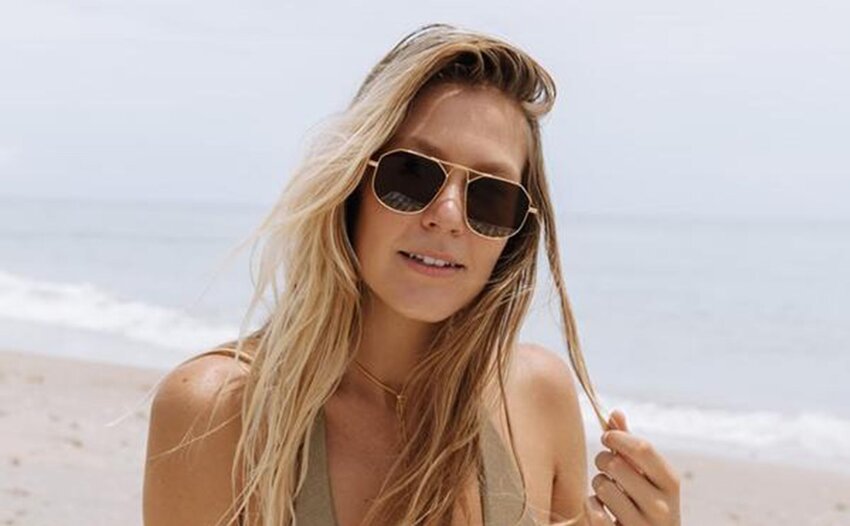 Everyone, especially people who love to travel, needs a pair of sunglasses. But the popular travel accessory does have one troublesome caveat — they're extremely easy to lose. However, when you invest in a pair of Maho Shades, this issue all but disappears. The sunglass brand created the Zuma Fit and Retention System, a patent-pending technology designed to keep your sunglasses on your head. In addition to being tested and approved, the Zuma Fit has an array of shades in every style for women, including the Adriatic No. 3, a geometric aviator that radiates glamor.
Buy it here: Maho Adriatic No. 3 | $145
Anti-Theft and Travel Alarms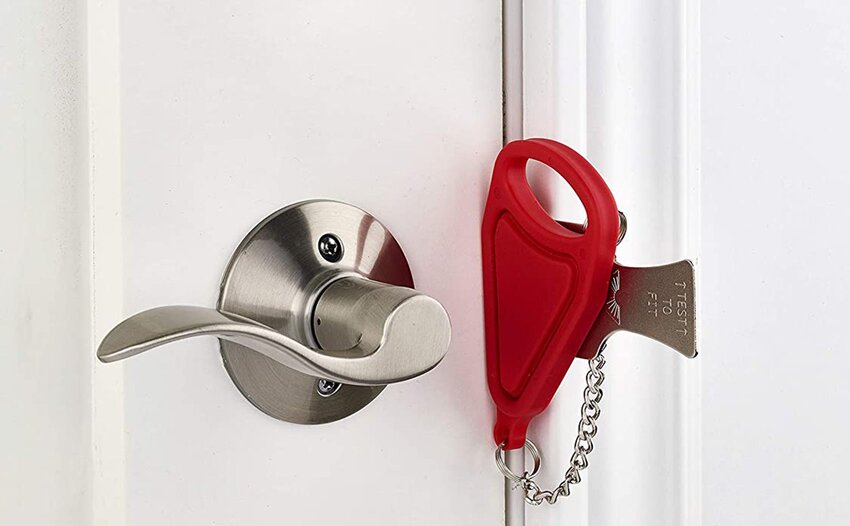 Women who travel solo can be adventurous and free-spirited, but that doesn't mean they don't appreciate a sense of security. When you're staying in hostels, Airbnbs, or hotels, it's easier to relax when you know you're safe, and that can be achieved in a number of ways. The Lewis N Clark Travel Door Alarm is a portable alarm that hangs from door knobs and emits a loud sound if the door is opened at any point. As an added guarantee, the Addalock is another portable security system that will prevent a door from being opened, even if someone has a key. With these two items, travelers can go anywhere and feel at ease.
Buy it here: Lewis N Clark Travel Door Alarm | $12
Buy it here: Addalock, The Original Portable Door Lock | $18
Travel Jewelry Case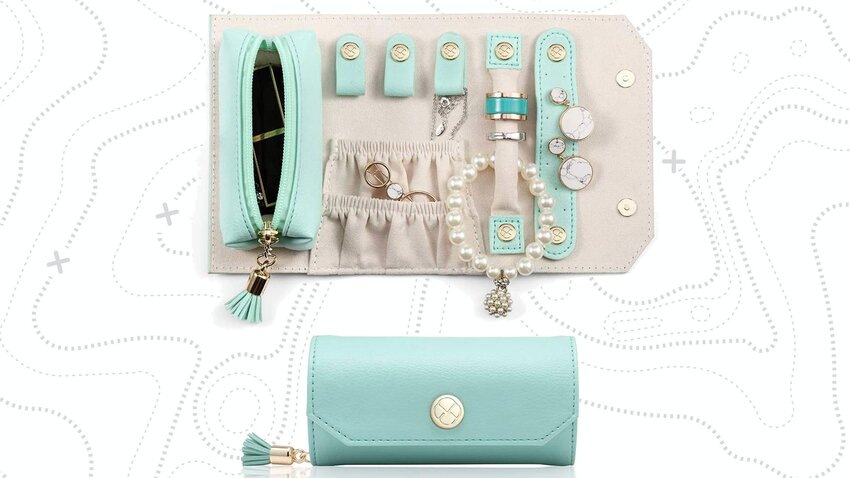 Travelers are always looking for strategic ways to bring their favorite jewelry with them on their journeys. There are plenty of different designs for travel jewelry cases on the market, but I personally love this one from Vlando. It's durable yet compact, rolling up into a tiny, stashable jewelry bag with zero fuss. With hooks, pouches, and specialty holders, the case ensures that earrings, bracelets, necklaces, and rings can be stowed away safely. The size is perfect for a long weekend, but can also function for longer trips if someone doesn't mind packing more minimally.
Buy it here: Vlando Travel Jewelry Organizer  | $15
Monogrammed Luggage Tags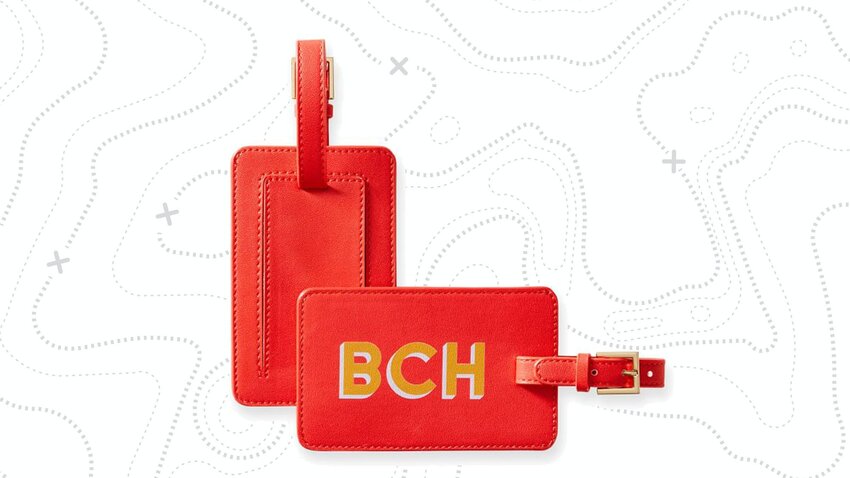 Let me tell you a story: one evening, I arrived home late after a long flight, opened up my bag, and realized something terrible — I had grabbed the wrong suitcase at baggage claim. My suitcase had been so generic, that another woman had unwittingly taken my bag, and I, hers. Fortunately, we were able to exchange our bags back and I learned a valuable life-long lesson: never travel with a non-descript suitcase. These monogrammed luggage tags from Mark and Graham solved that problem. Available in vegan and leather options, the luggage tags come personalized in an array of bright colors that will distinguish your bag from all others.
Buy it here: Monogrammed Vegan Luggage Tag | ~$25
Buy it here: Monogrammed Leather Luggage Tag | $55
Main photo by Steven Lewis/Unsplash.