Ten years ago, I relocated from Brooklyn to Switzerland in a life-defining move. I traded my MTA card for a Swiss train pass and haven't once looked back. When I tell people my story, they always ask me, "What's the best thing about living in Switzerland?" The cheese fondue? The chocolate? The skiing? The hiking? While they're all excellent benefits that I've enjoyed over the years, my answer to them is always the public transport — specifically, luftseilbahnen. And without a doubt, I get puzzled looks.
What Is a Luftseilbahn?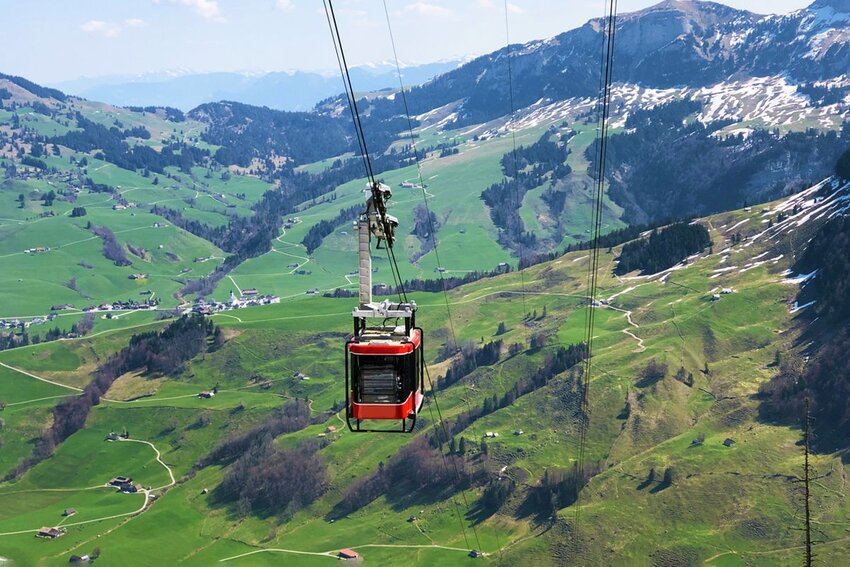 According to the Swiss constitution, every city, village, town, and hamlet in the country must be reachable by public transport. This includes, of course, the matrix-like system of Swiss trains whose tracks lace across the multilingual country, as well as ferries criss-crossing rivers and lakes, and the extensive network of yellow Post Auto busses often waiting for you after you get off the train. But to be Swiss is to think vertically, so accessibility in the Alps requires creativity — mountain cog railways, funiculars, gondolas, and glorious, under-appreciated luftseilbahn (plural: luftseilbahnen).
Luftseilbahnen are cable cars that whisk you up the Alps, above the tree line to surreal and tranquil landscapes where, instead of loud cars and roads, you'll encounter cows grazing on wildflowers along hundreds of miles of interconnected soft-grass hiking paths. To me, and to most other expats, this is the best part of living here — hands down. Grabbing a train in Zürich before lunchtime, hiking in the Alps for the afternoon, and returning home that evening in time for dinner is not only possible, it's pretty much what many of us do all summer long. (Though spending the night on the mountain has its advantages, too.)
The Swiss German word luftseilbahn translates literally to "air rope train." Like many words in polyglot Switzerland, there are loose definitions of what makes something a luftseilbahn. There are open-air luftseilbahnen, luftseilbahnen for farm animals and cargo only, and self-operating luftseilbahnen. A luftseilbahn is not to be confused with a sesselbahn (chairlift), which is continuously running in ski areas, or a gondola, which also continuously runs mainly in touristy areas and typically carries more than four people at once. Luftseilbahnen are often privately owned by alpine farmers, and bring you to off-the-beaten path areas that you won't read about in Lonely Planet.
If that weren't confusing enough, luftseilbahn is called téléphérique or telecabine in French-speaking Switzerland, funivia in Italian-speaking Svizzera, and pendiculara by speakers of Romansch, Switzerland's ancient and endangered fourth language spoken only in alpine pockets of Canton Graubünden, near the Italian border.
Where to Find the Largest Concentration of Luftseilbahnen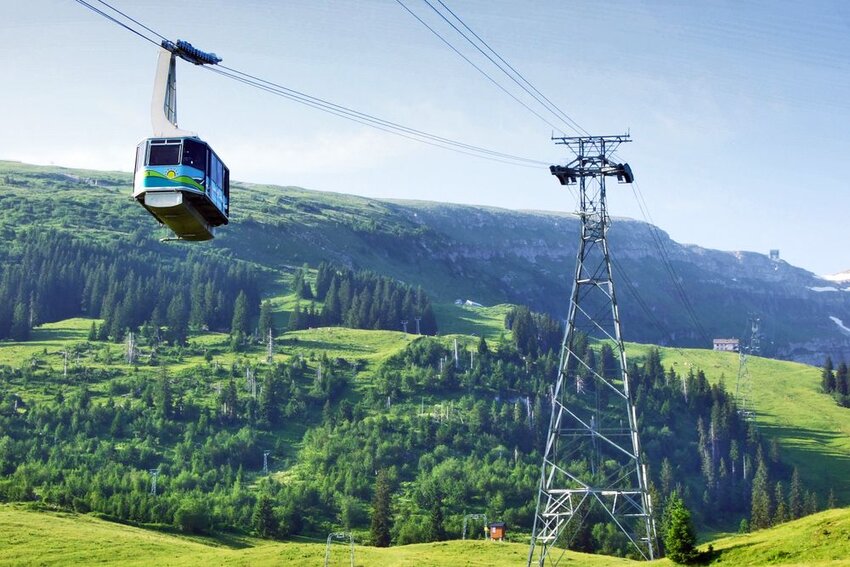 To be clear, it's not the luftseilbahnen themselves that I love, but the access to undisturbed alpine areas that they allow, even for beginner or physically-challenged hikers. But admittedly, riding in them is a big part of the fun.
Swiss German-speaking Central Switzerland — including the Cantons of Lucerne, Uri, Niedwalden, Obwalden and Schwyz — is arguably home to the nation's largest concentration of luftseilbahnen. Coincidentally, these are the original founding cantons (districts) of Switzerland, so they're also especially historic. There are dozens, if not hundreds, of luftseilbahnen here. For a small fee, usually between 7 to 18 CHF ($7.50 to $19 USD), they will whisk you up the mountain to a hiking trail.
Some only run in the summer, while others run all year. None are for vertigo sufferers, as you will be dangling alone over steep ravines and deep valleys with nothing but marmot, chamois and ibex, below. Even if you are skittish of heights, the halcyon views of turquoise lakes and snow-capped massifs make the journey worthwhile. Most require you to call the upper station operator to operate. While knowing a bit of Swiss German can help you communicate, locals are used to speaking multiple languages, so don't let that alone deter you.
Why the Ober-Axen Luftseilbahn Is One of My Favorites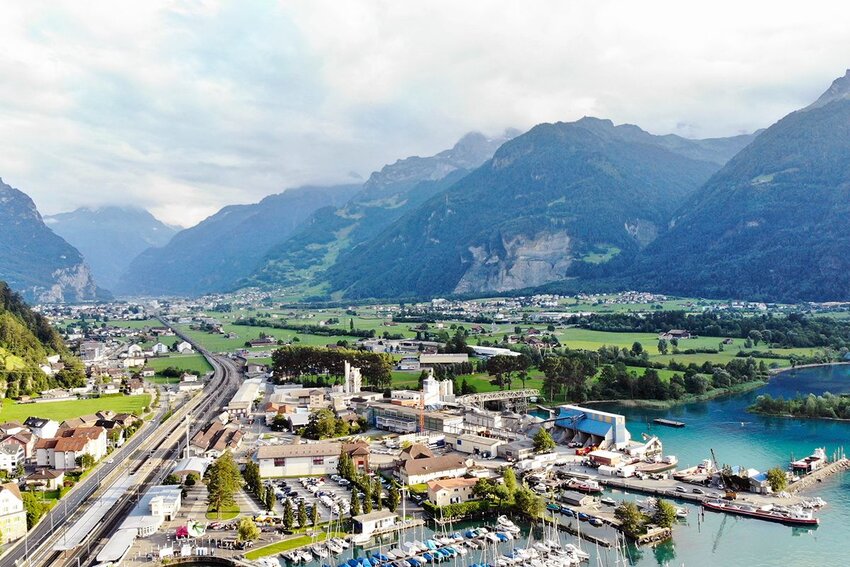 After a decade of exploring the luftseilbahn, I'm still discovering new ones. One of my all-time favorites is Ober-Axen, located in the village of Flüelen, in Canton Uri, and an hour-long train ride from Zürich. To board the luftseilbahn, painted a bright blue and shaped like a wooden crate, I head to the station on the eastern shore of Urnersee, the southern finger of Switzerland's Lake Lucerne (Vierwaldstättersee, to locals). It's self-operating, so I use the wall-mounted phone to ring the mountain station before getting inside the four-person car, and then wait for the bell to ring before lift-off.
Suddenly, I'm ascending into clear skies, and the lake, surrounded by steeples of alpine chapels, comes into view. Below is the Axenstrasse, a glorious seven-mile-long motorway that precipitously hugs the lake's steep cliffs and grassy shores, and the 21-mile-long William Tell Path, a hiking trail that begins in the country's birthplace, the Rütli Meadow, and encounters various heritage sites of Switzerland's semi-mythical founding father, William Tell (who is said to be from nearby town of Altdorf).
The journey up the mountain only lasts seven minutes, but there's no shortage of scenery along the way. On one trip, I spied a trio of chamois munching greenery on a cliff. On another, I emerged from fog to see the valley below filled with a milky nebelmeer (fog sea), a popular weather phenomenon witnessed in autumn. At the top station is the tranquil, car-free Ober-Axen trailhead, where I pay the attendant 7 CHF ($7.50 USD) and set out for one of 13 trails on offer.
I've tackled a few of them, but my favorite is the three-hour, 3.1-mile Eggberge trail. The first 45 minutes is an intense scramble up steep alpine meadow, but the trail mostly levels out at about 4,900 feet in elevation. There, a mildly undulating trail passes lonely nomadic dairy farmers, mysterious mossy woodland, and eventually downward sloping green meadows that might make you twirl like Julie Andrews (even though The Sound of Music takes place in Austria). But don't worry, nobody will see or hear you up here. In fact, being on the alp (a mountain pasture where cows graze in the summer) is a lot like snorkeling underwater. The colors are incredibly vivid, and the lack of cars and humans creates a natural stillness that is both hypnotic and addictive.
Central Switzerland's Expert on Luftseilbahn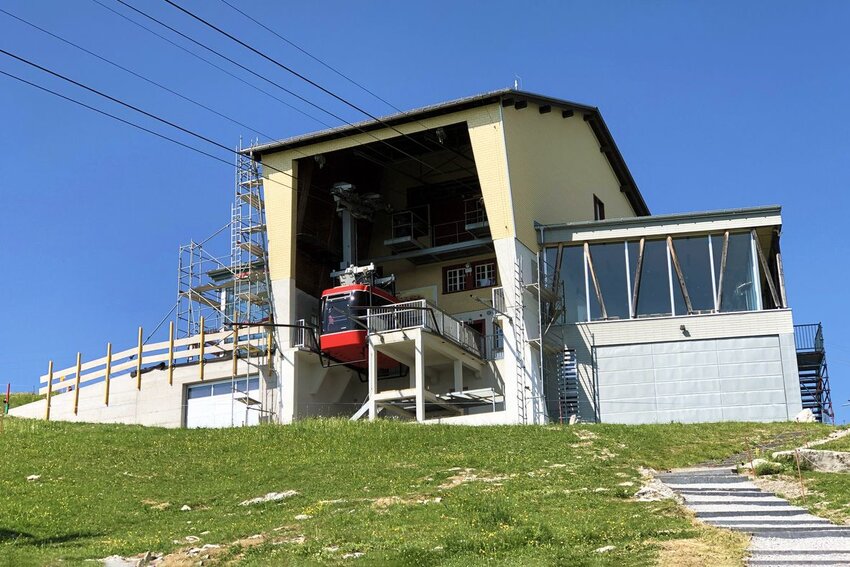 Another standout, which takes you deeper into Canton Uri, is the Sittlisalp, which runs every 30 minutes and costs 10 CHF ($11 USD) for a round-trip ticket. This four-person, cherry-red luftseilbahn glides over valleys filled with inky enzian flowers and alpine orchids to the summit and trailhead in a breathtaking five minutes.
I first experienced this with my guide and friend Joe Herger, an Uri native who speaks perfect English (not to mention Italian and French) and runs a guided hiking service, The Alps By Joe, from nearby Bürglen. Joe is Central Switzerland's expert on luftseilbahn, and his services include meticulous researching of weather, transport links, restaurant openings, and alpine events, like yodeling and alphorn concerts.
His knowledge was especially handy on the easy two-mile loop hike to the Sittlisalp Alpkäserei, an alpine dairy and shepherd's cooperative of nine family farms running on hydro-power. There, Joe and I feasted on alpkäse, cheese made from the milk of cows only located above 3,600 feet, which we passed along the trails. Found across Switzerland, the cheeses have Protected Designation of Origin status, and are rich in healthy Omega-3 fatty acids. A shrewd tongue can even taste the wildflowers that the cows munch on. After nibbling several hunks, we settled on a wheel of creamy, Camembert-like mutschli nature, a slab of acidic alpine butter, yogurt, and a popular whey drink called molke, which I hauled home in my backpack to make a fondue later that night back in Zürich.
Mapping Out a Multi-Luftseilbahn Journey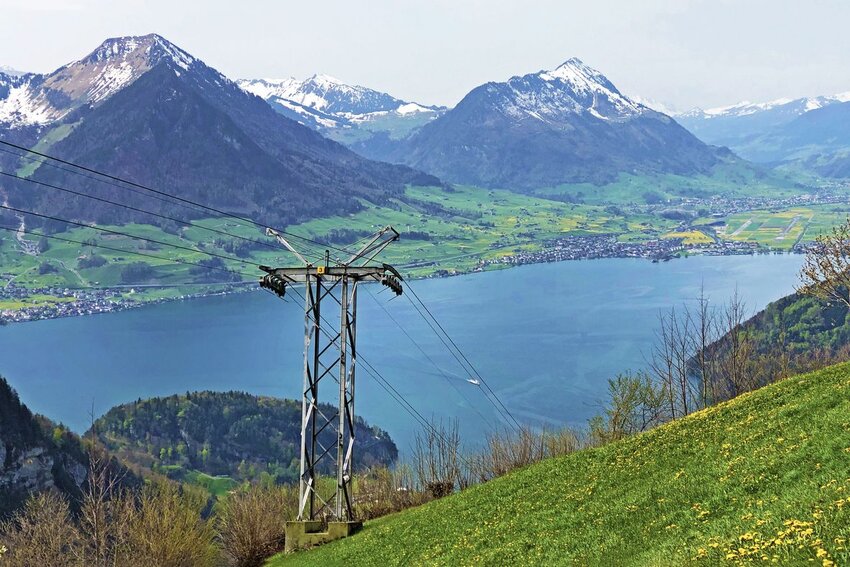 Most luftseilbahnen are marked on Google Maps, and some are included in the cost of the Tell Pass, a value-packed transport pass that covers many trains, ships, busses, and cable cars in Central Switzerland. So if you feel confident with your navigation and hiking skills, you can create a sort of luftseilbahn safari by stringing together several of them.
Last summer, I mapped out such a journey to Bannalpsee — a scenic alpine lake perched high in Canton Nidwalden — which involved two luftseilbahnen, the red-painted Fell – Spiis and the Spiis – Sinsgäu, a mint-green crate originally designed for cows. Both are open-air and self-operating; neither have a website. From the end of the second ride at Sinsgäu, I follow the intermediate, five-mile trail for 90 minutes before arriving in Bannalpsee. The lake is colored deeply blue and reflects gossamer clouds on its mirror-like surface — which I promptly shatter by plunging my sweaty body in for a bracing post-hike swim.
Hikers who want to push on and continue overnight (as I did), can ascend for another hour to Alp Oberfeld, the summer home to sustainable alpine cheesemakers Rita and Josef Wasser-Späni. The couple processes over 30 gallons of organic dairy every day from their rustic guesthouse, beizli (farm restaurant), and alpwirtschaft (alpine farm shop that sells goods directly to consumers.) There, copper kettles filled with the milk from mountain goats and Rhaetian gray cattle hang over open fire to produce local cheese. Visitors can stay the night, but there are no showers, and the beds, while comfortable and clean, are in the annex of the barn. However, a breakfast of local cheese and meats makes the experience well-worth it, as do the scenic views of cows in golden morning light as you hike back down to the station.
Those looking to splurge on higher prices and thread counts can descend on the luftseilbahn to catch a train, or continue another five hours on the trail to Burgenstock. This resort complex floating above Lake Lucerne was once home to Audrey Hepburn and Sophia Loren. My favorite of the property's six hotels is the modernist timber-fronted Waldhotel —  its sprawling sauna and thermal baths are ideal for aching legs. While many hikers feast on well-deserved fondue and älplermagrone (alpine herder's macaroni and cheese), its restaurant Verbena serves lighter fare like bowls of parsley root soup and cherry wood-smoked venison.
Another 20 minutes by foot brings you past Hepburn's and Loren's villas to stylish Villa Honegg, a separate boutique hotel with 23 rooms — some with marble fireplaces and telescopes. The brilliant kitchen serves Swiss goose Terrine with dates, celery, and brioche; veal tartare with smoked hay salt and fir sprouts; and alpine cheese with wild dandelion honey. Who says you have to go without in the Alps? Not in Switzerland, anyway.