Wide-open roads, jaw-droppingly beautiful views, incredible wildlife, and escape from the chaos of modern life is what an Alaska road trip is all about. Whether you're a seasoned road tripper or never driven out of your city, an Alaskan road trip is within your reach. You can drive to Alaska from anywhere in the continental U.S., but for this post, we'll explore routes originating in Montana and Washington. We've compiled a list of all the information you'll need to start planning your Alaska road trip.
Distance and Time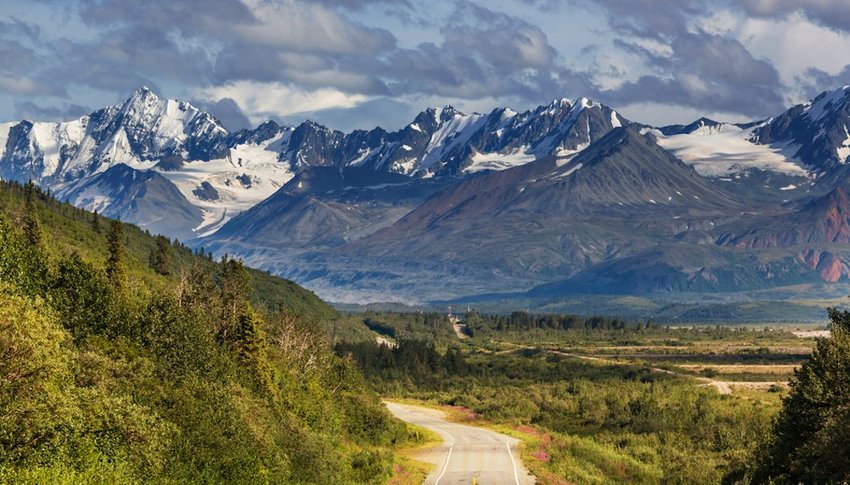 Of course, the time and distance vary widely depending on where you begin, how many stops and side trips you make, and your final Alaska destination. In general, plan on at least a week each way from Washington or Montana to Alaska. If you're originating from anywhere east of Colorado, most routes will send you through North Dakota into Canada. A far more scenic way that doesn't add much more time is to travel through Montana's Glacier National Park and then north into Canada. The distance between Seattle or Glacier N.P. to Fairbanks, Alaska is about 2,160 miles.
Routes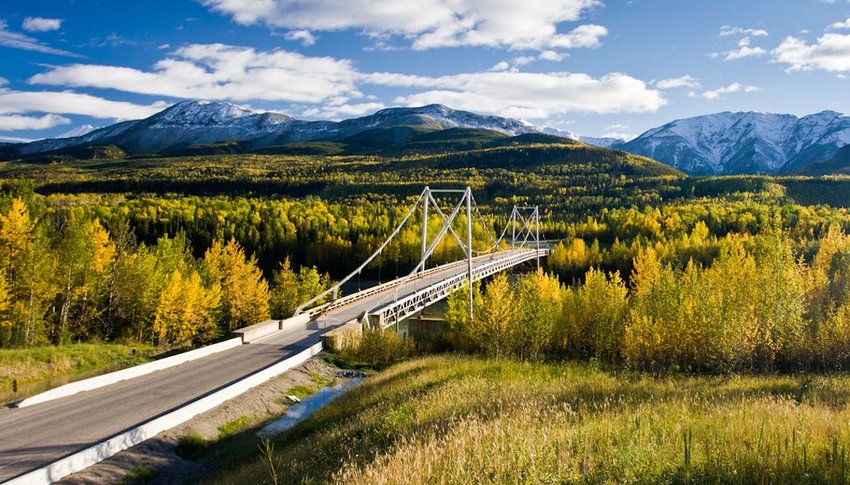 You have multiple options for driving through Canada to Alaska. You may have heard of the Alaska Highway (aka Alcan Highway), the most common route, but it doesn't start at the U.S.–Canadian border. It originates in Dawson Creek, British Columbia, about 700-800 miles north of the border. To reach Dawson Creek, many take a scenic route through the Canadian province, Alberta. Along this route, you can visit breathtaking Banff National Park and Jasper National Park.
In Banff, you can hike, bike or take a local shuttle to view sites such as Moraine Lake. The town and park get very busy, so check the park's website for real-time data on traffic and parking. The equally beautiful and larger Jasper National Park has a more rugged, remote feel compared to Banff. To reach Jasper from Banff, you'll travel along the stunning Icefields Parkway, which winds along the Continental Divide through icefields, soaring mountain peaks and endless valleys.
Compared to Banff, the town of Jasper is much smaller, less crowded and more laid back. If this sounds more appealing and you're short on time, consider skipping Banff and focusing on Japser. Once you leave Jasper, it's about a six-hour drive to Dawson Creek and the Alaska Highway. From there, the highway crosses into British Columbia. When you pass through Fort Morgan, you can stretch your legs and learn a little about the history of the area at the Fort Nelson Heritage Museum. Farther north, you can hike or take a boat trip and explore the gorgeous Muncho Lake Provincial Park. You'll also want to stop at Liard River Hot Springs Provincial Park, Canada's second-largest hot springs, where you can soak away your road trip stiffness.
Stewart-Cassiar Highway
Another route some travelers prefer is the Stewart-Cassiar Highway, which joins the Alaska Highway at the border of the Yukon Territory (northwest of Dawson Creek). It starts about 700 miles north of Seattle, so to reach it, you'll need to travel on other roads. If you start out on the Montana–Banff–Jasper route, you can drive into British Columbia, through Prince George to Kitwanga, where you can pick up the highway. The Stewart-Cassiar route travels through an incredibly scenic part of British Columbia, with less traffic and more isolation compared to the Alberta route.
A must-stop if you take the Stewart- Cassiar route between July and mid-September is a short detour to Hyder, home to the Fish Creek Bear Viewing Area. Hyder is just across the border from British Columbia, on the far southern tip of Alaska that runs along British Columbia's western edge. The viewing platform here provides spectacular views of grizzly bears and wolves who come here to catch salmon running upriver.
Both the Alberta and British Columbia routes put you on the Alaska Highway, just at different points. For the best of both, take one route to the Alaska Highway and return via the other!
The Alaska Highway, Yukon Territory
Once you've reached the Yukon Territory of the Alaska Highway, the first thing you'll see in Watson Lake is the "Signpost Forest." Travelers from all around the globe have posted signs of their hometowns here since 1942, totaling more than 77,000 signs! Make time to stop at Kluane National Park and Reserve, home to 19,551-foot Mount Logan, Canada's highest peak. You'll also find North America's most genetically diverse grizzly population and Canada's largest ice field in Kluane. You'll cross into Alaska at Milepost 1221, where you'll have to stop and clear customs. The Alaska Highway officially ends in Delta Junction, AK, but most travelers consider Fairbanks, AK, the end.
Inside Passage Route
A third option for driving to Alaska is the Inside Passage Route, which utilizes the Alaska Marine Highway System, a network of ferries and waterfront communities stretching from Seattle to Alaska. This route involves less driving and offers unparalleled views of British Columbia and Alaska's dramatic coastline. Ferries sell-out during prime travel seasons, so this route requires more advance planning and reservations than the other routes.
Practical Information for Driving to Alaska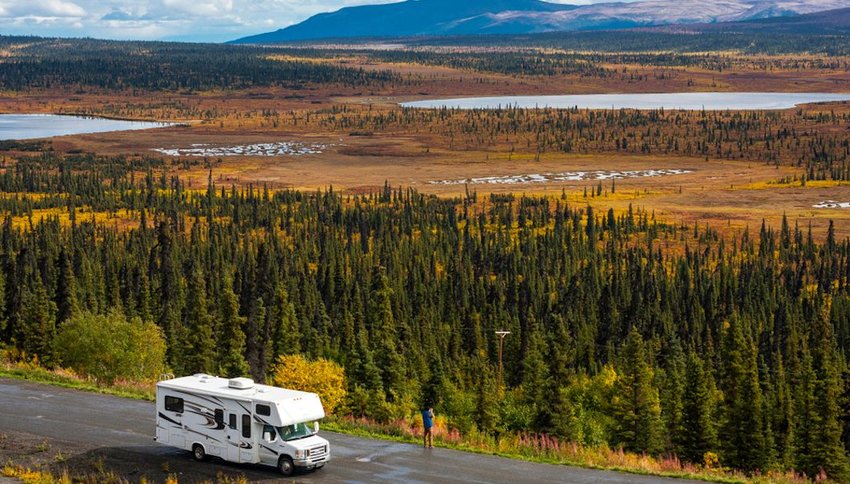 You might be wondering if you need an AWD vehicle, when to go, where to stay and potential risks along the way. Here's a list of practical information that answers many questions.
How Do I Pick a Route?
Choose your driving route based on how much time you have, and which sites appeal to you most. It's well worth your time and money to invest in the "Bible" of all guidebooks, "The Milepost: Alaska Travel Planner." This 700+-page guidebook offers current, detailed mile-by-mile descriptions, places to stay (including campgrounds and RV parks), services and things to see.
Where Should I Stay?
Most travelers (unless they're camping/RVing) stay in motels and small lodges, which are scattered along the entire way, regardless of the route. You might not want to restrict yourself to a tight itinerary. However, during peak travel times, it's a good idea to make reservations, even if it's just a day or two in advance. If you don't have a reservation, plan your arrival to a town in late afternoon — don't wait until it's dark. And keep in mind many of these small motels don't offer amenities we're accustomed to in chain motels in the U.S. (think no fitness center, pool or Wi-Fi). The same goes for campgrounds — book ahead or arrive early in the afternoon.
When Should I Go?
You can drive to Alaska any time of the year, but winters are far more challenging and riskier. Many gas stations, motels and other services shut down or have very limited hours during the winter months. Roads are plowed, but you risk getting stuck in a storm or having car trouble. For obvious reasons, summer months are the most popular, but late spring and fall can be excellent times to go if you want a more serene experience. You'll also want the longer summer days since driving across Canada and Alaska in the dark can be dangerous. It's not uncommon to round a bend and see a large moose, bear or bison standing in the road, especially at night.
Will I Have Cell Service?
In larger towns, you most likely will, but be prepared for long stretches with no coverage — and no payphones. Many travelers have reported that T-Mobile offers better service since some Canadian telecom companies share towers with T-Mobile. AT&T and Verizon don't seem to work well in many areas. Best to consult your carrier about their Canadian plans and coverage before you hit the road. If you're uncomfortable not having consistent cell service, consider getting a satellite phone (which are more affordable than they used to be).
What Are the Roads Like / Do I Need an AWD Vehicle?
If you've heard stories of unpaved, gravel roads along this trek, rest assured — the entire Alaska Highway is now paved. However, you may come across road work and cone zones that are unpaved. In general, roads are in decent condition, especially later in the summer after winter's damage has been repaired. You do not need an AWD — as long as your vehicle, including motorcycles, RVs and trailers, is in good mechanical condition and you have a good spare tire, you're good to go.
Do I Need Spare Gas Tanks?
No. Gas, diesel, food and even lodging are widely available, especially during summer. That being said, you should plan to fill your tank midday whenever possible and carry extra water and snacks since you will encounter stretches of 100 to 150 miles with no services.
What Do I Need to Cross the Border?
You'll need a valid passport or a trusted traveler program card. If you're traveling with minors, they will also need a passport, birth certificate or some form of official identification. If you're unsure, check the U.S. Customs and Border Protection website.
Final Tips
For additional questions about traveling with pets, firearms or other concerns, the Milepost website is a wealth of information with links to official agencies. Use common sense, pay attention to weather forecasts, don't exceed the speed limit, bring copies of any medical prescriptions you take and be prepared to "fall off the grid" a bit. Most of all, be flexible and try to savor every moment of an incredible, bucket-list road trip!