Surrounded by sparkling water on three sides, San Francisco is arguably one of America's most beautiful cities. You could spend more than a week exploring the city's many sites, eating at endless fantastic restaurants, and sipping reds and whites in wine country. However, if you only have a weekend, here's an itinerary that will show you the best of what San Francisco has to offer. The city is a popular year-round destination, so book ahead for all tours, activities, and restaurants whenever possible.
Friday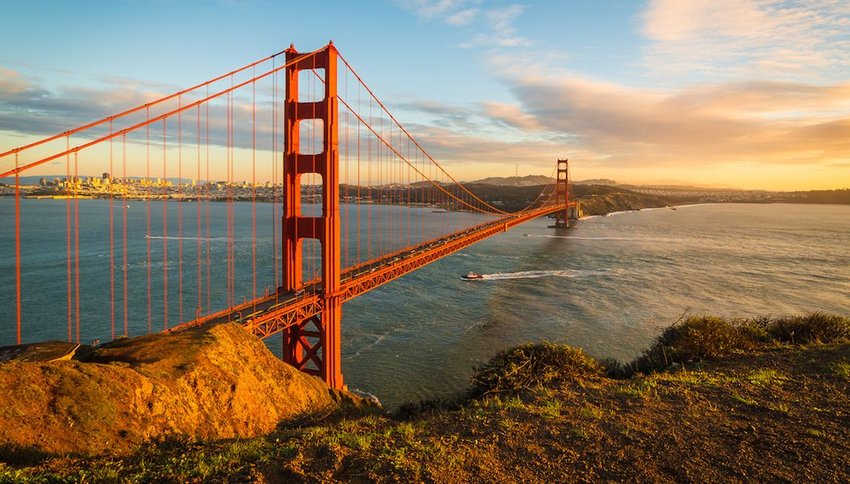 Drop your bags at your hotel and head to the world-famous Golden Gate Bridge. Stop by the Welcome Center, where you can learn about the bridge's history and pick up a map. If you're up for it, take the walk across the 1.7-mile bridge.
If you have time, visit the Fort Point National Historic Site under the bridge, a military post constructed in 1853 that's never fired a shot in anger. When plans to build Golden Gate began in the 1930s, the fort was to be demolished. Recognizing the fort's architectural value, Chief Engineer Joseph Strauss carefully designed an arch, so the bridge could soar above the fort.
For something else noteworthy to explore in the area, check out The Palace of Fine Arts Theatre. This impressive structure features Greek-style colonnades and a soaring rotunda overlooking a picturesque lagoon. Built for the 1915 Panama-Pacific International Exposition, today it is an event venue for ballet performances, concerts, speakers, weddings, and more.
From there, head over to Pier 39, where you'll board a spacious catamaran for a 90-minute sunset sail with Adventure Cat. Aboard, you'll enjoy light hors d'oeuvres and two complimentary drinks as you sail around Alcatraz Island and the Golden Gate Bridge. If the sky is clear of northern California's infamous fog, you'll be rewarded with a glorious sunset.
If you need a quick pick-me-up before you board, stop by Biscoff Coffee Corner and grab an espresso drink and a "Biscoff" cookie. The tricky thing to remember here is that the sunset sail departs at different times throughout the year, ranging from 4 p.m. departures during winter months to 7 p.m. departures in summer months. Also, factor in about 45 minutes to get from the Golden Gate Bridge to Pier 39 using public transportation or about 30 minutes via car.
Once you disembark back at Pier 39, walk about 15 minutes to Sotto Mare for an authentic Italian North Beach experience. Sotto Mare has been serving diners delicious favorites such as its "Best Damn Crab Cioppino" for decades. If you can't get a table, you can share cioppino at the bar. If you still have energy left for a nightcap, you'll find plenty of nearby options such as the blues bar, The Saloon, which is over 150 years old.
Saturday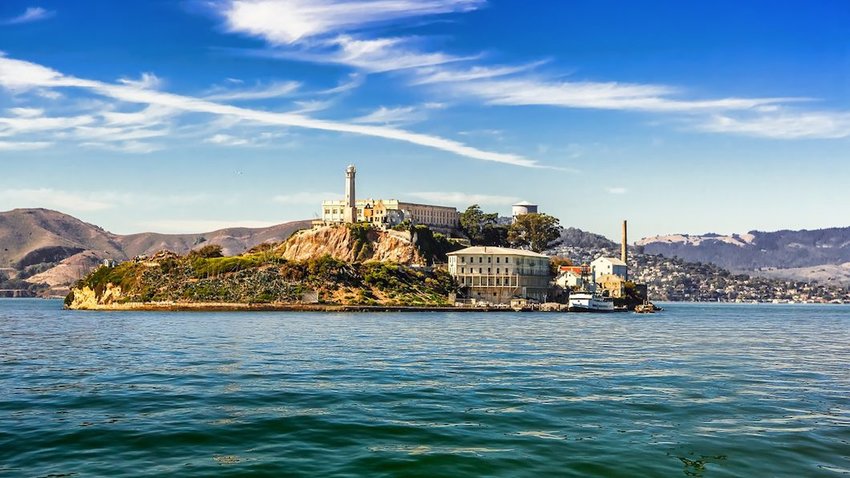 Hop aboard the Alcatraz Early Bird Tour which leaves Pier 33 at 8:45 a.m. You'll avoid the crowds and can stay on the island as long as you like. Before you board, try to make time to stop by the historical Caffe Trieste for authentic Italian espresso and a pastry.
Once you arrive at the famous island prison, you have some options. You can stroll around on your own, but a better choice is to take a guided tour with topics such as Famous Inmates, Escapes, 200 Years of Alcatraz History, and more. Check the program board when you arrive. You don't need reservations and all programs are free. Returning ferries depart every 30 minutes, but expect to stay about three hours to see everything. Wear comfortable shoes because some of Alcatraz's roads and walkways are steep.
When you arrive back at Pier 33, chances are you'll be ready for a hearty lunch. Walk over to Fog Harbor Fish House on Pier 39. This family-owned institution offers the quintessential Fisherman's Wharf dining experience with fantastic San Francisco Bay views. Yes, it's filled with tourists, but once you dunk into the house-baked sourdough bread, award-winning clam chowder and whole Dungeness crab, you'll forget you're in one of the city's most popular tourist destinations. You can also feel good about sampling any seafood on the menu because Fog Harbor proudly serves only sustainable seafood. And you can't beat the free entertainment. The resident sea lions lounging and playing on the docks outside will have you laughing in no time. If you can't see them from your table, it's well worth your time after lunch to stop and watch these playful marine mammals' antics.
After lunch, walk around Pier 39 and check out the shops and many attractions such as the Aquarium of the Bay, a small nonprofit aquarium focused on local aquatic animals such as sharks, octopus, otters, and rays. Once you've explored Pier 39, walk around Fisherman's Wharf where you'll see all sorts of oddball sites and street performers. If you're into nautical history, Hyde Street Pier and Pier 45 have schooners and WWII navy ships you can board and explore. The SS Jeremiah O'Brien was used to film some of the flooding scenes from the movie Titanic.
If it's chilly and you want to warm up, stop by the historic Buena Vista Café on Hyde Street for one of its famous Irish Coffees. The Buena Vista was the first place in San Francisco to serve authentic Irish coffee beginning in 1952.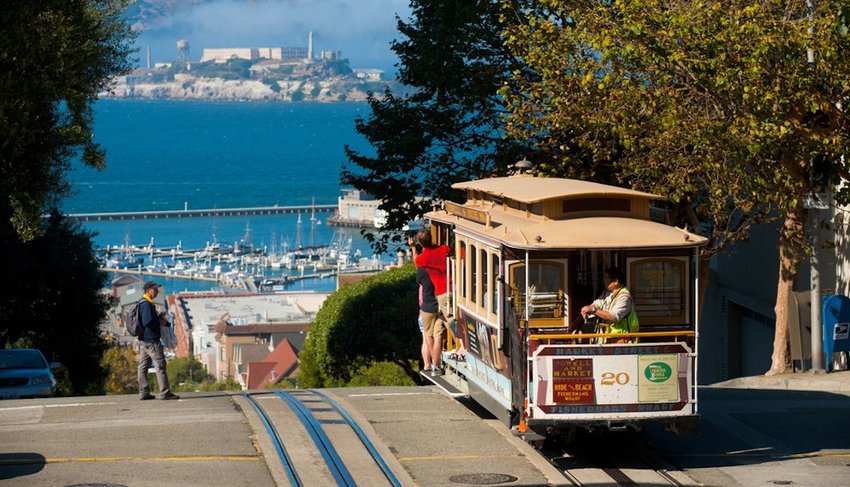 No trip to San Francisco is complete without a ride on a historic cable car. If you're staying in Nob Hill or Union Square, you can hop aboard the Powell-Hyde Cable Car and head back to your hotel to freshen up before dinner. For a uniquely upscale dining experience, plan to cough up some serious cash at Benu, a three-star Michelin eatery run by James Beard award-winning chef Corey Lee. The eight-course tasting menu featuring Asian delicacies changes daily. You'll be dazzled by a series of small bites preceding the main courses such as a Thousand-year-old Quail Egg. Menu mainstays include Foie Gras Xiao Long Bao and Faux Shark Fin Soup. Plan on about three hours and be sure to make reservations well in advance.
If a three-hour, exorbitantly priced meal doesn't appeal to you, try the Press Club, a wine bar and lounge serving seasonal small plates in a sophisticated, social atmosphere near Union Square. DJs spin tunes later in the evening and some nights they have live entertainment.
Sunday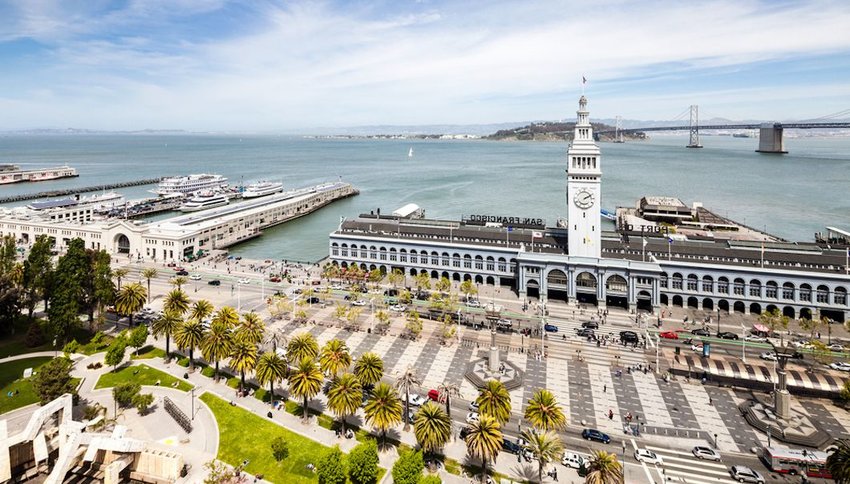 After the marathon day before, you can sleep in a bit and then head to Yank Sing, one of San Francisco's most famous dim sum restaurants for brunch. Your mouth will water as the carts roll up showcasing dishes such as Shanghai pork dumplings, BBQ pork buns, stuffed crab claws, and Peking duck. Yank Sing has two locations not far apart. The Rincon Center location is larger and a block from The Embarcadero, so you can stroll along the water after brunch. It's also just a five-minute walk from the Embarcadero Station.
If you're more in the mood for a traditional champagne brunch, check out Foreign Cinema in the Mission neighborhood. If the weather cooperates, sit on the lovely patio and enjoy favorites such as Croque Madame, baguette French toast, brown-sugar-smoked bacon and house-made organic fruit "Pop Tarts." Foreign Cinema shows films in the evening, hence the name.
If you're able to squeeze one more activity into your weekend, the Asian Art Museum houses one of the world's most complete collections representing 6,000 years of culture with more than 18,000 pieces.
Accommodations and Getting Around
With more than 200 hotels to choose from in San Francisco, it can be daunting to know where to stay. For a bona fide San Francisco experience with a great central location, check out the luxury hotels in the Nob Hill area such as the Stanford Court, the Huntington Hotel and the Fairmount San Francisco. If you're looking for a slightly more budget-friendly option, you'll find plenty of mid-tier hotels around Union Square, which is also centrally located.
Driving a car in San Francisco is only for the insane as parking is expensive and nearly impossible to find. Your best bet for getting around is the Muni, the city's extensive transportation system that uses buses, trains, iconic cable cars, and historic streetcars.