If there's one thing New York City dwellers are known to love, it's escaping the city in the summer, when the streets swell with tourists and the relentless heat makes being outside for too long impossible. When I first moved to New York, I was determined to cement my place among the ranks of the weekenders who managed to travel "out East," to the Hamptons and Montauk, every Friday afternoon. But my first visit to the infamous land of summer fun left me underwhelmed. The crowd, inflated prices, predictably curated pop-up shops, and even the restaurants were eerily similar to those in Manhattan and I had traveled nearly three hours to experience them.
Still, the desire to escape the city heat over those long summer weekends did not subside. On a quest to get away during the claustrophobic COVID summer of 2020, my friends and I decided to skip the usual destinations and venture a few hours further in the opposite direction, where we discovered an idyllic haven set square between Syracuse and Buffalo—the Finger Lakes. We were intrigued by the amount of space we could afford and by the promise of fresh air and a place to swim, but none of us expected to find a town so charming that we'd decide to stay an entire month.
With outstanding cool-climate vineyards, cherry and blueberry picking orchards, roadside farm stands, and crystal clear lakes, the Finger Lakes region is one every New Yorker, or New York visitor, should venture to. Here's the best way to do it, and here is a map to make navigating your long weekend in the Finger Lakes easier.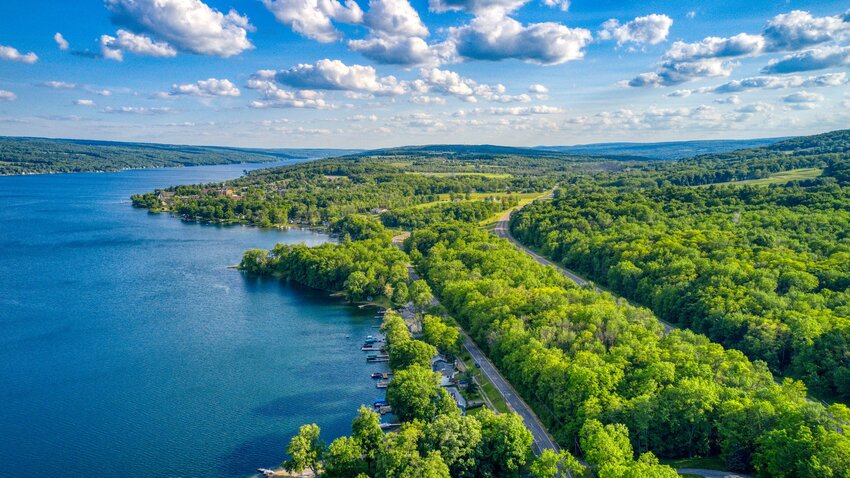 What Town To Stay In

There are five major glacial lakes in the region, all shaped like long, skinny fingers. Each lake is surrounded by small towns with their own personalities and charms, but I'm partial to Hammondsport, located at the southern tip of y-shaped Keuka Lake. Keuka is smaller than its neighbors, but what it lacks in size it makes up for in character. Plus, it's surrounded by some of the oldest and most cherished wineries in the region.
How to Get There

Driving from the New York City area will take you just under five hours and is the most direct way to get to Hammondsport. Skip an overpriced car rental and try ZipCar or Turo, a person-to-person car-sharing app where you can rent a car directly from an owner for the weekend. Just be advised that all pickups for Turo are in Jersey.
Where to Sleep

You've got two options, depending on the size of your group and what you're looking for. Pleasant Valley Farmhouse is a near-perfect Airbnb for those traveling with larger groups, or who simply want the option to do some cooking on their own—which you should, because the variety and access to fresh produce in the Finger Lakes is outstanding. The farmhouse has everything you'll need to experience a fully-realized country weekend, including an outdoor fire pit, a hammock, a charcoal grill, and a beautiful view from the sloped backyard.
Conversely, Black Sheep Inn, a five-room bed and breakfast in the heart of Hammondsport, is great for those who favor the hotel experience. B&Bs are much more common than hotels in this region, furthering the small-town charm of the place. Black Sheep Inn is a standout for its luxury accommodations and its 100% vegan breakfasts, where you can expect homemade granola, muffins, and a full English breakfast, among other options. Each of the five rooms has a different theme and decor, and every guest is greeted with a complimentary bottle of champagne and chocolates upon arrival.
Friday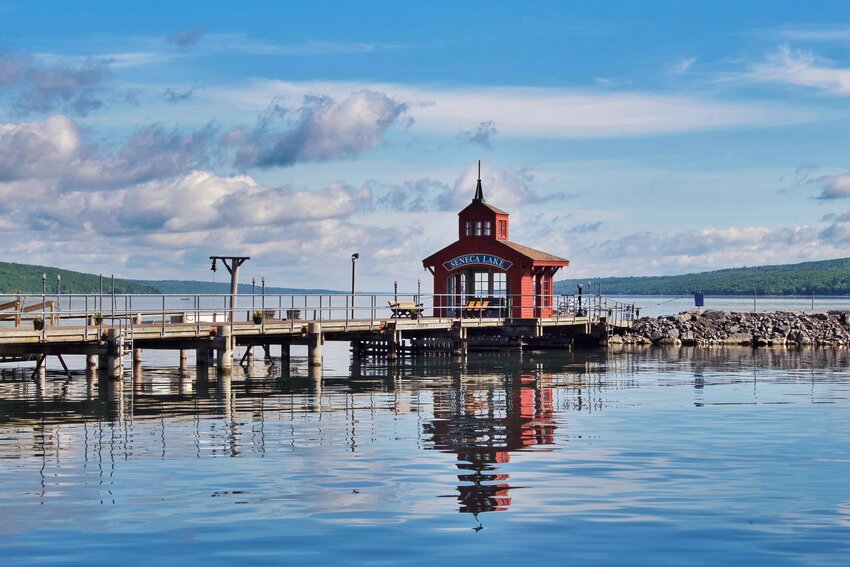 You'll want to get on the road in the morning or early afternoon, as it takes about five hours give or take to drive from the city to Hammondsport. When you arrive in the Finger Lakes, your first stop will be Watkins Glen, a sweet little town on the southern shore of Seneca Lake. Have an early dinner at Thai Elephants and take in the views from the harbor before heading to Hammondsport to check-in. Get some good rest, because you'll be getting an early start the next day.
Saturday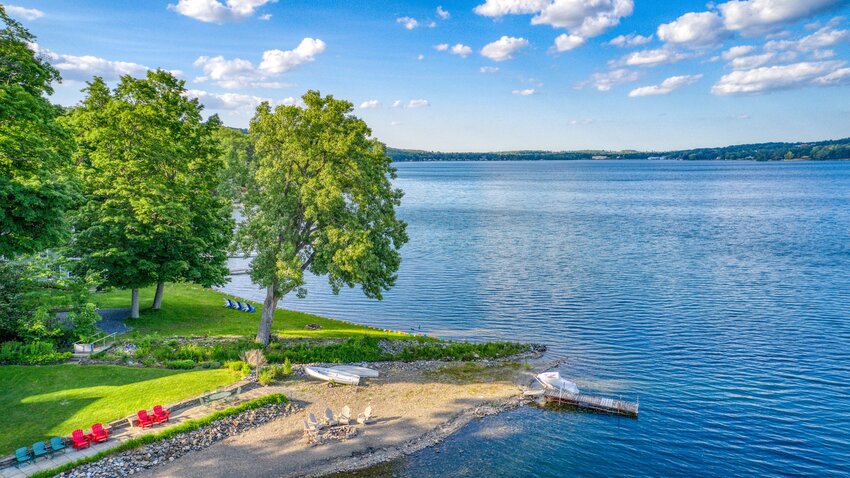 Wake up just before sunrise and head to Depot Park, which will be your main access point to Keuka Lake for the weekend. Bring some coffee from home, settle on a bench or on the dock and soak in the beauty of the still morning as the sun comes up over the water. If you're feeling up for it, take a morning swim before the park becomes crowded with local families and on-duty lifeguards. The water might be chilly, but it's also crystal clear and refreshing.
After your morning dip, it's time to stock up on provisions for the weekend, and there are only two places you should grocery shop in the Finger Lakes. First up is Oak Hill Bulk Foods, a specialty Amish market with an impressive variety of homemade snacks and spices. Fry pies, frozen cookie dough, and well-seasoned chip and pretzel mixes should all be on your shopping list, along with some freshly made sausages and smoked meat from their butcher shop if you plan on grilling over the weekend.
You'll spot your second grocery destination on your drive back: roadside produce stands. Depending on the season, you might find cartons of local peaches, tomatoes, sweet onions, or cucumbers for sale. These stands operate on the honor system and are cash only, so take whatever produce is calling your name and leave your money in the lockbox.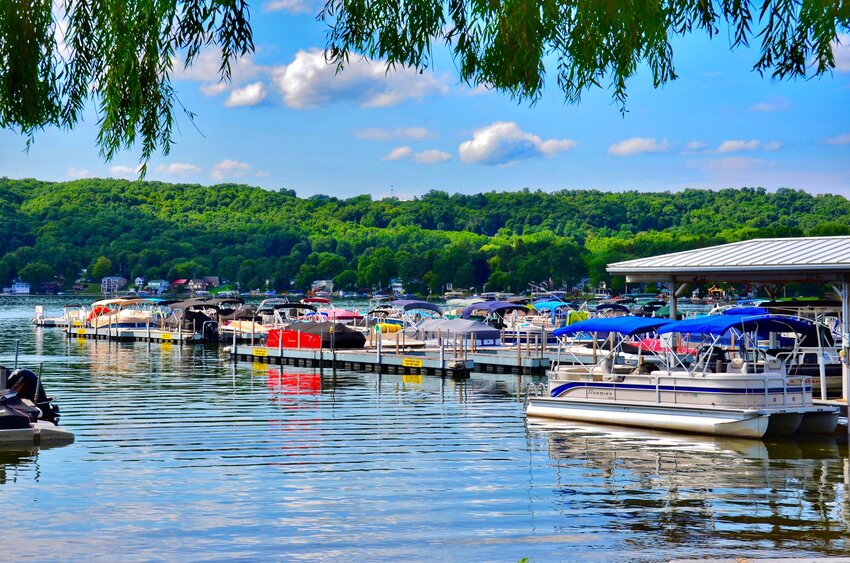 After a quick bite at home, head to Keuka Lake, the main attraction for the day. You should try to reserve a boat in advance, as it is the best way to enjoy the water while getting a view of the massive waterfront homes along the edge of the lake—but be advised, boats typically book out for the season by the start of summer. You can also rent a paddleboard, kayak, or jetski, or simply lounge at the beach area of Depot Park and take intermittent dips as you please.
Dinner on Saturday will be the fanciest meal of the weekend. You should order at least one martini at Pleasant Valley Inn, an opulent Victorian farmhouse converted into a four-room inn and restaurant that's just a short drive from Hammondsport. The menu is made up of classic dishes that skew vaguely French, and both the escargot and rack of lamb deserve a spot on your table.
Sunday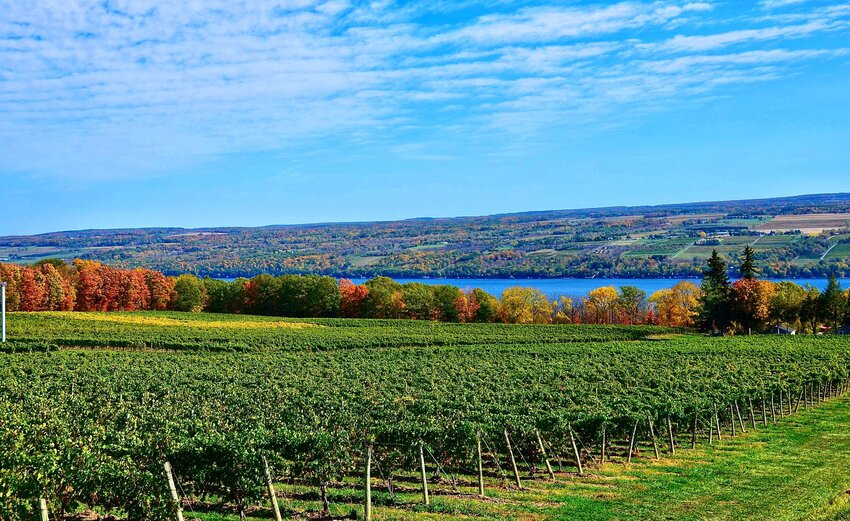 You've got two choices for how to spend your Sunday, depending on whether or not you're a wine drinker. If you are, you're in the right place, because the Finger Lakes is regarded by many as the Napa Valley of the East Coast. The region specializes in cool climate wines and is particularly famous for varietal whites, like Riesling and Gewurztraminer. There are around 120 wineries in the region, but stick to the Keuka Wine Trail, which is home to some of the most cherished legacy wineries in the area.
The simplest way to enjoy a full day of wine tasting is by hiring a private shuttle. Shuttle tours typically last from 10 a.m. to 4 p.m. ET, stopping at five or six wineries throughout the day. You can let your driver choose the stops or you can give them a list of places you want to go, and  while each winery charges a small tasting fee ranging from $8 to $15, pours are generous.

Among the top wineries is Keuka Lakes Vineyard, a small, family-owned farmstead with some of the best dry Rieslings in the region. Choose the red and white combination flight for your tasting and buy a few bottles to take home with you. Weis Vineyards is another standout, with an open-air barn tasting room and a broad selection of German-style wines, like Gewürztraminer and Grüner. Heron Hill Winery is worth a visit if only for the stellar views of the lake, though their wines are average. Skip the tasting and get a bottle of chilled red to enjoy on the picnic tables overlooking the water—it's the best view you'll get all weekend. At McGregor Vineyards, do your tasting inside and then order a glass of your favorite wine and a charcuterie board on the outdoor patio. And lastly, opt for the wine and chocolate pairing at Ravines Wine Cellar, which comes with specialty reds accompanied by a selection of local Hedonist Artisan Chocolates.
For those less interested in wine, spend the day partaking in a few wholesome country activities. Drive over to Hector, a town on the east side of Seneca Lake, to pick cherries at Dalrymple Farms. This small, family-owned orchard operates during cherry season, usually starting in May and running until the trees are all picked over. Next, head down to The Elf in the Oak for lunch, a specialty sandwich shop with unobstructed lake views. Keep your eye out for roadside farm stands as you drive back from Hector, as many of the Amish and Mennonite families in the area sell fresh eggs and butter along the road. If you have the option to stop for freshly churned butter, you absolutely should.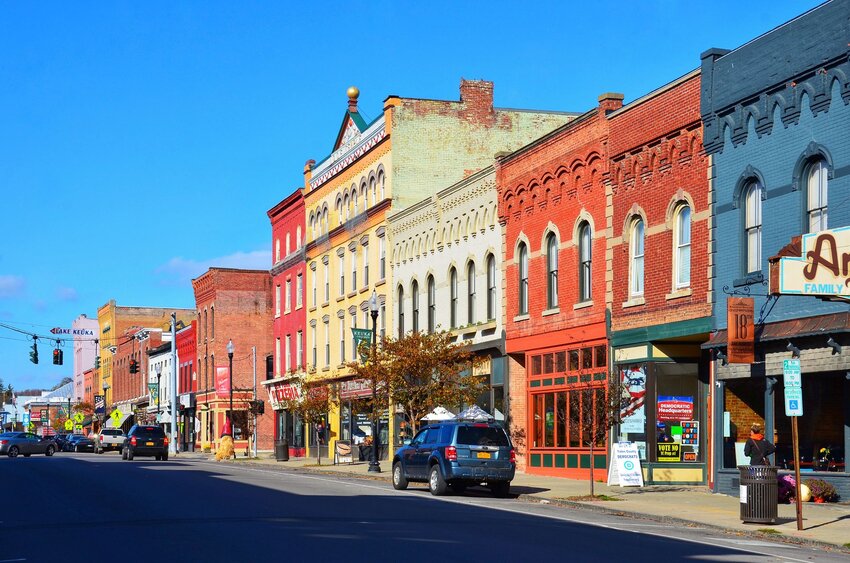 Wrap up your day of exploring with dessert in Penn Yan, a village on the northern tip of Keuka Lake that''s a bit of a drive. Order the three-flavor tasting flight at Spotted Duck Creamery, a shop that serves unbelievably creamy frozen custard made with duck eggs from their farm. The duck eggs give this ice cream alternative a rich, full flavor, with rotating seasonal options like Seneca salted caramel and blueberry streusel. Stroll around the grounds and snap a few pictures of the farm animals before heading back home.
To commemorate your final night in town, cook an at-home feast using the local ingredients you've picked up over the weekend. Whip up a cobbler if you went cherry-picking, grill meat from the butcher shop at Oak Hills, mix a salad with your fresh roadside produce, and pop open a bottle or two of wine from your favorite vineyard. Depending on timing, you might want to take one last trip to Depot Park and watch the sunset on the water.
Monday

On your way out of town, swing by Tabora Farm and Winery, a charming hybrid shop that's part deli, part gourmet grocer, and part winery. Grab a pastry or quiche for breakfast and order one of their sandwiches to go for lunch on the road—the Italian is superb. Eat your breakfast on an outdoor picnic table and bask in the final moments of fresh air before you get going. If you haven't yet had your fill of local snacks, you can pick up some fresh bread, homemade jam, and buttery shortbread cookies to bring home with you too.