Turquoise and deep blue water, sea turtles, red sand beaches, black sand beaches, waterfalls, waves, bamboo forests, and signature sunsets; Maui is a lush, wild place full of beauty and opportunities for adventure. If you're looking for a more relaxed, umbrella in your poolside drink kind of vacation, Maui can provide that too, though here we will focus on the unique experiences the island provides.
Before You Go
The second-largest of the Hawaiian Islands, Maui is home to Haleakalā, a volcano rising over 10,000 feet. Maui is also home to Peʻahi, aka Jaws, an iconic surf break where expert big wave surfers ride waves the size of mountains in the winter months. If you plan on trying surfing the first time on your trip, stick to the spring and summer months when the waves are much smaller. As a general rule; get your ocean activities in early, unless you're a kitesurfer or windsurfer, as the wind picks up late morning.
The diverse geography of Maui makes for incredible views everywhere you look. To make the most of your time on the island, rent a car at the Kahului Airport (OGG), as Haleakalā and The Road to Hana are best enjoyed with your own experienced driver behind the wheel. 4WD is not necessary; though you will want to select a car you are most comfortable driving as The Road to Hana is a windy one with narrow roads and tight corners. You'll be glad to have your own wheels and to be on your own version of island time while taking in everything Maui has to offer.
FRIDAY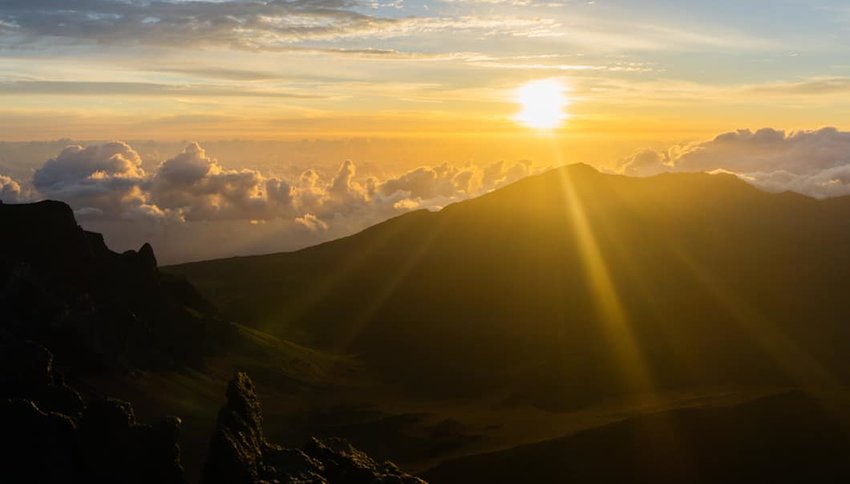 Seeing the sunrise from Haleakalā National Park is a decision you have to make and prepare for before your Maui trip begins. The sunrise experience from this vantage point has become so popular that a reservation is now required for each vehicle entering the park from 3:00 a.m. to 7:00 a.m. You can book a reservation up to two months in advance. If you are past that window, another batch of tickets will be available to reserve two days before arrival, at 4:00 p.m. HST (Hawaii Standard Time). The process is easy and costs $1.00 through recreation.gov.
Bring a sweatshirt and jacket (in the winter you may even see snow here) and get on the road early (3:00 am early) as you will want to beat the crowds and arrive in time for this majestic view. Be cautious of bike riders on the access road. Yes, riding a bike down the access road, 22+ miles is another way to experience this incredible sunrise at your own pace. Bike Maui provides everything you need to make this happen.
As far as lunch spots, if you want to enjoy pool and beach time where you're staying, grab lunch to-go. The poke bowl, which is a Hawaiian staple, from Times Supermarket is delicious. Fish tacos from Coconut's Fish Café is another great option, as is Choice Health Bar for those who are vegan.
Later that afternoon, head to Lahaina for shopping and sunset dinner on Front Street. Be sure to check out the largest banyan tree in the United States, which is located in the Courthouse Square. For a great happy hour, check out Down the Hatch followed by a  sunset dinner at Fleetwood's On Front St. Owned by Maui resident, legendary drummer and co-founder of Fleetwood Mac, Mick Fleetwood, the restaurant has a daily sunset ceremony at 5:45pm on their rooftop with live music entertainment each night. Book well in advance to guarantee rooftop seating as enjoying dinner while sun goes down is key. Be sure to arrive extra early so you can spend time in Fleetwood's General Store which not only houses amazing paraphernalia from the band, but is also home to Morrison Hotel Gallery, an extensive gallery of music photography.
SATURDAY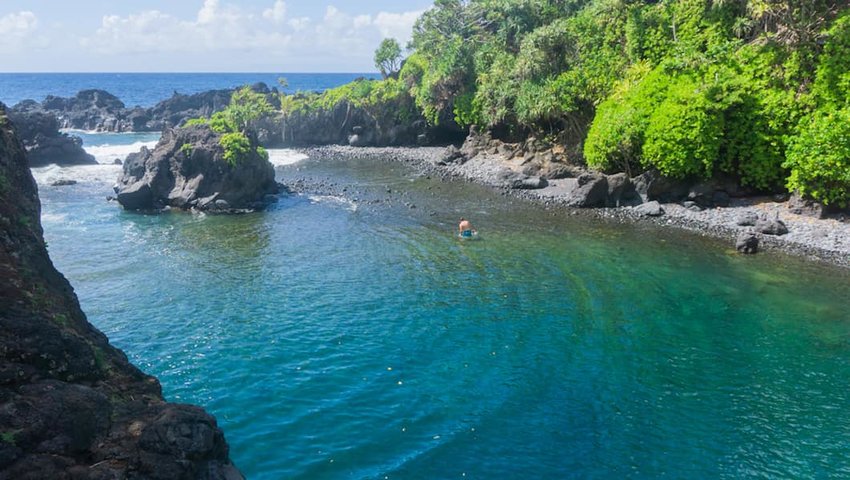 Saturday you're up early again, but this time you can enjoy the sunrise from the comfort of your accommodations before hitting The Road to Hana, which will be a scenic, all-day adventure. Be sure to eat breakfast and check that your car's gas tank is full. You'll also want to stock up on snacks and plenty of water. A good in-depth tour book can be a great help for key stops along the drive (Maui Revealed by Andrew Doughty is a great one.) Starting out from Paia, this windy road can sometimes feel like a game of chicken. While not for the faint of heart or backseat drivers, The Road to Hana is worth any of the stress that comes along with it. Whether you like being in the passenger seat or the driver's seat, you will be glad you rented a car and are not on a tall, crowded tour bus.
As you wind through the sometimes-narrow roads with steep drop-offs to the ocean, keep your eye out for mile markers, which are essential to note on this drive. This is how you will find waterfalls, bamboo forests, swimming holes and cliff jumps such as the Venus Pool, among other adventures along the way. A word of caution though — never leave valuables in your car, as points along this road have been prone to break-ins.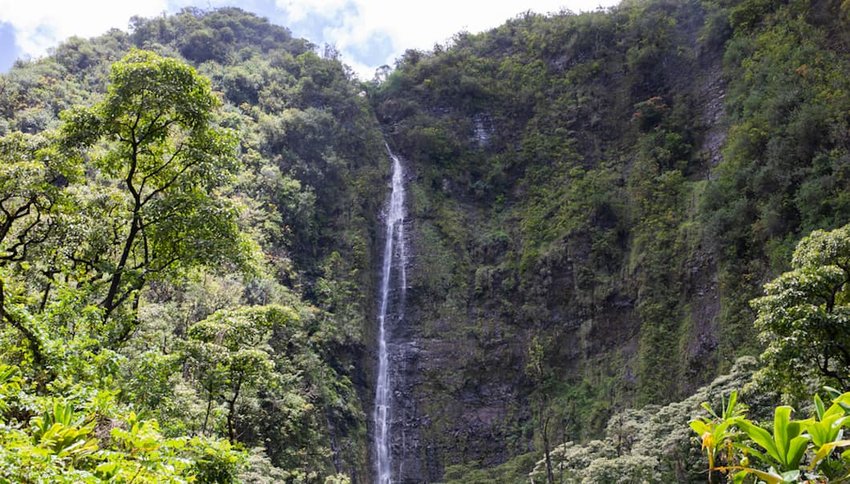 The Pipiwai Trail, which rises from The Seven Sacred Pools, is one of the best hikes on Maui, and is a 4-mile out & back, where you first pass Makahiku Falls, about ⅔ mile into the hike. You will continue on, walking beneath a large banyan tree, and into a boardwalk path through a bamboo forest. Take in all of the sights and sounds. The peaceful creaking of the hollow, tall bamboo has its own special resonance. As you continue through this magical forest, you will end at Waimoku Falls, a waterfall that ends the hike, but much like Hana is not to be seen as a final destination, as there is so much beauty along the way. Be sure to bring water on this hike and be considerate of your hiking partners and their abilities. This is a moderate hike, that all ages can enjoy, but the heat can make it challenging.
The final destination on The Road to Hana is … Hana.  After a full day of activities, it's time for a delicious meal. Thai Food by Pranee, a food truck that has expanded to include more seating capacity and shaded areas, is a great choice to enjoy a well-earned late lunch or early dinner. You want to be on your way home well before dark so eat pretty quick and get back on the road.
For dinner that night, visit Monkeypod Kitchen, which has two locations on Maui — one in Wailea and one in Kāʻanapali.
SUNDAY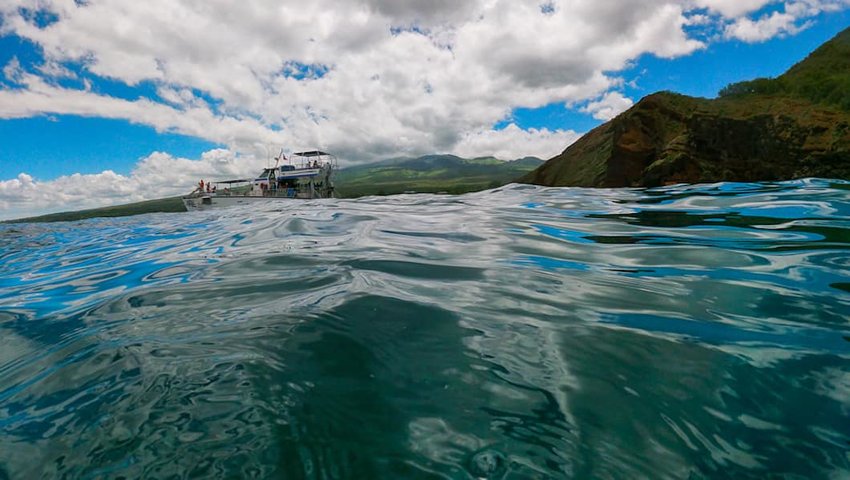 Start your Sunday with a morning Molokini adventure snorkel on the Maui Magic. Molokini is a sunken volcanic crater that is now a marine sanctuary. The Maui Magic departs from Maalaea Harbor (located between the Kahului Airport and the Lahaina/Ka'anapali resort areas) at 7am. The trip lasts 5 hours as you'll visit a couple different spots where they'll anchor while you swim with honu (green sea turtles) and coral fish like the Humuhumunukunukuapua'a, which is the official state fish of Hawaii. The Maui Magic feeds you a breakfast of tropical fruit and pastries, grills up lunch, and provides all the snorkel gear you need, serving libations at the end to celebrate a fun day at sea. Consider bringing your own snorkel mask and flippers if you plan on driving to explore off-shore snorkel spots like Honolua Bay or Ahihi Kinau, aka "The Dumps."  
Snorkel Etiquette: Do not touch the sea turtles as they are federally protected and it's illegal and harmful to touch or harass them. Reef-friendly sunscreen is essential too.
For the afternoon, head to Paia. This surf town has great shopping and restaurants including Café Mambo and Paia Fish Market. If you want to find something closer to the Kahului airport, book a reservation at Mill House off the Honoapiʻilani Hwy in Waikapu, which features a beautiful plantation setting and innovative, farm-driven dining.  
Fly home on a red-eye that night, and if you can, plan for a full day or two of recovery, as the adjustment from island time to mainland time is not easy, especially after all of the adventure you packed into this long weekend.
Where to Stay
Check out rentalsmaui.com for affordable condo rentals all over the island. Choose where you want to focus your adventure and find a condo that suits that need. The Road to Hana begins near Paia, which is a central part of the island and a key reference point for your trip. Wailea & Kihei have some of the best beaches on the island. The Andaz Maui at Wailea Resort is a boutique resort option, and an excellent choice for renting a cabana, ordering a drink with an umbrella poolside and chilling. For iconic sunset views, shopping, and West Maui adventures stay in Ka'anapali or Lahaina.