Staying at an Airbnb or a VRBO in another country can tell you a lot about that area's culture. Whether it's dining inside an elegant European estate or sleeping on a mat at a traditional Japanese ryokan, your home away from home will offer insight into the colors, patterns, and materials that give each country a distinct personality. Whether you are a design buff looking for inspiration or just want to further experience the local culture, check out these interior design trends around the world.
Morocco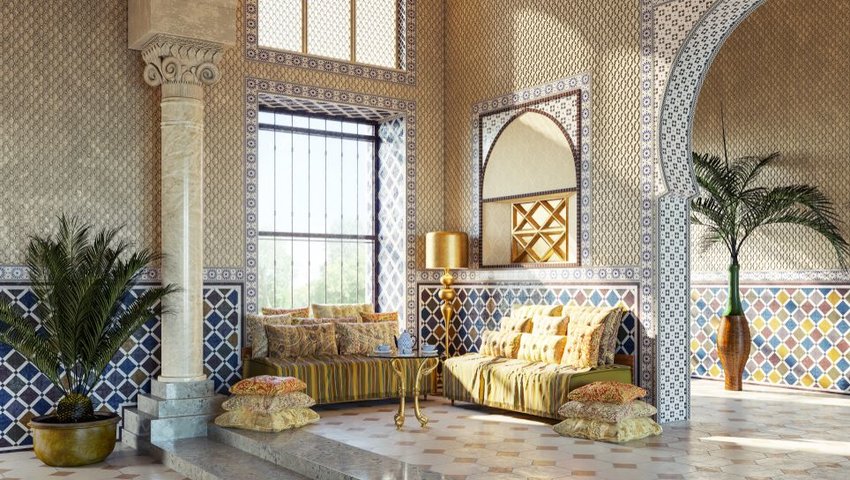 You won't find us complaining about Morocco's penchant for ornate arches, tiled mosaics, and dramatic lighting. Tile-making is an artform in Morocco, and including brightly-colored, handmade tiles manages to make any home look modern and authentic at the same time. Punched metal lanterns matched with geometric patterned poufs, painted pottery, textured wallpaper, and plaster finishes are elaborately elegant so that the home looks like a work of art rather than just merely a crash pad.    
Mexico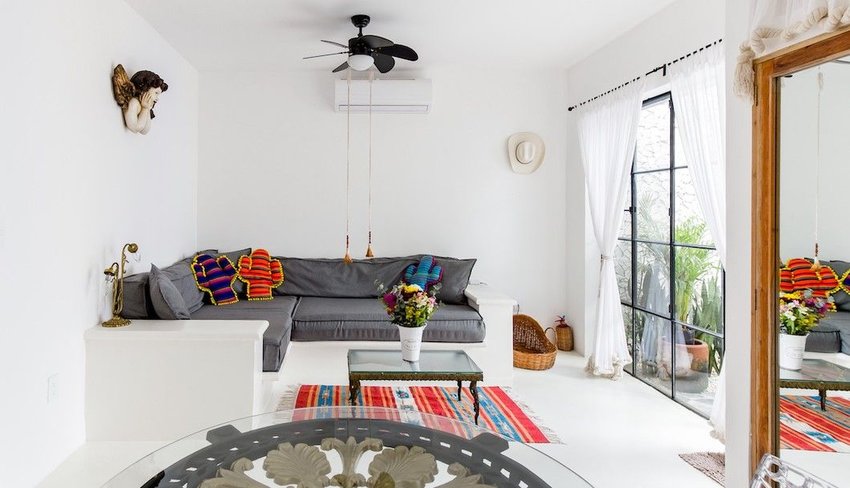 Handmade pottery painted in vivid, bright colors, striped serape blankets, and rustic wood or wrought iron furnishings are fashionable in Mexico. Spice up any room with Mexican flair by simply adding a sugar skull print, embroidered throw pillows, or a couple succulents. Interior design doesn't ever feel drab in this country that loves color as much as art and nature motifs.
France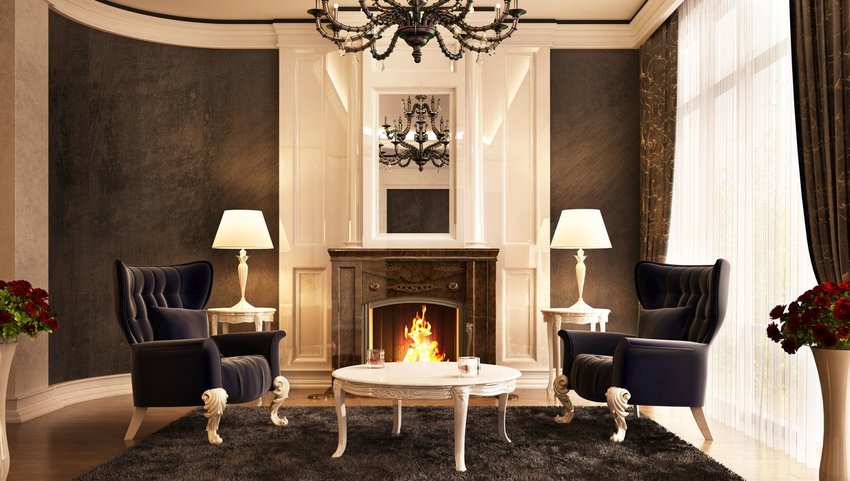 Blue rooms are traditional in France, so you'll probably find the royal shade in a French home. For a country that loves both its art and high fashion, interior design has always been a priority. With a nod to the luxurious French Baroque style extravagantly displayed throughout the Palace of Versailles, French homes exhibit grandeur with velvet upholstery, vintage floral patterns, and gold finishes. Today, the French prefer something a little more casual, but you'll find sophisticated touches no matter where you go.  
United Kingdom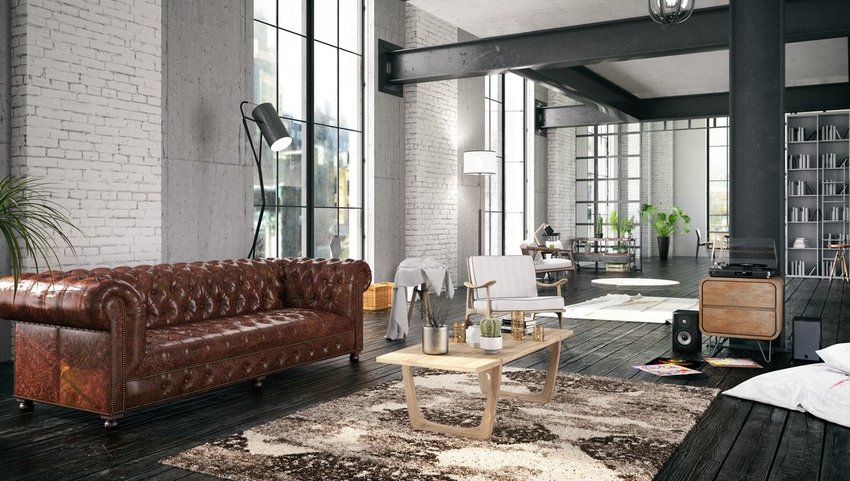 The United Kingdom (namely London) has always been trendsetting when it comes to fashion, music, and pop culture, so don't expect British living rooms to be boring! The U.K. prefers homey and traditional interiors with classic wood furniture, leather chairs, heirloom china on display, Victorian wallpaper, and antique rugs, but you'll also find exciting accents in bold colors to mix it up. Eclecticism at its best, this style is an old-meets-new approach that we love to look at.
Denmark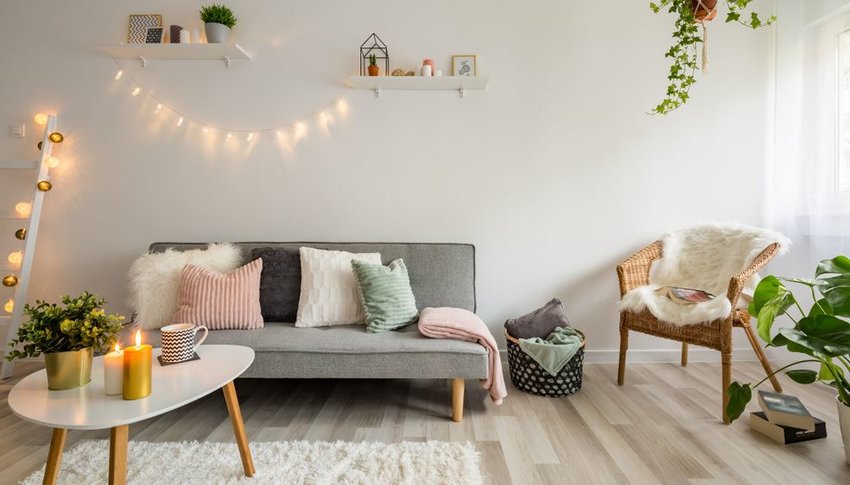 Known best for its concept of coziness called hygge, the Danes don't let the harsh dreariness of winter darken their decorating style. Most Scandinavian countries prefer eco-friendly, light wood furniture paired with industrial and mid-century modern accents. One or two colors in a room of mostly neutrals is common in Denmark as well as comforting elements of hygge such as fur rugs, heavy-knit blankets, candles, and ambient lighting.
Japan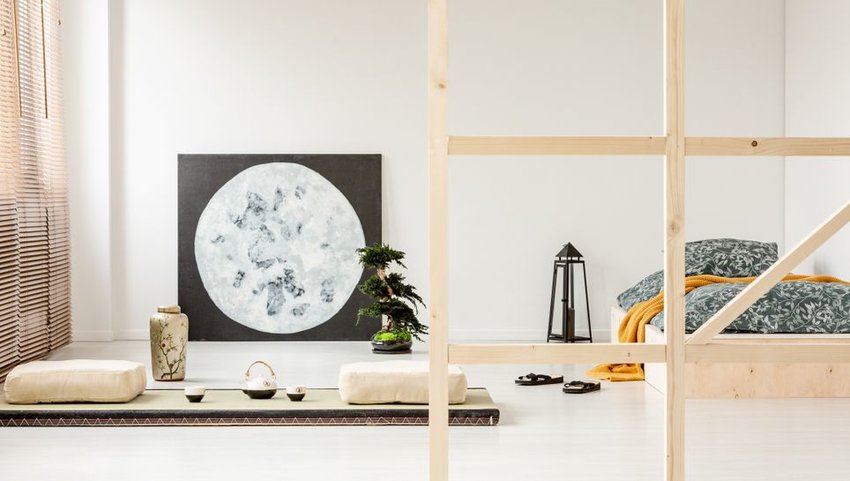 Like Denmark, Japan doesn't feel the need to accessorize too much. You don't need to read Marie Kondo's "The Life-Changing Magic of Tidying Up" to realize how much the Japanese appreciate minimalism. Grounded in simplicity and harmony with the natural world, color is scarcely found in homes across this island nation. White walls, plants, floor lanterns, a table for ceremonial tea, and a neutral rug or two will do just fine.
India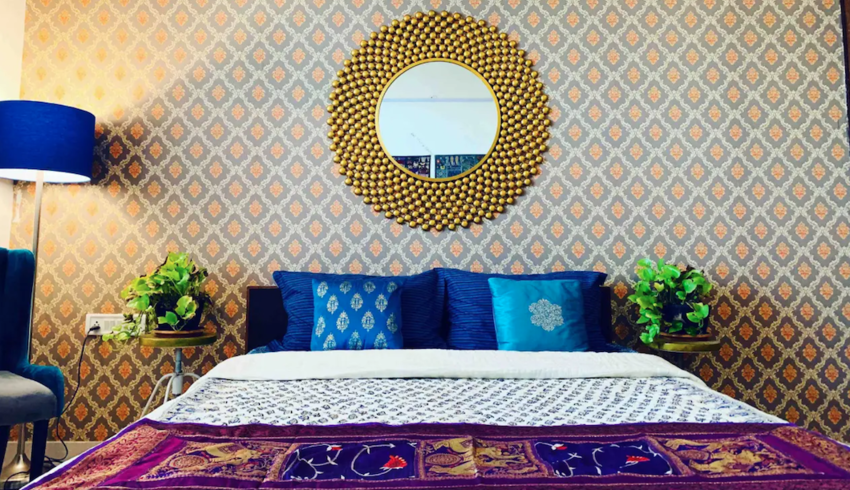 India sure knows how to embellish! From hand-stitched Kantha quilts to beaded sarees, the sparkle and rainbow of jewel tones are easily captivating and part of a colorful culture. Bronze statues of Hindu deities, hand-carved and hand-painted furniture, multicolored throw pillows, and layered textiles decorate every room in the house. Your eyes won't quite know what to fixate on.