It's not always necessary to stand in line at a museum to see awe-inspiring and groundbreaking art. From murals that convey political messages to a giant pumpkin, some of the finest public artworks can be found on the streets entirely for free. Here are a few examples of spectacular public art around the world.
Angel of the North
Gateshead, England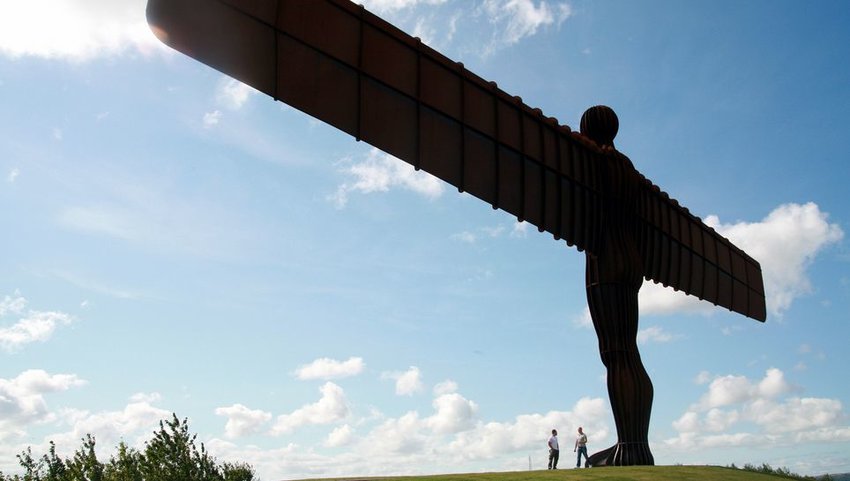 Gazing over the green Northumberland countryside, the Angel of the North is an icon of northeast England. Anthony Gormley's masterpiece stands 64 feet tall and has a wingspan of 175 feet, which is almost as wide as that of a Jumbo Jet airliner. Thought to be the world's largest angel statue, the Angel of the North is believed to have a body styled from a plaster cast of Gormley's own torso. Its location at the side of an expressway drew criticism for being a potential traffic hazard, nevertheless, an estimated 90,000 people per day see the Angel of the North.
Cloud Gate
Chicago, USA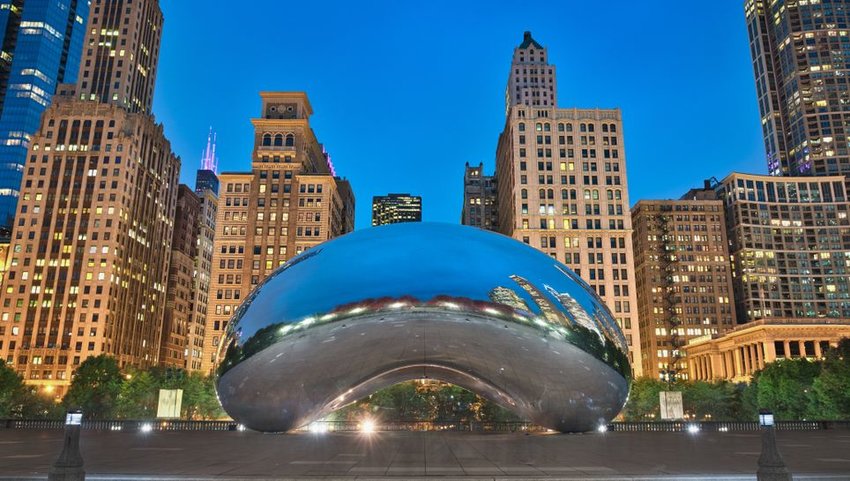 Affectionately called "The Bean" by Chicagoans, Cloud Gate is the most popular attraction at Millennium Park. Designed by Indian-British artist Anish Kapoor, this enormous, stainless steel installation magnificently reflects and distorts the surrounding Chicago skyline. Kapoor took inspiration from liquid mercury and it bears similarities to other conceptual works of his including the "Sky Mirror" at Rockefeller Center and "Turning the World Upside Down" in Jerusalem. Unveiled in 2006, Cloud Gate is now an adored landmark for photo-ops and doubles as a giant fun house mirror. The underside concave chamber is particularly popular since it warps and enlarges whoever passes underneath it.
East Side Gallery
Berlin, Germany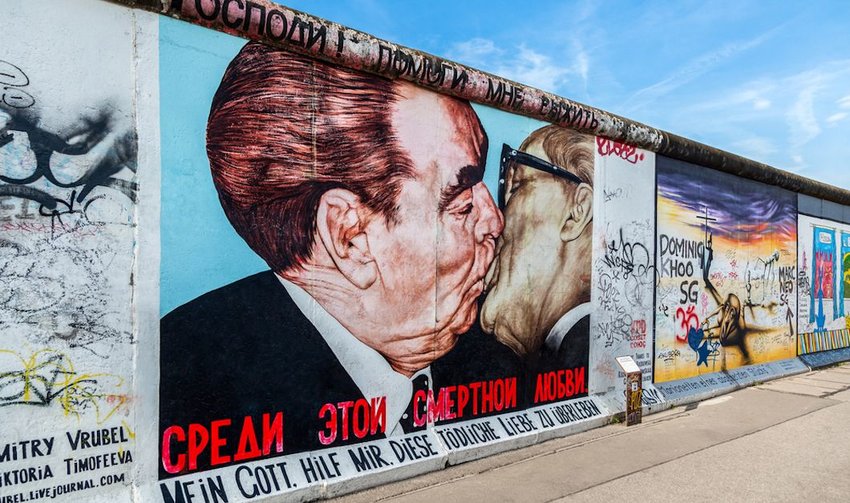 After the people of Germany demolished the Berlin Wall in 1989, artists flocked to a riverside section in the Friedrichshain district to decorate it with graffiti and murals. The idea for the East Side Gallery came from a merger between the BBK and VBK artist groups. It now features works by over 100 artists such as Kim Prisu, Jim Avignon, and Thierry Noir along the 4,300-foot-long stretch of wall. The works represent freedom, peaceful negotiations, and communist rage and feature everything from cartoon images of animals and human faces to a portrayal of Pink Floyd's "The Wall." Perhaps the most iconic is Dmitri Vrubel's "Fraternal Kiss," which depicts an embrace between Soviet leader Leonid Brezhnez and East German president Erich Honecker.
The Night Watch
Amsterdam, Netherlands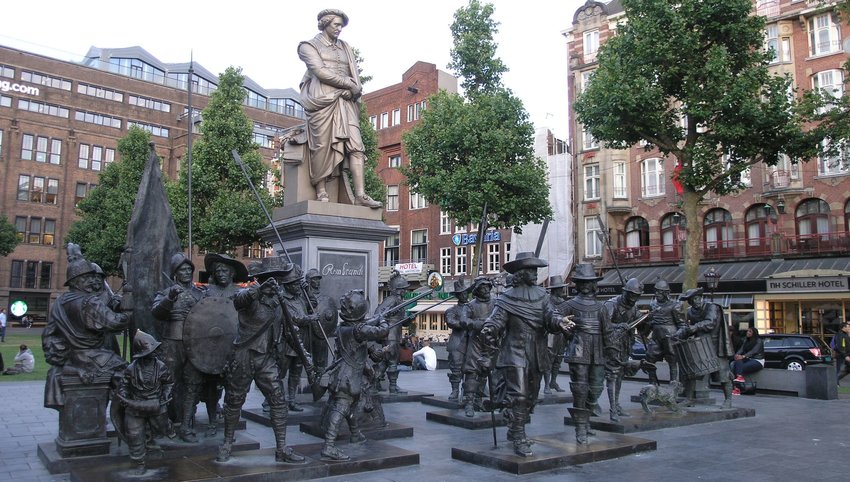 One of Rembrandt's most famous paintings, "The Night Watch," is especially popular inside Amsterdam's Rijksmuseum. The masterpiece represents a militia company and is among the finest paintings of the Dutch Golden Age. While its importance to art history is unprecedented, in 2006, Russian artists Alexander Taratynov and Mikhail Dronov created a spectacular bronze-cast replica to mark Rembrandt's 400th birthday. The incredibly lifelike soldiers stand in the center of Rembrandt Square and tempt tourists into posing alongside them for photographs. Adding to the dramatic scene is an oversized statue of Rembrandt himself, who appears to be looking down with approval on the Russian creation.
Yellow Pumpkin
Naoshima, Japan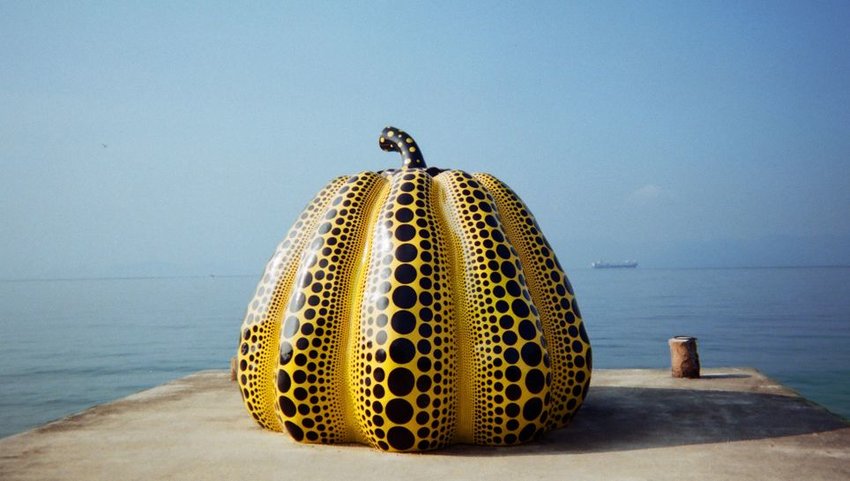 When you've got some space at the end of a pier on a quiet beach, what's the first thing you do? Commission contemporary Japanese artist Yayoi Kusama to design a giant yellow pumpkin, of course. Kusama has a self-proclaimed obsession with pumpkins. She even dedicated a 2017 exhibition at the Hirshhorn Museum in Washington, D.C. to the wintertime squash — so this was her opportunity to go all out with her flamboyance. The result is a yellow vegetable with black polka dots set against a backdrop of deep-blue water. It's such a treasured landmark that it is picked up and stored safely when weather forecasters sense the onset of a typhoon.
Shoes on the Danube Bank
Budapest, Hungary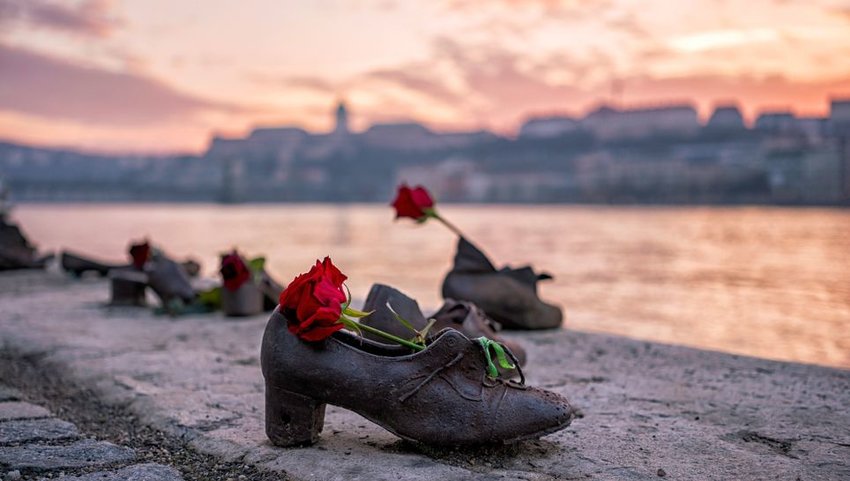 Between 1944 and 1945, roughly 20,000 Jews from Budapest lost their lives at the hands of the far-right Arrow Cross Party. Victims were ordered to remove their shoes before they were shot and left to fall from the riverbanks into the Danube. To commemorate the tragedy, Can Togay and Gyula Pauer created the somber public art display, "Shoes on the Danube Bank." The piece features 60 life-size pairs of shoes sculpted from iron and designed from styles popular in the 1940s. There are business loafers, workman's boots, woman's heels, and children's shoes. While serving as a harrowing reminder of the events, the shoes also guarantee that those lives will never be forgotten.
Stravinsky Fountain
Paris, France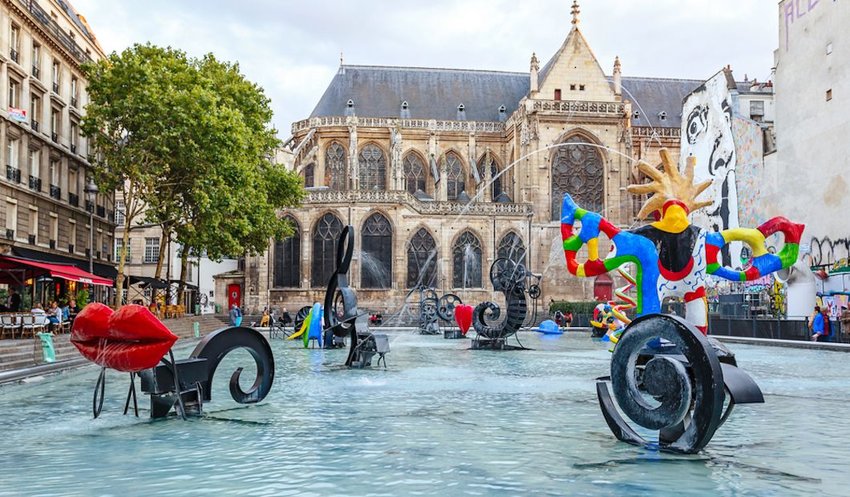 Art lovers flock to Centre Pompidou in Paris to admire masterpieces by Matisse, Munch, and Picasso among others, but you don't have to go inside to appreciate the talent of great artists. In a square outside the gallery is an abstract, whimsical, and mechanical fountain that honors the major works by Russian composer, Igor Stravinsky. The fountain blends Dadaist-style sculptures by Jean Tinguely with elaborate, bright-colored pieces by Niki de Saint Phalle. According to Tinguely, the bizarreness and disorder of the fountain was chosen to awaken Stravinsky's love for jazz. Decide for yourself as you peruse a clown's bowler hat, big red lips, and a mermaid sprouting water from her breasts.