In spite of its reputation, in spite of John Denver, and even in spite of Coors commercials, not everyone in Colorado is automatically called to the mountains. My first year living here — having arrived from a below-sea-level city in southeast Asia — I was happy just to admire them from afar. First from Interstate 70, where they jut from the prairies as westbound travelers clear the flat plains of Kansas. Then from Denver, where the Rockies come into full view, so massive and majestic that even suburban parking lots can boast incomparable vistas. And finally, from car windows on winding roads through what locals refer to as "the Front Range."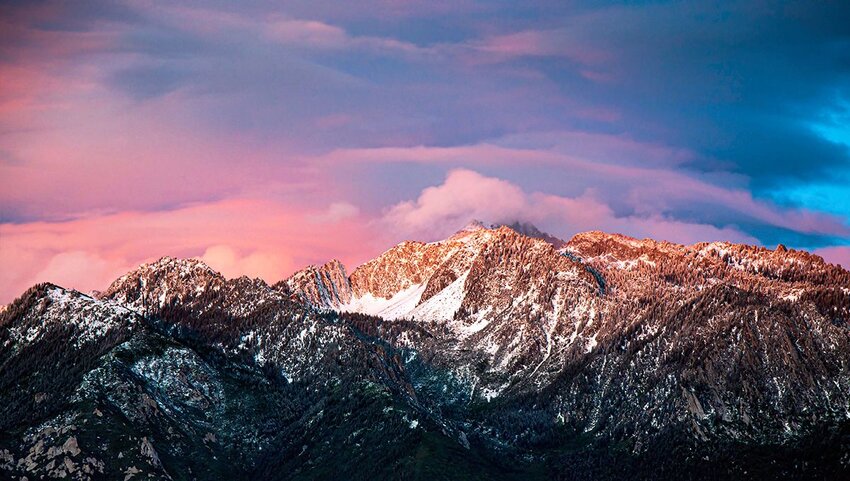 But aside from ski resorts and scenic drives, "the backcountry" remained a mystery. I did go camping the first summer — and spent a sleepless night shivering from hypothermia. It was late July, but the temperature was a balmy 39 degrees Fahrenheit. Through chattering teeth, I vowed "never again." But then, I heard about the huts.
What Is the 10th Mountain Division Hut Association?
During World War II, soldiers in the Army's 10th Mountain Division trained for winter and mountain warfare at Camp Hale, located 9,200 feet above sea level in the Eagle River Valley near Leadville, which is about a hundred miles from Denver and the highest city incorporated in North America. Today, the 10th Mountain Division Hut Association is named in their honor, and manages 34 backcountry cabins scattered throughout the mountains near some of Colorado's famed ski resorts, from Aspen to Vail, Winter Park, and Crested Butte. The accommodations range from outhouse offerings where you haul in and filter your own water (thank you, next) to rustic-deluxe accommodations featuring wood-fired saunas (thank you, yes). I bought a pair of snowshoes, roped in a girlfriend, and bagged the first available two-night slot. And so the (winter) games began.
Planning the Journey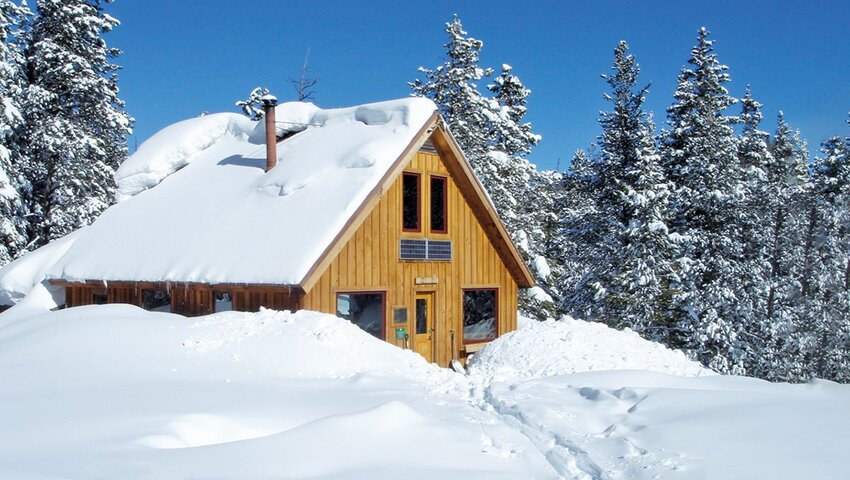 Why winter? After July's misadventure, I'd decided that if I must freeze to death, I'd rather it be in pretty snow instead of in what is supposed to be summer. And while some huts are open year-round, many only accept visitors in the colder months. Lastly, although it had taken some time, I'd finally acquired at least a limited wardrobe of clothes actually suited to the climate and learned the basics of layering. (In my first year in Colorado, layering meant "popping into Target at lunch to buy either another jacket or another sleeveless shirt," depending on whether I was freezing or broiling.)
I'd picked a hut at Shrine Mountain because of the aforementioned sauna, and also because I was an out-of-shape flatlander who'd never snowshoed before, let alone at altitude. Shrine Mountain offers the easiest access — it's less than a three-mile trek in from the trailhead with a modest elevation gain (by Colorado's standards) of around 700 feet. And since almost everything we'd need would have to be carried in, Shrine Mountain hit the sweet spot for first-timers. As a bonus, it's only about an hour-and-a-half drive from the city of Denver, making it doable for even a one-night stay.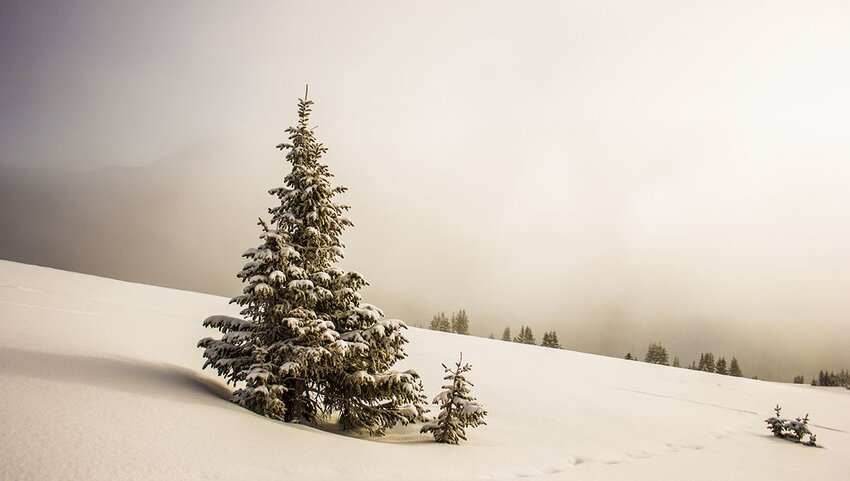 Dee, my non-cooking co-hutter, was put in charge of alcohol. Food was my responsibility. No granola bars and Babybel cheese for us — I like to eat and consider feasting by firelight to be half the fun. Amazon provided a tiny, tea candle-fired raclette grill that was easy to pack and carry. I baked a few baguettes and slow-braised some beef bourguignon ahead of time. Eggs are easily broken, so I scrambled them raw and sealed and packed everything up in sturdy Ziplock bags.
The Adventure Begins
After a late start and lunch in Idaho Springs (about 40 minutes from Denver and approximately at the halfway point of the drive), we arrived at the trailhead near Vail Pass under brilliant sun and bluebird skies. Semi-trucks sailed past on the interstate as we struggled to strap into our (borrowed) backpacks and braced against the wind as we started uphill. Goodbye, civilization. Hello, frostbite.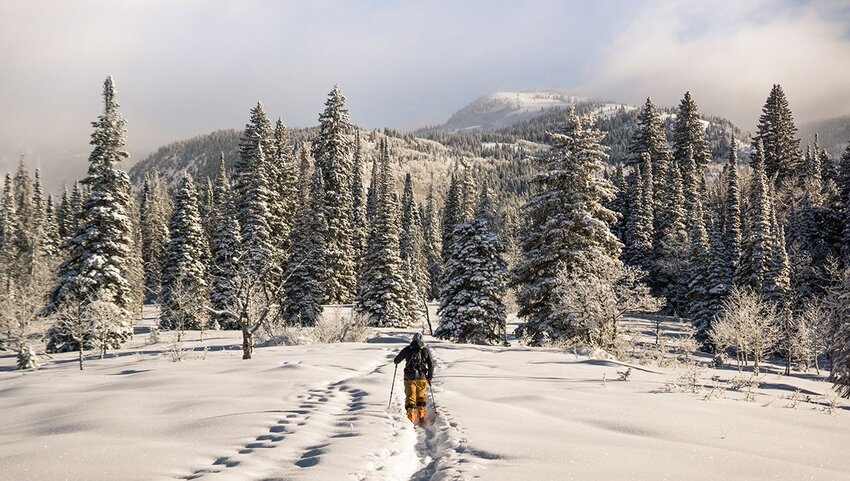 An hour in, we worried about being lost but persevered along (what we hoped was) the trail. A couple towing two toddlers on a day hike passed us without any apparent effort. Dee chose this time to announce that she'd only packed one bottle of wine, instead of a box. And then, it started to snow. A dire situation had become even worse.
We had already lost sight of the interstate, our touchstone back to safety, when the blizzard blew in. It was frightening (and frigid) but also exhilarating. The mountains were barely visible through the flakes, but the knowledge that our path forward was supposedly a fairly straight shot kept us going. We found the sign for the huts, headed left, and trudged through an alley of evergreens. And then, at last, they appeared: a cluster of three sturdy lodges, two-storied and timbered, a beautiful shelter from the storm.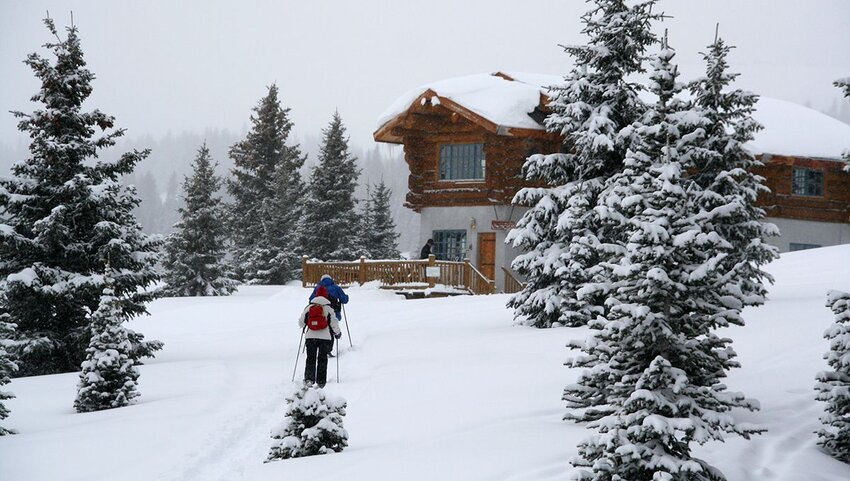 An hour later, the wood stove had stopped our shivers, the stew was simmering, and Dee was dispatched to beg, buy, or borrow more wine from the group in the next cabin. Luckily, they'd been chauffeured in via snowmobile with a case in tow and were happy to trade a few bottles for brie and chocolate. We shivered our way through the drifts to the sauna and steamed before climbing into sleeping bags (the huts have beds but don't provide linens), a snowglobe swirling beyond the windows.
Morning brought breakfast — homemade mushroom omelets and cinnamon rolls — and bliss. The storm had moved on, leaving a half-foot of powder and a silence that can only be described as holy. Snowshoeing into the trees, we came upon the tracks of an ermine. Later, we read and played lazy hands of cards in front of the fire before taking another trek out to watch the sun blaze down behind the slopes, as our neighbors returned from a day of skiing. There was time for another sauna and one more toast to the mountains — and to the 10th Mountain Division. This was the backcountry — albeit at its easiest — and this Colorado girl was hooked.
If You Decide to Visit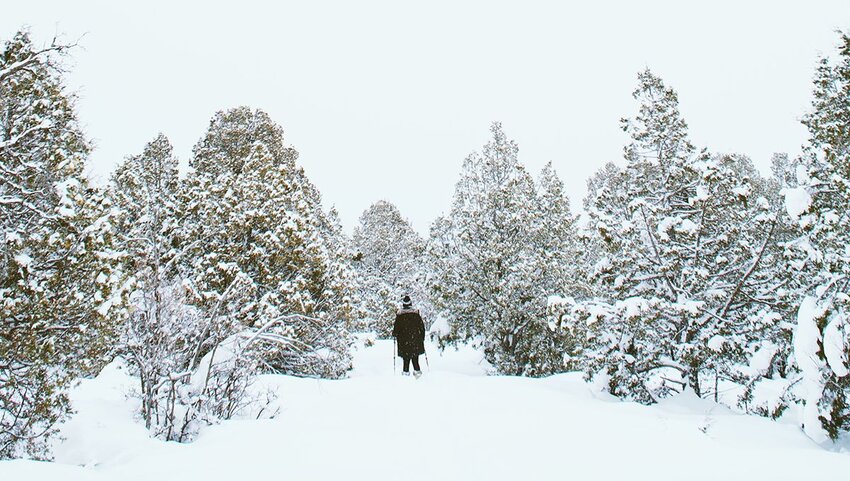 Plan early as spots are highly coveted. Information on all 34 huts in the 10th Mountain Division can be found at huts.org. The pandemic has further restricted access for safety, but it's more than worth the wait. If you want preferred access, members of the association get first dibs on reservations each year. And while the 10th Mountain Division huts are the most well-known, Colorado is home to more than a hundred huts (and yurts) spread throughout the state's glorious mountains. There's no need to confine yourself to one — many sites are linked by trails and hiking (or skiing or snowshoeing) from hut to hut is a great way to spend a few days (or longer!). You can find a useful map with information about all of them here.