Skincare regimens can be just as unique as the people performing them; they are often streamlined, swapped, or adjusted as needs change with age or with the seasons. Because of that, few skincare routines boast die-hard fan bases that swear by its efficacy. The 10-step Korean beauty routine, however, has that status. Though a bit excessive, the famous 10-step K-beauty routine is basically a foolproof system that combines the use of various products in a specific order that people now use in every corner of the globe.
Though most western countries only became aware of Korean beauty products in 2011, Korean skincare routines and their ingredients date back to 700 B.C. In the 90s when Korean beauty became a more popular, diversified market, traditional ingredients like snail mucus or bee venom were fine-tuned and combined with science-backed formulas to drive the youthful, glass-like results that Korean culture valued. The result became the 10-step routine we know today, made mainstream by Charlotte Cho, founder of beauty retailer Soko Glam. Though each step doesn't have to be part of your daily routine, there's a method to the madness. The regimen was developed with lighter skincare products being used first and heavier skincare products being used last, so that the skin is properly prepped to absorb all the ingredients you apply.
So what exactly are the steps, when do you have to do them, and which can you skip from time to time? We're breaking it down alongside some product recommendations so you can finally understand what all the hype is about.

Step 1: Oil Cleanser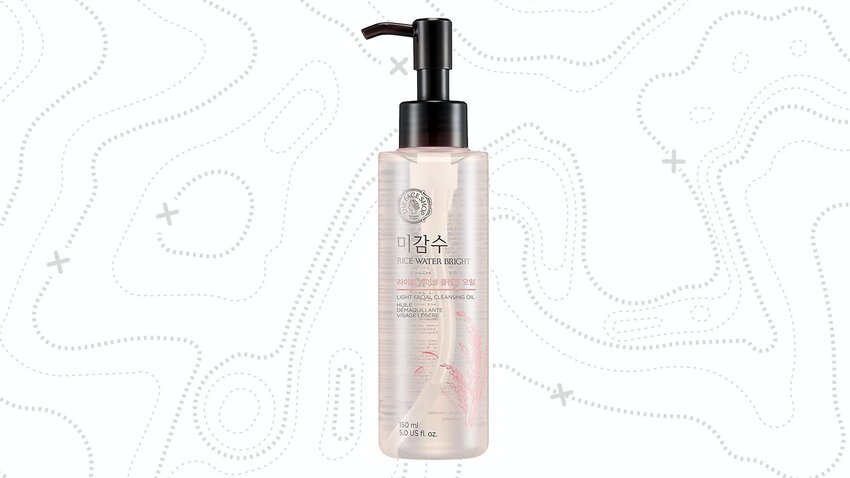 You've likely heard of the term "double cleanse" before as the foundation of the Korean beauty routine. The point of double cleansing is to clean the skin of both oil-based debris like makeup and sunscreen, and water-based debris like sweat and dirt. According to this Korean-based method, if you're only cleansing once, you're leaving a lot of gunk behind in your skin. To fully clear out your pores and prevent grime build-up, start by washing your face with an oil-based cleanser.
The Face Shop Light Cleansing Oil is a solid choice for the start of your routine. A K-Beauty OG, The Face Shop believes in using natural ingredients to keep skin soft and smooth. This product in particular utilizes rice water with vitamins A, B, and E, which are known to brighten and nourish skin, alongside ceramides that help with hydration. Because the formula is light, the oil will help dissolve makeup without adding more oil to your face.
Buy it here: The Face Shop Light Cleansing Oil | $11
Step 2: Water-Based Cleanser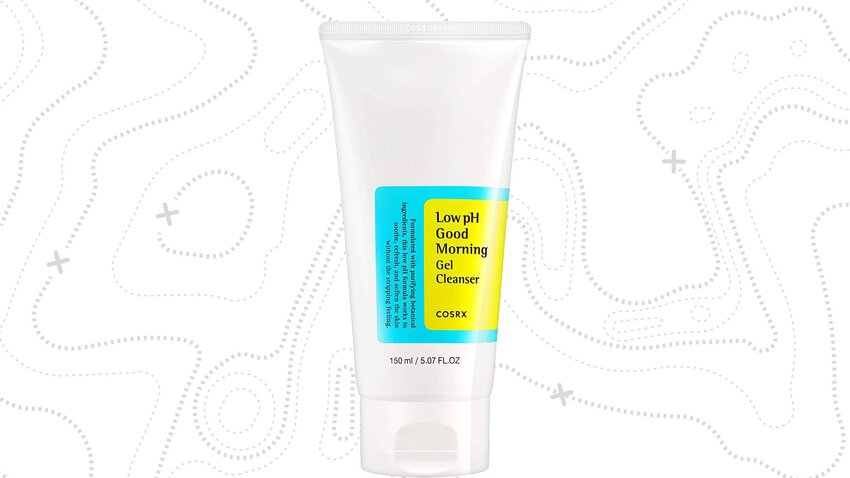 Oil cleanser is great at picking up makeup, but it can easily miss dirt or sweat that leads to breakouts. Water-based cleansers, which you can use day or night, will take care of the rest.
While there's a seemingly endless number of water-based cleansers on the market, CORSX Good Morning Gel Cleanser has a reputation in the K-beauty world for being one of the best. Because this cleanser is mildly acidic, it effectively removes sweat from skin without causing irritation. Added ingredients like tea tree oil also ensure skin doesn't dry out or become irritated after you're done washing. If you have acne-prone skin, this is definitely worth a try.
Buy it here: CORSX Good Morning Gel Cleanser | $10
Step 3: Exfoliator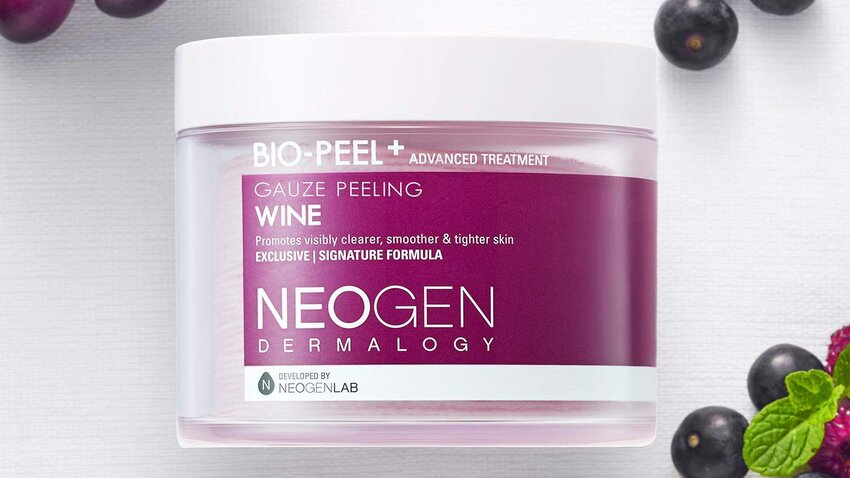 We're almost done with the cleansing phase, but there's still one important step left. Luckily, you don't have to do this every day. While it doesn't matter if you use a chemical or physical exfoliator, taking the time to slough away dead skin can prevent dullness and breakouts. Depending on your skin type, it's recommended to do this no more than one to two times per week.
Like cleansers, you'll find no end to the exfoliators out there, but not many use wine to get rid of dead skin. K-Beauty favorite Neogen Dermalogy's Bio-Peel Gauze Pads have become an Amazon obsession because the added use of wine not only feels and smells amazing, it works to peel off dead skin cells while firming and tightening skin. The double-sided gauze pad also manually removes impurities from the skin for added physical exfoliation.
Buy it here: Neogen Dermalogy's Bio-Peel Gauze Pads | $27
Step 4: Toner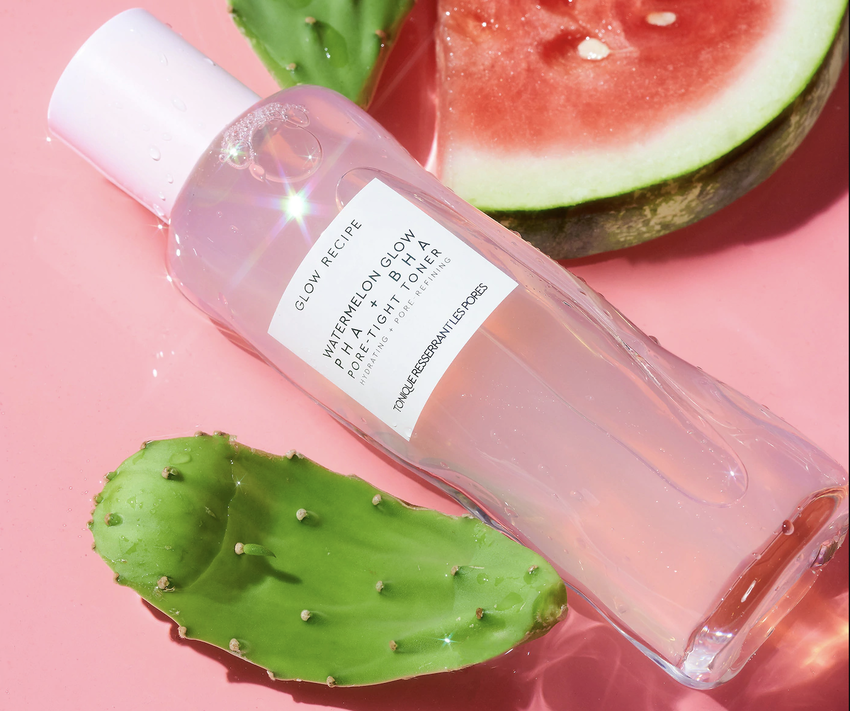 Toner might seem like a product you can readily chuck from your routine, but it has an important job to do. In addition to getting rid of any still remaining dirt (yes, there may still be some), toner works to repair your skin's barrier and balance your skin's pH levels so it can better absorb the moisturizing products to come.
For this we recommend Glow Recipe's PHA + BHA Pore-Tightening Toner because it packs all of the hydrating power of watermelon into a light and refreshing gel. While watermelon gives skin natural amino acids, cactus water keeps moisture inside of the skin. PHA made from willow bark helps to clear and reduce the look of pores without any alcohol.
Buy it here: Glow Recipe's PHA + BHA Pore-Tightening Toner | $34
Step 5: Essence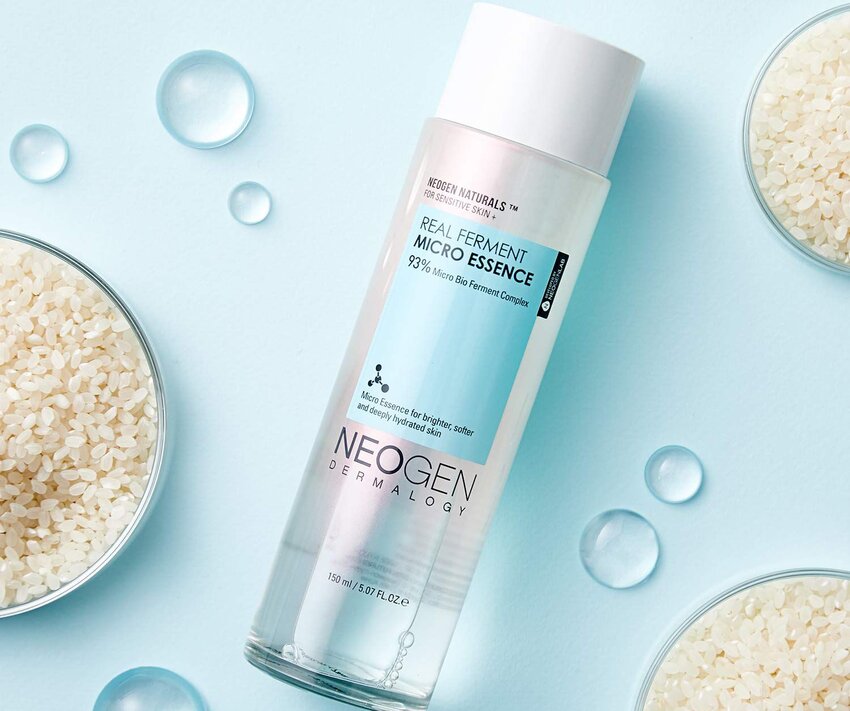 Out of all the steps on this list, using essence might be the least familiar for most people. Lightweight and typically patted into skin like a toner, essence serves to prime skin to better absorb moisturizer once it's applied. However, essence has a host of skincare benefits of its own. Ingredients will vary based on the product, but they often serve to hydrate and balance skin while allowing other ingredients to penetrate skin more deeply. To put it simply, essence helps you get your money's worth with every product you use thereafter.
Neogen Dermalogy Real Ferment Micro Essence is a Soko Glam best of K-Beauty pick that we also recommend for this step. Made from 90% fermentable ingredients that are also compatible with skin, this essence absorbs quickly into skin, hydrating it along the way and paving the path for other products to kick off their shoes and stay a while.
Buy it here: Neogen Dermalogy Real Ferment Micro Essence | $38
Step 6: Serum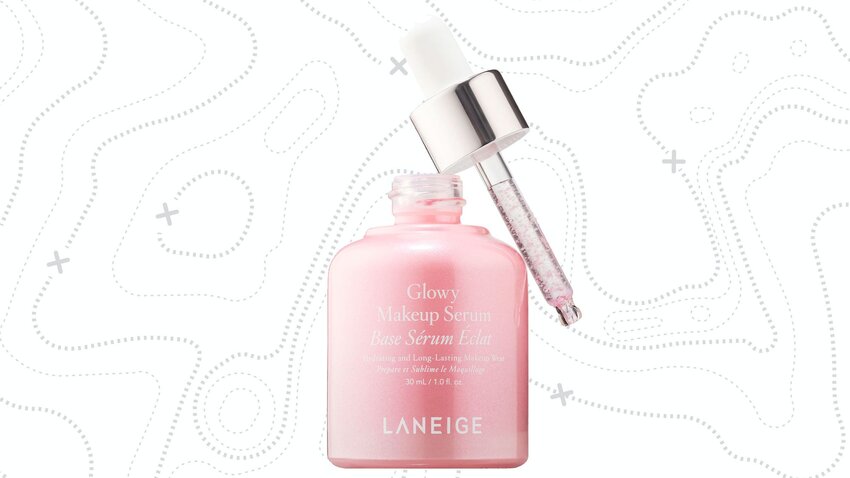 Do not let the buzz around serums deter you — a good serum can make all the difference to a skincare routine, which is why serum is the first step when nourishing your skin. Serums, alongside ampules, feature specific ingredients in high concentrations and usually only require a few drops for the desired effect. Different serums serve different purposes, and can hydrate, brighten, reduce acne, or minimize fine lines depending on the active ingredients it contains.
If you're looking for radiance without the need for highlighter, Laneige Glowy Makeup Serum is a great go-to. Its main purpose is to hydrate skin while reducing oil build up to help makeup go on more smoothly. Ingredients like diamond mineral powder also offer a distinctive glow that appears translucent and helps smooth skin.
Buy it here: Laneige Glowy Makeup Serum | $32
Step 7: Sheet Masks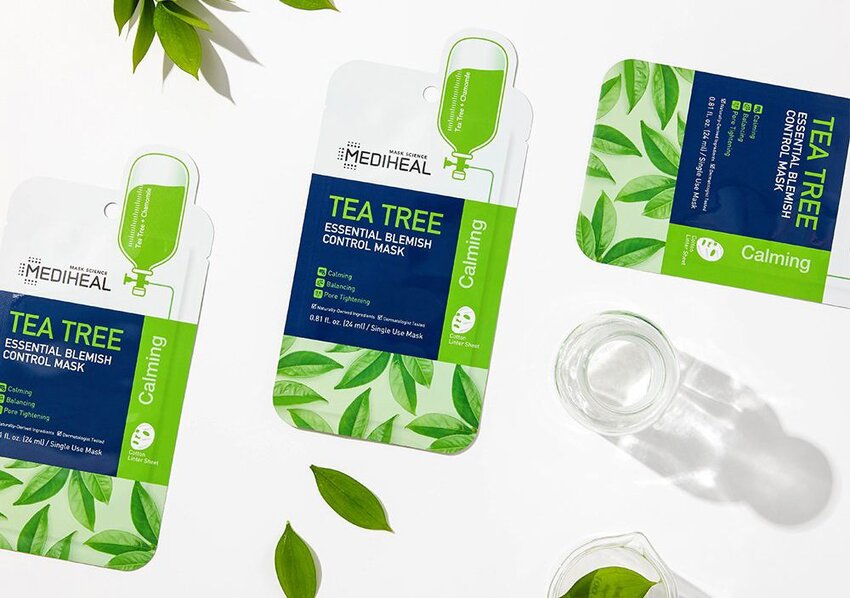 This doesn't have to be an every day part of your skincare routine, but if it also doubles as part of your self-care routine, have at it. Sheet masks are probably the most popular part of the K-Beauty routine, with a vast variety of different sheet masks now on the market to help with different skin concerns. The idea is to place a sheet saturated with skincare ingredients for a prolonged period of time on your face so skin can absorb all the benefits from the mask itself.
While the type of mask you choose is up to you, MEDIHEAL Tea Tree Essentials Blemish Control Masks are our recommendation, especially if acne is a concern. An extremely popular mask in Korea with growing popularity in the States, this tea tree oil-based mask not only works to exfoliate skin and clear out pores, it also uses natural ingredients like chamomile to calm skin and reduce redness. You can buy the masks in either a 5-pack or a 10-pack, depending on how often you use masks.
Buy it here: MEDIHEAL Tea Tree Essentials Blemish Control Masks | $10
Step 8: Eye Cream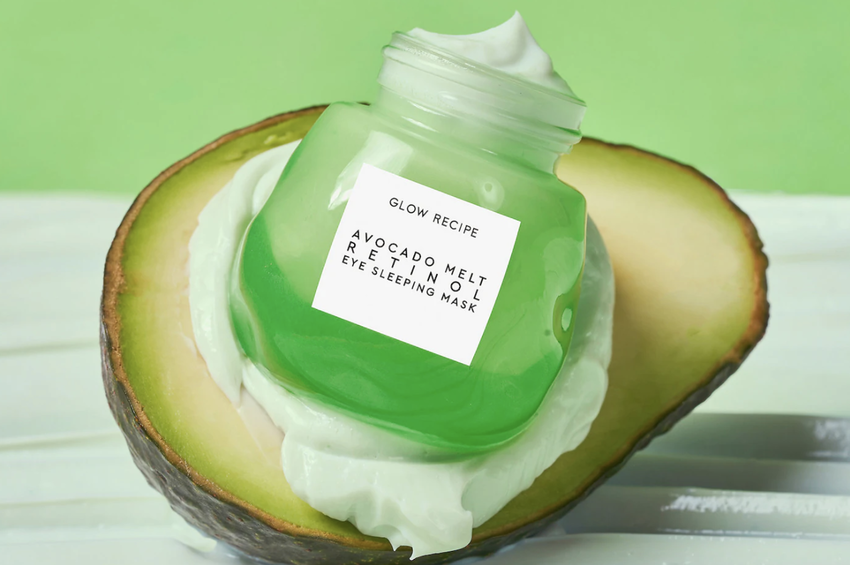 Because it's extremely thin and delicate, the skin under your eyes needs moisturizers formulated to help with dark circles and puffiness specifically. Ingredients like honey, ginseng, caffeine, and avocado can do just that — but remember to dab eye cream and never rub it in.
While Kiehl's makes an excellent Avocado Eye Cream, a recent K-Beauty favorite of ours is the Avocado Retinol Eye Melt Sleeping Mask by Glow Recipe. Though it is called a mask, it functions like a nighttime moisturizer that can be applied under your eyes before you go to bed to help combat dark circles and firm up the thin skin under your eyes. The formula also includes retinol, which helps to prevent wrinkles that easily form under the eyes, while avocado serves to moisturize. No product will get rid of dark circles completely, but as someone with genetically dark circles under my eyes, I can say that I've noticed a slight brightening since I started using this product a month ago.
Buy it here: Avocado Retinol Eye Melt Sleeping Mask | $42
Step 9: Moisturizer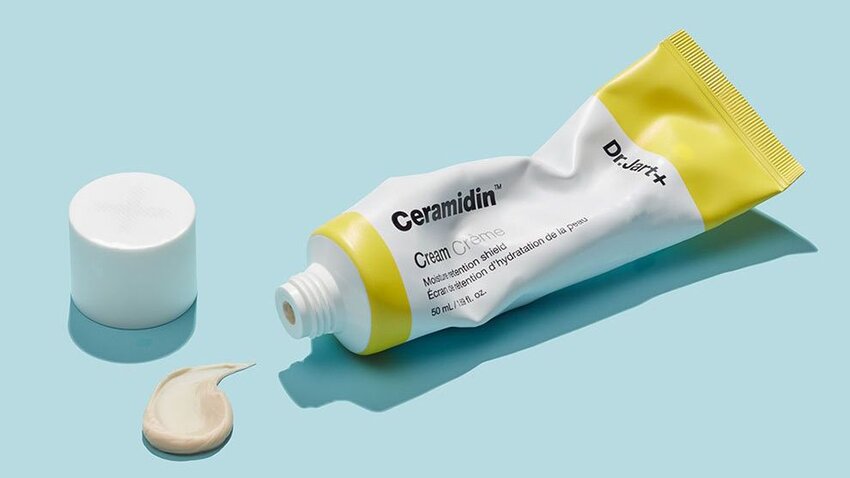 Finally, the time has come: you may now moisturize your face. Whether you use a gel, cream, lotion, or emulsion, moisturizing helps to hydrate and plump skin so you no longer have to struggle with dry patches.
While there is no shortage of moisturizers available, navigating the many options can be tricky. No matter what formula you choose, though, make sure it includes hyaluronic acid, a humectant that helps to keep water in your skin. Ceramides, which occur naturally in skin cell barriers, are another key ingredient that will keep moisture from leaving your skin. For severely dry skin, Dr. Jart+ Ceramidin Cream is one of the most hydrating out there. The 5-ceramide complex helps to repair your skin's barrier, hydrate, and keep that hydration in.
Buy it here: Dr. Jart+ Ceramidin Cream | $48
Step 10: Sun Protection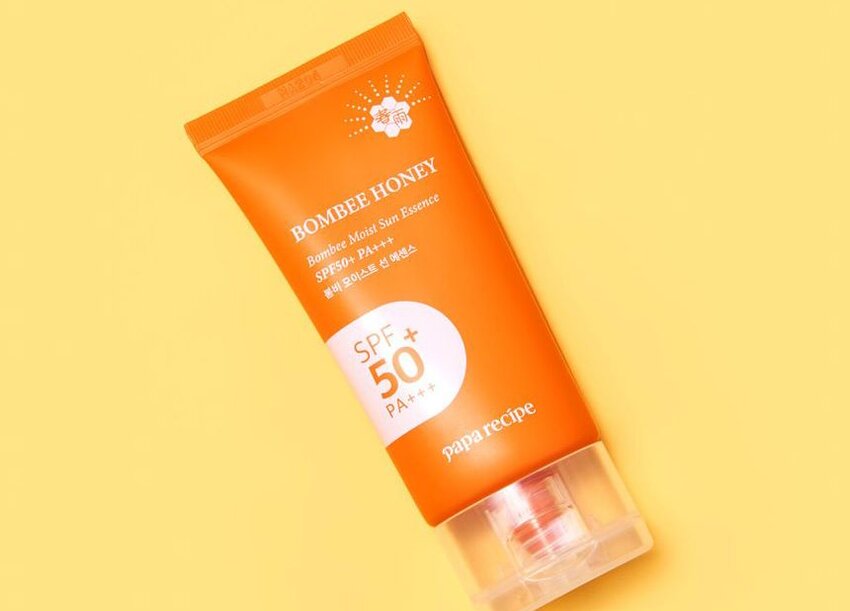 Unless your moisturizer also has SPF, applying sun protection as your final step is a must. Like many western products, K-Beauty products feature zinc oxide or titanium dioxide to help protect your skin from UV rays, but they also feature a host of skincare ingredients you may not get in a typical sunscreen.
Papa Recipe Bombee Moist Sun Essence SPF 50+ is a lightweight sunscreen that absorbs quickly into skin without feeling greasy or sticky. Its formula also includes honey and royal jelly extract to keep skin hydrated, while still offering an SPF of 50 to give prolonged sun protection.
Buy it here: Papa Recipe Bombee Moist Sun Essence SPF 50+ | $21
Main photo by Toa Heftiba/Unsplash