To the outsider, the restaurants of Las Vegas include the chains that line the Strip and a few old classics. But lift up the cover and you'll find some of the coolest chefs in the world have found a place between the neon signs. You don't need to travel to New York, San Francisco and L.A. to taste these world-class experiences. And for the local foodie, there's a hot new culinary scene just for you.
Friday:
When you arrive in Las Vegas, head to the Fremont area for all-day breakfast at Eat. Local chef Natalie Young has a great story, overcoming addiction to open some essential Las Vegas eateries. Eat was one of the first to open in the newly revitalized downtown area, and helped turn the tide for the youthful and cool neighborhood. When you're done eating, walk off your meal by touring the art murals and the Fremont Street Experience.
Afternoon drinks at the Container Park should land you at Oak and Ivy. Staffed by a group of friendly mixologists, this spot is small and cozy, and offers the most authentic drinking experience in Las Vegas. Skip the outdoor patio and sit at the bar to get a front-row view to the show as these mixologists whip up crafty, cool and, most importantly, delicious drinks. From barrel-aged whisky to homemade ginger beer, the rotating drinks on the menu will delight your senses. And if you don't know what you want, just present a flavor profile to the mixologist and they'll craft something special.
Side story: while I was visiting this particular joint, we presented our mixologist Todd with three ingredients — tequila, banana and cinnamon. Todd went to work and soon we had one of the most delicious drinks I've ever had, complete with burnt cinnamon sticks and toffee bitters.
For dinner, it's time to indulge at Harvest, the Bellagio's ultra-sustainable dining concept. Head Chef Roy Ellamar hails from Hawaii and brings a respect for the land and natural ingredients to every dish and cocktail. From drinks that look like an herb garden to plates filled with local ingredients, it's just the meal to welcome you to the new Las Vegas dining scene. Don't forget to take advantage of the Snack Wagon which features off-menu treats from guest chefs.
For dessert, slip over to the Cosmopolitan for some cookies and ice cream from Milk Bar, the tasty brainchild of award-winning chef Christina Tosi.
Saturday:
Breakfast is a sacred affair in Las Vegas, so whether you're filling up on a champagne brunch at the Cosmopolitan, indulging in Captain Crunch french toast at Culinary Dropout or sampling the fluffiest pancakes you've ever seen at Primrose, you have plenty of great ways to start your day. After brunch explore one of the many dayclubs for some fun in the sun or head out for a hike at Red Rocks Canyon to build up your appetite.
When lunch rolls around, if you find yourself hungry again, head to local favorite Flock and Fowl for some incredible dishes from Sheridan Su and Jenny Wong. Try the Thai caramel chicken wings or the Hainanese chicken rice for a meal you won't soon forget.
For dinner, indulge in one of the Strip's finest steakhouses. If you love the fiery chef with a bad mouth, check out Gordon Ramsay's HELL'S KITCHEN. Not only will you get to sample famous dishes from the hot-tempered chef, like the beef wellington and the sticky toffee pudding, but you'll also get treated to new concoctions from the red and blue teams working the kitchen.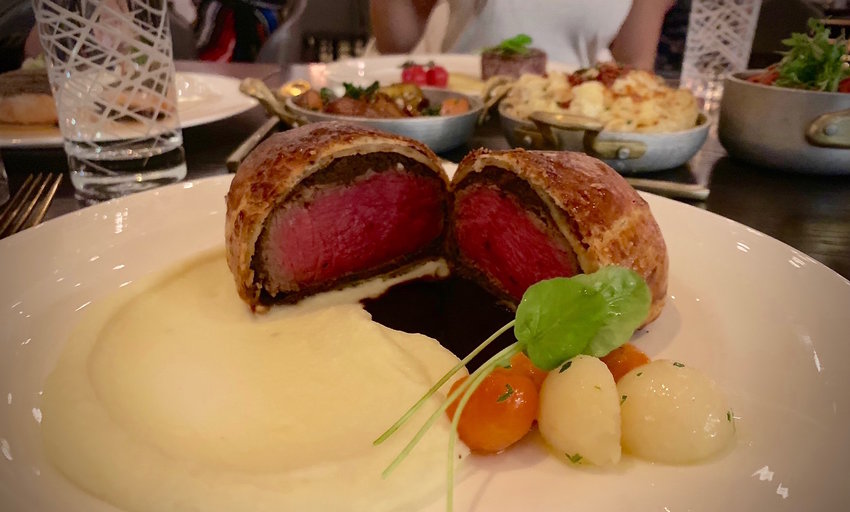 If you're not a fan of the show, or just want something with a twist, Bazaar Meat is another fantastic option. With a menu featuring entire suckling pigs and beef rib steaks, this restaurant is a celebration of carnivores.
If you didn't indulge in dessert at dinner (or even if you did) head to Sweets Raku to satisfy your sweet tooth. The insane dessert bar is first come first serve (there's only 21 seats), but if you manage to snag a spot you'll be treated to a full tasting of incredible treats.
Later in the evening, after a full night on the town, head to the best late-night eats spot in Vegas — Chinatown. This is where all the celebrity chefs come after hours to grab a bite, and you'll easily see why. Chinatown is a bit of a misnomer, there are plenty of Asian varieties on offer, and many of them are open 24 hours a day. From Raku (the counterpart to Raku Sweets) to Izakaya Go, there's a lot to love about Las Vegas's late-night food scene.
Sunday
No sleeping in this morning! You have to get up and try the fancy donuts at Donut Bar. These are no ordinary donuts, and the line out the door will clue you in. From a grilled cheese donut to a crème brûlée donut, you want to get there early to sample the selections before you head out of town.