As the weather warms and many of us scratch our travel itch by going camping for the first time, choosing the right lighting solution for your campsite is nearly as important as choosing your hiking pack.
Flashlights and headlamps are great for directional lighting while you hike in the dark, and while you can transform them into makeshift lanterns with a light diffusing bag like BioLite's Stuffsack, LuminAID's lanterns offer a more elegant solution with practically no downsides.
Inflatable Lanterns Are Better
Traditional lanterns, even modern LED versions, are rarely very portable. In order to provide 360 degrees worth of sufficient light around a campsite or tent, they simply have to be larger than flashlights, which are streamlined to shine a narrow beam of light in one direction. There's no getting around physics, but LuminAID came pretty darn close by making its lanterns inflatable.
Though LuminAID lanterns come in various sizes, all of them collapse down to roughly the thickness of a dinner plate, and include built-in straps to hang them off the back of your backpack, so you'll barely remember they're there. Once the sun goes down, a few puffs of air is all it takes to inflate the light-diffusing body of the lantern to full size.
The LED bulbs inside produce enough light to help you find your way around a campsite, and lower brightness settings are perfect for using inside your tent while saving battery. I'm particularly fond of the Firefly model, which eschews the daylight-tuned bulbs of most LuminAIDs for a slightly dimmer, significantly warmer glow that mimics a candle. There's even an option to make it flicker, so you can use it while serving an al fresco dinner at home.
Solar Lanterns Are Better, Too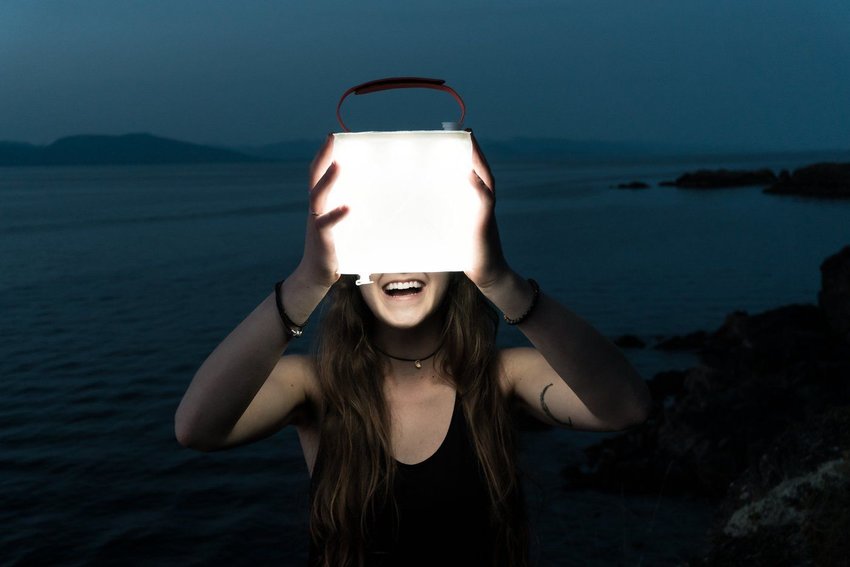 Battery powered lighting solutions always come with an unhealthy dose of battery anxiety, but LuminAID lanterns can recharge themselves during the day with their built-in solar panels. Just strap it to the top of your backpack while you hike, or set it out in the sun while you're having a dip in the lake. As long as it's a sunny day, the lamp will likely absorb enough rays to keep your campsite illuminated at night until you go to sleep.
And if your lantern's battery does die, every LuminAID can also be recharged with a microUSB cable, meaning you can top it up with any portable battery pack, no matter how small.
Best of all, the LuminAID PackLite Max and supersized PackLite Hero even includes a USB power output, allowing their internal batteries to top off your phone, effectively giving you a bonus solar phone charger in addition to a lantern. They're not ideal for fully recharging your device every night; you wouldn't have any battery left to power the light, but they can give you enough juice to make a call or send some GPS coordinates in an emergency.
Even if you aren't much of a camper, I've used LuminAIDs at home during power outages, and in my yard when friends come over at night. Plus, it's always nice to know in the back of my mind that I have a solar charger capable of juicing up my phone, if I'm ever without power for an extended period of time.
Light For Those In Need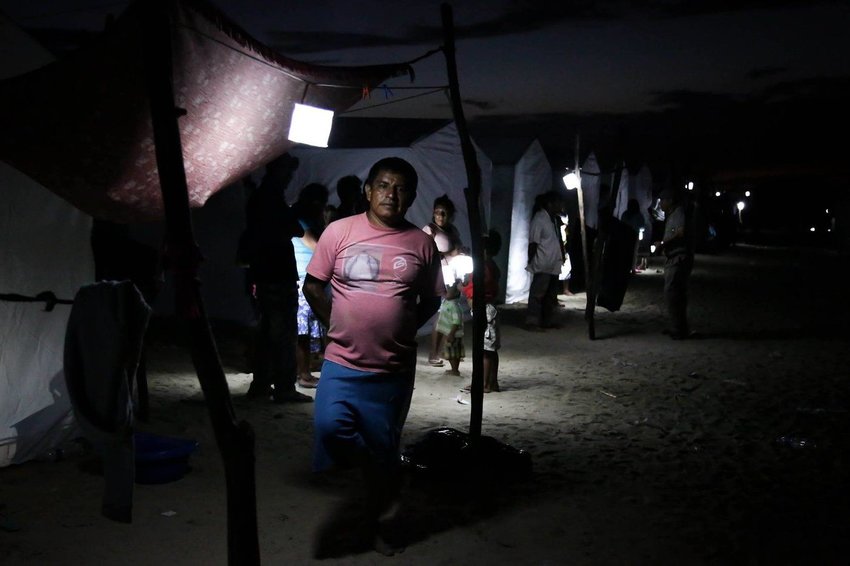 While many first learned of LuminAID when it received offers from all five sharks on Shark Tank, it was originally founded to help people in need. Inventors and co-founders Anna Stork and Andrea Sreshta came up with the idea after hearing about dangerous and dark conditions in Haiti following its deadly earthquake in 2010, and 10 years later, LuminAID has provided over 250,000 lights to people in need through its Give Light Get Light Program, which allows you to sponsor a light for a fraction of the price of buying one for yourself.