A dependable pair of sunglasses is a must-pack, no matter where you're traveling. Whether you're hiking up a mountain, spending time on the water, or sitting on a patio for lunch, a quality pair of shades protect your eyes from the sun and add style to your outfit. But as a popular accessory, sunglasses have one major downside — they're frustratingly easy to lose.
The Pair that Got Away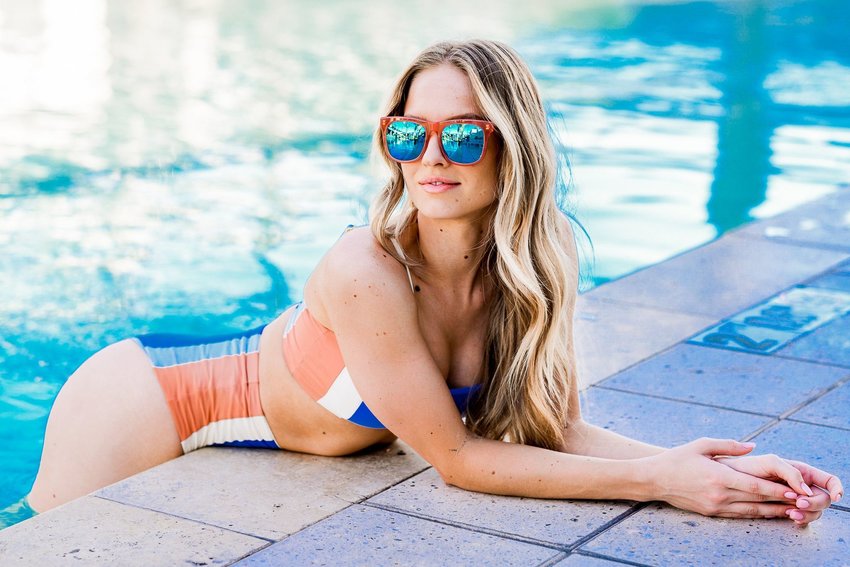 I learned this the hard way on a vacation last summer. It was the week of the Fourth of July and my husband and I had made the trip to Michigan to visit friends and family. On the first day of the trip, we pulled into our friends' driveway and were immediately informed of the non-stop itinerary that they'd planned to make the most of our short visit. First up: paddling down a nearby river in teams of two. While one pair was on the river, the other pair would wait at the pick-up location to shuttle the boards.
Before long, I was knee-deep in the river, ready to embark on an adventure. As I waved goodbye to my husband, he snapped a photo of me, and then I was off, moving along with the swift river current. I navigated the rapids as best I could, while also chatting with my friend and trying to appreciate the beautiful surroundings. Time flew by, and before I knew it, we were back on land walking towards the appointed pick-up location. As I approached the car, my husband snapped another candid photo of me, looking happy and a bit sweaty from the whirlwind paddle.
It wasn't until we got back to the house that I realized I was no longer wearing my sunglasses. Where had they gone? Looking at the recent photos my husband had taken, we realized I had been wearing them at the start of the paddle. But by the time I had approached the car, they were no longer on my face.
My sunglasses had fallen into the river and I hadn't even noticed. I was bereft. The shades had been costly and I'd had them for less than a year. I spent the rest of the trip squinting painfully into the sun and wishing my sunglasses had stayed on my head.
New Year, New Shades
For the Fourth of July this year, even though I wouldn't be traveling very far due to COVID-19, I was excited to try out a new pair of sunglasses from Maho Shades. I was excited about these particular shades because of their Zuma Fit and Retention System, a patent-pending technology made in collaboration with the Hong Kong University of Science and Technology.
Shades with Zuma Fit feature special nose and ear pads made from a proprietary thermoplastic elastomer. Molded into a bunch of V-shaped ridges, the proprietary grip employs the same type of electric force that allows geckos to stick to a wall. At the same time, the material also repels liquid, so it becomes stickier when wet — which means the more you sweat, the more secure your sunglasses will be on your face.
From the start, I loved how my glasses looked. Maho makes a wide variety of shades, with different colored frames and lenses depending on your personal style. From the Zuma Fit line, I liked the mirrored lenses on the Cabo 2 Whiskey and appreciated the sleekness of the Positano Verde. But in the end, I chose the Charleston 2 in Crystal, a pair of sporty, rectangular glasses with gray lenses and a clear frame.
When I put on my glasses, I was immediately impressed— they were so comfortable, I barely felt like I was wearing anything at all. The acetate frames and the stainless steel earpads rested lightly on my face, putting zero pressure on my head and ears. I must admit, I wondered if the lightweight frames would hold up with my active lifestyle. It was time to find out.
Putting  Zuma Fit to the Test
Although I couldn't travel far for the holiday, I was lucky enough to spend the weekend in western Maine, a beautiful area of the country filled with mountains, rivers, and lakes. To start the long weekend, I hiked up Sabbatus Mountain, a steep wooded trail that leads to a summit with sweeping views of Maine, and in the distance, New Hampshire's Mount Washington.
To be honest, I typically don't wear sunglasses while I hike, especially in New England where the trails are heavily wooded. But I was happy to discover that the gray lenses on my Mahos worked well in the sunshine and in the shade, and was surprised that they didn't fog up despite the day's humidity. When I got to the sunny summit, out of breath and sweaty, I put my head down and shook it to see if the sunglasses would stay on. They didn't move an inch.
Next, I thought I'd test them out on the water. My husband and I took out a little motorboat on a narrow inlet, in search of birds and wildlife. Even as I peered my head over the bow, my new sunglasses stayed put, allowing me to gain a special view into the depths below. If I'd been wearing different sunglasses, like the ones I had lost on the river, I wouldn't have had the confidence to crane my neck in such a way.
On our last day, with a bit of trepidation, I decided to wear my shades on a paddle across the lake. As I paddled along, my shades stayed snug and safe on my face, and I was able to relax without worrying about losing them. As an added bonus, I realized that the polarized lenses were stopping the sun's glare, thereby giving me a crystal clear view of what was happening below the surface. Back on shore, I declared the weekend and my new sunglasses a success.
Long-Lasting Warranty
As a company based out of the Caribbean, it makes sense that Maho Shades work so well on the water. The founders of the company, a husband and wife team who reside in the U.S. Virgin Islands, are dedicated to making a product that can be used actively in the outdoors, without sacrificing style or comfort. Even better, they understand that glasses can be a big investment and should be long-lasting, which is why Maho Shades have a lifetime warranty for any damage incurred. Unfortunately, the warranty isn't valid for lost sunglasses, but with the Zuma Fit, I'm confident that this pair of shades is going to stick with me.