The Collection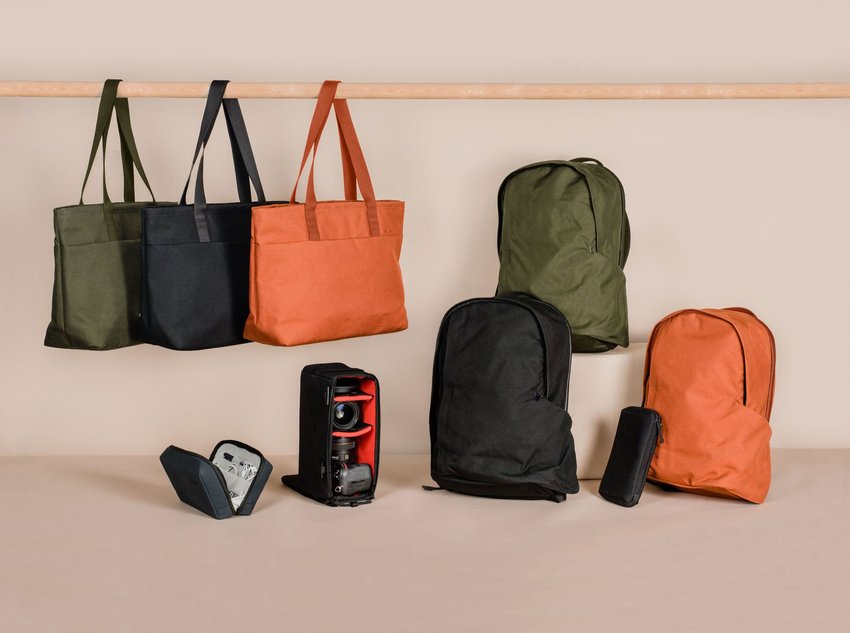 The Travelwear collection encompasses two bags and three accessories that can be used separately, or in many cases, in combination with each other to carry your laptop, your photography gear, your sweaty gym equipment; whatever you may need to haul. All of the products are made from waterproof, recycled fabrics (which feel great, but are a magnet for pet fur, be warned), and the bags come in black, olive, and a deep orange clay, which may be the nicest color I've ever seen in a bag.
MTW Backpack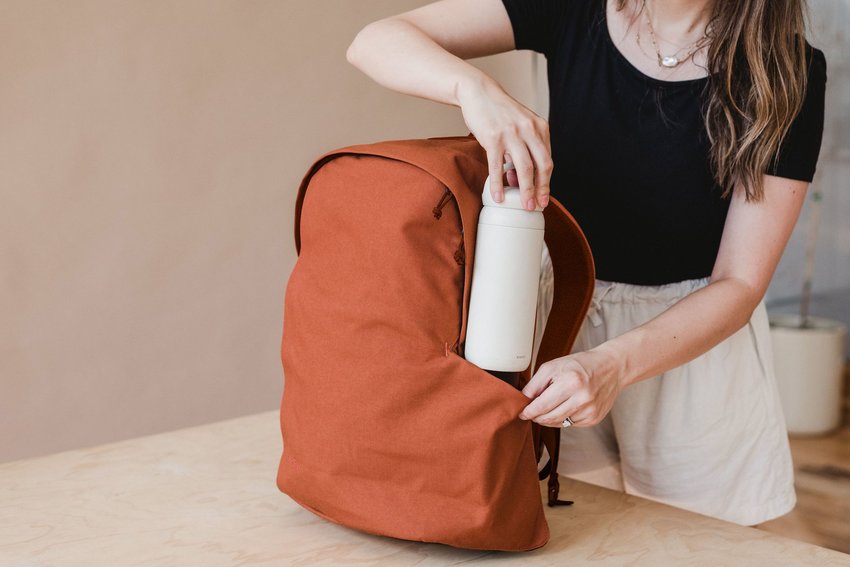 The star of the show is the MTW Backpack, which with its clean lines and bare minimum of branding, is one of the better looking backpacks I've ever laid eyes on. One concrete example: the water bottle pocket on the side. On nearly every other backpack, this feature is an afterthought. An ugly mesh appendage. Usually with an accent around the top hem to draw attention to how bad it looks. But on the MTW Backpack though, it's made from the same material as the rest of the pack, save for a thin strip of elastic on the back. There's no accent color on the hemming, and almost no visible seams, allowing it to practically disappear into the side of the bag when not in use.
I'm also pretty taken with the bag's adjustable sternum strap, which clasps on either side to hidden connectors inside the shoulder straps. That means it's easy to completely remove it if you don't need it, and when it is in use, you won't have an uncomfortable plastic buckle digging into your rib cage.
MTW Tote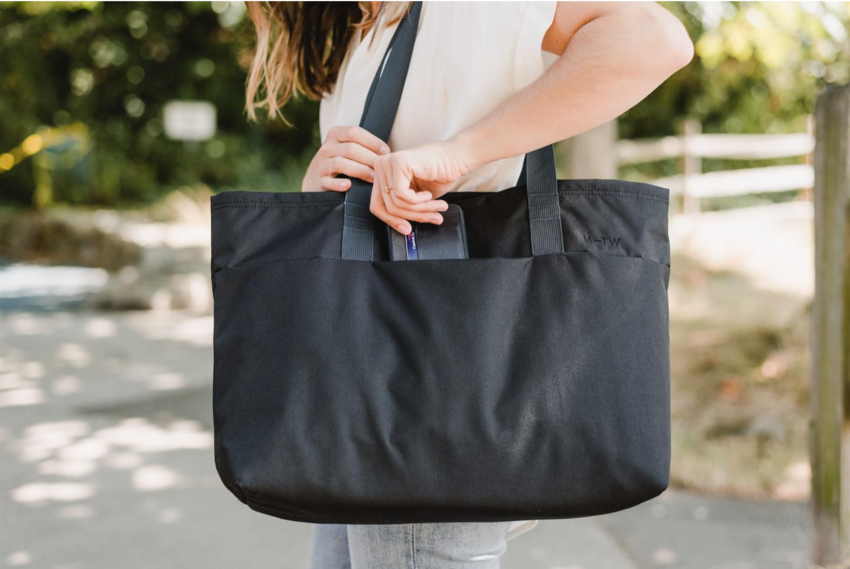 Not a backpack person? You can opt for the MTW Tote instead, which is still stormproof and spacious enough for a 16" laptop. Personally, I wouldn't have begrudged a detachable messenger bag-style crossbody strap, but the shoulder straps are comfortable enough, and the magnetic side pocket makes me wish that far more pockets on far more bags featured magnetic clasps.
MTW Tech Organizer
The accessories are where the Travelwear line really start to get interesting. The tech organizer has spaces for your tech gear and elastic straps to organize your cables, and it even comes with a second, smaller tech organizer which you can slip inside and take out for shorter trips.
The nicest touch though? When you open the main tech organizer, it stands up on a table. Necessary? No. Cool? Yes.
MTW Battery Organizer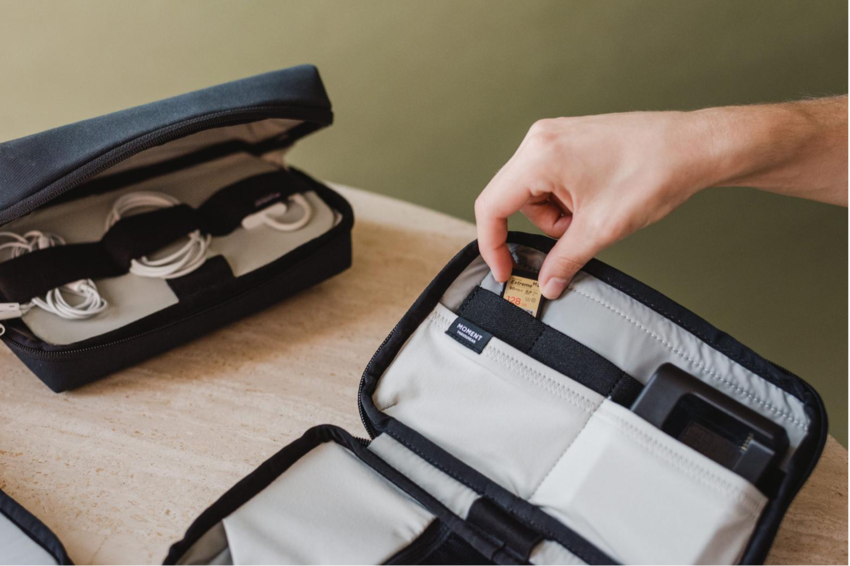 This is essentially an alternate version of the Tech Organizer designed for photographers, with dedicated pockets for those easy-to-lose SD cards, and two zipper pouches in two different colors for batteries; one for your full batteries, and one for your empties.
MTW Camera Insert
The Camera Insert is probably the most Moment-y part of the Travelwear line. It's essentially a set of padded, adjustable cubby holes for your lenses and camera bodies, and is meant to sit at the bottom of a bag to transform it into a proper gear hauler. Unsurprisingly, it's designed to nestle perfectly into the Backpack and Tote, but Moment says it should work with most bags.
Preorder and Save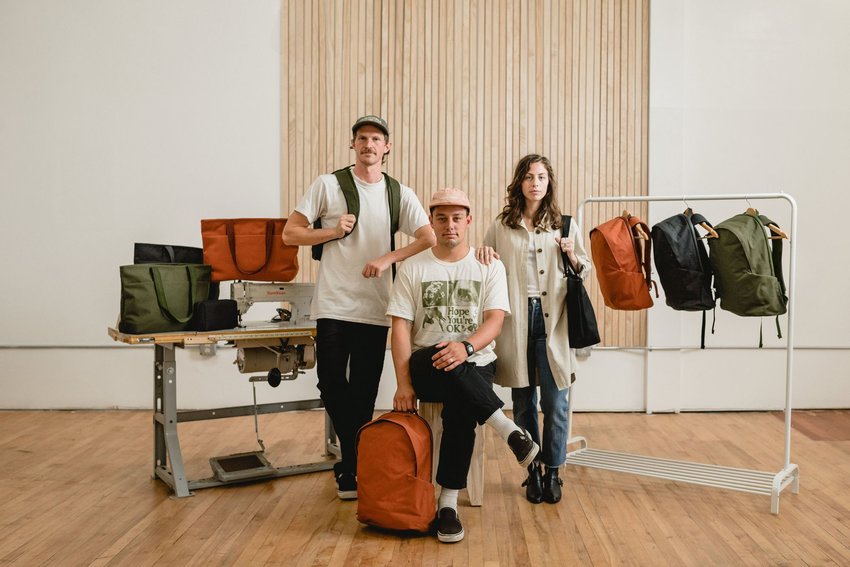 The Travelwear line just launched on Kickstarter, and you can save $20-$30 on individual bags, or more or various bundles by preordering. Moment estimates that the bags will start shipping in November, but as with any Kickstarter project, there's always a chance that it could take longer.