Great Britain boasts a rich musical heritage. From Benjamin Britten to The Beatles and Shirley Bassey, it's given us composers, bands, and singer-songwriters whose legacy lives on decades, even centuries, after their inception. Many rock artists from home and abroad started their musical journey in London during the hedonistic Swinging Sixties era. Yet other musicians wrote and recorded revered works from quiet, unassuming corners of the island. Here are six former homes of legendary and influential musicians that you can visit throughout Britain.
The Beatles Childhood Homes
Liverpool, England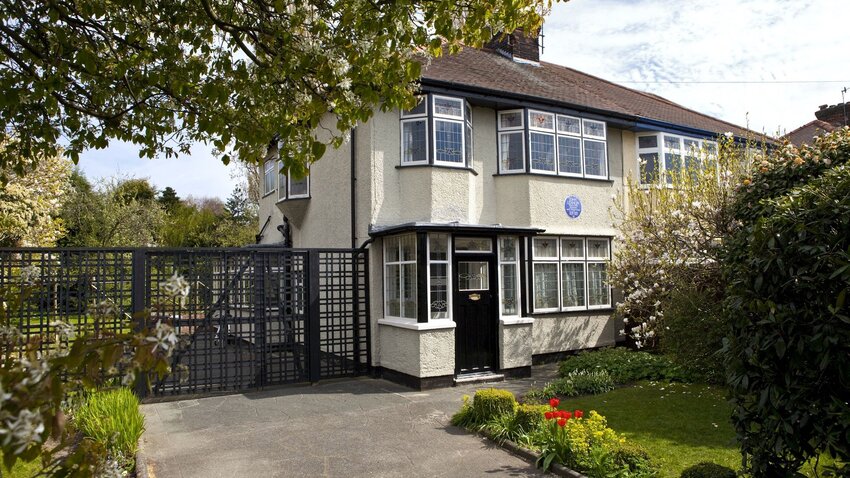 It's almost impossible to discuss British music without starting with The Beatles. The Fab Four took rock and roll to stratospheric fame in the 1960s, giving the music world an acute case of Beatlemania. It all began when John Lennon and Paul McCartney met in a southern suburb of Liverpool. The Beatles Childhood Homes presents an intimate insight into the family lives of Lennon and McCartney. Both houses are maintained by the National Trust and are visitable on a combined tour.
McCartney lived at 20 Forthlin Road with his father and brother, Michael. This is where the founders of arguably the most well-known band on the planet wrote Please Please Me and She Loves You. Original photographs taken by Michael adorn the walls, while tattered sofas and mismatched wallpaper tell of Paul's humble upbringing. At 251 Menlove Avenue, aka Mendips, Lennon was raised by his parental guardian Aunt Mimi. Evocative stories resonate from well-appointed rooms decorated with original artifacts such as a vintage wireless radio and Elvis Presley posters.
Hendrix and Handel
London, England
Brook Street, in London's affluent Mayfair district, was once called home by two artists that are lightyears apart in terms of musical styles. Somewhat incredibly, German-born composer George Frederic Handel and rock trailblazer Jimi Hendrix resided in neighboring Georgian houses. One can't help but wonder what the two would have mused over and created had their lives not been separated by over 200 years.
A single wall divides the lives of these two pioneering musicians. Handel moved into 25 Brook Street — Handel House — in 1723 and stayed until his passing in 1759. Here, he rehearsed for performances at St. James Palace and the King's Theater, and composed acclaimed scores such as Messiah. Throughout restored rooms, you'll find period artwork, furniture and instruments, including a piano used for recitals of his works.
Jump forward to 1968, and Jimi Hendrix leased the upper floor apartment of 23 Brook Street. The nine months he spent at Hendrix Flat were the catalyst for his rise to rock virtuoso stardom. Today, his old bedroom matches his exuberant taste, and there's an exhibition about his time spent in London. A true highlight for rock fans is the private record collection. Among it is a copy of Handel's Messiah, which Jimi is said to have played along to.
Holst Birthplace Museum
Cheltenham, England
Lauded for his orchestral suite The Planets, composer Gustav Holst spent the first seven years of his life in the Cotswold town of Cheltenham. Holst Birthplace Musuem is a trip down memory lane of the modest musician's Victorian-era early years. Rooms appear as they would have during from the Holst family's occupancy between 1874 and 1882. On the walls are personal treasures such as photos of the camera-shy composer, and literary paintings by his great-uncle Theodor van Holst. Holst's career comes to life in the Music Room, the centerpiece of which is the original Collard & Collard piano he used while composing The Planets.
The Red House
Aldeburgh, England
Travel to seaside Aldeburgh, on England's eastern coastline, to walk in the footsteps of another cherished composer. Benjamin Britten was born 30 miles up the coast in Lowestoft, and moved to the quieter town in 1957. For almost 30 years he lived at The Red House with his muse and long-term partner Peter Pears, himself a recognized tenor. It was during these three decades at the house that Britten composed some of his finest works, including War Requiem and A Midsummer Night's Dream. Visitors can see the very same piano Britten wrote these compositions at. Rooms have been redecorated to represent the style of Britten and Pears, featuring exquisite artwork, personal artifacts and a vast book and music collection. Regular performances celebrate the talents of the former residents.
Leith Hill Place
Dorking, England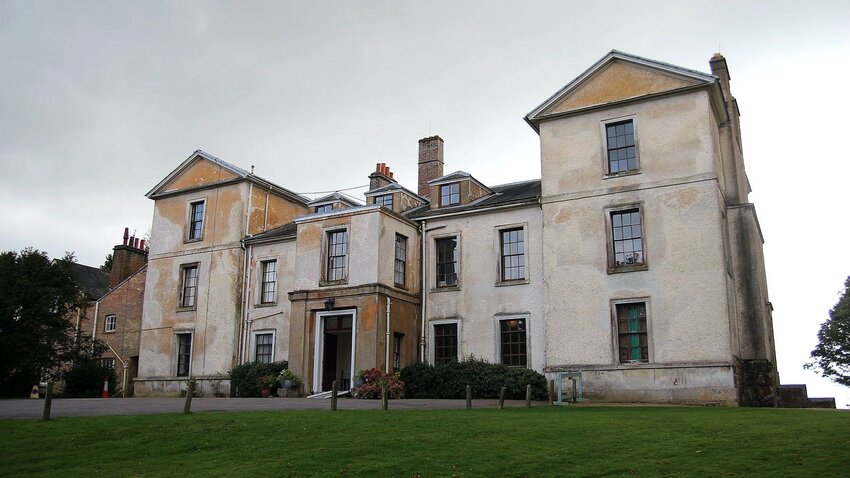 Leith Hill Place sits surrounded by lush meadows and woodland in the Surrey Hills, about an hour's drive south of London. Weathered and somewhat unassuming from the outside, the interior is ingrained with the story of composer Ralph Vaughan Williams. Vaughan Williams, who was a friend of Gustav Holst, lived here with his mother and grandparents. His aunt taught him the piano and he went on to become one of the 2oth century's most prolific composers.
Exhibitions delve into the life of the composer as well as his family, with references to his nine symphonies and numerous film scores and operas. Complementing the musical heritage is the stunning natural surroundings, which gave him much inspiration for his compositions.
Robert Burns House, Dumfries, Scotland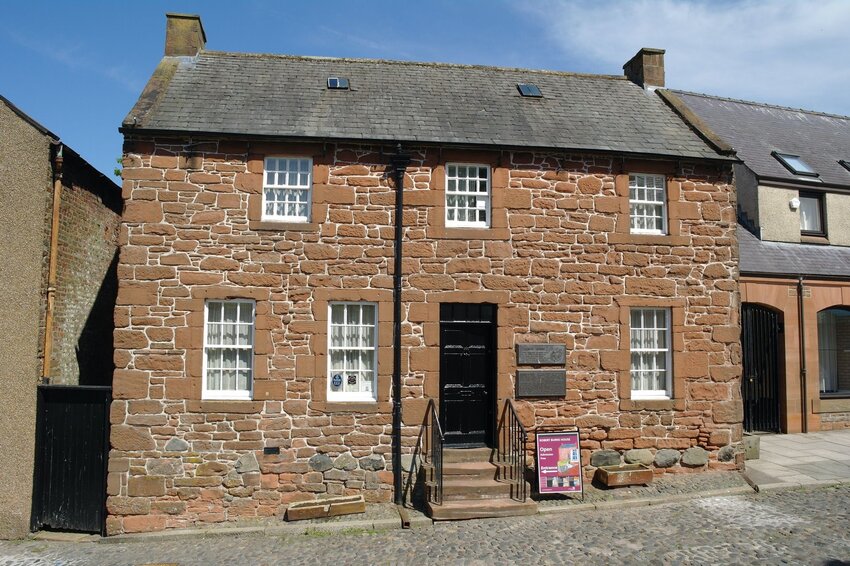 Although actually a poet, Robert 'Rabbie' Burns was the man that wrote the lyrics to one of the world's most recognizable songs. Auld Lang Syne — the tune blasted throughout the English-speaking world at midnight on New Year's Eve — is actually a Burns poem from 1788. He spent his final years at a humble red brick cottage in the Scottish market town of Dumfries. Such was his literary prowess that the English poets Coleridge, Keats and Wordsworth all visited. Today, the Robert Burns House has displays of original manuscripts and a selection of the poet's personal possessions. The desk and chair from which he wrote poems and reworked old Scottish folk songs is deemed sacred by Burns enthusiasts.
Top photo by Imma Gambardella