For a product that aims to simplify packing, Onli's all-in-one packing solution is one of the most complicated bags I've ever seen. I counted 20 zippers spread across the three-piece travel kit, and it's quite possible I missed a few. That said, once you start to get your head around it, Onli really can fulfill its promise of being the "only" bag you need for almost any trip.
Three Bags In One
To understand Onli, you first have to understand that it's three separate bags that can be used separately, or combined into a Megazord of luggage. When it first arrives on your doorstep, you'd be forgiven for thinking it was just another soft-sided roller bag. But after experimenting with a few zippers, you'll discover that daypacks attached to the front and back of the suitcase can come off in seconds. Once you break down Onli, you'll be left with these three components.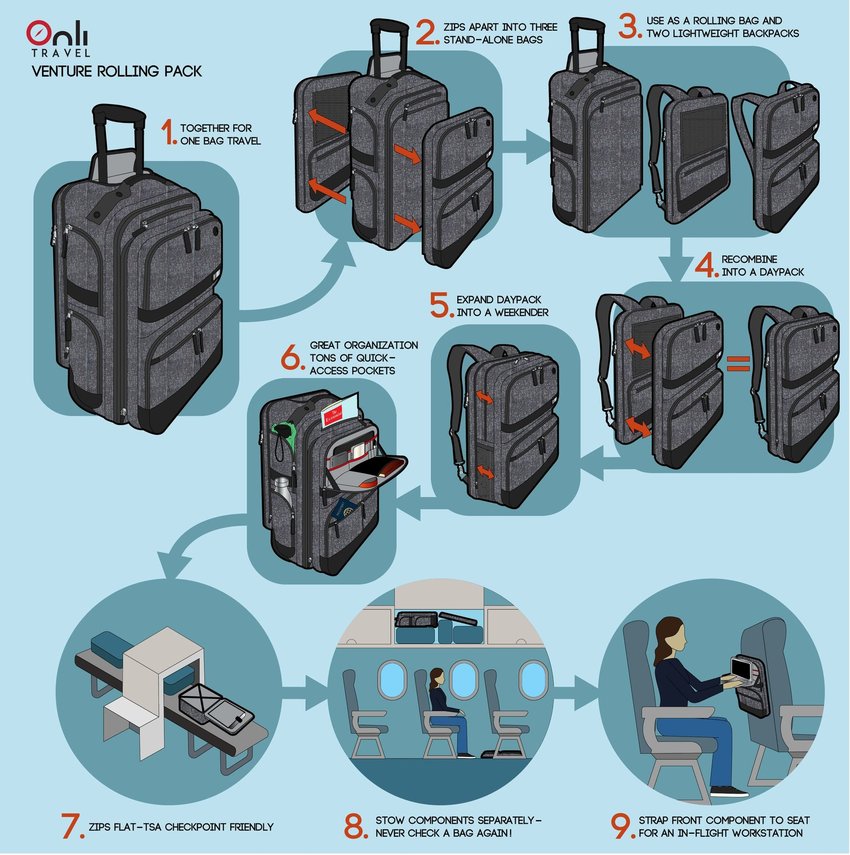 Daypack 1
The first daypack is a small-ish backpack with a well-padded laptop compartment that can fold completely flat for an easy trip through TSA security. This one comes with a back flap that initially hides the shoulder straps and detachable waist straps, and Onli includes instructions to do some fairly advanced origami to hide the flap inside the body of the backpack, which incidentally serves as some extra padding for the small of your back. Onli recommends pulling out this flap again only if you're checking the bag and want to keep the straps tucked in, but I'd be worried about forgetting how to properly re-stow it.
Storage flap aside though, it's a perfectly serviceable (albeit somewhat boxy) backpack with plenty of pockets, comfortable straps, and additional sternum and waist support if you need it.
Daypack 2
This is an even smaller backpack with thin, velcro shoulder straps. While you could use this as a bag-of-last-resort for carrying a light load around town, Onli pitches it as a kind of in-flight convenience center. The velcro arm straps are designed to wrap around your tray table, and a fold-down pocket on top can then act as a stand to prop up your phone or a small tablet at eye level. For obvious reasons, I wasn't able to test this out on a plane right now, but it seems to be a clever solution for an all-too-common issue.
Rolling Suitcase
The center of the Onli experience is a soft-sided rolling suitcase that serves a home base for the daypacks. On its own, it's a fairly unremarkable rollaboard. There are no built-in TSA locks (though the zippers include places to attach a lock), and it rests atop two skateboard wheels instead of four spinner wheels, which is hard to go back to once you're used to Hinomoto spinners. It's also certainly on the small side, though the top flap has enough slack to allow you to pack more clothes than you might expect at first glance, as long as you don't mind it bulging.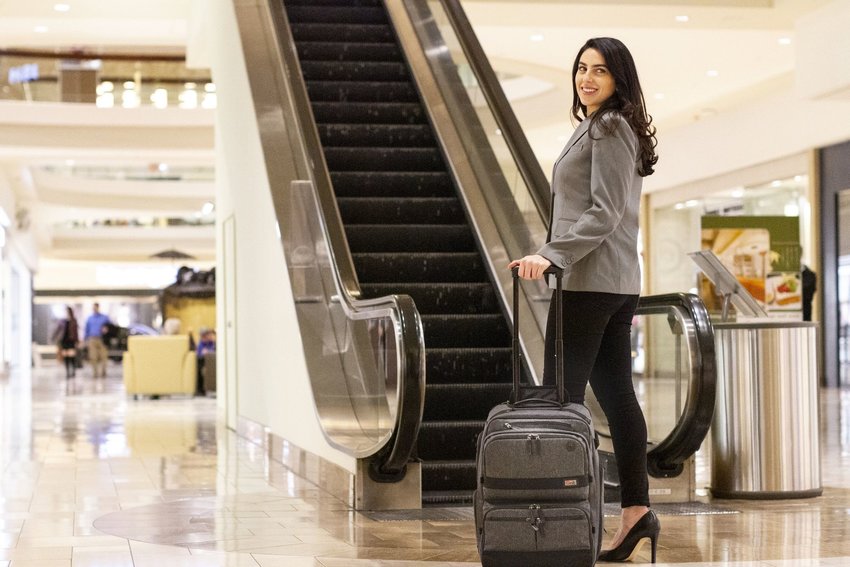 Onli also sells a bundle that includes a menagerie of eight well labeled and custom-sized packing cubes, to help you make the most of the space. If you already own packing cubes, I wouldn't bother spending any extra, but they do seem nice.
What makes the rolling suitcase special are wraparound zippers on the front and back that allow you to securely attach the daypacks, whether they're empty or full, turning it into a true all-in-one bag solution. If every bag was fully loaded, you'd be hard-pressed to fit the whole thing into an overhead bin...But that's kind of the point. If you need to create some space, the two daypacks can detach within seconds (after you practice the procedure a couple of times), allowing you to stick one under the seat in front of you, and attach the other to your tray table.
Putting It All Together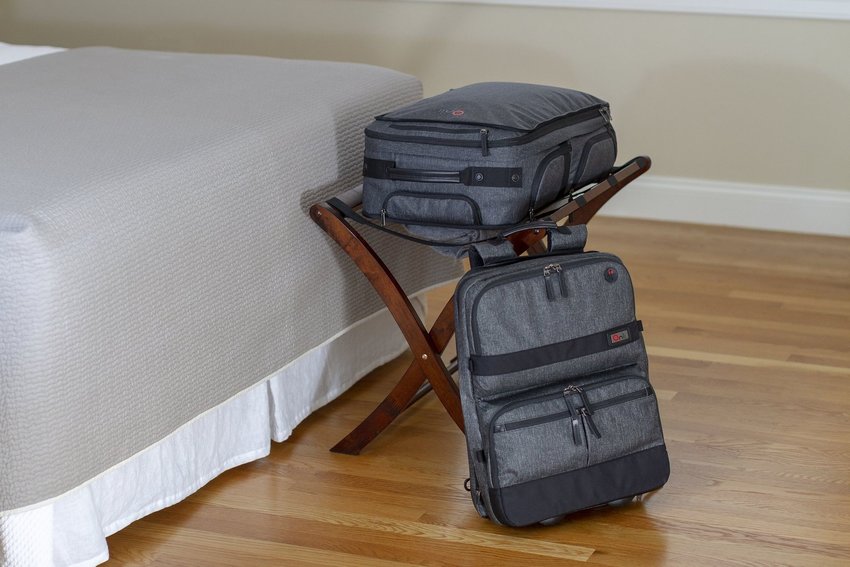 Where things start to get really interesting is when you reach your destination. If you're traveling with a partner, traveling with Onli means that you'll both have perfectly serviceable daypacks at the ready. Alternatively, you can actually zip both of the daypacks together, forming a single, full-size backpack, combining Daypack 1's padded straps and waist belt with Daypack 2's added storage space and pockets.
The idea isn't too dissimilar from Gravel's forthcoming Travel System, with the notable addition of a rolling suitcase in lieu of a larger backpack. And while none of Onli's individual bags are particularly interesting on their own, they are all well-built from a water-resistant fabric, and are full of clever pockets and storage solutions... once you figure out how to find them amidst the maze of zippers.
So does Onli fulfill its promise to be your only bag? I'd say yes. Once you get past the learning curve, there really is nothing else like it. Is it better than buying two small day packs, a backpack, and a suitcase, and just bringing the ones you need when you travel? That's more of a personal preference, but I certainly see the appeal of securely strapping empty day packs to the outside of your suitcase when you leave for a trip, and then carrying them back home on your back, fully loaded with souvenirs.