Admit it - every time you see a rainbow, you can't help but smile. When light and water meet to bring you the whole spectrum of colors it's like a sign that you're going to have a good day. Rainbows can be rare, but luckily these destinations always wear a spectrum of colors. From fields of flowers to oddly-shaped geysers, Mother Nature has outdone herself on these colorful destinations.
Keukenhof Tulip Fields - Holland, Netherlands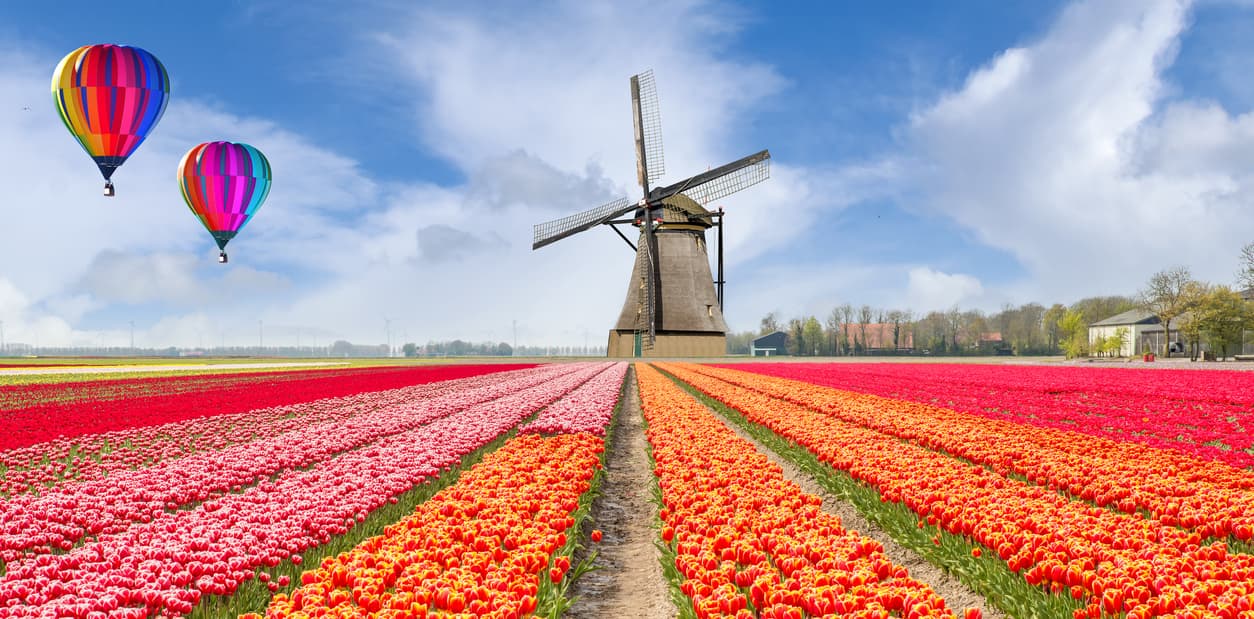 Since 1950, Keukenhof has showcased Dutch floriculture, planting over 7 million flowering bulbs every year. Wandering thorugh these gardens is like stepping into another world full of rainbow petals and windmills. This charming and whimsical destination should be at the top of your bucket list.
Zhangye Danxia - China

The "Rainbow Mountains" of China are a multicolor sandstone landform that look just like a watercolor painting. The striped yellow, red, orange, and blue hues make this geopark one of the most stunning natural wonders in China - which is saying a lot.
Grand Prismatic Spring - Wyoming, USA

This psychedelic hot spring in Yellowstone National Park attracts thousands of visitors each year. The impossibly vibrant colors are the result of microbial mats around the edges of the water. Not only is it a colorful wonder, it's also ranked as the third-largest hot spring in the world!
Caño Cristales - Colombia

Also known as "River of Five Colors" and the "Liquid Rainbow," Caño Cristales runs through a once-inaccessible part of Colombia. In recent years, however, the turmoil in this region has subsided, opening up this stunning river to exploration. The colors may be the result of bright plants growing on the river bottom, but all we see when we look at this river is a living rainbow.
Fly Geyser — Washoe County, Nevada

Definitely one of the more bizzarre locations on this list, Fly Geyser in Nevada resembles a child's sculpture assembled from multi-colored Play-Doh. The geothermal geyser is covered with algae that turns green and red in the hot, moist atmosphere, giving this strange landform a spectacular hue.
Vinicunca - Peru

Similar to the Rainbow Mountains of China, these mountains in Peru also feature colorful stripes of sediment that turn this landscape into the backdrop for a children's book. Located deep in the desert, these mountains are not easy to get to, but the reward for 6 days of hiking is a view unlike any other in the world.
Victoria Falls - Zambia and Zimbabwe

As the largest waterfall in the world, Victoria Falls is a constant sheet of falling water, which means perfect conditions for real, near-constant rainbows. Victoria Falls also features a unique phenomenon of lunar rainbows - the product of moonlight reflecting on water particles. You might not find a pot of gold at the end, but no matter which angle you view this massive waterfall, you'll be sure to catch a glimpse of shimmery, vibrant rainbows.