Over the past few years, I've been taking slow but steady steps toward becoming more eco-friendly. In my home, that's been easy enough; I've switched to reusable food-storage bags, I use canvas totes for my groceries, and I've pledged to use exclusively washable dishware in lieu of the plastic disposable stuff. (After all, when 26.82 million tons of plastic end up in U.S. landfills every year, that's the least I could do.)
Unfortunately, all of these environmentally-conscious habits went out the window as soon as I left my home and went on the road. Whether I was at an airport or a highway-side service station, the restaurants doled out only plastic utensils. When I stopped at Starbucks — again — to fuel those last few hours of my drive, my iced coffee came with yet another plastic or paper straw. (The latter is definitely better than the former, but it's still a single-use, disposable product, which I didn't love.)
One morning after a road trip, I was cleaning out my car and I found a plastic bag filled with garbage from my trip: plastic forks, spoons, knives, and straws — not to mention their respective wrappers. There had to be a better option.
Bamboo Is an Eco-Friendly Material — And It's Ideal for Travel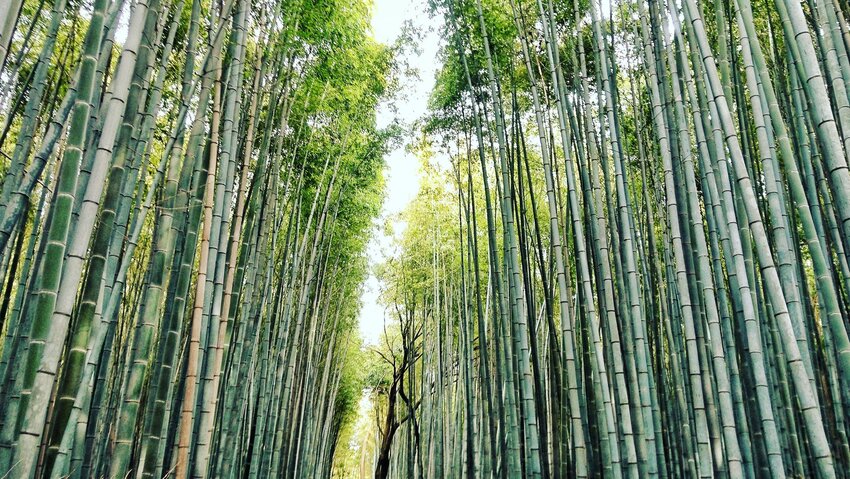 A quick Amazon search showed me that there was, in fact, a more eco-friendly alternative: bamboo travel accessories. Since it comes from the fast-growing bamboo plant, which reaches its full size in just a few months, bamboo is one of the most sustainable woods out there. Unlike plastic, it's also biodegradable and doesn't contain harsh chemicals, like BPA.
But what, exactly, makes bamboo such a great material for travel? Even though it's lightweight, it's surprisingly strong for ongoing reusability. It can be washed over and over again without breaking or splitting. It also dries quickly and can even resist the growth of bacteria, both of which are super convenient features if you're constantly on the go.
The Best Bamboo Utensils on Amazon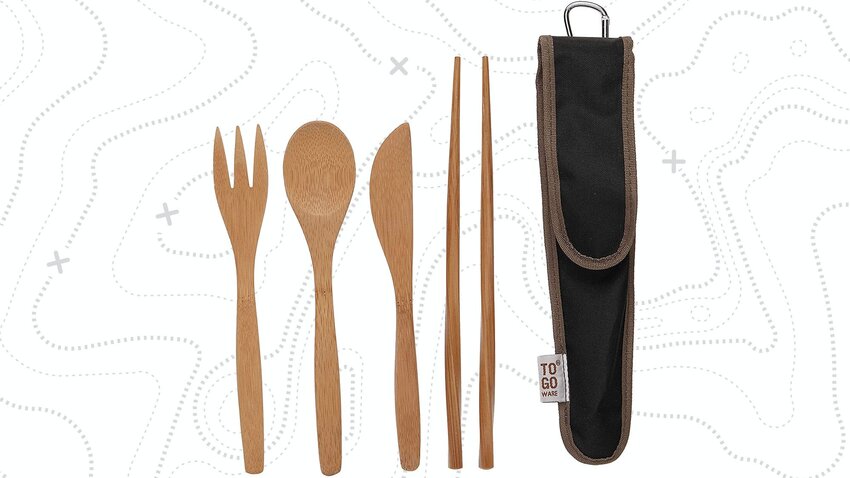 My first find came in the form of a bamboo utensils set, which includes a fork, spoon, knife, and chopsticks. Everything comes in a tiny, carabiner-equipped pouch that's constructed from recycled plastic bottles, so it all stays together and remains hygienic while you're traveling. The utensils themselves are lightweight, durable, heat-resistant, and won't absorb odors — and you can even put them in the dishwasher when you get home.
Personally, I keep this set in my everyday bag, so no matter where I go and what I eat, I always have an eco-friendly alternative to plastic. (It's been a life-saver at service stations and for impromptu meals.) You can get it in your choice of four different colors.
My Favorite Bamboo Straws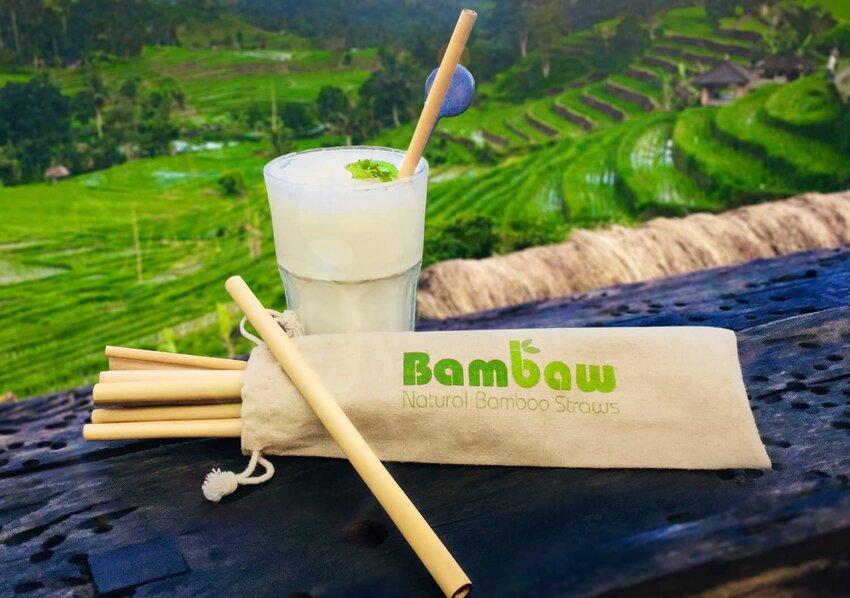 But disposable utensils were only half my problem; I found that, while I was on the road, I used way more straws than I did while I was at home. That's when I invested in these reusable drinking straws from Bambaw. Since they're also made from bamboo, they're lightweight, BPA-free, and pretty durable. Each order comes with 12 straws of varying widths (helloooo, extra-thick smoothies) and two different heights, not to mention a cleaning brush that removes all the residue from the inside. You even get two canvas bags: one that keeps your straws organized in your home drawer, and one that keeps a single straw clean while it's in your backpack, purse, or glove compartment.
All in, these two purchases cost me less than $20 — and in my opinion, it was money well-spent. Now, no matter where my adventures take me, I know I'm reducing my ecological footprint and keeping my waste-output to a minimum. Who says your eco-friendly habits have to stop when you walk out your front door?
Main photo by Elizaveta Galitckaia/Shutterstock