Seasoned road trippers recognize the many advantages when it comes to traveling by car. In addition to being economical, flexible, and fun, car travel comes with one distinct advantage for animal lovers — you can bring your pet along for the ride.
As the owner of two handsome pooches myself, the last decade of my life has been filled with endless dog-friendly road trips. It may not always be easy — traveling with your dog requires a fair amount of planning, a little bit of patience, and a lot of supplies — but it is paw-sibble. Here's all the gear you need to make sure your dog stays happy, healthy, and safe on the road.
Car Seat Cover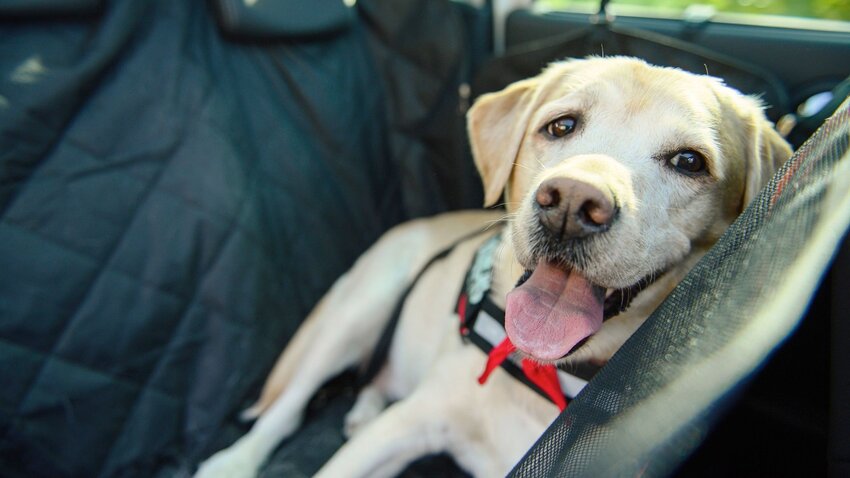 Dogs are wonderful, but they're also hairy, slobbery, and more than a bit messy, which means it's crucial to protect your car seats on a road trip. Although my older dog (Ralphie) does excellent on road trips, my younger dog (Hank) tends to get car sick. After I adopted him, I cleaned vomit off my car seat three times before purchasing this car seat cover from Frisco. As soon as it arrived, I wondered why I hadn't bought one years ago. It fits my backseat perfectly, is easy to take on and off, and protects my seats from fur and bodily functions. Most importantly, it's machine washable, making for an easy clean-up when an accident does occur.
Travel Bag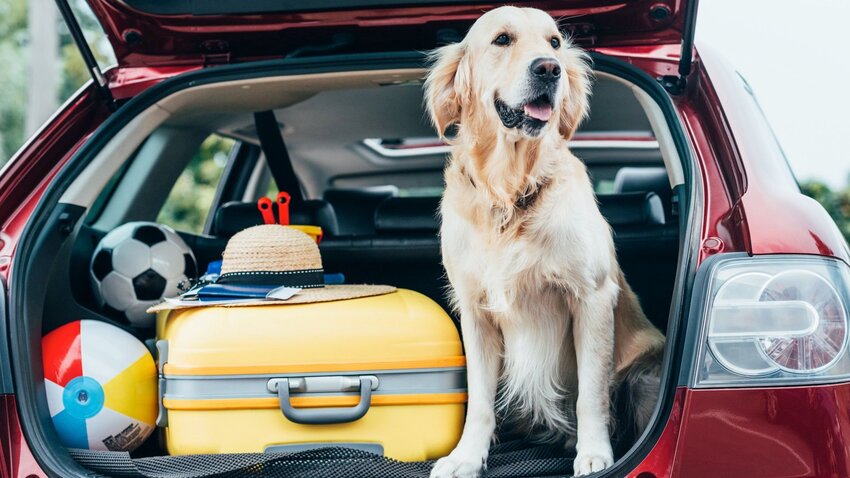 When I first adopted Ralphie, I took him nearly everywhere with me. From camping in the mountains to weekend getaways to cross country road trips, he became my favorite travel companion. Before long, it became clear I needed a designated bag for our joint travels. After a year of packing his stuff in a grocery bag, I was thrilled to receive an L.L. Bean Boat and Tote as a gift, with Ralphie's name embroidered on the front. Now the aptly named "Ralphie Bag" gets packed with all dog-related gear for every trip we take. The bag is large, sturdy, and easy to carry, and keeps everything he needs in one place. Plus, it makes for a great gift for parents who love to travel with their fur babies.
First Aid Kit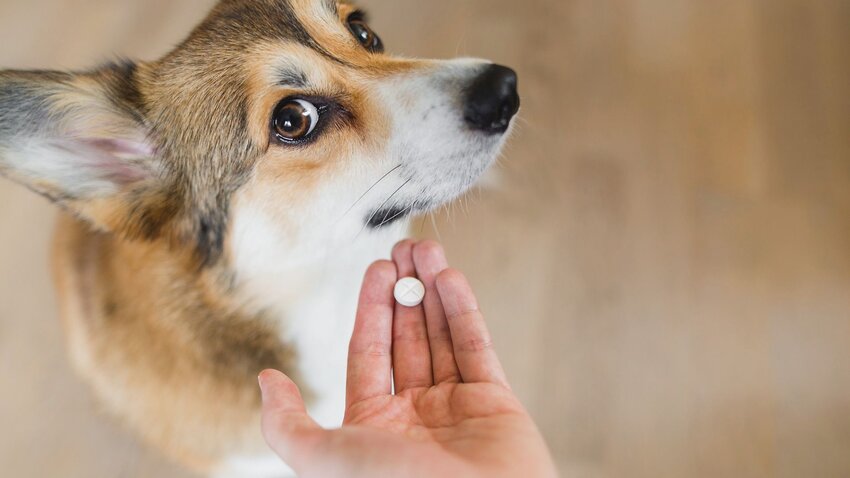 When traveling with your dog, it's always best to come prepared, which is why I like to bring a doggie first aid kit on my travels. This one from KURGO has everything you could possibly imagine, including a first aid guide, gauze, antiseptic, and tweezers. It's also small enough to fit in your glove compartment, although I keep mine in the "Ralphie Bag." It also has room to add any supplies of your own —I keep extra animal bandages and medications in the bag, so I'll always have some on hand during our travels.
Travel Bed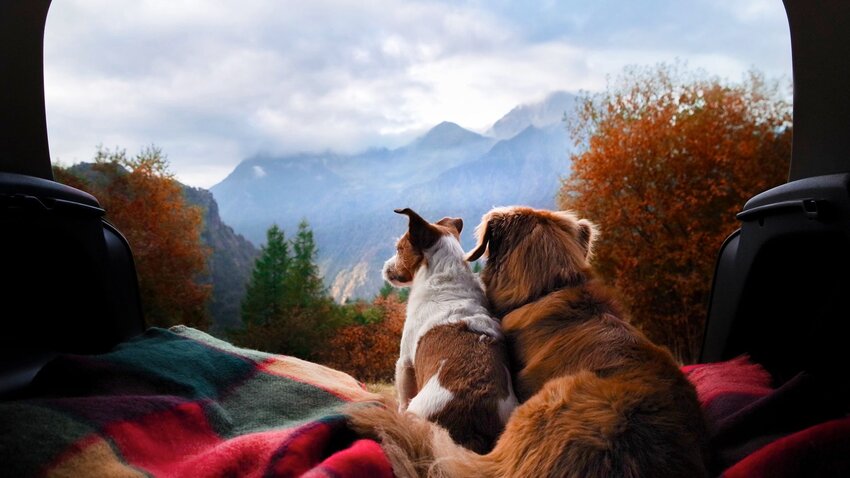 Like humans, dogs enjoy creature comforts, and they appreciate having a pleasant place to sleep. Most dog beds are too bulky to bring in the car, which is why I use travel beds on road trips with my pups. I love this travel bed from Chuck It, which rolls up just like a sleeping bag and doesn't take up much room. Despite not being as cushy as their normal beds, my dogs find comfort in having a bed that smells familiar on the road. If you have a "couch dog", it's also a great idea to bring an old sheet on road trips. You can use the sheet to cover beds and couches so your dog doesn't leave hair all over the Airbnb.
Food, Bowl, and Water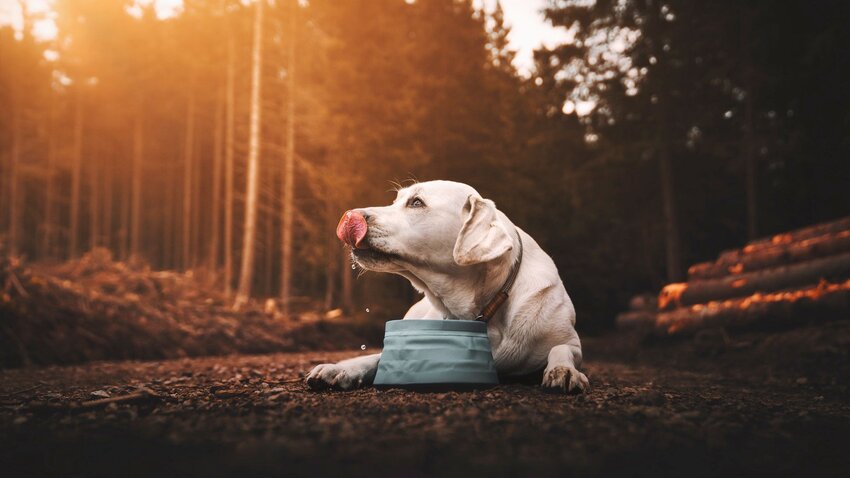 You probably already know it's essential to bring food, water, and dog bowls anytime your travel with your dog. After years of experimentation with travel bowls, I've found I prefer canvas bowls, because they're lighter, easier to carry, and they work well on camping and backpacking trips. I love these bowls from Awakelion because they're collapsible and they come with a portable food bag, eliminating the need to use plastic. The bowls are also quite large, which work well for my 70-pound dogs, but smaller pooches may need something more compact, like this rubber bowl.  For water, I usually pack a 48-ounce water bottle (like this one from Nalgene) and refill it as needed during pit stops.
Awakelion Travel Dog Bowl Kit: Buy it here for $20
Nalgene Water Bottle: Buy it here for $12
Dog Brush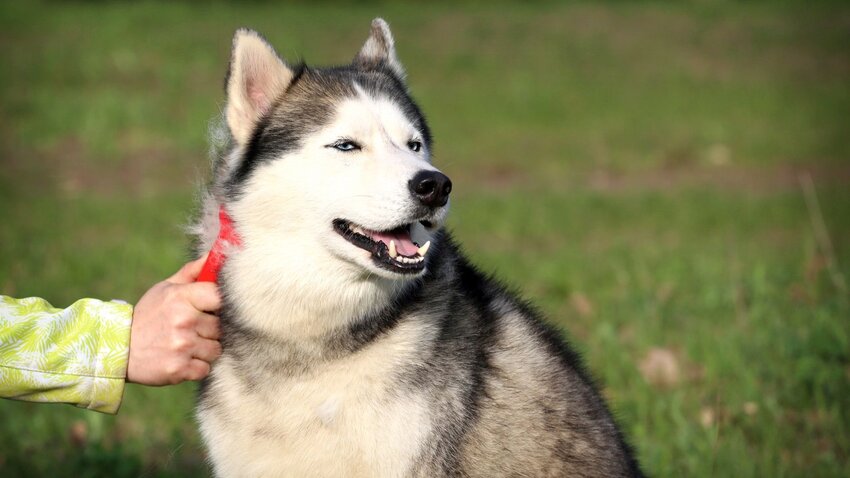 Dogs shed wherever they go — it's just a fact of life. And while it may not be a problem when they shed in the home that you vacuum frequently, it could be a problem while traveling. If you're staying in a hotel, Airbnb, or a friend's house, it's wise to bring a dog brush with you on your travels. Grooming your dog will ensure he sheds less and it's a nice, calming way to end a long day on the road. I use Zoom Grooms, which are rubber brushes that allow your dog to be massaged and brushed at the same time. If your dog sheds excessively, you may want to invest in a Furminator, which effectively removes a dog's undercoat, making it beloved by dog owners everywhere.
Zoom Groom: Buy it here for $7
Furminator: Buy it here for ~$31
Toys and Treats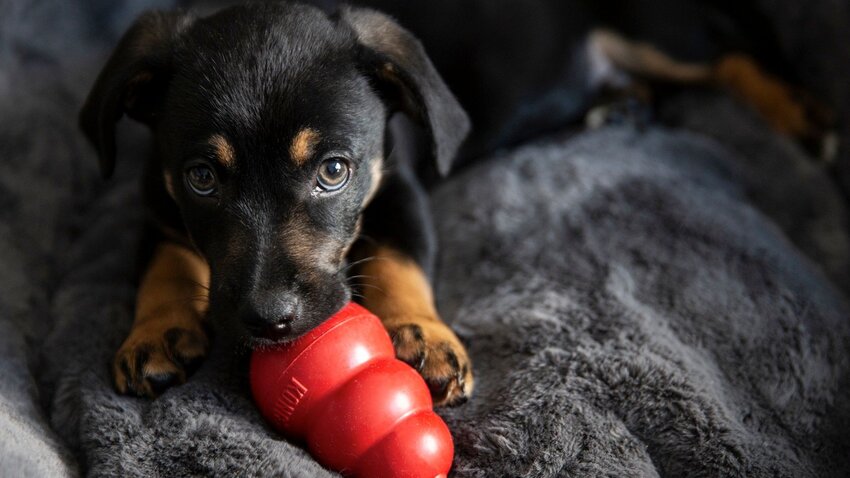 Going new places is often fun for dogs, but it can also be stressful. To abate this anxiety, I bring positive reinforcements to keep my dogs acclimated to the road. In addition to making sure they get enough exercise, rewards in the form of toys and treats are an excellent way to make road tripping fun. During road trips, I most often employ the Kong, a toy that is virtually indestructible and perfect for distracting dogs. If I have to leave my dogs somewhere that's unfamiliar to them, I put extra-special food or treats in the Kong. The dogs are happy and relaxed to chew on their toy, and the treats teach them that being in a new place has rewards.