With the phased reopening of national parks and a slow comeback by the hospitality industry, more and more travelers are itching to explore, and are opting for regional road trips instead of international flights. Knowing how to organize your car is key to having a stress free adventure, and keeping it that way doesn't have to be time consuming. These simple and ingenious hacks will save your sanity on the road.
Plug Into a Multi Outlet Adapter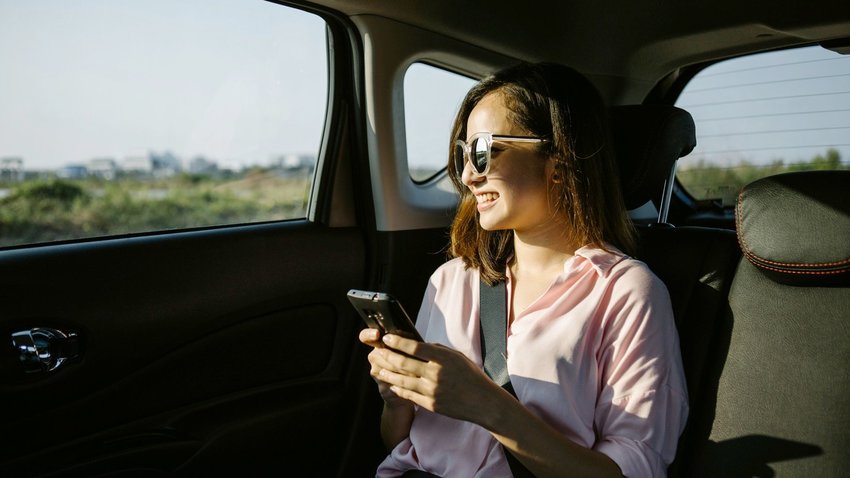 With a car full of road trippers and maybe some younger ones in tow, you're sure to have plenty of gadgets that you'll need to keep charged. After hours of streaming movies on the iPad and navigating the roads on your phone with Google Maps, a multi outlet adapter will come in handy for charging all of your electronics at the same time. This way, nobody has to fight over who gets to charge their devices when. This 4-port car charger can accommodate up to four devices simultaneously, and since one of those ports is an 18W USB-C port, you can even plug in a small laptop or a Nintendo Switch on the go. Just be sure to get long-enough charging cables to reach into the back seat.
Strap on a Car Trash Can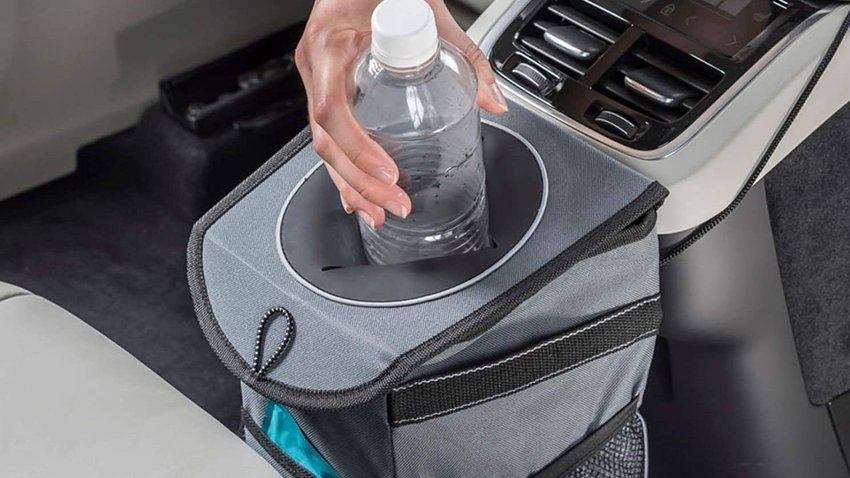 Part of the fun of a long road trip is being able to snack, but it inevitably ends in a pile of candy bar wrappers and chip bags at our feet if we've forgotten to pack a plastic bag or bring along a car trash can. Putting the garbage all in one bag makes it easy to empty it at the next rest stop. This StashAway Console hangs from the headrest or the center console so you don't have to give up precious leg room, and keeps your car free of clutter, as it holds 1.5 gallons of trash. It's lined with a durable vinyl that makes it leak proof if you hastily stash a water bottle in there, and its sturdy build keeps it from tipping over as you navigate windy and bumpy roads. The StashAway Console features three storage pockets which can hold hand sanitizer, wipes, and extra trash bags so you can clean your hands and prep the trash can for your next segment of the drive after emptying it out. If you're in a pinch, a common household item like this cereal dispenser will also double as a trash can.
Keep Cool With a Car Cooler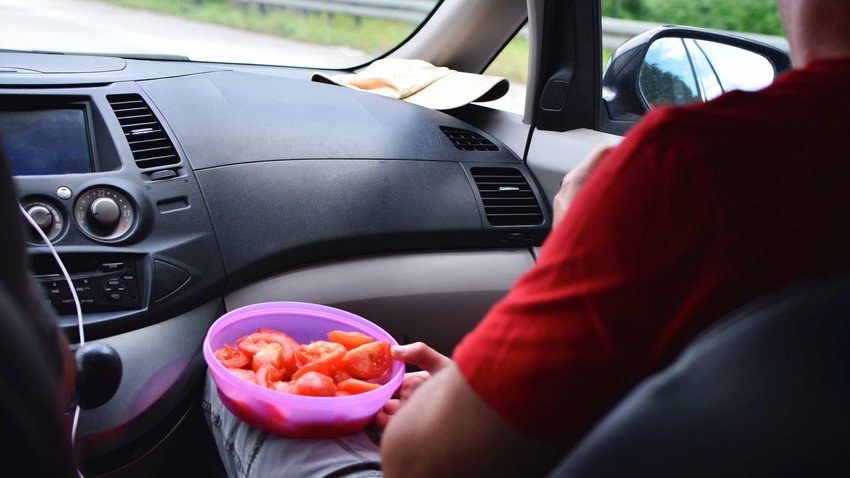 Having to pack a cooler with you in the car can take up a lot of space especially if you're already traveling at maximum capacity, but it's also annoying to have to stop and reach in the trunk each time your kids ask for a drink. Go for a compact car cooler to keep your food and drinks cool, and by opting for freeze packs, you no longer need to stop at a McDonalds every few hours to get fresh ice cubes. This car cooler by Arctic Zone is leak proof and its interior is lined with an easy-to-wipe material. A thoughtful feature is the removable SmartShelf, which lets you separate soft foods like sandwiches, boiled eggs, and yogurt tubes from bottles of drinks to avoid crushing the food. If you like to stop at parks and scenic viewpoints for snack breaks, this cooler is equipped with an accessory pocket that holds cutlery and wipes so you can park, pick up the cooler, and go.
Get It Together With a Grid Organizer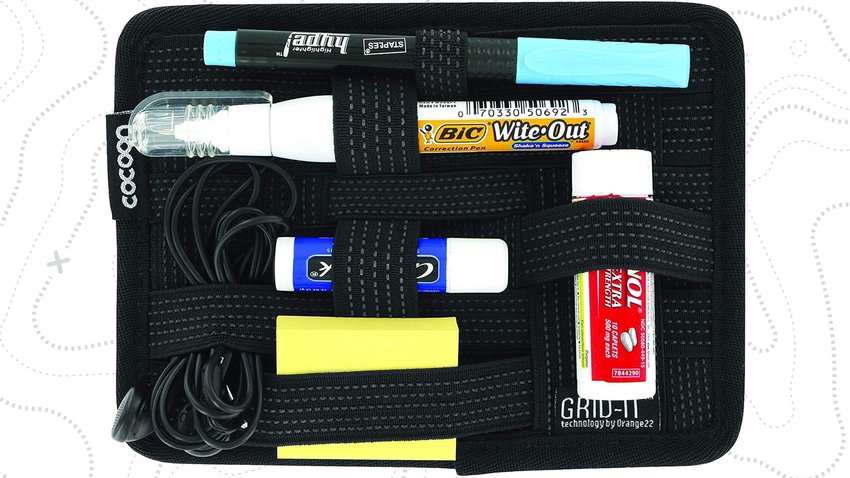 Grid organizers are designed so you know exactly where everything is placed at a glance. All of your essentials are laid out in front of you and secured in place, and you'll always know if you're missing anything before leaving a destination. For easy access to essentials as a driver, attach a Grid-It organizer to your visor with your sunglasses, a couple of pens and a paper map, just in case you lose signal on the road and forgot to download an offline version. Or use a grid organizer to keep all of your charging cables separated. If you're planning on going on hikes, then switch it up and attach a flashlight, carabiner, and sunscreen to your grid organizer. What makes it convenient is that you can take the whole grid and toss it in your backpack when you reach your destination. With this, you don't have to pack everything in Ziploc pouches and dig through a seemingly bottomless pack to find the one thing you need.
Share the Screen With a Headrest Mount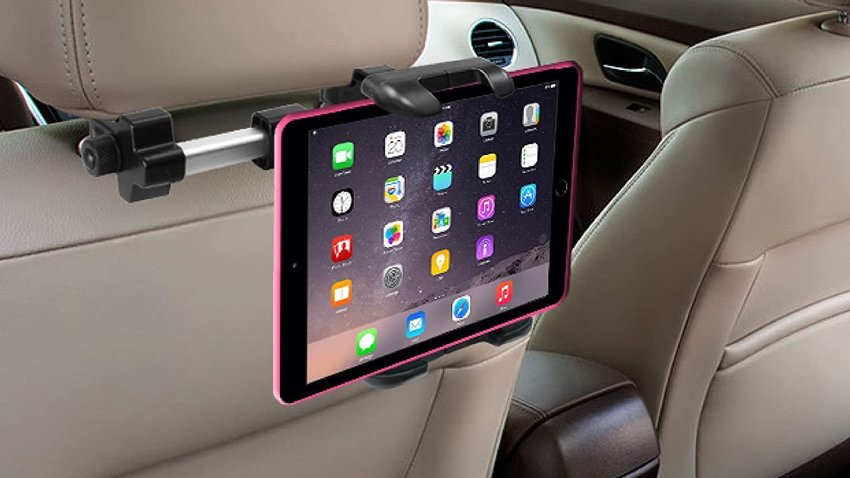 In addition to playing classic road trip games like I Spy and 20 Questions, backseat entertainment is a must to help tiny travelers pass the time. Whether you're taking along an iPad for movies or offering your phone to the kids for music and games, a headrest mount will ensure a seamless experience. This one by Macally attaches to the headrest and is versatile as it can hold different devices, whether it's your phone or tablet. And because the mount extends, the screen can be shared among all passengers in the back row, which is especially convenient if your kids like to play Mario Kart on the Nintendo Switch while you drive.
Make a Play Nook With a Shoe Organizer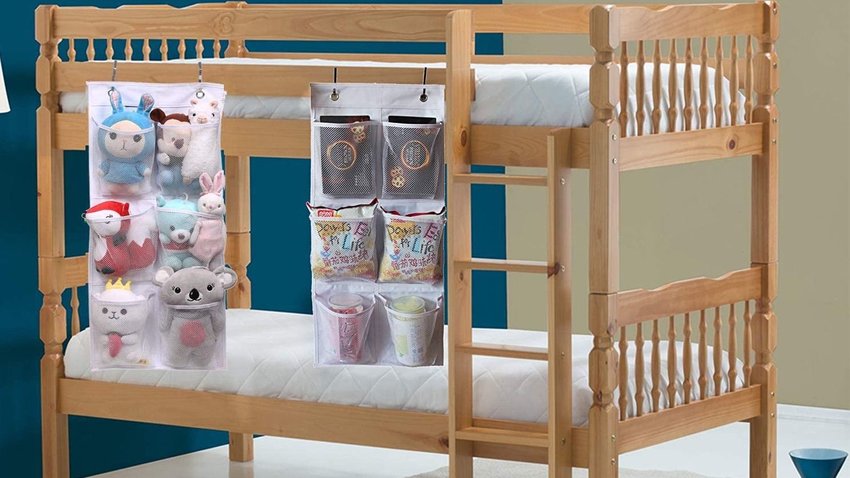 Take this opportunity to craft a hanging toy nook and bring along your child's favorite items. Using a shoe organizer, which you can hang from the neck rest of the front seat, fill in the pouches with stuffed animals, baby wipes, crayons, and coloring books, so your child has easy access to all the items. This shoe organizer takes advantage of unused space, and because it's made from mesh, your child can see at a glance exactly what's in each compartment.