Next time you're considering a road trip, think about cutting your wheel count from four to two. Pedaling your way around an unfamiliar area is a great way to discover what it has to offer. From thrilling gravity-assisted descents over bumpy terrain to family-friendly trails that meander through level landscapes, the true beauty of this method of transport lies in its versatility. If you're keen to try it during your next vacation, check out these suggestions for the best getaways for bicycle lovers.
Kinderdijk, The Netherlands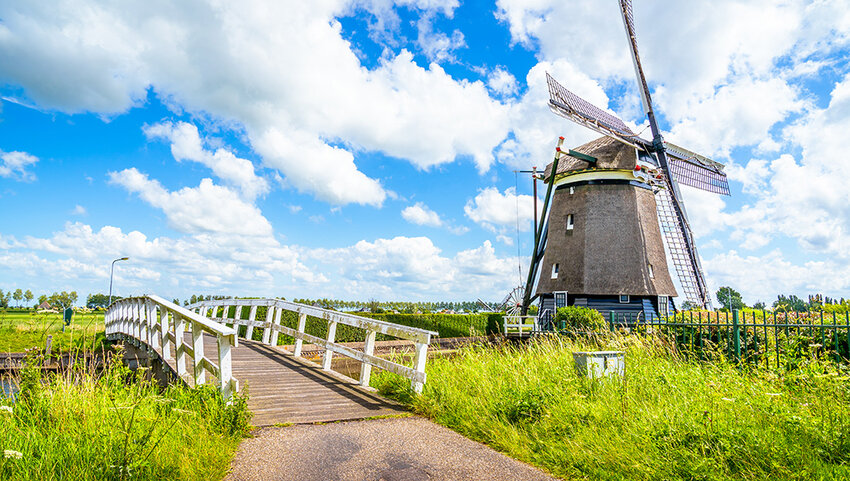 The flat topography of the Netherlands coupled with a dense network of bicycle paths makes this European country a cyclist's dream. If you're a novice on two wheels, think twice before launching yourself into Amsterdam's crowded bike lanes and instead head out into the countryside where there's a calmer vibe. Try Kinderdijk, easily reached from Gouda or Rotterdam, and visit the 18th-century windmills that earned the area its UNESCO status. Download the Kinderdijk app to plan which of the many cycling routes you'll follow across the polders and beyond.
Boulder, Colorado, U.S.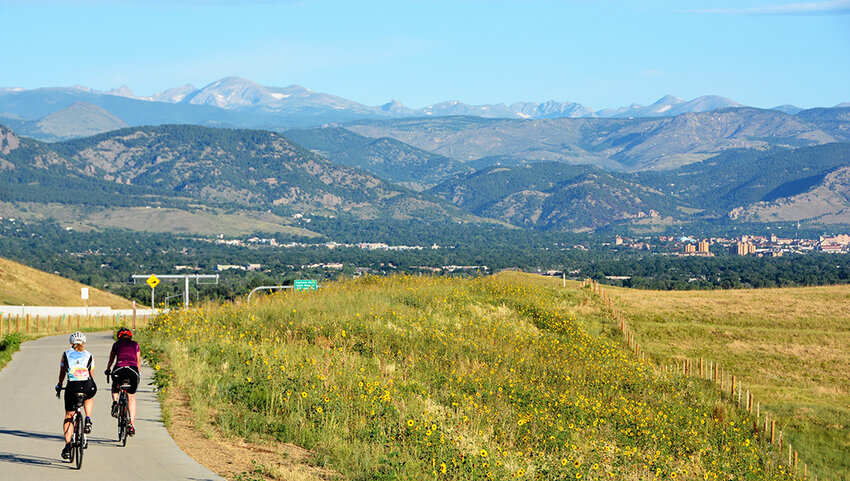 Base yourself in the mountain town of Boulder to ride in the Rockies. Bikeable roads, an enthusiastic local cycling community, and of course spectacular scenery make this one of the top spots in the U.S. for a two-wheel adventure, no matter how fit or how experienced you are. Grab yourself a BCycle bike – rentable by the hour – and follow the 7.5-mile Boulder Creek Trail into Boulder Canyon and back. The Marshall Mesa Doudy Draw Loops promise views of Boulder and the Flatirons and Eldorado Canyon. The route from Lefthand Canyon to Ward is a lung-busting climb through Colorado's Front Range, uphill via the Arapaho and Roosevelt National Forest to reach 9270 feet. The steepest section comes right before you reach historic Ward, which was a silver-mining boom town in the 19th century.
The Austrian Tirol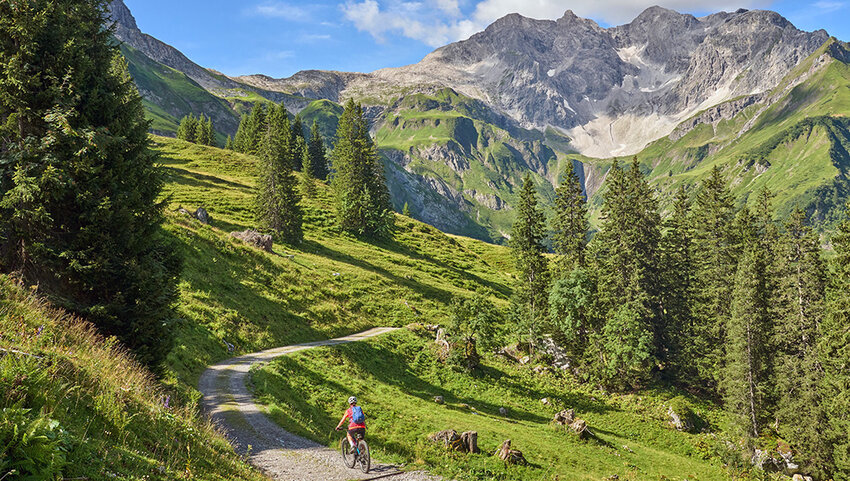 The Austrian Tirol offers more than 600 miles of marked cycle trails. Some are adrenaline-fueled steep descents best tackled by mountain bike at thrillingly high speeds. Others are delightfully flat, offering a leisurely ride along leafy riverside paths. Dip in and out of long-distance paths such as the 130-mile-long Inn Cycle Path, which combines the cultural attractions of historic Innsbruck with ancient abbeys, fortresses, quaint villages, and bucolic meadows. Alternatively, try the Zillertal Valley Path, a 20-mile-long route that is easily achievable in a single day. Enjoy a scenic backdrop of the Zillertal, Tux, and Kitzbühel Alps as you follow the valley from Mayrhofen to Strass. Stop off along the way to swim, climb, ride the Arena coaster, or visit a working cheese dairy.
Bolivia's Death Road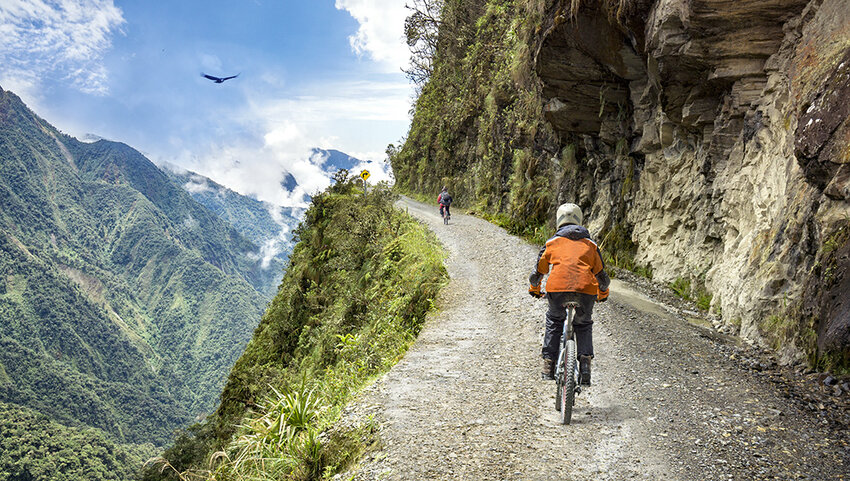 The route once dubbed "the world's most dangerous road" has mellowed a bit over the years. For a start, thanks to the construction of a new highway, vehicular traffic is no longer forced to use the vertiginous, narrow carriageway which measures less than ten feet across in places. Yet the Yungas Road remains a formidable challenge for adventure-seeking cyclists. It's around 40 miles long and almost entirely downhill, with an overall elevation loss of 11,800 feet as you ride from the Andes to the Amazon. Much of its surface is gravel, and when the rain and fog descend it can become terrifyingly slick, so keep an eye on the weather. Choose a reputable operator and try your brakes regularly as you descend – only a fool would underestimate this road.
Finnish Lapland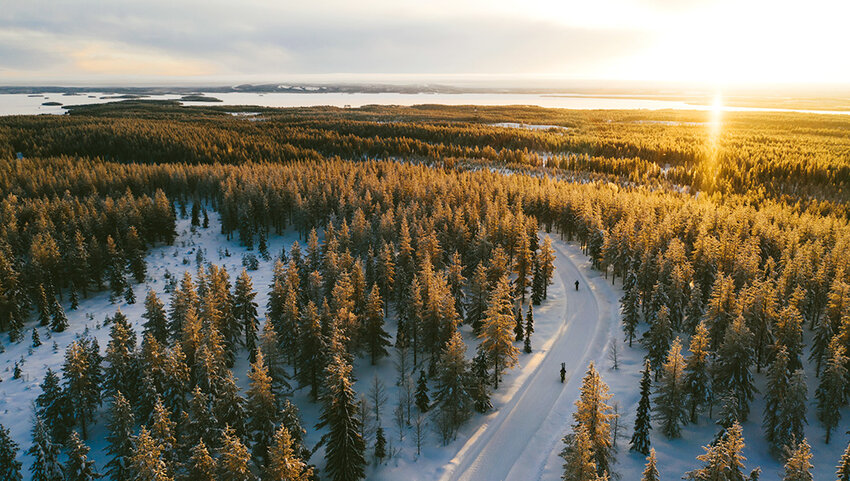 Tourists flock to Finnish Lapland in December to seek out Santa but there's another great reason to visit in winter: fat biking. Though you can rent one at any time of year, their extra large, soft tyres cope particularly well with snowy forest trails. Rovaniemi, within the Arctic Circle, is a good starting point. Nearby, the seasonal Ounasvaara biking trail is usually fully open by February, though sections of it can be ridden earlier in the winter. An hour and a half further north, book a guided fat bike tour in Pyhä-Luosto National Park, stopping every now and then to appreciate the flora and fauna in this pristine environment. Mix it up with other activities such as dog-sledding, reindeer safaris, and snowmobile rides.
North and South Island, New Zealand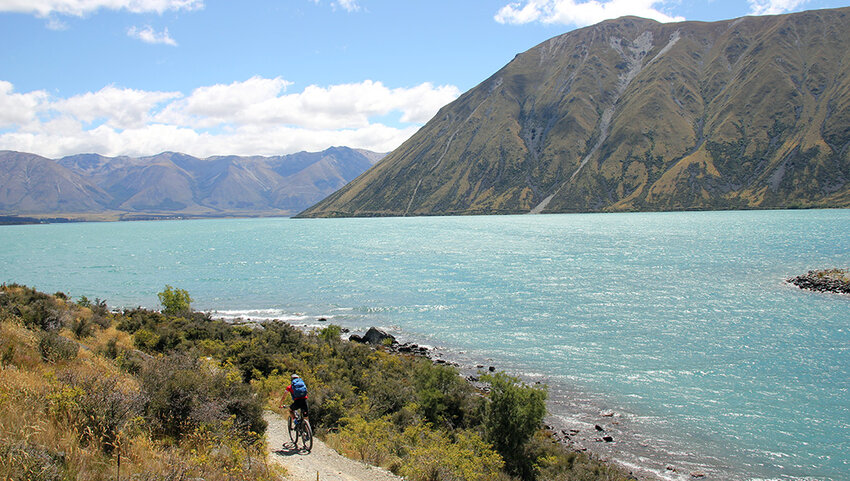 New Zealand has a stellar reputation as one of the world's premier outdoor activity destinations. Download the Great Rides App to find out more about the country's 23 breathtaking cycle trails, known as Ngā Haerenga (The Journeys). Spread across North and South Island, they traverse jaw-dropping scenery, with plenty of opportunities to stop along the way at wineries, museums, and artists' studios. Delve into the country's gold mining past on the Hauraki Rail Trail, combine vineyards and art deco architecture on the Hawke's Bay Trails, or drink in the ocean, rainforest, and mountain views as you ride the West Coast Wilderness Trail. Adrenaline junkies will also want to tick off epic mountain bike trails such as Rude Rock near Queenstown and Whakarewarewa Forest near Rotorua.
La Digue, Seychelles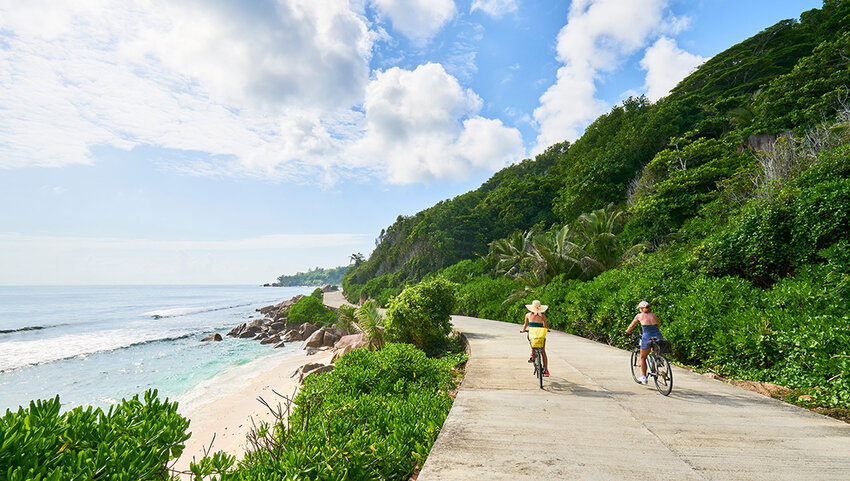 Bikes are the main mode of travel on the island of La Digue in the Seychelles archipelago. Visitors arrive by ferry where bicycle rentals can be organized on the spot right beside the jetty. Looping the island takes no time at all, following quiet paved roads to idyllic beaches such as the world-renowned Anse Source d'Argent, part of the L'Union Estate. Don't limit yourself to the headliner — cut across the island's wooded interior to reach a trio of beaches on the southwestern coast. Petite Anse and Anse Cocos can be reached on foot from Grande Anse. All three boast the Seychelles' signature granite boulders, gently swaying coconut palms and powdery sand lapped by limpid Indian Ocean waves.