Whether you ride a bike for exercise, leisure or as a form of transportation, there's no denying that being on two wheels is fun. It's so fun, in fact, that cycling has risen in popularity in the past ten years and more people are choosing to commute to work via bicycle.
With new protected bike lanes and dedicated bike paths and bike share programs that make it easy for anyone to ride, more and more U.S. cities are embracing their cycling communities. If you love the freedom of two wheels and are looking to explore some new places, here are the best U.S. cities to see from the seat of a bike.
Chicago, Illinois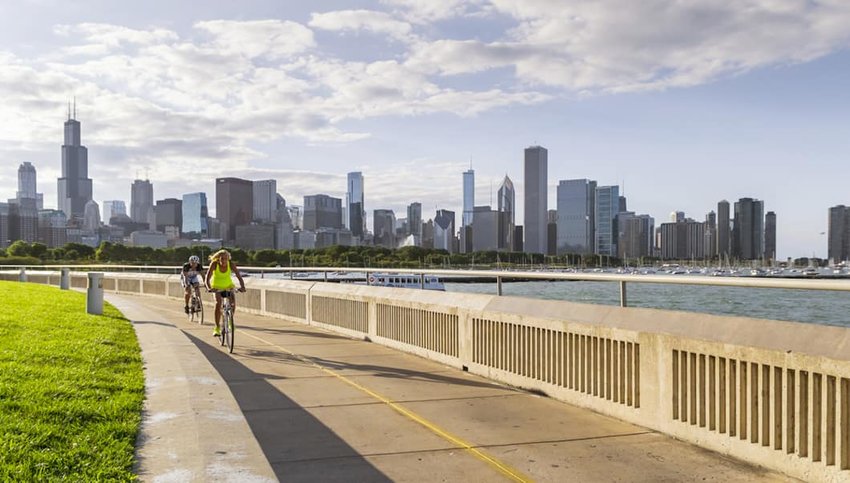 Chicago is consistently ranked as one of the top cities for cyclists, including being named the Best Bike City in America in 2016. Currently, the city has 200 miles of protected, on-street bike lanes for its commuting residents. On top of that, Chicago and its surrounding suburbs have several scenic bike paths, including 18.5 glorious miles along Lake Michigan. Other popular paths include the relatively new 606, which was converted from an old elevated railroad and runs through the heart of Wicker Park and Bucktown.
To support the city's bike culture and fund the bike paths, the Active Transportation Alliance hosts a popular annual event, Bike the Drive. The city shuts its most famous thoroughfare, Lake Shore Drive, for bikers of all ages and abilities to ride car-free for up to 30 miles. Plus, Divvy, the city's bike share program, offers a day pass geared towards tourists. For a mere $15/day, the program offers up 24 hours of unlimited bike rides for visitors to Chicago.
Portland, Oregon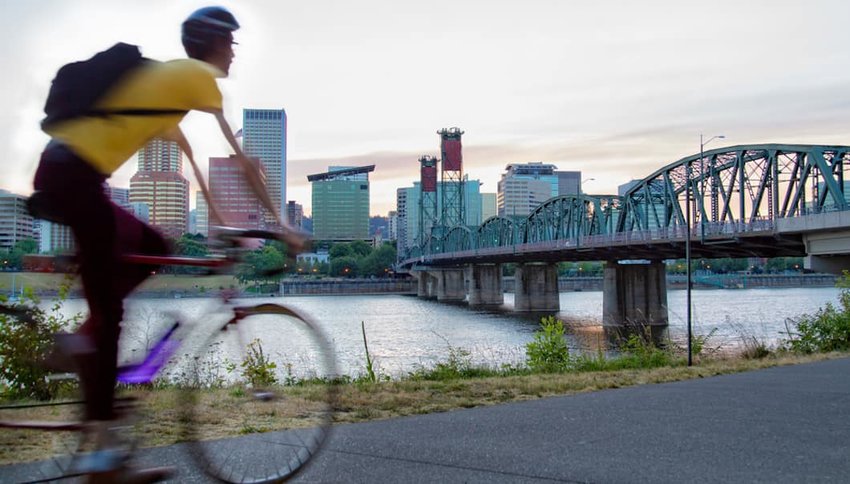 Biking is an ingrained part of the quirky culture in Portland, Oregon, from its annual Naked Bike Ride to the month-long Pedalpalooza. And with 6.3% of Portlandians traveling to work by bicycle, Portland also has the highest percentage of bike commuters in the country.
With a 385-mile network of bikeways, including Neighborhood Greenways, bike lanes and bike paths, Portland is a cyclist haven. In 2016, Portland launched a citywide bike share program called Biketown, which offers an annual membership of unlimited rides for $99. The city even offers assistance for low-income residents who would like to participate in Biketown, which includes an entire month of free rides. No matter what type of biking you enjoy, Portland has a variety of bike routes that will keep you happy. Our favorite is this mapped-out ride of Portland's best breweries and coffee shops. Regardless of your beverage of choice, you can't go wrong.
Fort Collins, Colorado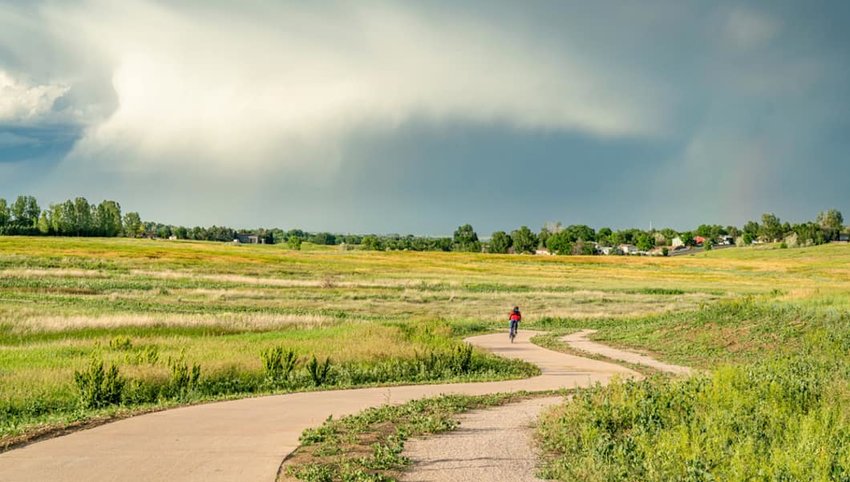 In 2018, the small city of Fort Collins earned one of the top spots in Bicycling Magazine's renowned biennial ranking. While the magazine admitted that such precedence is usually reserved for larger cities, they awarded Fort Collins the number three spot for "doing so much" to serve their biking community.
Not only does Fort Collins boast 185 miles of bike lanes, but it also has cyclist traffic signals and 45 grade crossings. Road bikers will be happy with the city's network of paved paths and mountain bikers will love the single track riding in the nearby mountains. If you're visiting, Beer & Bike Tours offers a three-day bike tour of Fort Collins and the surrounding area, which includes a leisurely beer crawl and an exciting ride in Rocky Mountain National Park.
San Francisco, California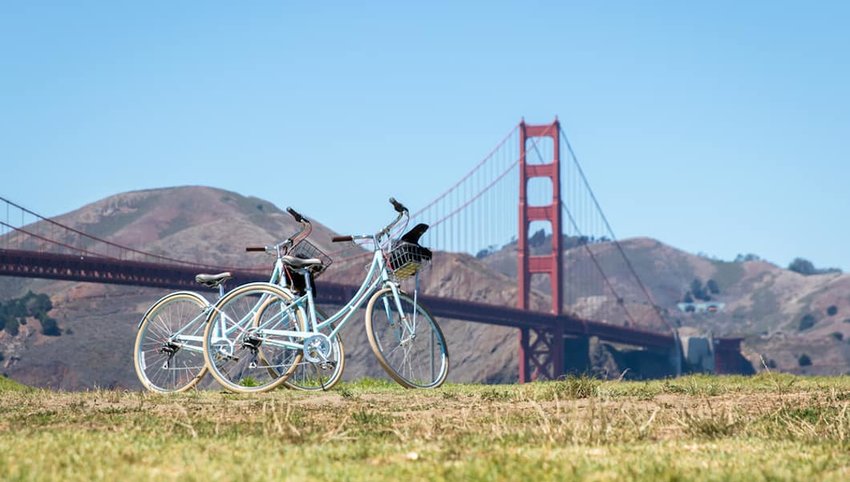 San Francisco, a city known for its progressiveness, always seems to be at the forefront of enacting positive change. So it's not surprising that San Francisco's efforts to promote safe cycling throughout the city have made a noticeable impact. Over the past decade, San Francisco has transformed from a city with zero bike lanes to a top-rated city for cyclists. At the end of 2018, the city had a bike network of 448 miles; in 2019 the mayor promised to build 20 more miles of protected bike lanes in the next two years.
Moreover, San Francisco's stunning backdrop and ideal weather make it one of the more beautiful cities to see from a bicycle. From the Muir Woods Loop, which passes through a national park filled with old-growth redwood trees, to the popular Golden Gate Park Loop, San Francisco is filled with bike routes for all levels.
Minneapolis, Minnesota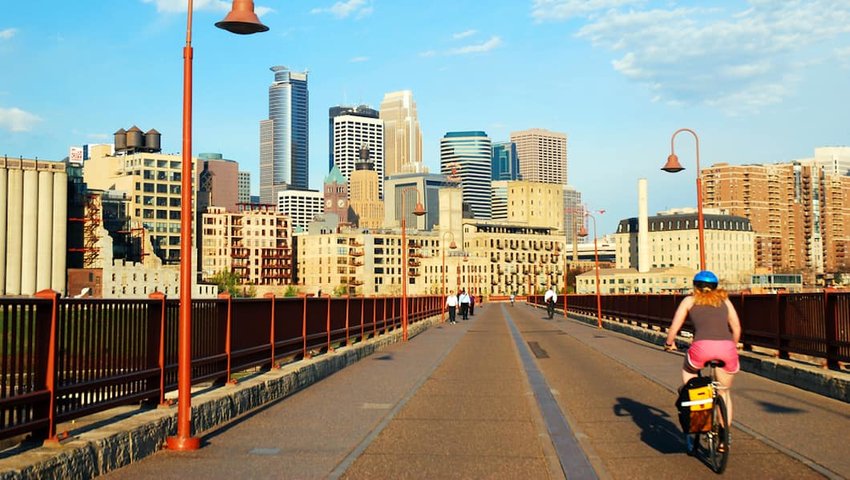 Thanks to 129 miles of on-street bike lanes, 97 miles of off-street bike paths and bike racks on all Metro Transit buses, Minneapolis, Minnesota is one of the most bikeable cities in the U.S.. The city's bike share program, Nice Ride Minnesota, has 3,000 bikes and 400 stations for residents and visitors to use at their disposal. And with 5% of Twin City residents choosing to ride their bikes to work, it also has one of the nation's highest percentage of bike commuters.
The city's pièce de résistance is the Ground Rounds Scenic Byway, a 50-mile circuitous bike path that runs by downtown Minneapolis before passing by lakes, riverbanks, woodlands and wetlands. On any given summer weekend, the byway is packed with happy bikers cruising the well-maintained path and enjoying the beautiful scenery. The best part? The Midwest's famously flat landscape makes for easy riding the entire way.