If you've spent any amount of time online, you've probably stumbled upon snapshots and videos of daring hikers hugging the sides of sandstone cliffs, clinging to a set of chains.
Welcome to Zion National Park, a 146,000-acre desert sanctuary tucked within an incredible canyon in southwest Utah. A place of peace and refuge, where hikers can not only push their boundaries but also find utter tranquility beneath incredible sandstone cliffs and within rugged canyons.
Zion is one of America's most beloved parks, but it can be a bit overwhelming trying to iron out the details of what to do, where to stay, and how to get the most out of your time. To help you plan your next adventure, we've put together a few tips and tricks for visiting Zion National Park.
Hit the Trail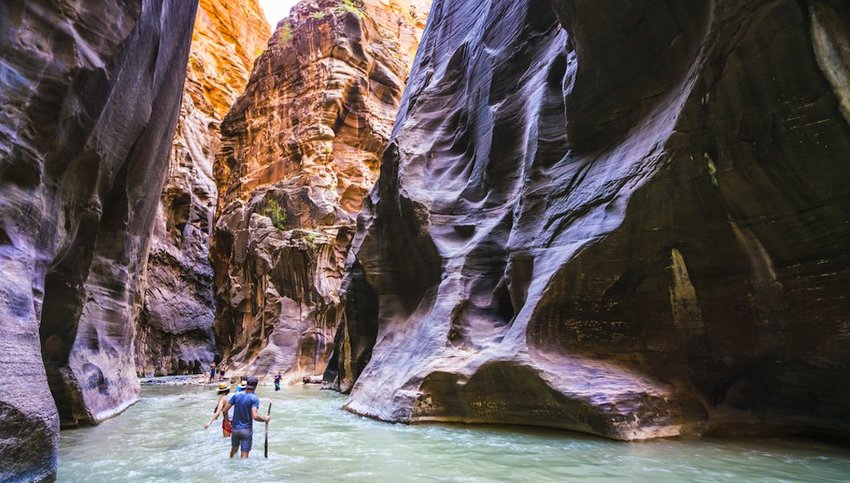 Even if you've never been to Zion, chances are you've heard about the park's famous hiking trails. From awe-inspiring vistas of limestone cliffs to narrow slot canyons, Zion's most iconic trails are frequently referred to as some of the best footpaths in the world. Needless to say, one of the very best ways to experience the park is on foot. Here are some of the must-see hikes you'll want to check off your list.
The Narrows
Escape the summer heat by following the Virgin River through the narrowest section of Zion Canyon. The trek begins along the scenic Riverside Walk before entering the Virgin River. Before you know it, you'll be up to your ankles (or waist) in water and surrounded by sheer canyon walls.
One of the best parts about this trail is that it can be catered to accommodate both novice and experienced river hikers. So, whether you prefer to stick close to where the river meets the walkway or follow the river for 15+ miles to Big Springs is totally up to you.
Generally, the farther you walk the more wading you'll do, so make sure to drop by the visitor's center for information on recommended equipment or to chat with a ranger about current weather conditions. This trail should not be attempted when the river is high or with imminent summer storms.
Angels Landing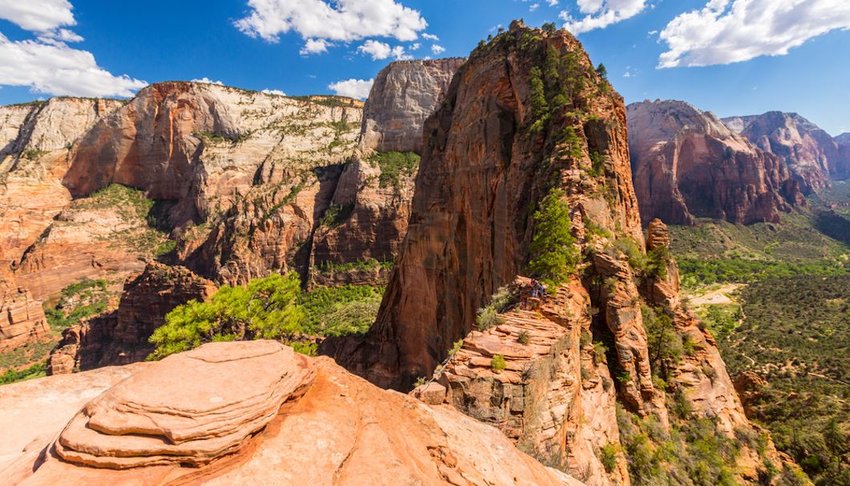 Arguably Zion's most famous hiking trail, Angels Landing takes you up the side of a mountain via a series of switchbacks before following a narrow ridge to a 1,500-foot viewpoint overlooking Zion Canyon. Epic is an understatement – this trail was made with thrill-seekers and adventure-junkies in mind. If the chain-assisted rock scrambling doesn't get your blood pumping, the vertigo-inducing altitude might do the trick.
The trail is just 5.4-miles long, but gains 1,500 feet in elevation, so it's not for the faint of heart. Fortunately, while you're scaling this natural Stairmaster, you'll be treated with striking views of the surrounding canyon and river below.
Quite frankly, the latter end of the trail to Angels Landing can be dangerous, especially if you're already fatigued from the hike up. Take your time and know your limits. This isn't the trail you'll want to hike to overcome your fear of heights or test your fitness abilities. Underestimating this hike has proven to be fatal.
Canyon Overlook Trail
If you're not quite ready to tackle Angel's Landing, you can still experience sweeping views of Zion Canyon via the Canyon Overlook trail. This trail is short and sweet, at just a mile long, but offers as impressive views of Zion icons like the Towers of the Virgins, the Streaked Wall, East Temple, and Beehives. If you're still feeling adventurous, consider ascending the East Temple Saddle and exploring the upper end of Pine Creek.
Riverside Walk
You don't have to hike in the Virgin River to appreciate the grand landscape found in route to the Narrows. Known as the 'gateway to the narrows,' the Riverside Walk is a wide, paved, and wheelchair-accessible footpath that follows the Virgin River beneath a canopy of cottonwood trees. The trail meanders next to impressive sandstone walls and features beautiful hanging gardens. If you're hoping to escape the heat, there are also a number of small trails to river access points so you can easily take a dip in the refreshing waters of the Virgin River.
Emerald Pools
In just three miles, you can walk to three glittering emerald pools that sit beneath a weeping wall (or waterfall, depending on when you visit). The paths to the Lower and Middle Pools are easily accessible via a paved footpath, while the trek to the Upper pool is slightly more strenuous and requires hiking in sand and rock. The higher you climb, the better the views. Don't forget to take some time to appreciate vistas of Lady Mountain, Red Arch Mountain, and the Great White Throne along the way.
Observation Point
Observation Point is another bucket-list hike that draws visitors to Zion from around the world. This strenuous, eight-mile hike travels up to and through the illustrious Echo Canyon to dazzling views over Zion Canyon. Though Observation Point doesn't have the same notoriety as Angels Landing, the views from this flat, sandstone plateau are equally as impressive. As an added bonus, this trail is also a lot less crowded.
Make sure to check in with the National Park Service before you plan your trip. This trailhead at Weeping Rock is currently closed due to a rockfall. Observation Point can only be accessed via the East Mesa Trail.
Take a Scenic Ride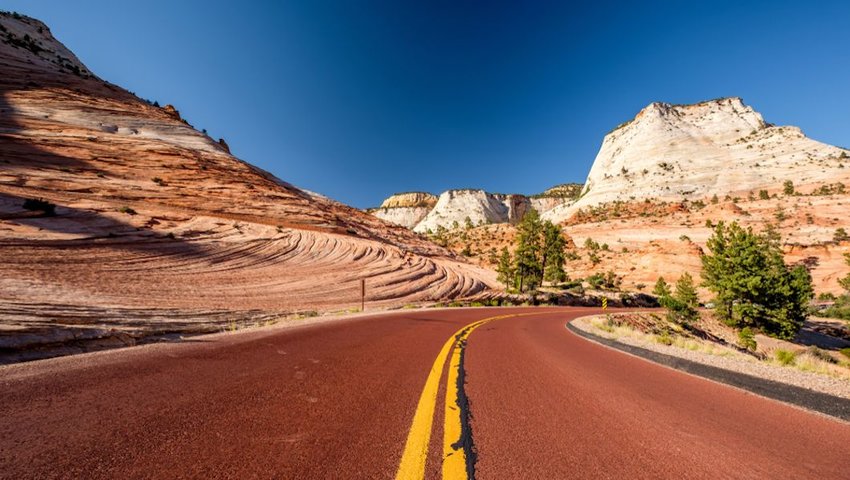 The most dramatic views of Zion National Park can be found along the Zion Canyon Scenic Drive. The Zion Canyon road is also where you'll find all of Zion's major attractions, trails, and scenic overlooks. During peak season, this road is only accessible via the free shuttle. However, this restriction frees up a lot of real estate for explorers on two wheels.
Start your biking adventure by cruising along the Pa'rus Trail. This flat, 2.5-mile path clings to the Virgin River before meeting up with the main park road. Continue along the Zion Canyon road to cycle beneath the rugged, red rock cliffs and cottonwood canopy of Zion Canyon. The Canyon is slightly uphill, but can be easily accomplished by novice riders. You're free to take in the breathtaking vistas at your own pace, just make sure to keep an eye on the road and yield to passing shuttles.
Bike rentals are available at Zion Lodge and a few other outfitters just outside of the park.
Go Stargazing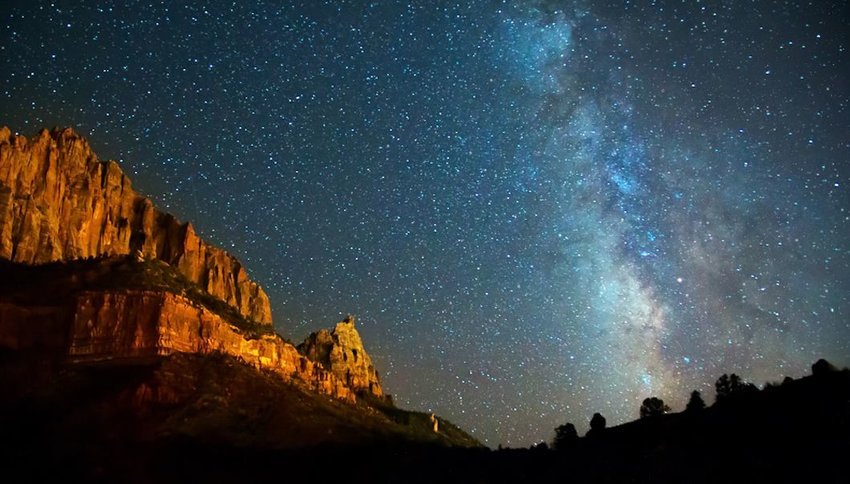 The magic doesn't end after dark. Zion National Park is one of the very best stargazing destinations in the country. In fact, the park has gone so far as to install night-friendly lighting inside the park to keep the skies clear of excess light pollution.
During the summer, there are typically ranger-led programs that allow visitors to use telescopes to peer up at the night sky and learn about the galaxy. But even if you can't find a program to join, it's easy enough to walk any of the footpaths in the park to get incredible views of the stars scattered over Zion Canyon.
Where to Stay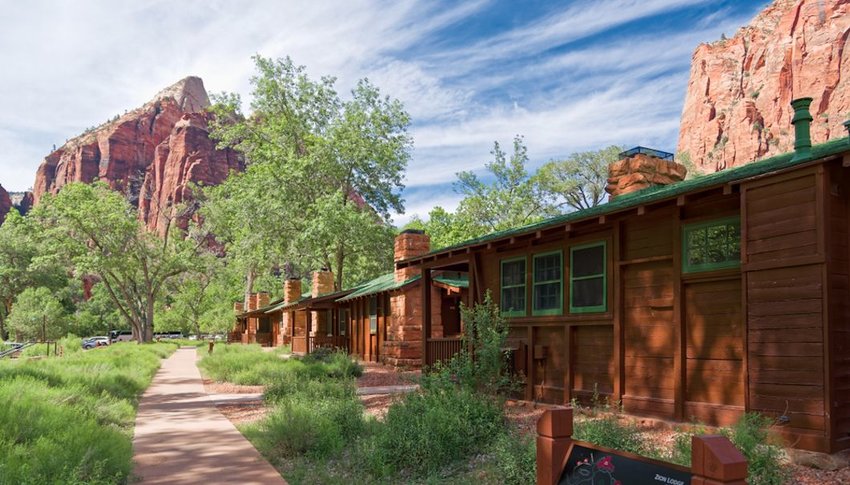 Hotels
There is only one lodge within the boundaries of the park, the Zion Lodge. But there are plenty of accommodations right around the corner in Springdale, as well as hotels, ranches, Airbnbs, and desert bungalows scattered throughout the Utah desert.
If you're looking to camp without really roughing it, consider 'glamping' at Under Canvas Zion, which sits on 196 acres adjacent to Zion National Park's eastern border. Or, if you missed your opportunity to check-in to the Zion Lodge, consider making Zion Mountain Ranch your basecamp. This 8,000-acre ranch is just a few minutes from the park's east entrance and is more remote than some of the other accommodations nearby.
The Cable Mountain Lodge is also a great alternative to staying in the park. Though Cable Mountain isn't technically in the park, it's only five minutes from the entrance and is just steps from the Zion Canyon Village.
Camping
There are three campgrounds in Zion National Park – The Lava Point Campground, South Campground, and Watchman Campground.
The South and Watchman Campgrounds are both located near the south entrance of the park, near Springdale. These sites are incredibly popular due to their proximity to the park and various amenities.
The Watchman Campground is just ¼ mile from the South Entrance of the park and is within walking distance of the Visitor Center and Shuttle Service. There are 176 sites available, and reservations can be made up to six months in advance. The campground is generally full between March and November, so you'll want to plan ahead if you're hoping to pitch a tent at the Watchman Campground.
The South Campground sits .3 miles from Watchman and offers 117 sites. Sites at the South Campground can be made two weeks in advance, but they are also reserved quickly. Unlike Watchman, South does not have any restrooms or amenities, so campers will need to walk to Watchman to take advantage of the facilities.
The Lava Point Campground is about an hour from Zion Canyon on the Kolob Terrace Road. Lava Point has just six primitive sites and is open seasonally from May through September. These sites are first-come-first serve and are free to use.
Visitors who can't snag a campsite during the reservation window are totally out of luck if they want to stay inside the park. However, there are several campgrounds, RV parks, and accommodations just outside of the park. The Zion River Resort and Zion Canyon Campground and RV Resort are popular alternatives to camping in the park. Or, if you're feeling adventurous, consider camping in the backcountry.
Getting Around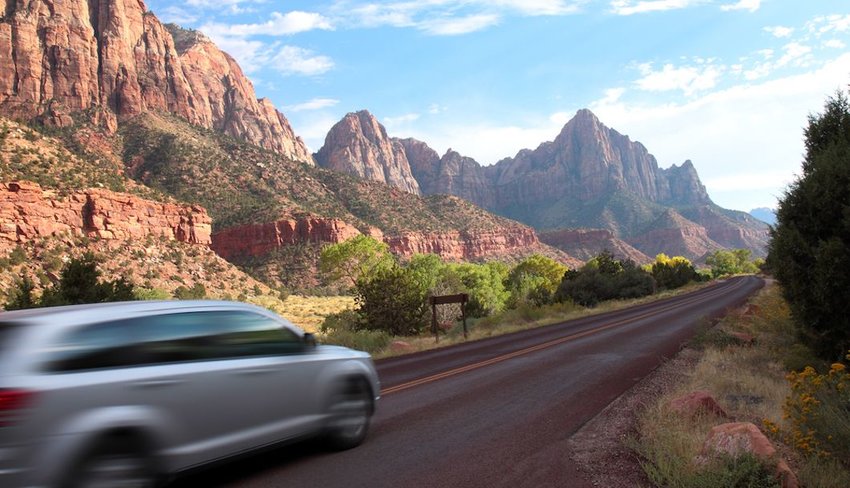 Take the Shuttle
Nothing puts a damper on your adventure plans quite like having to drive around in circles in search of a prime parking space or dodge passing cars en route to the trailhead. Why not leave the driving to someone else?
In 2000, a free shuttle system was introduced to reduce congestion in the park, protect delicate ecosystems, and "restore tranquility".
Between March and November, the shuttle runs daily from Zion Canyon to the town of Springdale, making frequent stops at trailheads along the way. The shuttle is efficient and straightforward – to jump aboard, just head to the Zion Canyon Visitor Center.
There are just two shuttle routes to choose from – one loops through Springdale and another that travels up Zion Canyon Scenic Drive. The shuttle times vary, depending on the season, but buses arrive every seven minutes. Keep in mind, when the shuttle is running, private vehicle use is prohibited.
Traveling by Car
If you're traveling to the park when the shuttle isn't running, feel free to drive yourself to and from scenic vistas and trailheads along Zion Canyon Scenic Drive.
If you're visiting during shuttle season, but you still want to take a scenic drive, private vehicles are permitted year-round along the Zion-Mount Carmel Highway, Kolob Terrace Road, and Kolob Canyons Scenic Drive.
When to Visit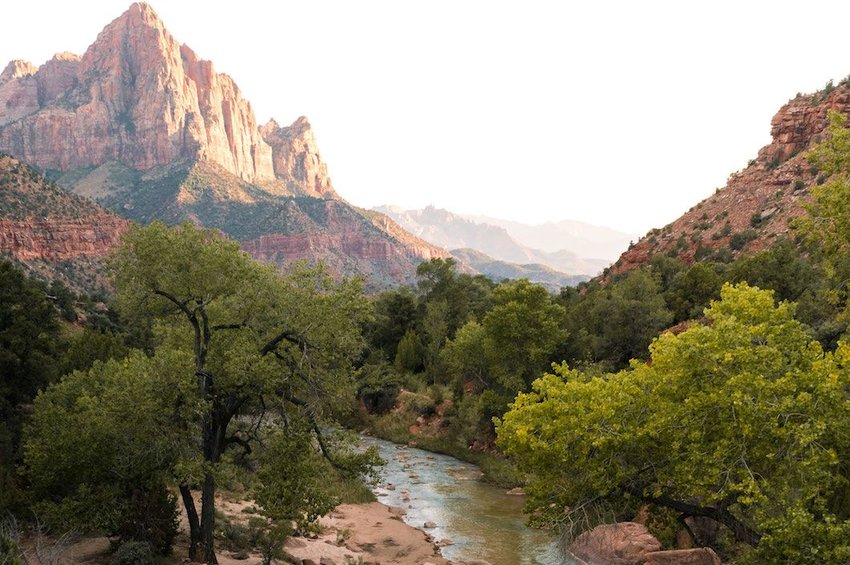 Summer - June to August
Summer is when things really start to heat up in the park, literally, and it's not unusual for temperatures to reach triple digits. All areas of the park will generally be accessible, but hopeful hikers should exercise extreme caution while hiking under the midday sun. Bring plenty of water, get an early start, and/or hit a cooler canyon trail like the Narrows to maximize your time in the park. Don't be afraid to stay out past dark — summer is the very best stargazing season.
Fall - September to November
Most leaf peepers won't think to travel to southern Utah for fall foliage, which makes Zion the perfect destination for autumn lovers to soak up stunning fall foliage without having to bump elbows with other visitors. Cooler conditions make hiking during the day a lot more reasonable and most, if not all, trails will still be accessible.
Winter - December to February
Despite relatively-modest daytime temperatures, winter is the slowest season in Zion. Most of the park's popular trails remain open year-round, though ice and snow may be present at higher elevations or along trails that don't receive a lot of sun. Periodically a storm will roll in and cover the canyon and its iconic summits with a fresh dusting of snow, transforming this once red-rock laden landscape into a blissful winter wonderland.
Spring - March to May
When spring is in full swing and the park starts to thaw, seasonal waterfalls begin popping up unexpectedly from large fissures along the canyon walls. The water funnels through the park's slot canyons before making its way into the Virgin River. Needless to say, this isn't the season for hiking through slot canyons. It is, however, the perfect time to visit the park to appreciate a lively display of wildflowers. Besides, there are plenty of epic hiking trails to keep you occupied that don't require trekking through a slot canyon.
Conclusion
Don't worry, you don't have to cling to the side of a cliff to fall in love with one of the most stunning landscapes in the country. Zion is not only incredibly accessible, it's a stunning landscape that can be appreciated by just about any type of traveler.
So, whether you're a glamper, camper, backpacker, or general outdoor enthusiasts, make sure you add Zion to the top of your bucket list.