Everything's bigger in Texas — including, if you're in Austin, the food truck scene. Officials estimate there are more than 1,000 trucks in the city. With so many delectable, roving options to choose from, you won't have to set foot in a restaurant for your entire trip. But where do you start?
If you aren't quite sure what you want, head to a food truck park and see what catches your eye — try South Austin Trailer Park and Eatery or the Midway Food Park to kick things off. But if you have a certain craving, try one of the following options to find that perfect flavor. Just do your research before heading out — you never know where you're going to find these mobile eateries.
Mexican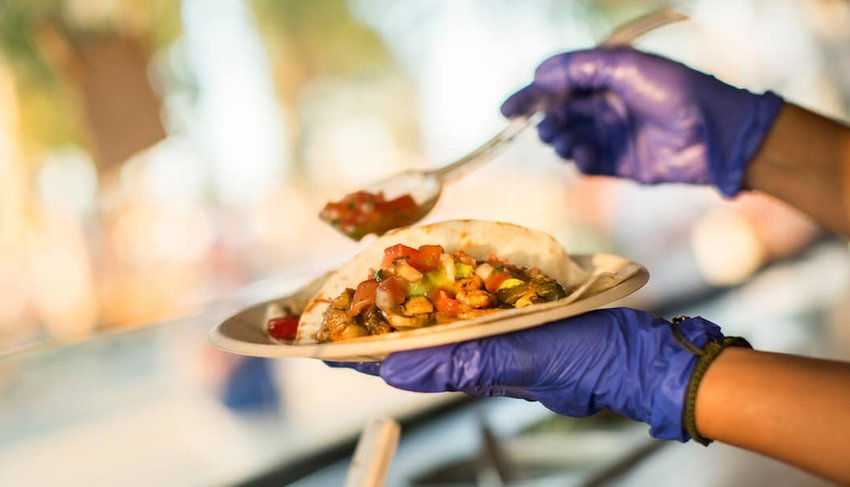 Credit: alexsalcedo/iStock
There's possibly nothing better than tacos out of a truck after a night out in a new city. But even at a decent hour, Austin's tacos will maybe be the most memorable part of your entire trip.
Breakfast or lunch at east Austin's Juanata Taco will definitely fill you up. It has a pretty prolific menu for a restaurant on wheels, and its owners focus on philanthropy.
Rosarito has both a taco truck and a ceviche truck roaming the city serving up Mexican Pacific street food. If you're feeling adventurous try the octopork taco — grilled octopus "a la diabla," chicharron, refried black beans, shredded cabbage and pico de gallo or pickled red onion. There's a burrito or rice bowl version too.
Southern

Credit: Pgiam/iStock
There's no shortage of southern comfort in Texas. Keep things simple at Tommy Want Wingy — they make wings and fries. Just tell them how hot you want it, and they'll take care of the rest.
If you can't imagine leaving Texas without indulging in some good old barbecue, hunt down Micklethwait Craft Meats, a tasty barbecue trailer that serves up the meat. From smoked sausage to ribs, plus all the fixings, you won't want to leave.
And if meat isn't your thing, try Arlo's. They're completely plant-based, and offer a bistro-type environment that's different than your usual late-night eatery. Try the bac'n cheeze burger — house-made, soy-free and gluten-free patty, stacked with house-made seitan bac'n, melted cheeze, mayo, ketchup, mustard, tomatoes, onions, pickles and lettuce. Yum!
Asian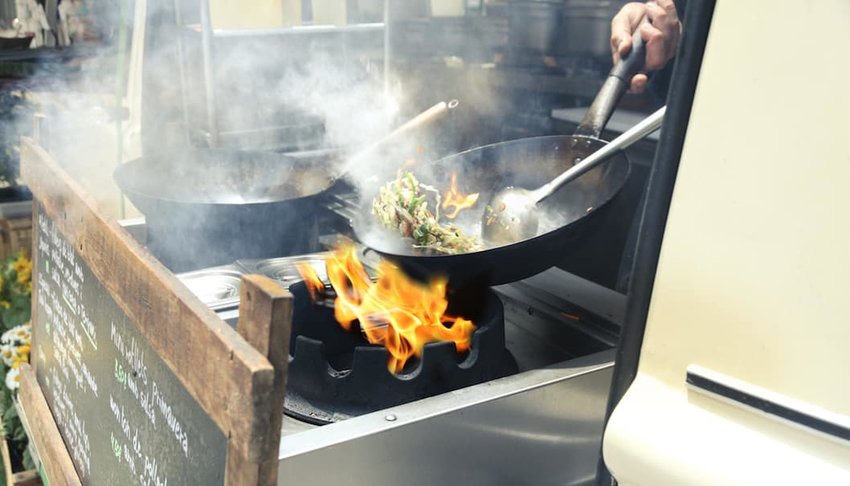 Credit: Maica/iStock
For Japanese street food inspired by Asian culture and infused with Austin vibes, head to East Side King. Try the gluten-free Thai Chicken Karaage (deep-fried chicken thigh, sweet-spicy sauce, fresh basil, cilantro, mint, onion, jalapeño) or the Poor Qui's Buns (roasted pork belly in steamed buns, hoisin sauce, cucumber kimchi, green onion).
And there's "homemade thai food from grandma's kitchen" at Bua Loy Thai Cuisine — except this time, grandma's in a truck in a parking lot. Order the Larb — ground chicken tossed with dried chili, red and green onions, in house chili-lime nampala. It's topped with toasted rice, served with lettuce and just a little spicy.
Other
I know "other" is an ominous category, but there are several notable trucks that masterfully blend cuisines and flavors, making them hard to categorize.
Take Chi'Lantro, for example. This Korean-Mexican fusion truck with multiple locations throughout the city will give you the best (and maybe the only?) kimchi fries you've ever had, plus tacos, quesadillas and Korean wings. They call themselves the healthier, better version of Chipotle, and who are we to argue with that?
Next, get some more southern comfort food, with an Asian flair? The Peached Tortilla is sure to offer something new for your pallet. Try the JapaJam burger — one-third pound beef patty, sweet tomato jam, jalapeno jack cheese, fried egg, Japanese BBQ sauce and tempura battered onion strings. You knew things were going to get a little weird in Austin.
Dessert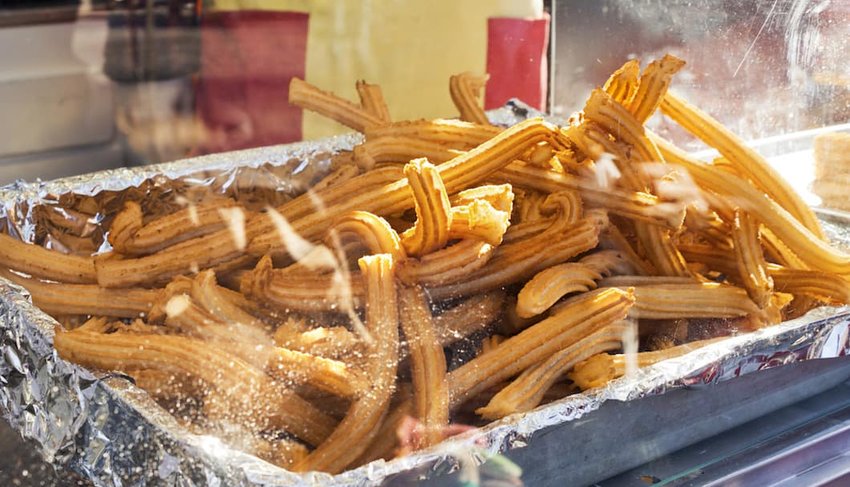 Credit: viennetta/iStock
If you can even stand to eat anything else, make sure to top off with dessert. The Miss Shortcake doughnut at Gourdough's comes with cream cheese icing and fresh strawberries making it my personal favorite. But if breakfast pastries aren't your idea of a dessert, check out Churro Co. or Cold Cookie Company for sweet creations beyond your wildest dreams.
Happy eating!