A weekend in New York City is fantastic anytime of the year, but it's especially magical during the winter holidays. This magic explains why countless movies and TV shows have taken place against the backdrop of the Big Apple's iconic holiday attractions and events. The season kicks off with the grand Macy's Thanksgiving Day Parade and culminates in the New Year's Eve glittering ball drop in Times Square. From the Rockettes Radio City Christmas Spectacular to touring Central Park to the splendid Rockefeller Center Christmas tree, we've put together the perfect holiday weekend in the Big Apple.
Friday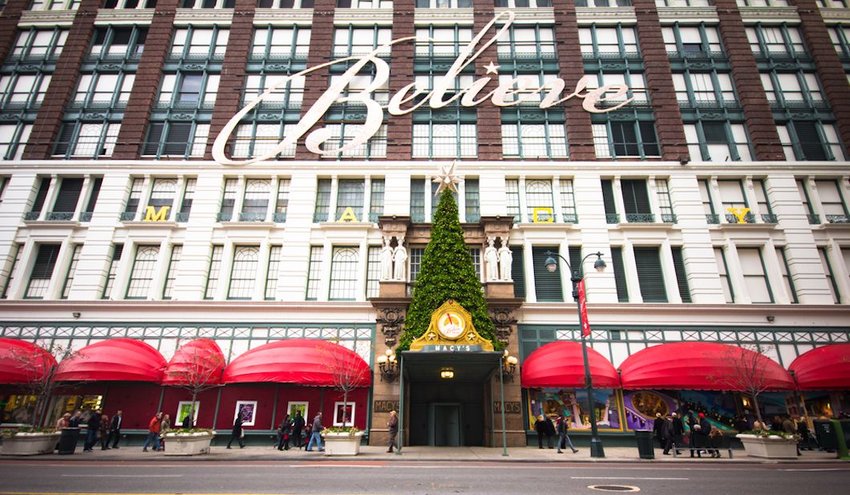 To get into the holiday spirit, take a two-mile walking tour of NYC's iconic department store holiday displays. Drop your bags, bundle up, and head to Macy's Herald Square, which is between West 34th Street and West 35th Street. Macy's has two sets of dazzling holiday display windows, one along Broadway between 34th and 35th Street and another along West 34th. From Macy's, walk east along West 35th Street to Fifth Avenue. Look south down Fifth Avenue, and you can catch a glimpse of the Empire State Building, which displays festive red and green holiday lights on its top floors. Walk north along Fifth Avenue to Saks Fifth Avenue and keep an eye out for giant holiday ornament displays.
Along the way, you'll pass the Rockefeller Center. If you need a pick-me-up, stop in the GODIVA Café for a coffee and a signature treat, the GODIVA Croiffle™ (a savory, sweet croissant pressed in a waffle iron with decadent chocolate filling). Take in the holiday displays at Saks, and just past Saks, you'll pass the stunning St. Patrick's Cathedral, which is free to visit if you want to take a peek inside. Continue north along Fifth Avenue past Trump Tower to Bergdorf Goodman and check out its holiday display windows. Just past Bergdorf's, you'll pass The Plaza Hotel's famous Pulitzer Fountain. If you have the time, continue a little farther until you reach Central Park. Turn left onto East 60th Street and walk about a block to Barney's to see its unique holiday window displays. Walk along East 60th Street two blocks to Lexington Avenue and turn right where you can walk past Bloomingdales for a final holiday window display.
Friday Evening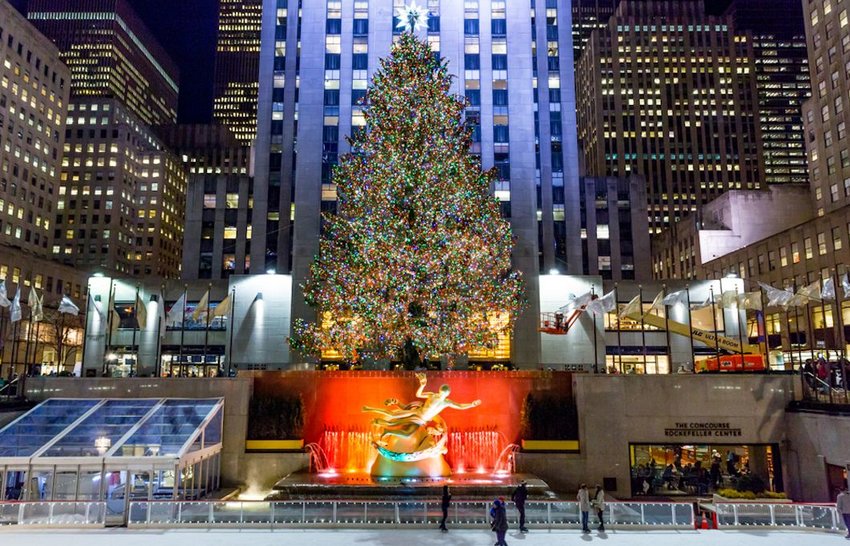 Walk back toward Central Park from Bloomingdale's along East 59th Street to The Plaza Hotel's Food Hall for an upscale yet casual dinner. Don't let the idea of a food court turn you off — this is no ordinary food court. Managed by The Plaza hotel, it offers a spectacular array of European-inspired specialty foods from fine food purveyors. Browse offerings such as Asian dumplings, sushi, salads, lobster, deli sandwiches, pizza, tacos, wine, beer, crepes, and tantalizing baked goods and desserts.
Most NYC visitors head to the Empire State Building for panoramic views of the breathtaking NYC skyline, but for a better and less busy experience, head back to the Rockefeller Center. Ascend 70 floors into the sky and take in the 360-degree views. Best of all, you can see the Empire State Building's beautiful red and green holiday light display. If it's too chilly to head outside to the observation decks, you can still enjoy the views from the cozier indoor deck.
Before you head to the "Top of the Rock," you can check out the mezzanine level exhibits and learn about the center's fascinating history. After you've enjoyed the views, have a drink at Bar Sixtyfive on the 65th floor, which is adjacent to the legendary Rainbow Room restaurant. On the way back down, stop on the concourse level where you can see the most famous NYC holiday scene: the skating rink and Rockefeller Center Christmas tree. You can rent skates, but the lines are lengthy, and other skating options in the city are more accessible and less expensive. It's well worth the money to upgrade to a VIP Top of the Rock ticket, which gets you expedited security screening, immediate access to the elevators, and 20 percent off retail merchandise.
Saturday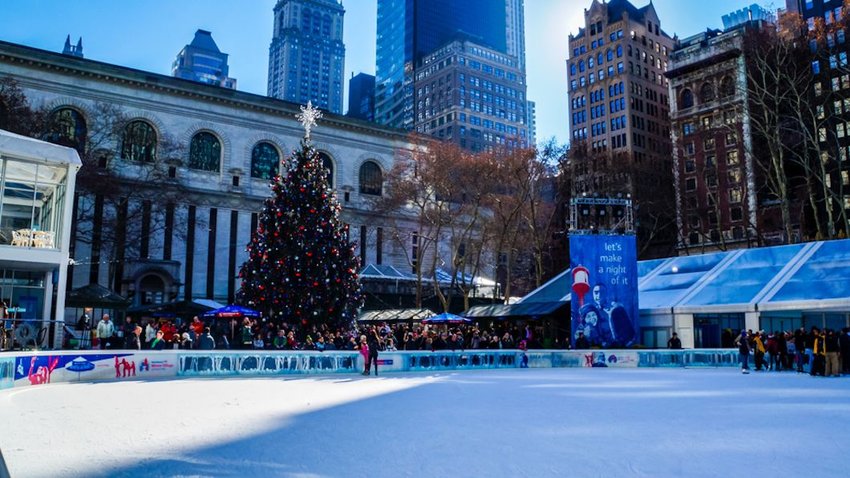 No holiday visit to the Big Apple is complete without spending some time in a holiday market. If you didn't get onto the skating rink at the Rockefeller Center, now's your chance to skate and shop at Bryant Park's Winter Village. Admission and skating are free, and when you get hungry, you can grab lunch or a drink rink side at The Lodge by Urbanspace. When you're ready to shop, head to the European-inspired open-air holiday market. If you're in the mood for an indoor experience, head to the majestic Grand Central Station for its Holiday Fair. This wondrous, one-stop-shopping event features 40-plus carefully selected vendors showcasing artwork, clothing, accessories, toys, and home goods.
Now it's time for a matinee showing of the Christmas Spectacular Starring the Radio City Rockettes®. Matinee showtimes begin at 1:30 p.m. on Fridays, Saturdays, and Sundays and 2 p.m. on weekdays. Consider upgrading to the VIP experience, which includes premium seats and a pre-show reception in the historic Roxy Suite. Toast to the holidays, mingle with Santa and the Rockettes, and take Instagram-worthy photos as you enjoy cocktails and tasty cuisine before the show.
Saturday Evening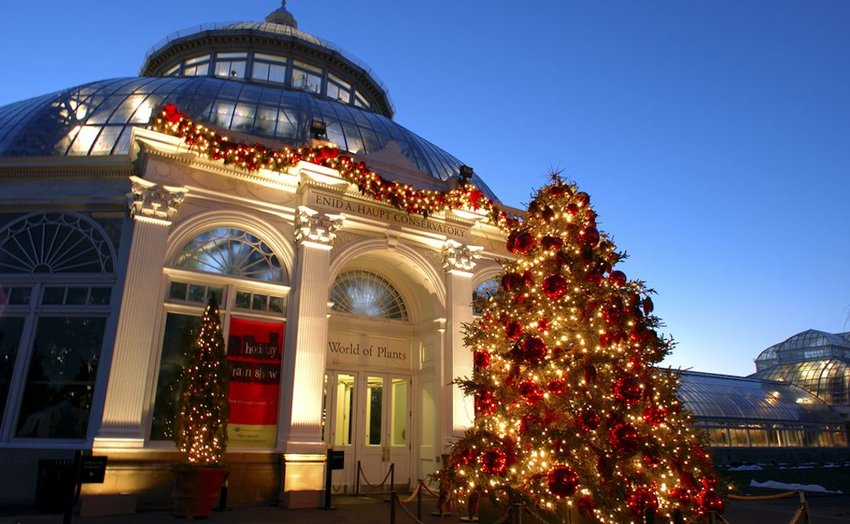 NYC's legendary department stores and shops aren't the only ones who go full throttle with holiday decorations. Many NYC restaurants are festooned with Christmas trees, garlands, lights, and wreaths. For some holiday cheer and a savory dinner, check out Rolf's. This traditional German restaurant transforms into a winter wonderland with thousands of sparkling lights, ornaments, icicles, and Victorian-era dolls. The NoMad Restaurant in the NoMad Hotel displays a spectacular Christmas tree second only to the Rockefeller Center's tree and serves exquisite cuisine. Keith McNally's classic French bistro Lucky Strike has a dazzling display of lights and garlands, along with excellent cuisine. For a classic NYC holiday experience, Tavern on the Green is THE place to go, but book way ahead if you want to get into this famous eatery.
After dinner, head to the New York Botanical Garden for the enchanting Holiday Train Show. Step into a miniature city and see more than 25 G-scale model trains and trolleys hum along a half-mile of meticulously lit tracks. Marvel over the 175-plus scaled iconic buildings and structures such as the Central Park, Yankee Stadium, the Brooklyn Bridge, and the Statue of Liberty. Some evenings offer 21-and-over Bar Car Nights, where you can sip a spiked hot chocolate and enjoy live DJ sets, dueling piano singalongs, artistic ice carvings, and festive performers.
If trains aren't your thing, many of the city's finest bars transform into winter wonderlands. Popup bars are gaining in popularity too, so you'll find no shortage of places to enjoy a glass of bubbly or a cocktail. The St. Regis New York converts its Cognac Room into Jack's Champagne Club and serves high-end glasses of bubbly — you'll likely need reservations and be prepared to spend big. For a different vibe, check out the seasonal glass-enclosed beer garden draped in twinkling lights and holiday décor at the SERRA by Birrreria on the 14th floor of the Eataly NYC Flatiron. Industry Kitchen at the South Street Seaport transforms into a waterside holiday chalet with garlands, wreaths, lights, and holiday-themed cocktails.
Sunday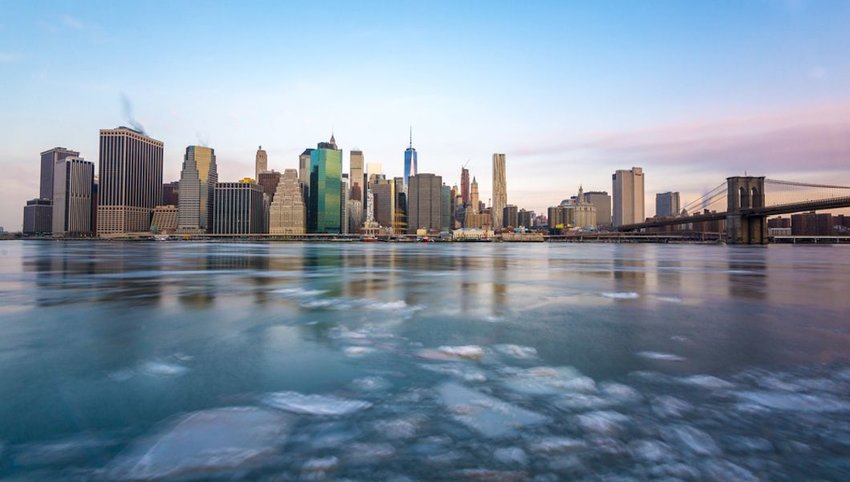 For a fantastic view of the Big Apple from the water, book a Holiday Brunch Cruise aboard a 1920s-inspired yacht and circumnavigate Manhattan island. Enjoy a complimentary Bloody Mary, mimosa or glass of Champagne, along with a four-course brunch buffet. If you're not interested in a cruise, another must-see holiday event is a matinee showing of George Balanchine's The Nutcracker from the New York City Ballet. Matinee shows start at 1 p.m. on Sundays and 2 p.m. on all other days. Matinee shows are daily during the two-week holiday period but are not as frequent in the weeks before. Check the schedule if you're in town earlier in December.
Where to Stay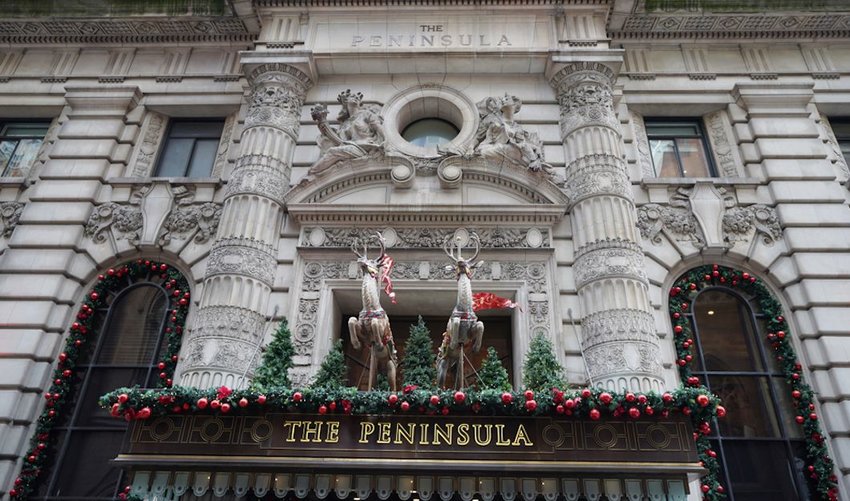 The holiday season is a busy time for NYC hotels, so it's best to book ahead. If you want to be in walking distance to the famous spots such as Central Park, the Rockefeller Center, and Times Square, stay in Midtown Manhattan. You have almost endless options, so your budget will determine where you stay. If money is no object, The Plaza hotel is situated in a perfect spot for strolling up and down Fifth Avenue and exploring Central Park. Other five-star hotels with equally convenient locations and that will be adorned in festive decor include the St. Regis New York, the Lotte New York Palace, and The Peninsula New York. If five-star luxury is beyond your budget, you'll find plenty of mid-tier hotels such as Hilton Garden Inn Times Square and Cambria Hotel New York.