If you've spent any time in California, you've likely focused your attention on the big cities such as San Diego, Los Angeles, and San Francisco — or else well-known beach towns and wine country. California is the most populous U.S. state, so if you're seeking to escape the crowds and experience the underrated side of this gorgeous state, we've found 10 towns well worth a visit. From the far northern coast to the desert, to the far southern mountains, you'll find a plethora of activities and sights that showcase all California has to offer.
Arcata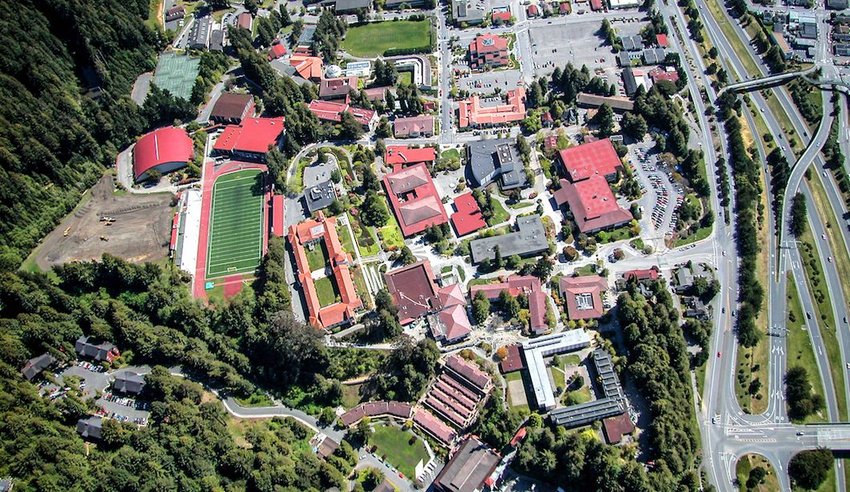 About 300 miles north of San Francisco, in the far northern part of the state in Humboldt County, aka the Lost Coast, lies the charming university town of Arcata. The Humboldt State University campus fosters a progressive yet laid-back vibe here. Tucked between towering redwood forests and majestic, rolling coastal dunes, Arcata is a nature enthusiasts' paradise. Arcata has fantastic hiking through the Arcata Marsh, the Community Forest, and the Hammond Trail, part of the California Coastal Trail. Its coastal dunes offer a unique habitat to explore, with coastal forests, seasonal wetlands, shifting dunes, and the vast Pacific Ocean. Catch a minor league baseball game with the Humboldt Crabs, bike scenic trails, or attend one of the town's many seasonal events.
Once you've worked up an appetite, you'll have no problem satiating your hunger at the variety of restaurants, many of which cater to vegan and other dietary choices. The town caps the number of chain restaurants, so take your pick from a number of locally owned eateries. Quench your thirst at one of the local wineries or microbreweries. Accommodations range from historic hotels to elegant bed & breakfasts to vacation rentals. You can also find accommodations in local yurts, bungalows, and farmhouses.
Ferndale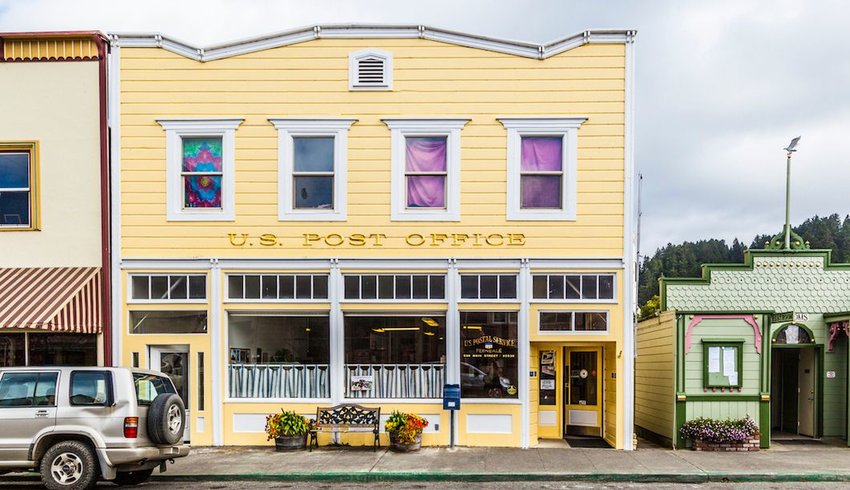 About 30 miles south of Arcata lies Ferndale, another hidden Lost Coast gem nestled between the ocean and two redwoods-laden state parks. Ferndale is an artists' haven where you can escape the hustle and bustle in what was previously a dairy town. You'll see some of the U.S.' most ornate and fantastically preserved Victorian homes and buildings as you stroll along Ferndale's streets. Stay in one of the historic hotels or B&Bs, or in a vacation rental. Check out the luxurious 11-room Gingerbread Mansion bed-and-breakfast or the cozy, pet-friendly Shaw House Inn, Ferndale's first home. Explore art galleries, the Ferndale Museum, and the town's many historic landmarks, including a cemetery, the Fern Cottage, and the Ferndale Library, which is the last public Carnegie Library in northwestern California.
Nevada City
Now we head inland to artsy and historic Nevada City, about 60 miles northeast of Sacramento at the foot of the Sierra Nevada Mountains. The entire 16-acre downtown is listed on the National Register of Historic Places. Surrounded by pretty pine-covered hills, Nevada City is one of the most interesting Gold Rush towns, dating back to 1850. Former U.S. President Herbert Hoover lived and worked in the gold mines here shortly after college graduation in 1895. You can still pan for gold today in one of the many creeks and rivers.
Nevada City is loaded with recreational activities, including world-class kayaking, mountain and road biking, fishing, hiking, and off-road winter and summer adventures. Art and film enthusiasts will enjoy browsing galleries and attending two film festivals, the Nevada City Film Festival in late August and the Wild & Scenic Film Festival in January. Like many of its sister communities in northern California, Nevada City fights hard to hang on to its historical environs — you won't find any chain restaurants here. Instead, pick from an excellent selection of 20-plus independent restaurants, coffee shops, breweries, wine-tasting rooms, and lively bars. Lodging options include B&Bs, historic hotels, campgrounds, and vacation rentals.
Carmel-by-the-Sea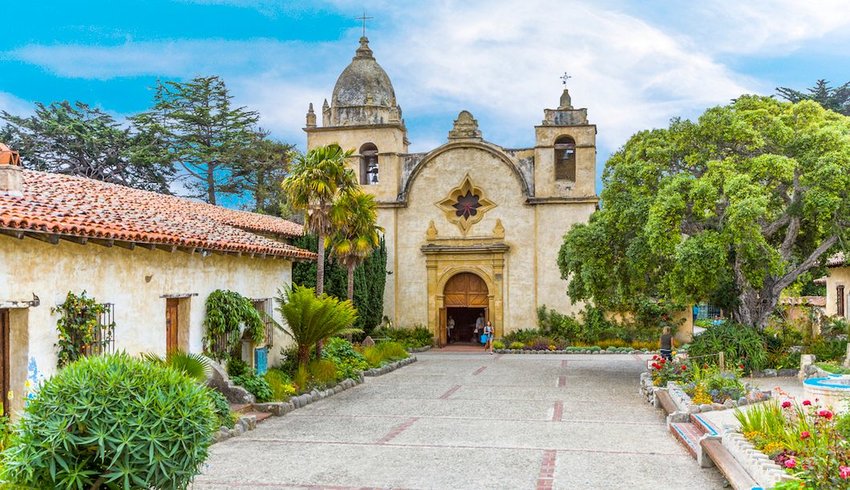 Now we head back to the coast, about 120 miles south of San Francisco, to romantic, charming Carmel-by-the-Sea. Actor Clint Eastwood not only calls this seaside community home but also served as its mayor from 1986 to 1988, and he owns the restored Mission Ranch Hotel and Restaurant. Carmel-by-the-Sea has some quirky characteristics, including no street addresses and a ban on shoes with a heel height greater than 2 inches. Don't worry if you forget and wear your Jimmy Choo heels — reportedly, police don't enforce the ban. City leaders authorized the ban in 1963 to protect the city from lawsuits due to people tripping over the uneven pavement while wearing heels.
Again, you'll find no chain restaurants or mega-resorts here, just plenty of quaint restaurants, wine bars, cafes, hotels, and picturesque inns. Carmel is dripping with magnificent scenery and feels more like a European village than a California beach town. Be sure to visit the gorgeous Carmel Beach, Point Lobos State Natural Reserve, and Carmel Mission Basilica. For a jaw-droppingly beautiful adventure, drive or bike the 17-Mile Drive, which meanders through Pebble Beach golf resorts, splendid forests, and dramatic cliffs along the coast. Shopaholics will love browsing Carmel's mix of high-end boutiques and gourmet food and wine shops.
Paso Robles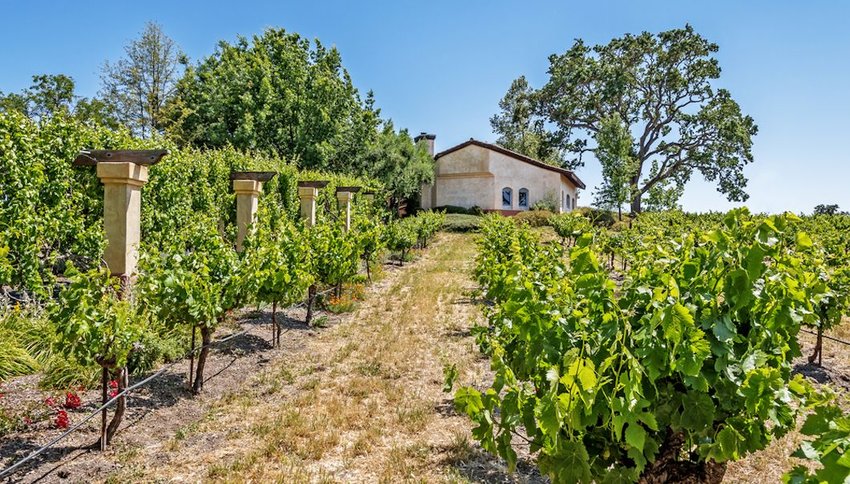 A visit to a wine-country town is a must on any California visit, but instead of heading to the wildly popular towns in Napa and Sonoma counties, try Paso Robles. This Central Coast town is almost exactly halfway between San Francisco and Los Angeles, about 30 miles inland and surrounded by more than 250 wineries, olive orchards, ranches, and farms. Meander through boutiques and antique shops and sip your way through the 20-plus winery tasting rooms in Paso Robles' historic downtown. If visiting a winery is on your list, check out Justin Wine, where you can tour the winery, eat in the on-site restaurant, and stay in one of their suites, villas, or the 12,000-square-foot mansion.
One fun way to explore the town is through Urban Adventure Quest's downtown scavenger hunt game. And no visit to this part of the state is complete without a trip to nearby Hearst Castle, a National Historic Landmark that was once the opulent home of publishing tycoon William Randolph Hearst.
Morro Bay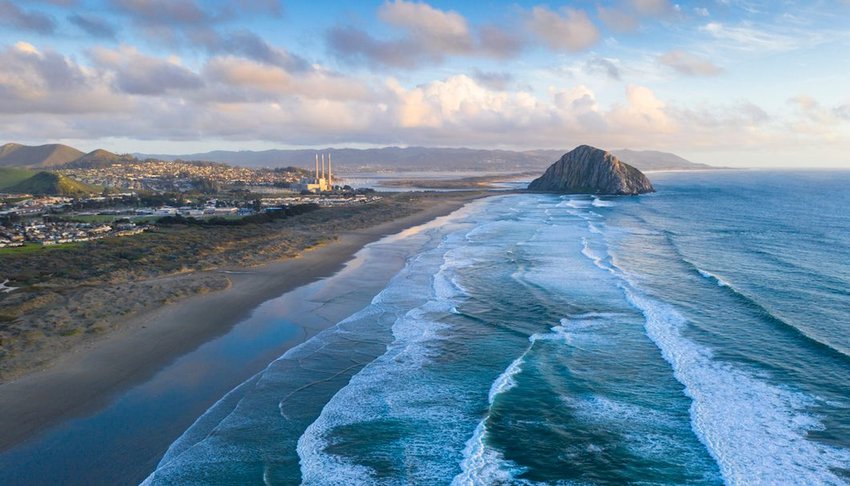 Just a short hop over is another Central Coast, Instagram-worthy seaside and harbor town: Morro Bay. The harbor, which is anchored by a 576-foot-high monolithic volcanic rock, is a natural refuge for marine life such as harbor seals, otters, sea lions, and seabirds. Unlike in many coastal California towns, where crashing waves hammer beaches, you can standup paddleboard, sail, and kayak within the calm estuary and protected harbor. Drift around on a shared or private dinner cruise, or take a guided boat tour of the bay and out to sea to view whales, sea lions, otters, and more. If you prefer to stay on land, pack a picnic lunch and stroll along the broad three-mile Morro Strand State Beach.
Morro Bay is also home to the Morro Bay Skateboard Museum, where you can learn about skateboarding's history from the 1920s to the present day. Morro Bay offers more affordable accommodations than many California coastal towns, with several overlooking the water, such as the delightful Back Bay Inn. When you're ready to be wined and dined, Windows on the Water, the Galley Seafood Grill & Bar, or the new Port House offer fantastic bay views and fresh seafood.
Solvang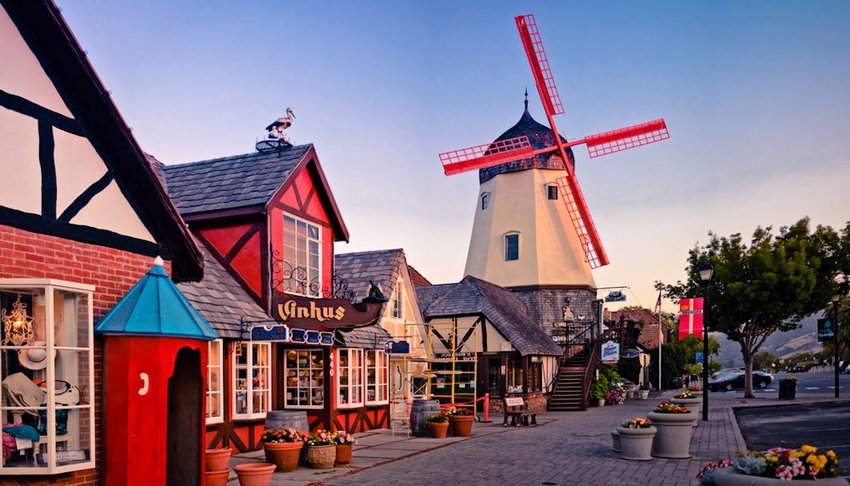 Head about 80 miles south to Solvang, and you might think you took some freak-of-nature detour that landed you in a Danish village filled with gingerbread architecture, spinning windmills, and fresh flowers. Danish immigrants left the chilly Midwest in the early 1900s and settled here in 1911. And as with many other towns on this list, you won't be far from California wineries in Solvang. The Santa Ynez Valley boasts 120-plus wineries, which you can tour via bike with I Bike Santa Barbara Wine Tours.
You can opt to stay in one of Solvang's quaint hotels and inns, but for a different experience, consider booking into the 10,000-acre Alisal Guest Ranch & Resort, where you can ride horses, golf, play tennis, and fly-fish on the ranch's 100-acre lake. A must is to take a horse-drawn ride with Solvang Trolley & Carriage company and learn about the town's history.
Ojai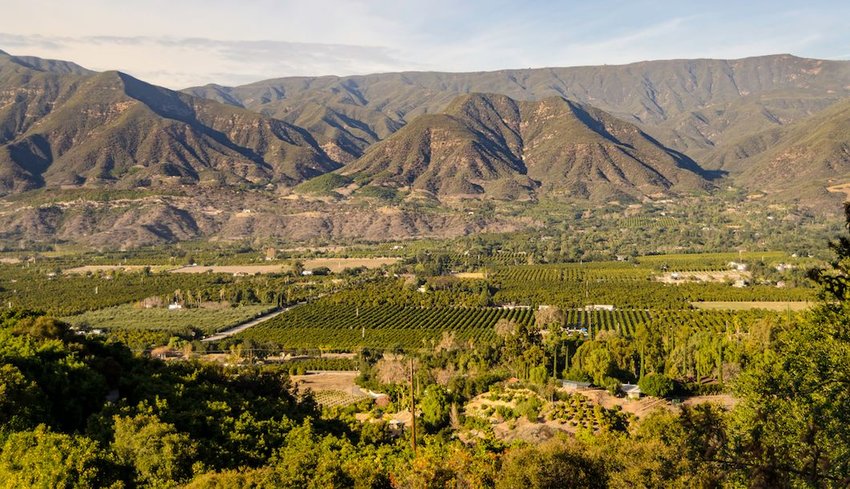 About 30 miles east of Santa Barbara, nestled in a scenic valley, lies Ojai, where you'll find a lush blend of citrus, oak, olive, and palm trees mixed with cacti and succulents. Ojai is known for its spiritual retreats, a native "Pixie" tangerine, art galleries, a year-round farmers market, stellar golf, and boutique shopping. Just beyond town, you'll find the ruggedly beautiful Los Padres National Forest, one of the U.S.' most botanically diverse forests, with a wide range of ecosystems ready to be explored. Hiking, biking, horseback riding, and indulging in spa treatments are what Ojai is all about.
If you happen to visit in April, you'll be rewarded with a plethora of events and activities celebrating Ojai Pixie Month, which coincides with the native tangerine's harvest time. Wine lovers will have no shortage of wines to try in Ojai's numerous wine-tasting rooms, and craft-beer fans can get their fix at the Ojai Beverage Company. Unlike many of our other California towns, Ojai offers a five-star luxury accommodation, the Ojai Valley Inn, situated on 220 acres where you can golf, swim in one of its multiple pools, play tennis, dine in its seven restaurants, and — best of all — indulge yourself in the 31,000-square-foot spa.
Borrego Springs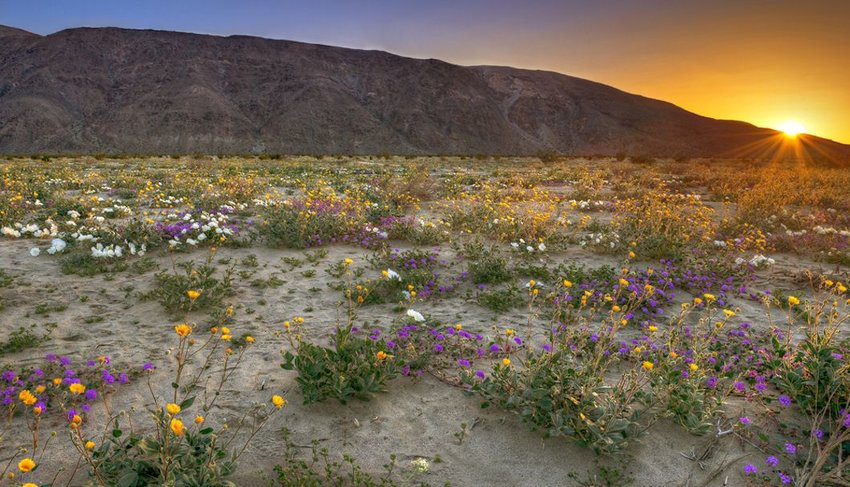 Now we head far south to the spectacular tiny desert town of Borrego Springs, which is entirely surrounded by one of the U.S.' most stunning desert parks, the Anza-Borrego Desert State Park. At more than 600,000 acres, it is California's largest state park and the state's only official International Dark Sky Community. The International Dark-Sky Association has designated just 23 places around the world with this distinction, which means it is one of a few communities in the world that have taken steps to limit light pollution, promote education, and adopt responsible stewardship of dark skies. It should come as no surprise that dazzling stargazing is what attracts many visitors to Borrego Springs.
The Anza-Borrego Desert State Park offers plenty of things to do during daylight, too — the park is filled with dramatic badlands, twisting slot canyons, cool palm oases, lovely desert flora, and fauna. You can hike the parks' many trails or take a Jeep tour with California Overland. Anza-Borrego also often experiences a marvelous "super-bloom" of desert flowers between late February and April. As breathtaking as the super-bloom season is, though, it draws huge crowds, so if you're seeking a quieter experience, skip the spring. Another fascinating feature you'll find sprinkled around this desert town are the enormous, full-size metal sculptures of serpents, dinosaurs, saber-toothed tigers, wild horses, and more. You can find accommodations ranging from simple hotels to four-star resorts such as La Casa Del Zorro.
Julian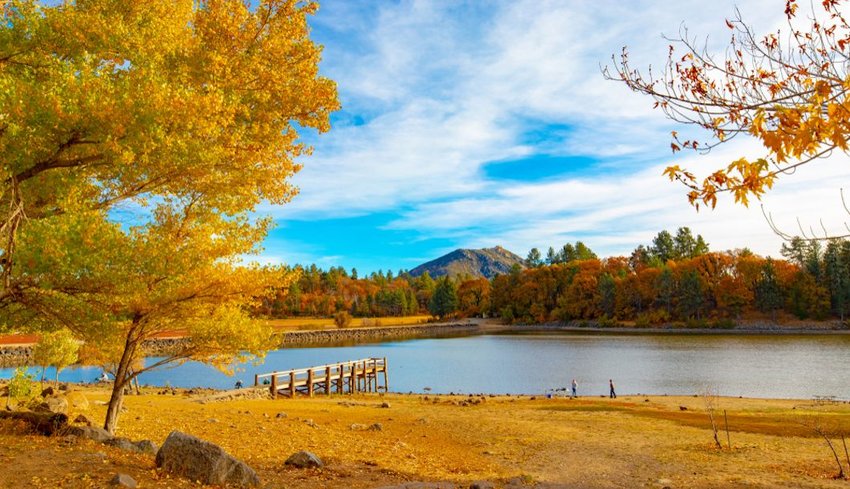 Poised between the coast and the desert, this little mountain town sits at an elevation of about 4,200 feet in the Cuyamaca Mountains, about 60 miles east of San Diego. Julian is another historic Gold Rush town that saw a surge of residents beginning in the late 1800s. Nowadays, it's famous for its apple orchards, so if you visit during fall, you can pick and sample local varieties not available elsewhere. Savor apple pie and other apple-based dishes year-round at places such as the Julian Pie Company and the Apple Alley Bakery.
Some of Julian's unique attractions include tours of two of Julian's original gold mines, visits to the Oasis Camel Dairy, and seeing wolves at the California Wolf Center. You won't find five-star resorts here, but you can catch up on your rest at any of the hotels, lodges, B&Bs, upscale cottages, and vacation rentals. And as with many other delightful California towns, you'll have your pick of wineries, craft breweries, and quaint restaurants.