Across the world, the most impressive greenhouses allow botanical gardens to maintain exotic collections in climate-controlled conditions while making an architectural statement. Both functional and elegant, they are worth making the effort to seek out on your travels. From historic landmarks to more modern additions, here are our picks of the world's most beautiful greenhouses.
The Temperate House at the Royal Botanic Gardens at Kew - London, UK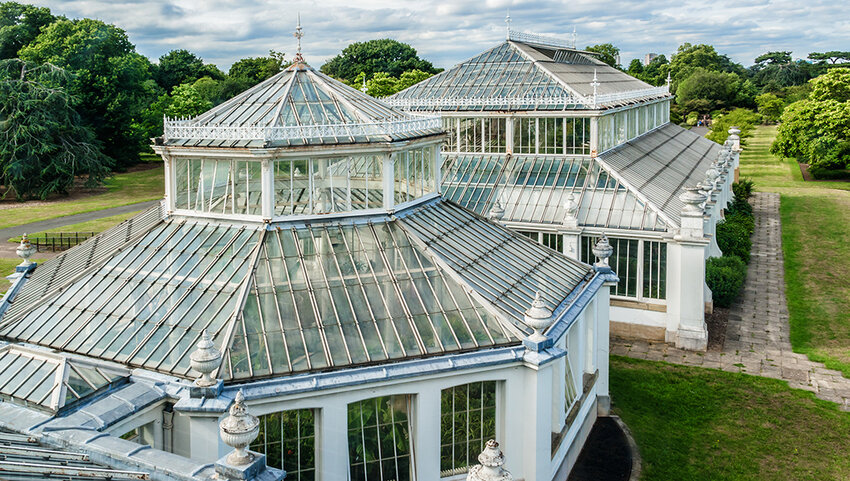 The magnificent Temperate House at London's historic Kew Gardens is a Victorian gem, with some of the most treasured plants inside dating all the way back to the 19th century. Over 15,000 panes of glass have been used in its construction, and they play an essential role in protecting the fragile plants inside from frost and other elements. The original buildings opened in 1863 and comprise a central greenhouse and two adjacent octagons. The greenhouse was extended in 1899, creating the huge area that you see today. Some features of the original building, such as the cornucopia urns that used to function as chimney flues for the greenhouse's boilers, are retained for decorative purposes. The greenhouse is known to collect and preserve plants ranging from the common (such as aloe vera) to the rare and extraordinary (such as New Zealand's unique Kaka Beak).
Conservatory of Flowers - San Francisco, U.S.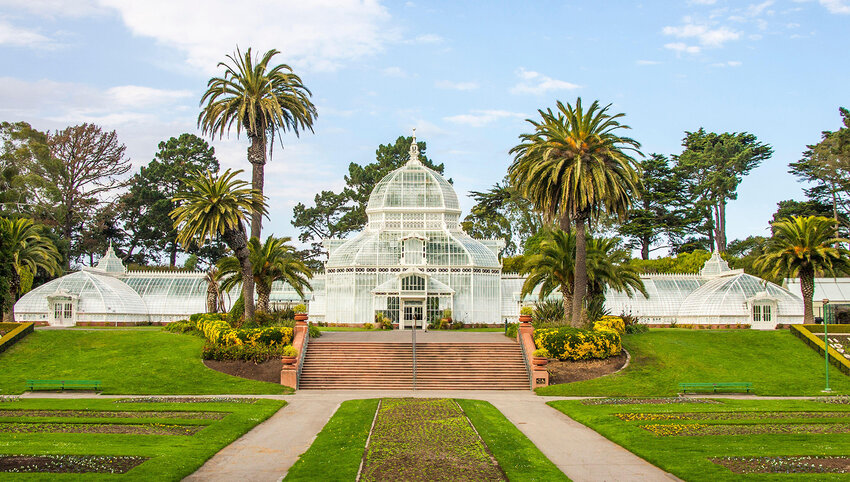 You wouldn't know it from its appearance, but this splendid greenhouse is actually a hand-me-down. It was originally commissioned as part of a pair for the wealthy James Lick's Santa Clara estate. The Conservatory of Flowers was eventually relocated to San Francisco's Golden Gate Park and opened to the public in 1879. Today, visitors can expect to see horticulture of the highest quality across several themed zones. The Highland Tropics area contains a plethora of flowers, such as orchids and rhododendrons, framed by tree ferns. In the Lowland Tropics section, you'll find vibrant heliconias and scented jasmine alongside coffee bushes. You'll also be able to wander through a collection of aquatic plants, a glasshouse focused on potted plants, and the West Gallery, which showcases ferns.
Flower Dome and Cloud Forest Dome at Gardens by the Bay - Singapore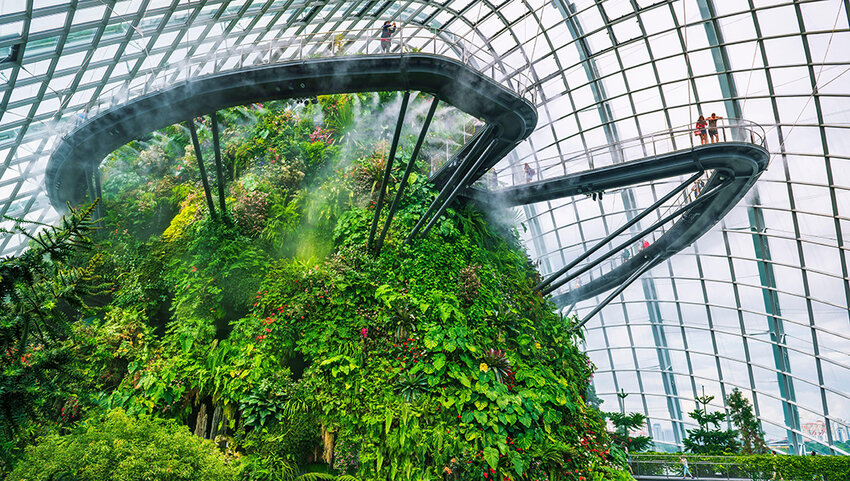 The Flower Dome and Cloud Forest Dome form part of Singapore's iconic Gardens by the Bay. Leading architectural firm WilkinsonEyre was responsible for this arresting, curved design that utilizes cutting-edge sustainable technology. Each dome houses a distinctive biome. Flower Dome contains plants and flowers that you'd expect to find in semi-arid areas like the Mediterranean and the African savannah, including succulents, cacti, olives, figs, date palms, and baobab trees. Meanwhile, the Cloud Forest Dome recreates conditions typical of a tropical cloud forest. The ceiling soars high enough to house a 115-foot tall waterfall, but look closely and you'll also notice smaller details, such as miniature orchids and a wide variety of epiphytes.
Kaisaniemi Botanic Garden - Helsinki, Finland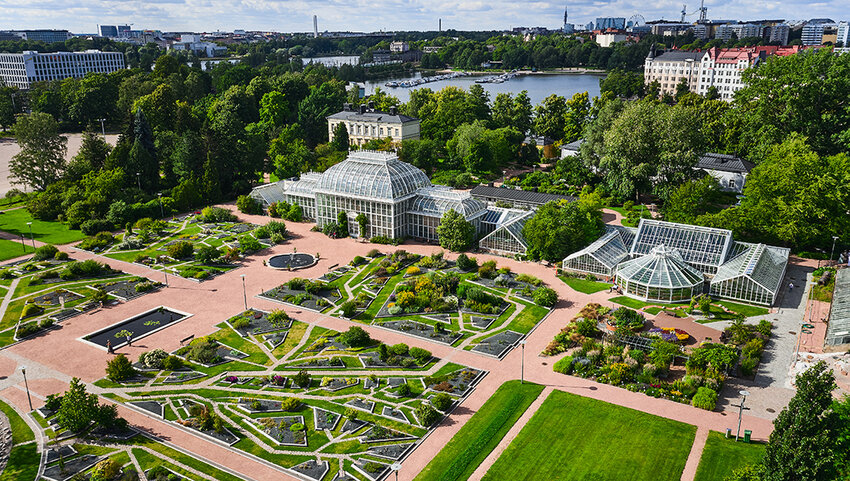 A string of beautiful wrought iron glasshouses have graced these gardens for more than a century. Located in Kaisaniemi Botanic Garden in the Finnish capital, the greenhouses  consist of eleven interconnected spaces, ten of which are open to the public. Each one houses something different, representing either a specific geographical area or a particular type of vegetation. Inside the Saarihuone, for example, you'll find endemic plants from the world's tropical and subtropical islands, while the Saintpaulia-Huone collection  focuses on the specimens you might find beside an African mountain stream. The Santa Cruz water lilies are a highlight for many visitors, and it's not really a surprise why — they can grow more than six feet in diameter and can support the weight of a person.
The Tropical Dome at Brisbane Botanic Garden - Mount Coot-tha, Australia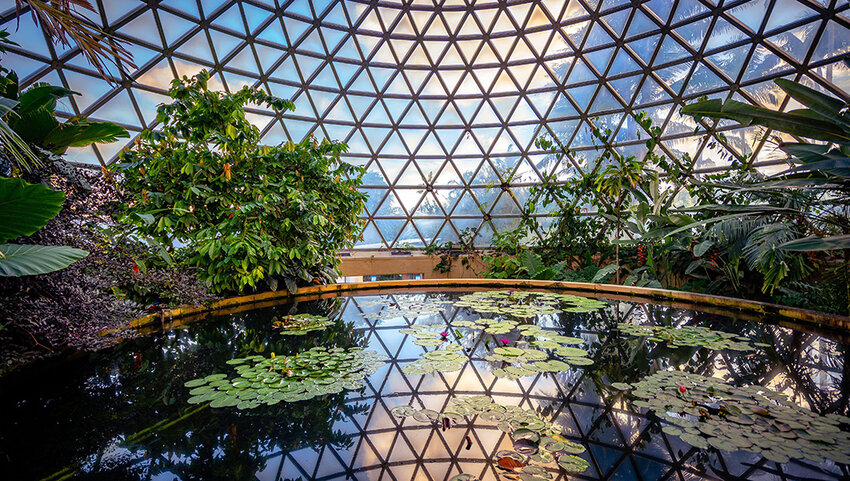 The Tropical Dome at the Brisbane Botanic Garden was unveiled in 1977, but continues to impress locals and tourists. The work of architect Jacob de Vries, it measures around 90 feet in diameter and stands about 30 feet tall, and its latticed glass appearance is a stunning backdrop to the lush plant-life within. Inside, follow a circular path that leads up through the dome's lush vegetation, allowing visitors to get a closer look at some of the plants that are grown here, and around a serene central lily pond filled with local fish. Among the many international and domestic specimens you'll see are calatheas, heliconias, caladiums, epiphytes, and palms. Crops such as vanilla, cacao, pepper, nutmeg, and arrowroot feature alongside more unusual plants, such as beehive ginger and tacca chantrieri (commonly known as the black bat plant).
Jardim Botânico Fanchette Rischbieter - Curitiba, Brazil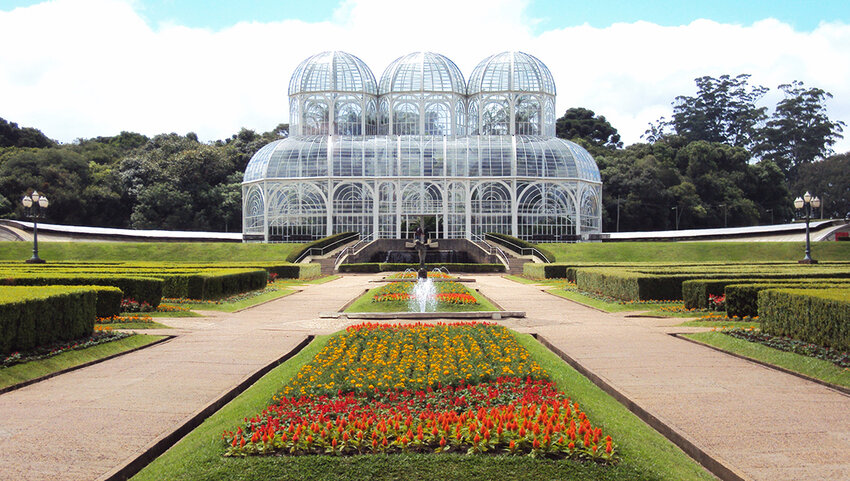 The gorgeously curved domes of the greenhouse at the center of the botanic gardens in Curitiba give it a vintage, striking look. Jardim Botânico Fanchette Rischbieter was created in 1991, but clearly takes inspiration for its design from the past. While the garden that surrounds it was designed to resemble Versailles, architect Abraão Assad specifically modeled the greenhouse on the iconic Crystal Palace in London, which was destroyed by a fire in 1936. When it was installed, the greenhouse was carefully positioned to ensure it caught the rising and setting sun, bathing its white frames and glass panels in pink or orange light. While relatively small when compared to other greenhouses around the world, this building's delicate appearance has won it many fans.