In this era of social distancing, your travel experiences this summer are probably smaller, more intimate, and largely outdoors. But whether you're backpacking through the backwoods or hosting your own backyard film festival, it's worth investing in a Thermacell to keep the bugs away.
Thermacell offers a series of different products that use heat and inexpensive repellent to create a 15' "bubble" where bugs won't want to venture. They activate in seconds, reach their full power in about 15 minutes, and keep the bugs off of everyone inside their protective radius, no smelly sprays or DEET required. Each Thermacell butane fuel cartridge runs for 12 hours before you have to replace it (and one model runs off a battery, but we'll get to that), and each sheet provides four hours of protection, so you can basically turn on your Thermacell and forget about it for the rest of the evening.
This spring, I discovered my new front porch is a favorite hangout spot for mosquitoes. I'm talking a half dozen bites every time I ate dinner al fresco for 20 minutes. My wife and I had taken to just leaving bottles of bug spray by our front door to use any time we wanted to sit outside, but we recently took out a flyer on a Thermacell Patio Shield, and it made an instant difference. After a four hour evening spent with a (socially distant) friend out on the porch, none of us had a single bite.
For Campers and Hikers
The Thermacell MR300 is the most portable Thermacell, with a convenient handle, a rugged design, and an optional belt clip (sold separately) for easy carrying while you hike. To be clear, it's not meant to protect you while you're actively moving, but it's easy to set up once you reach a campsite or start fishing. You can even attach it to a Thermacell tree hanger to affix it to any nearby tree trunk.
The slightly larger MR450 is largely the same product, and works with the same accessories, but features some added rubber armor for durability, as well as a battery-powered status light to make it easier to tell if it's running. Both models, however, will create an identical 15' bug shield.
For Your Patio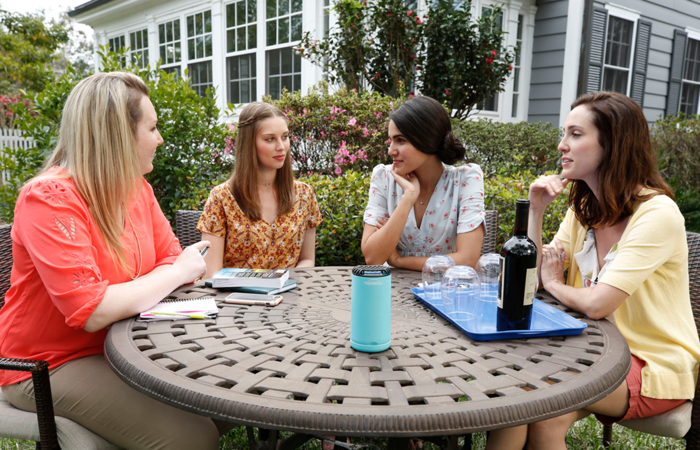 There's nothing stopping you from using the MR300 or MR450 on your patio, but they definitely look like camping gear, rather than home accoutrements. The Thermacell Patio Shield (the model that I use) could be easily mistaken at a glance for a flower pot or a candle holder, but it provides the same level of protection as the MR-series. It also comes in a variety of colors to match your decor, and for about $10 more, you can even get it clad in shiny metal, rather than plastic.
For larger outdoor space, the Thermacell Perimeter comes in a pack of two, and can be mounted to a railing, staked low into the ground, or hung on a wall. Arrange them strategically around your space (ideally upwind), and they'll create a large, overlapping zone of protection while remaining practically invisible. Alternatively, the Patio Shield Torch replaces your citronella torches, and incorporates a warm, LED-powered lamp.
For Travelers
The brand's newer Thermacell Radius takes a different approach to keeping the bugs away, replacing the fuel cartridges with a USB rechargeable battery, and the repellent sheets with repellent pods that last for up to 40 hours each. It actually claims to protect a smaller area than fuel-powered devices (roughly 10' x 10', rather than 15' x 15'), but it has two distinct advantages: First, it can operate at higher altitudes; fuel-powered Thermacells can struggle starting at around 4500 feet above sea level. Second, you can bring it with you on a plane. At just over 3" tall, it's small enough to fit in a carry-on, and with no butane cartridges, it's TSA-compliant.
Are They Safe?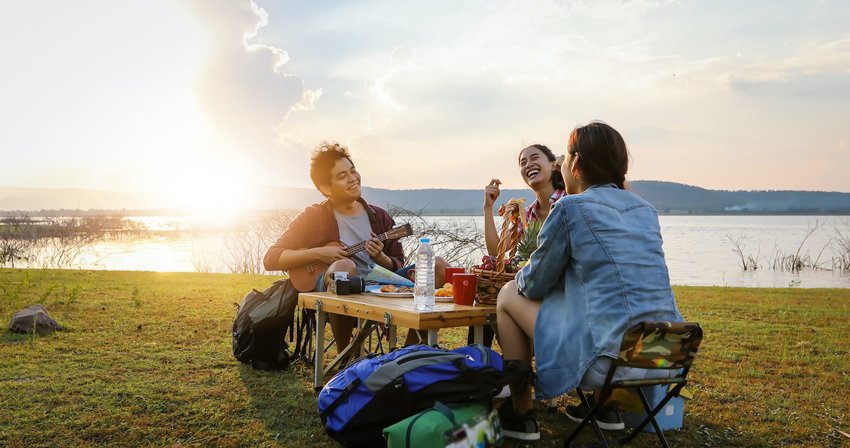 Fuel-powered Thermacells use a chemical called allethrin as its active ingredient, whereas the battery-powered Radius uses metofluthrin. Both are synthetic versions of a chemical found in chrysanthemum flowers, which disrupt mosquitoes' neuroreceptors, and discourage them from feeding, and both are found in a number of insect repellent products (notably, metofluthrin is the active ingredient in Off!)
The chemicals are toxic to cats, bees, fish, and birds, and Thermacell doesn't recommend using their products around uncovered food, which makes sense; you wouldn't spray bug spray on your dinner. Basically, it has downsides and risks just like any effective insect repellent, and you'll only want to use it outdoors in a well ventilated area. Would it be better for the environment to use no insect repellent at all? Yes. But mosquito-borne illnesses are increasingly prevalent in all corners of the world, and many are quite serious.
If you've never liked putting on bug spray, if your skin is sensitive to DEET, or if you're getting friends and family together outdoors this summer in lieu of more ambitious traveling, any of Thermacell's products will do a great job of keep the mosquitoes at bay.