Every parent has one. The dark, dusty corner where all the baby gear, toys and gadgets people *think* you need (thanks, internet) end up. Preparing to go camping for the first time as a family can fuel this fire. You search for "Baby hiking backpack" one time, and are suddenly assaulted on social media with 4,000 very cool - but ultimately very unnecessary - products to get you and your little tike outdoors.
Bursting into toddlerhood during a pandemic, our two-year-old has been lucky enough to be carted into the woods at least a dozen times since he was born (mainly because we can't go anywhere else). Much of the gear we thought we needed at the beginning, however, has since been sadly resigned to 'the corner' to gather dust. Practice makes perfect though, so here are five products that have actually ended up in our permanent gear rotation.
A Makeshift Mobile Toy Box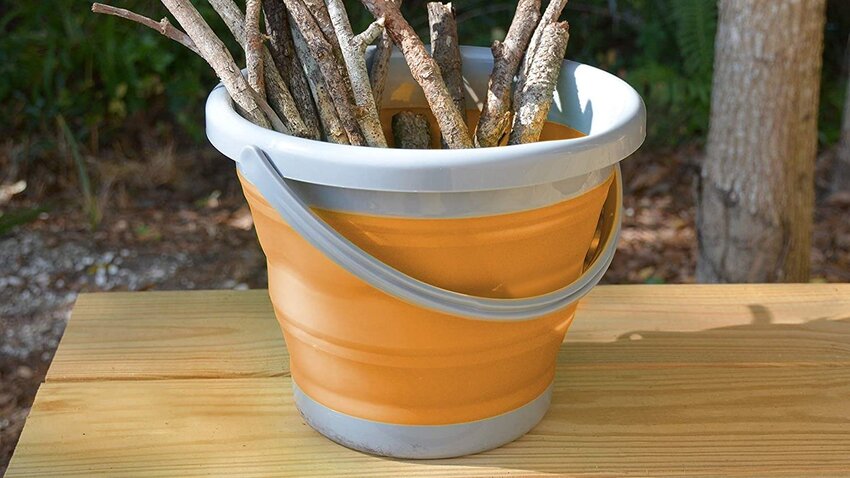 Like many mini humans, our son cannot go anywhere without clutching precisely seven different-size toys at all times. We often go camping in the mountains around our Los Angeles home, and this was no different. After a few trial and error trips where Hot Wheels ended up mostly lost or shoved into the dark corners of our car, never to be seen again, we finally discovered the perfect mobile toy box by accident: UST Gear's Flexware Bucket.
So much more than just a bucket, we originally purchased this 5-liter collapsible vessel to help carry water to our campsite for cooking and washing. It wasn't long before its bright orange color and cool design attracted some tiny hands. Essentially unbreakable (it's made from thermoplastic rubber with a sturdy rim and base), the bucket boasts a nice wide handle and is ideal to fill with toy cars, action figures, and other toys to be ready to go in a moment's notice. If you're more organized than me and don't want to leave it permanently stashed with goods, this feat of design packs completely flat, making storage an absolute breeze in even the smallest gear closets.
The Diaper Bag That Isn't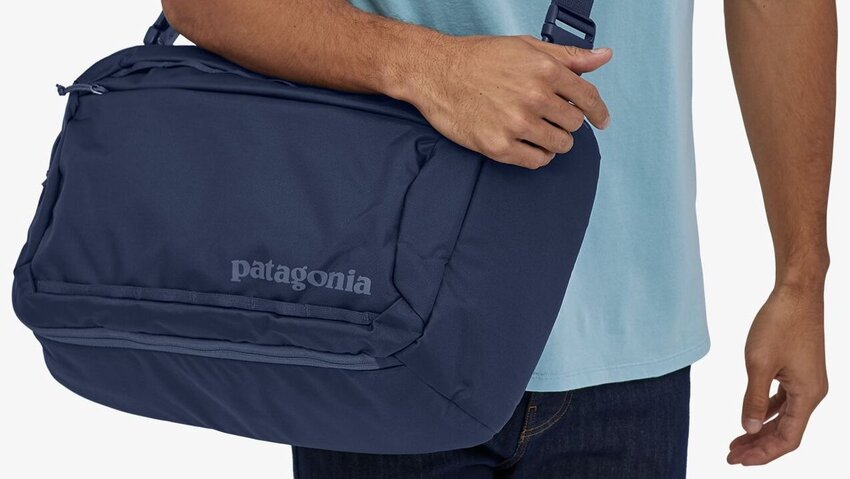 I went through four actual diaper bags before I realized what I needed wasn't a diaper bag at all. Instead, I needed a well-made, won't-break, plenty-of-pockets hybrid pack that happens to hold diapers. It turns out this well-made, won't-break, plenty-of-pockets hybrid pack is also ideal for camping.
The Patagonia Tres Backpack 25L is roomy, thoughtfully designed, and made out of mostly recycled materials, so you can feel good splurging. Aside from superior craftsmanship, the reason I love this bag so much for exploring the outdoors with kids is its convertible straps. It has three carrying options, and switches from a briefcase, to a shoulder bag, to a backpack in less time than your kids can ask for snacks. The backpack mode features an adjustable chest strap and padding around the shoulders for a pack you can wear to hike for miles without getting blisters. It also has a super roomy compartment great for filling up with snacks, water bottles, and the other 10 pounds of random items that end up in diaper bags, and a padded back pocket that is designed for laptops, but fits diapers and spare clothing as well as any dedicated diaper bag.
The Everything Blanket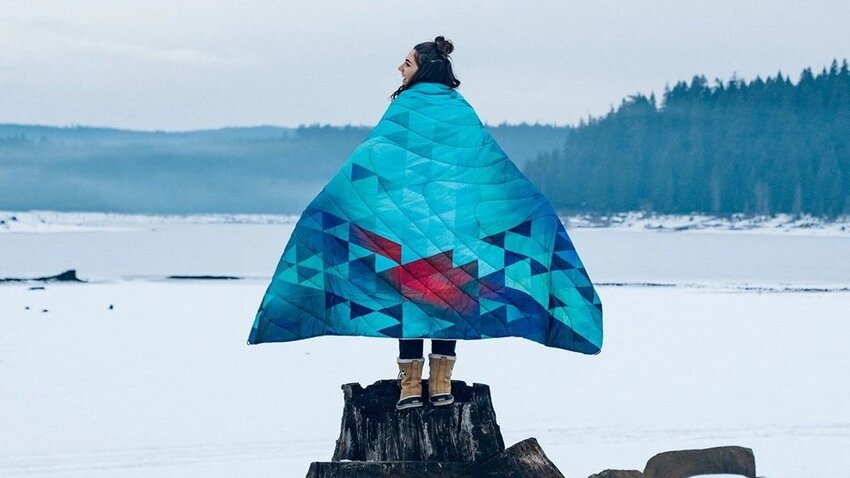 The first time we went camping with our little sprog I thought I had covered everything — food, shelter, toys — but what I quickly realized I had forgotten was how not to freeze my butt off when breastfeeding my son in the evening around the campfire. Enter, the Rumpl puffy blanket.  
I'm sure breastfeeding wasn't the designer's first activity in mind when creating this part-sleeping bag, part-blanket masterpiece, but its silky shell and warm insulation provide the coziest warmth for heating up your midriff when your baby is hellbent on exposing it. Plus, its water-resistant finish, handy corner loops, and compressible stuff sack make it useful for pretty much everything else while you're roughing it - from an extra covering at night, to a padded changing mat, to a pillow in the car for the post-camp ride home. My favorite part - it's machine washable. Every parent's dream.
A Clip-On Highchair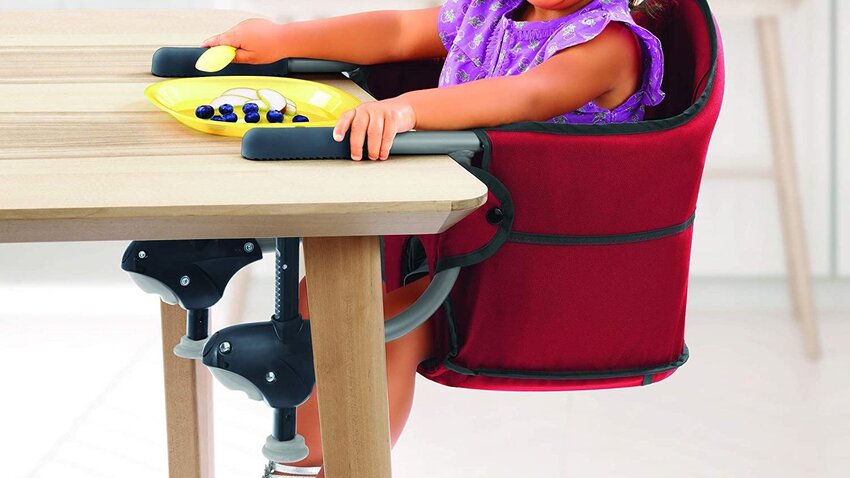 I'm not an expert, but it seems when you take kids anywhere except to their own kitchen it's impossible to get them to eat anything. Especially a place that's brimming with fun and adventure around every tree stump and outhouse. Something that saved us from a completely starved child, however, was Chicco's  Hook-On Highchair.
Unbelievably easy to use, the chair quickly screws onto any standard picnic table and features a high back, squishy seat, and harness system. It also stows completely flat when not in use, making a good argument to be stored in the car year-round - you never know when you might need it.
A Lightweight Hammock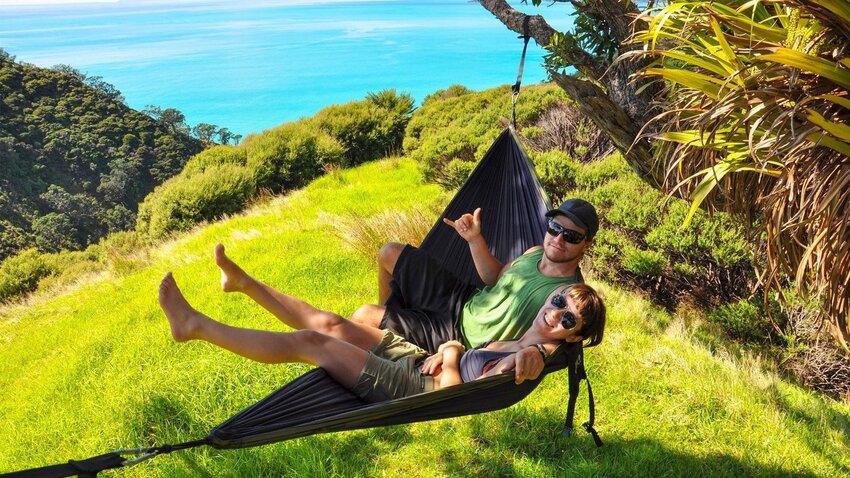 A packable hammock is one of those things that feels a little bit like an unnecessary luxury. Sure, it's nice to sway in the breeze gazing up at the sky - but will it ruin the trip if you leave it at home? Well, if you have kids, I'm telling you it might. So, go ahead and invest in an ENO DoubleNest Hammock.
Spacious enough for two adults, or one adult and two (three?) kiddies, throw the DoubleNest up as soon as you get to camp (it takes just a couple of minutes with the correct suspension system) and let nature take its course. If your kids are older, they'll be drawn to its swinging allure to buy you time to set up the tent — or dig out the drinks cooler — and if they're younger it's the perfect place to enjoy some cuddle time after dinner. It's also made from a lightweight, durable parachute nylon and so dries super quick if the weather takes a turn. Don't forget to pick up some Atlas Straps too, the webbing that allows you to hook your hammock up to any tree in sight.

Buy it here from $45


Top photo by everst