Hiking purists may argue that all you need to hit the trail is a good pair of boots — but I beg to differ. If you love to spend time hiking in the great outdoors, investing in a good pair of trekking poles is a wise decision. Similar to ski poles, trekking poles are designed to make your life easier — they stabilize your ascent and allow for fluidity on your descent. But they're also multi-functional, and can come in handy in a number of situations.
I myself am a recent convert to trekking poles. Although I've been hiking and backpacking for years, a recurring ankle injury made me realize I needed more support on the trail. After scheduling a backpacking trip to Maine's Baxter State Park, my husband suggested I purchase trekking poles to make hiking easier. Following intensive research and comparison shopping, I settled on TrailBuddy Trekking Poles from Amazon, and I couldn't be happier.
TrailBuddy Trekking Poles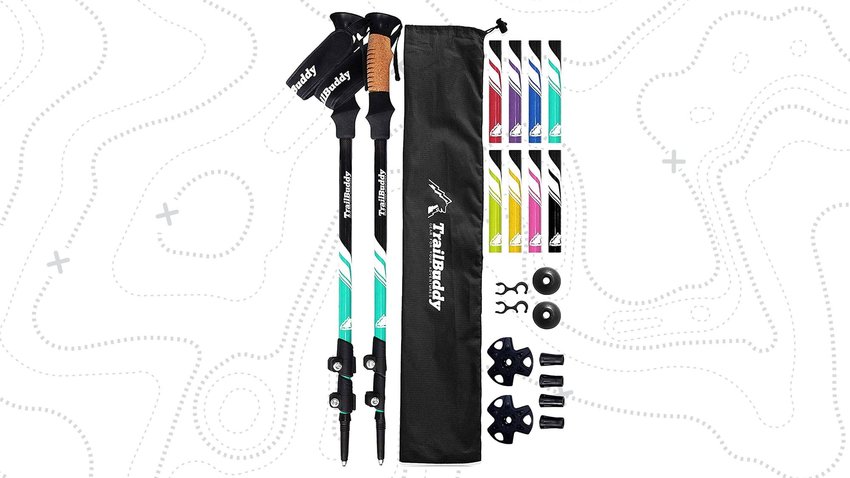 When they arrived at my doorstep, I was delighted by my purchase. At only $35, the TrailBuddy Trekking Poles proved themselves to be affordable and high-quality. Unlike many other trekking poles, which are only available in drab colors like black, green, or gray, TrailBuddy poles come in a wide variety of colors — I had chosen pink and they were perfect. Right off the bat, I also noticed that the cork handles were easy to grip, and the padded straps provided extra comfort around the wrists.
As I fiddled with the poles, I was thankful to see how easily they adjusted. Unlike other trekking poles that feature twist lock-mechanisms at the adjustment points, TrailBuddy's lever-lock closures were stable and secure. I could extend or shorten the poles with little effort before snapping the levers into place; the marked measurements along the shaft also made it simple to customize the poles to my height. I knew I would require shorter poles for heading uphill and longer poles for downhill descents, and I found the telescopic adjustment system to be unfussy. Since the poles were lightweight and collapsible, I also knew I would be able to strap them to my pack in situations where I needed to keep my hands free.
Finally, I was impressed by the included accessories — snow baskets for snowshoeing, mud baskets for wet days, and rubber tips for rocky areas. I realized these poles would be highly versatile for any sort of trip or adventure, regardless of the season or weather. In the end, my husband was so jealous he ended up getting a pair of TrailBuddy poles for himself  — in a less eye-catching green, of course.
Putting Them To The Test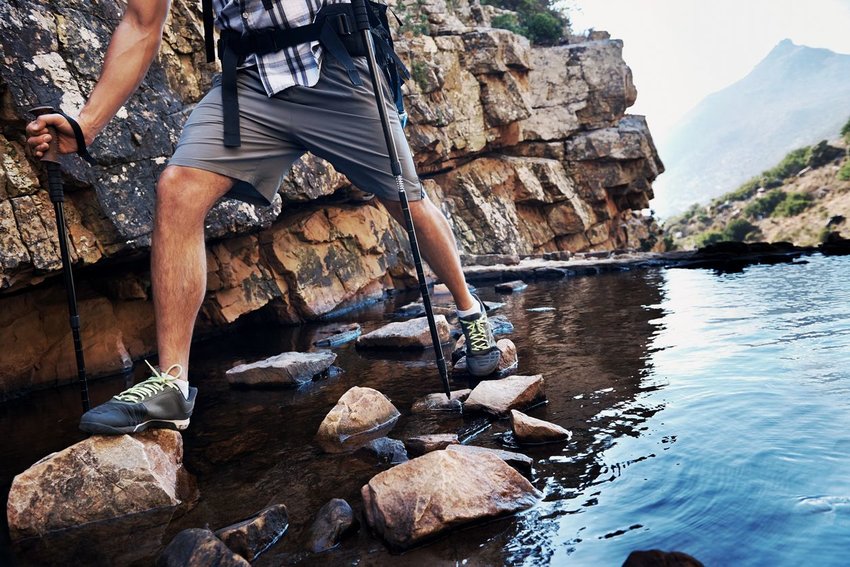 Fast forward to Labor Day Weekend, when it was time to put my poles to the test. After car camping at the trailhead, my friends and I began hiking to a campsite to spend the night. Located in the rugged Maine wilderness, the trail we had chosen was rocky and variable. Over the course of five miles, we crossed a rushing stream, balanced on logs while traversing the moss-carpeted forest and marshland, and gained some elevation.
From the start, I discovered that the poles relieved some of the weight from my pack, which made me feel lighter and helped me to walk faster. When we came upon the stream crossing, they kept me balanced as I hopped from stone to stone, without so much as a drop of water on my boots. After starting the arduous ascension, I was able to shorten the poles on the fly to an ideal length, which made the hike uphill much easier. All in all, they eased a lot of the strain that hiking usually puts on my body. According to a 2010 study, trekking poles help hikers maintain healthy body function while also reducing soreness — and I definitely found this to be true.
Not for nothing, the poles also helped put my mind at ease. Along the hike, we saw plenty of moose tracks and a couple of bear prints in the mud. Even though we didn't end up running into any dangerous wildlife on the trip, having my trekking poles in hand made me feel a bit safer, in the event I should have to defend myself.
The Way Back Down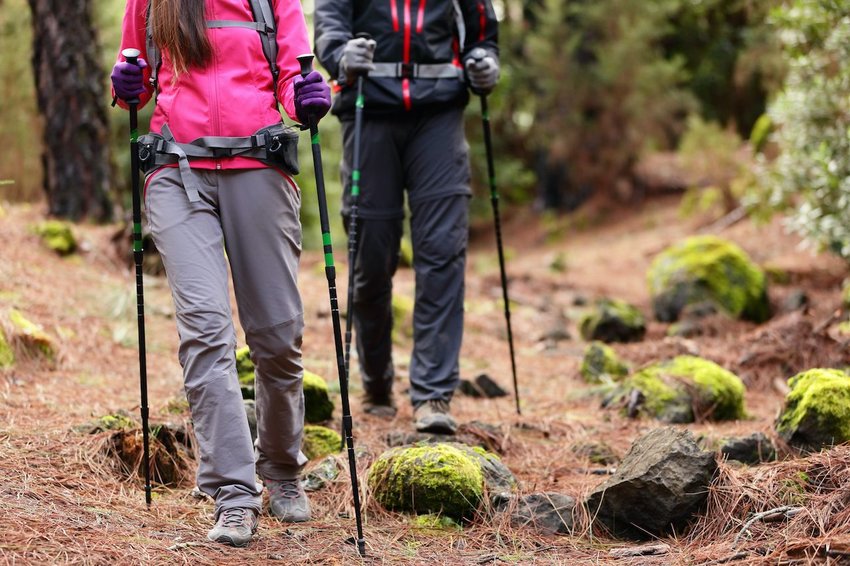 After a lovely evening under the stars, we woke up to a torrential downpour. It was Labor Day Monday, and since we were due back at work the next day, we were left with no other choice but to hike out in the storm.
While I had been happy with my trekking poles on the way up, I found them to be a complete necessity on the way back down. They helped me to balance on the rough-hewn log walkways, which were downright dangerously slippery. The trail itself was drenched and covered in slick roots and rocks — one slip of the ankle, and I knew that getting out without assistance would be unlikely. But, thankfully, my trekking poles kept me safe and supported throughout the entirety of the slog.
Looking back, there's no way I could have made my way down the mountain without my TrailBuddy poles. Now, I won't hit the trail without them. If you're planning an upcoming camping or backpacking trip, I'd recommend them regardless of age or ability — they're guaranteed to make hiking a little bit easier, so you can spend more time enjoying the view.
Photo: PlusONE/ShutterStock