If there's one thing that's top of mind when I'm packing for a trip, whether it's two weeks in Sri Lanka or three months in Europe, it's practicality. When I started traveling in my mid-20s, it didn't take me long to realize that lugging a heavy suitcase across cobblestone streets in Bologna, or navigating the railway stations of Hanoi under the weight of a massive backpack can be miserable.
Years later, I'm still highly selective about what goes in my luggage. When it comes to shoes, I like to pack just a single pair, so they need to be comfortable, lightweight, and versatile. After all, my favorite way to explore new places is on foot -- to walk around bustling squares and colorful markets, and to wander in leafy parks and rugged mountain trails, until my feet are weary.
When I first heard about the Tropicfeel Monsoon sneakers, I was skeptical. They were advertised as being as comfortable as sneakers, with the technical outsole materials of hiking shoes, and with the drainage capabilities of water shoes. On top of all of this, they were also billed as odorless. Could these shoes really be the one?
I was going to find out.
They seemed like the perfect pair for a four-week trip to Croatia and Montenegro, where I'd be exploring cities, hiking in national parks, and spending time on the islands. I wasted no time and ordered the Monsoon in Chip Grey.
Beautiful, Minimal Design
When the sneakers arrived, I was pleased with their minimal, yet beautiful design. I loved that the shoes were stylish but not attention-grabbing, which meant they would work with whatever look I was going for.  
On that trip and subsequent others, I've worn my Monsoon sneakers with maxi-dresses to wine-tasting events, with jeans and shirts to work-related conferences, and with tank tops and shorts to the beach. I've always felt confident of how great they look.
Superior Comfort and Fit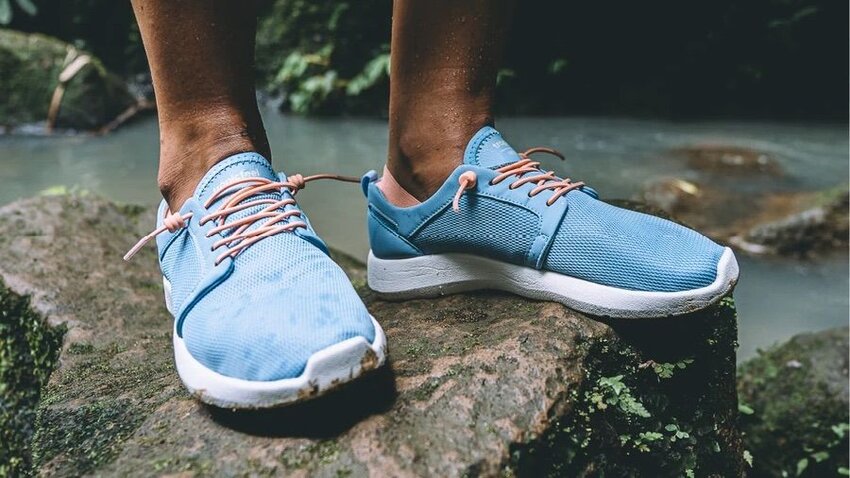 When I first tried on the sneakers, I had to admit they were exceptionally comfortable.
My feet are wide- so usually, my correct size can be too snug around my toes, and half a size bigger can be a bit loose around my heels, especially after a few weeks of use. With the Tropicfeel Monsoon, my size was wide enough to have plenty of room for my toes. The elastic counter heel provided a great fit and a solid grip that stayed strong even after months of use.
On my six-hour flight to Dubrovnik, a few minutes before landing, I glanced down at my feet and was shocked to realize that I had forgotten to remove my Monsoon sneakers, something I usually do as soon as the flight takes off. Even after nine hours on my feet, they felt so lightweight that I forgot they were even there. Moreover, the mesh was high quality- my feet, even when swollen after a flight, could still breathe in them.
These slip-on sneakers came with Tropicfeel's trademarked Sprint Laces with knot-stoppers to adjust the fit, as well as regular laces. I like slip-on shoes because they're quicker and easier to get on and off, and there isn't always enough time or room to untie laces, wear your shoes, and tie them again (think, a cramped economy seat when the seat in front of you is fully reclined). But it definitely helps to have the benefits of laces, because while I might want a relaxed fit on a flight, I'd want a tighter fit while running on a trail.
Great For Travel Of All Kinds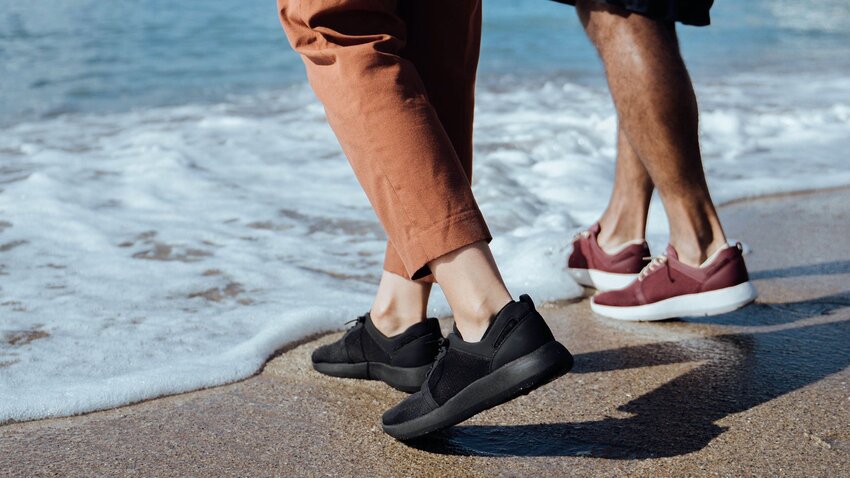 A week into my trip, I realized that claims about versatility weren't exaggerated. For the first time, the only shoes I'd brought along on my trip were the only shoes I needed.
I wore my Monsoon sneakers while exploring medieval old towns in cities like Split and Kotor, while hiking in Plitvice National Park, on rugged mountain trails in Montenegro, while dancing in nightclubs in Hvar, and even in the water on Croatia's pebble beaches. Thanks to their slip-resistant outsoles with a rubber grip, not once did I feel like they weren't suited to a certain kind of outdoor activity or terrain. The perforated EVA insoles offered excellent cushioning too, allowing me to keep them on all day.
Their fantastic design and soft but firm material ensured I was totally comfortable in them not only while walking or hiking, but also while running and swimming. It was refreshing to see that a new pair of shoes did not leave me with scars or blisters.
Water-Friendly and Odor-Free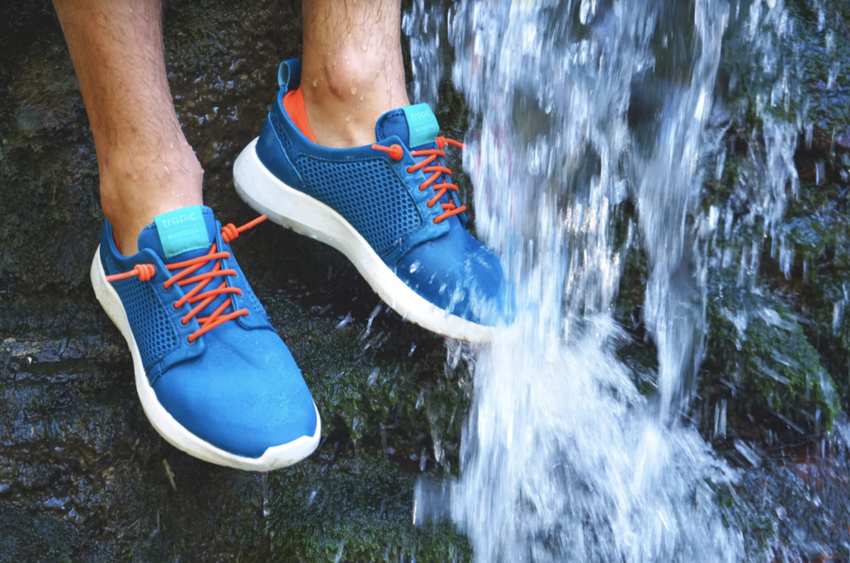 When I wore them in the water or on the beach, or got them wet on a trail or in a kayak, I could put them in a little mesh bag that came with the shoes, and hang them from my backpack to dry out quickly. On a sunny day, they'd be completely dry and ready to wear again in just 15 minutes.  
Even after long travel days, my Monsoon sneakers felt fresh and remained completely free of odors and moisture. No longer did I feel self-conscious to take my shoes off in a hostel dorm or sauna changing room. The Monsoon sneakers are manufactured with the antimicrobial silver ion treatment which prevents the growth of bacteria, fungi, and molds.
The shoes have been designed to be worn with or without socks, and the fact that they remain odorless means you can actually choose how to wear them.
Easy to Clean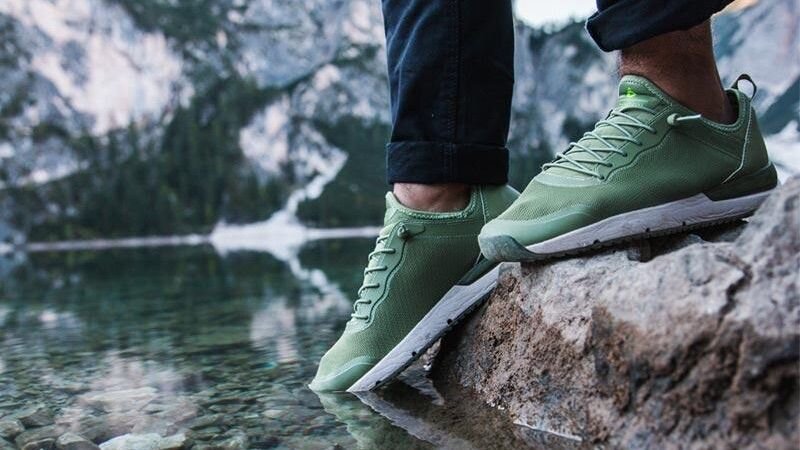 Anyone who has worn only one pair of shoes on a long trip will admit that it isn't always easy to clean that pair when it begins to look well-worn. While you might succeed in washing off major stains, with light colors such as white or grey, it's almost impossible to restore the shoes to brand-new levels of clean, especially while you're traveling.
During my last week in Montenegro, I saw that my Monsoon sneakers were beginning to look more brown than grey. Following the instructions on the Tropicfeel website, I hand-washed the removable insoles, and popped the shoes into the washing machine at my Airbnb, to wash in warm water. I was surprised to find that they looked as clean as new. After barely 20 minutes in the sun, they were dry and ready to explore more of Kotor.
Focus on Sustainability
The main materials used in the Monsoon sneaker are made from recycled polyester. Five recycled plastic bottles are used in the manufacturing of each pair, and all materials are sourced responsibly. I have tremendous respect for any company that chooses to incorporate sustainability into their manufacturing process.  
Since that trip, my Tropicfeel Monsoon sneakers are the only shoes that I reach out for confidently when I'm packing light. I might not always have my plans laid out in advance, but I know that no matter what, they won't let me down as I explore the world, one step at a time.