No travel pillow is going to turn your cramped, economy-class seat into a lie-flat bed. But if you have no choice but to sleep upright in seat 37E, I've yet to find a better pillow for the job than the Trtl Pillow Plus.
Design
Let's go ahead and get this out of the way: the Trtl Pillow Plus (like the original Trtl Pillow on which it's based) is weird looking. It looks more like a neck brace than a sleeping aid, but guess what? Every travel pillow looks dumb. Nobody cares! And if anybody does care, the joke's on them, because you'll be asleep, and they'll be awake at 3AM on a redeye watching Hotel Transylvania 3: Summer Vacation on a seatback screen.
Tucked inside the velvety soft neck wrap, you'll find an elaborate trellis of padded ribs that are molded to support your head and chin when you nod off, without digging into your neck. It's the same system pioneered in the original Trtl, but with one key addition: a pair of adjustment knobs that let you customize the height of the ribs to fit your head.
It's for this reason that I recommend spending the extra money on the Trtl Pillow Plus: sleeping positions are an intensely personal preference, and this is one of the only travel pillows out there that lets you adjust how it fits and feels on the fly.
Value
Sleep is sleep no matter how you manage to get it, and a good travel pillow is a whole lot cheaper than upgrading to a lie-flat business seat.
At $60, the Trtl Pillow Plus is definitely priced at the high end of travel pillows. But it's far more comfortable than one of those inflatable donuts, it's a lot cooler and more breathable than a memory foam pillow, and it's way more customizable than both. If it helps you get to sleep even one time that you otherwise might not have, I'd say it will have paid for itself.
If you're skeptical about the overall design of the Trtl Pillow Plus, and aren't sure that the neck wrap is right for you, you could also try the $30 original Trtl Pillow, and upgrade later if you like it.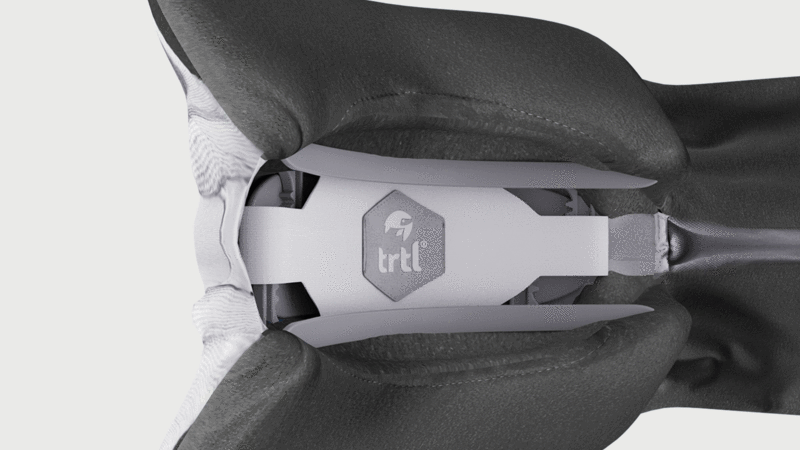 I'm truly terrible at sleeping on planes, and I won't say that I get the most restful sleep even with the Trtl Pillow Plus. But I do get some sleep, which is more than I can generally hope for with any other travel pillow. That's why for overnight flights, it's on the top of my must-pack list alongside the Anker PowerCore Fusion.
Trtl Pillow Plus | $60
Trtl Pillow | $30
---
Feature Image Credit: tttuna/ Shutterstock
All featured products and deals are selected independently and objectively by the author. Inboxlab may receive a share of sales via affiliate links in content.