Deal Alert!
The AirFly is currently down to the bottom of its usual $30-$45 price range, just in time for the return of travel. If you want to upgrade, the AirFly Duo (which has a much longer lasting battery and can connect to two headphones at once) and the AirFly Pro (which can act as a Bluetooth audio receiver in addition to a transmitter) are both well below their usual prices right now as well, at $40 and $47, respectively.
---
If you bought headphones at any point in the last few years, chances are, they were wireless. But if you fly on a plane at any point in the next decade or so, your odds of having a seatback entertainment screen that can connect to those headphones will be slim to none. See the problem?
Luckily, Twelve South's AirFly is here to bridge the gap. It's essentially a tiny Bluetooth transmitter that plugs into any standard headphone jack (like the one on your seatback screen, or on a piece of gym equipment, or even on the back of a TV), and pairs with any pair of Bluetooth headphones to deliver wireless, low-latency audio, no cord required.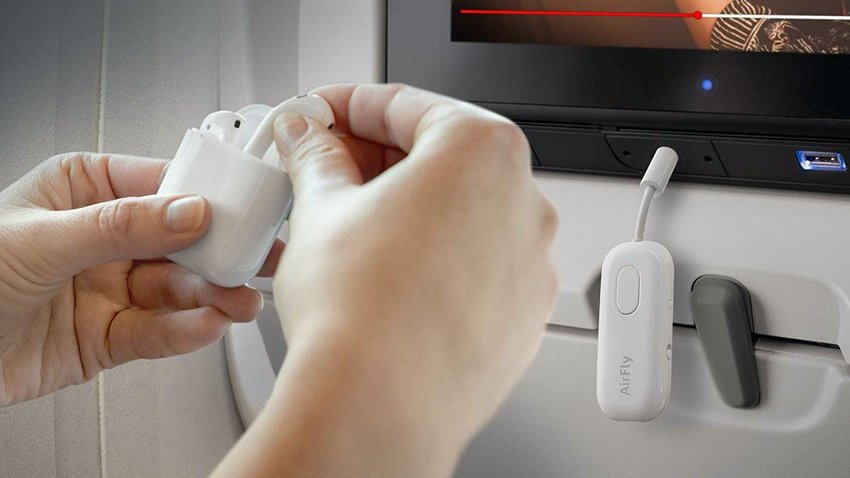 If you have a set of over-ear headphones, they probably have an AUX input that lets you plug them straight into entertainment systems. But new, truly wireless headphones like Apple's AirPods Pro don't have any such option, making a transmitter like the AirFly a must-own accessory.
Which One Should You Buy?
The AirFly actually comes in four different models.
Unless you have a specific need for the Pro, the AirFly Duo is probably the version that most people should buy. It's not much more expensive than the Classic, but has dramatically better battery life, uses a more modern connector for charging, and lets you share the audio from a single screen with two different people.
Photo: Nina Lishchuk/ShutterStock