Putting everything you own on your back and hauling it for miles over mountain passes, rivers and valleys might sound absolutely insane to the everyday traveler. But avid backpackers will tell you that there isn't anything a long walk in the woods can't fix.
The further you trek, the more the crowds thin, and pretty soon you're completely immersed in authentic, remote wilderness. Wild, untouched places in the backcountry teach you to be patient, intentional and grateful. Not to mention, with every unforeseen challenge or difficult mile on the trail, you learn just how capable you really are.
Add nights spent under the stars, early morning solitude, miles of peacefulness and untouched landscapes to the equation, and you'll start to question why people don't spend more time in the backcountry.
Whether you've already started your backpacking bucket list or you're still looking for the perfect trail to kickstart your backcountry travels, we've got you covered. We put together the ins and outs of the best places to backpack in the states, so you can start planning your next weekend (or week) away.
John Muir Trail, Sierra Nevada, California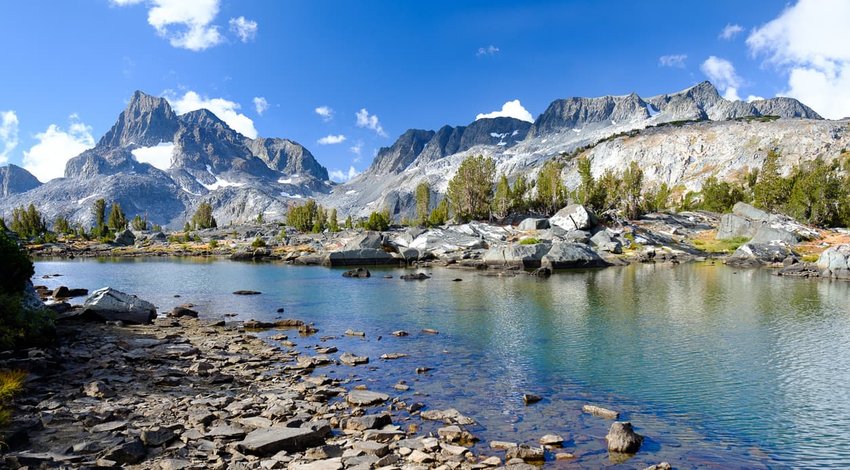 Aptly named after one of the most celebrated naturalists and wilderness conservationists, the John Muir Trail (JMT), is a 211-mile footpath that traverses North America's most beautiful mountain terrain within the Sierra Nevada Mountains.
Beginning beneath the towering granite monoliths of Yosemite National Park, the JMT negotiates miles of incredible alpine wilderness within Yosemite, Sequoia, Kings Canyon and the Ansel Adams Wilderness, before reaching the highest point in the contiguous United States, Mt. Whitney.
Thru-hikers and backpackers spend the majority of their adventure above 8,000 feet, camping beside famous alpine lakes, like Garnet Lake and Thousand Island Lake, and trekking over 11,000 and 12,000-foot mountain passes, like Muir Pass, Mather Pass and Forester Pass.
Often referred to as the land of 13,000 and 14,000-foot peaks, the JMT is usually at the top of the bucket list for backpackers and long-distance hikers. In fact, the John Muir Trail is popular for backpackers training to thru-hike the nearby 2,650-mile Pacific Crest Trail or weekend warriors hoping to get acclimated to high-altitude hiking.
If you're not quite ready to spend a month in the backcountry, but want a weekend away in the High Sierras, the JMT can also be enjoyed in sections. The trail from Florence Lake to South Lake or Tuolumne Meadows to Reds Meadow will give you a healthy dose of high-altitude heaven. Or, the 72-mile High Sierra Trail, which starts at Crescent Meadow in Sequoia and ends at Whitney Portal, will take you the top of the illustrious Mt. Whitney.
The recommended hiking season for the JMT is early July through mid-September. The Pacific Crest Trail Association is a great place to learn more about packing tips, permits and what to expect along the John Muir Trail.
Wonderland Trail, Mt. Rainier, Washington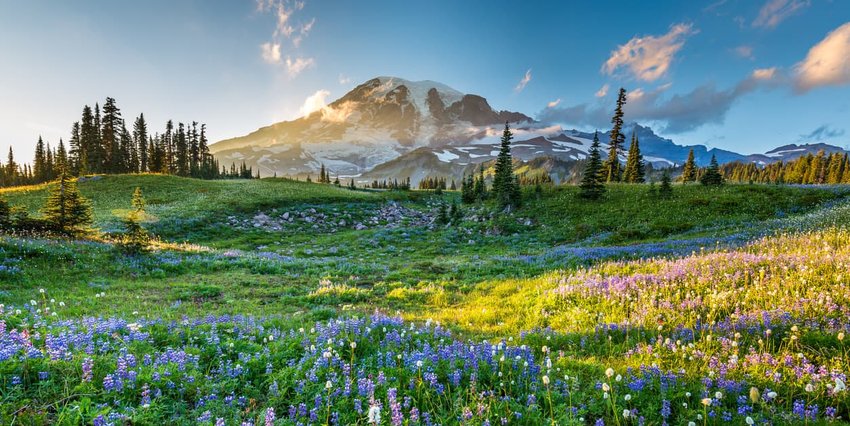 An icon of the Pacific Northwest, and arguably the most awe-inspiring mountain in the country, Mt. Rainier dominates the Washington skyline. Beneath the glaciated peak of this active volcano lies over 260 miles of maintained hiking trails to explore, making Mt. Rainier National Park the perfect place for a long walk in the woods.
At the heart of the park is the Wonderland Trail, a 93-mile backcountry trail that encircles the ever-changing profile of the state's most conspicuous peak. And if you're thinking that spending 10–14 days circling the same mountain sounds daunting, locals will tell you that no two sides of Rainier are the same.
The trail's highest point, Panhandle Gap, sits at 6,800 feet and features panoramic views of the two tallest peaks in Washington, Mount Rainier and Mount Adams, while its lowest, at 2,450-feet, is tucked within an old growth rainforest.
One thing is certain, every mile-packed day along the Wonderland Trail promises incredible mountain vistas, sub-alpine meadows, glacial valleys, lowland forests and volcanic rivers and canyons.
At 23,000-feet of elevation gain, this trail is not for the faint of heart. Fortunately, the Wonderland Trail can be hiked in sections. Mystic Lake to Sunrise is an accessible portion of the hike that highlights Winthrop Glacier and Skyscraper Peak. Mowich Lake to Carbon River via Isput Pass is another favorite section that allows hikers to take a side trail to another park favorite, Tolmie Peak Lookout.
There is a possibility for snow, rain and storms year-round, so planning your trip to Mt. Rainier is a must. In general, July through September is the best time to travel to this area. For more information about permits, trail conditions, and overnight camping in Mt. Rainier, visit the National Park Service website.
Four Pass Loop, Colorado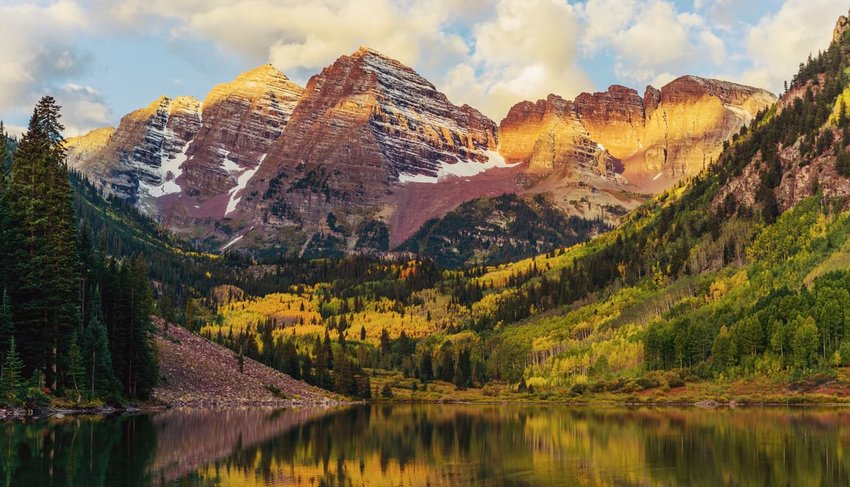 The Maroon Bells–Snowmass Wilderness is one of the largest wilderness areas in Colorado and highlights the grandeur of the Rocky Mountains. With over one hundred miles of trail, nine mountain passes, and six 14,000-ft peaks to explore, it's no surprise that Maroon Bells–Snowmass attracts adventure-seeking mountaineers and backpackers from around the world.
A well-known Colorado backpacking classic, the Four Pass Loop is a 26.6-mile backpacking path that skirts the most photographed peaks in Colorado. Just as its name implies, traversing the Four Pass Loop means climbing over four 12,000-ft mountain passes — West Maroon, Frigid Air, Trail Rider, and Buckskin.
Towering peaks aren't the only things you'll experience along the Four Pass Loop. The trail also features meadows adorned with wildflowers, alpine lakes and vibrant aspen groves.
Typically, the trail takes three to four days to complete, but it's notoriously tough, so take your time and immerse yourself in the pristine Colorado wilderness. If you're looking to spend more time in the solitude, you can also extend your trek and visit nearby Geneva Lake or explore Willow Pass.
The Enchantments, Washington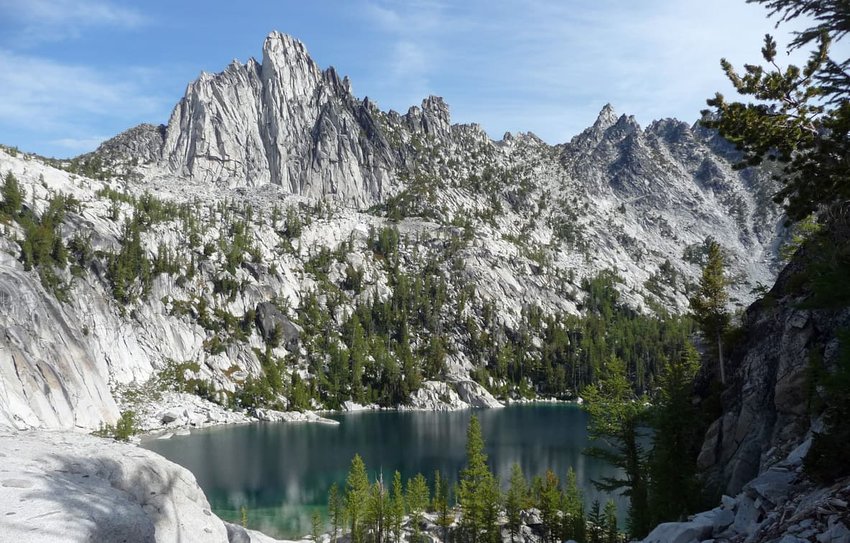 If the name isn't enough to entice you to explore this alpine paradise, maybe the golden larches, giant glaciers and picture-perfect alpine lakes will do the trick. Fittingly nicknamed "Washington's finest alpine lakes," the enchantments are a chain of lakes in the Alpine Lakes Wilderness in the Cascade Mountains.
Part of the magnetism of the enchantments has to do with the process for obtaining permits. A strict permit lottery has been implemented to limit the impact of visitors on this remote landscape.
Although the entire trail from Stuart Lake trailhead to Snow Lakes is only 19 miles, this route is notoriously rugged and challenging. The highest portion of the path sits at 7,800 feet, which means traversing the Core Enchantments zone comes with a significant amount of climbing.
However, if you're lucky enough to get your hands on a permit, you'll be rewarded with incredible alpine meadows, dramatic mountain peaks and superior isolated camping experience.
The Washington Trail Association is a great resource to learn more about permits, best places to camp and trail highlights.
Be Prepared
With any ambitions trek into the woods, it's essential to plan ahead and know what to expect on the trail. Wildlife, weather, permits and elevation will all factor into your experience in the backcountry.
Unless you are a highly experienced backpacker, we recommend attempting these trails with a group during peak hiking season (generally summer months).
So, what are you waiting for? It's time to grab a permit and experience America's most notorious backcountry trails.