When it comes to travel, I've always been a backpack person. I'm a self-professed overpacker and believe you can never be too prepared, which is why I like the space and ease of a good backpack.
I've taken a dozen backpacks out on my travels over the years, but never found the right one. One backpack was too bulky, made for hikers and trails instead of city streets. One backpack made me look and feel like I was back in high school. Another backpack was too flimsy, meant more as a fashion statement than a useful carrier.
There are plenty of great options out there to combat these issues, but many of them come with a hefty price tag. So when I started looking for another bag I had a long list of criteria.
And Then I Found Beis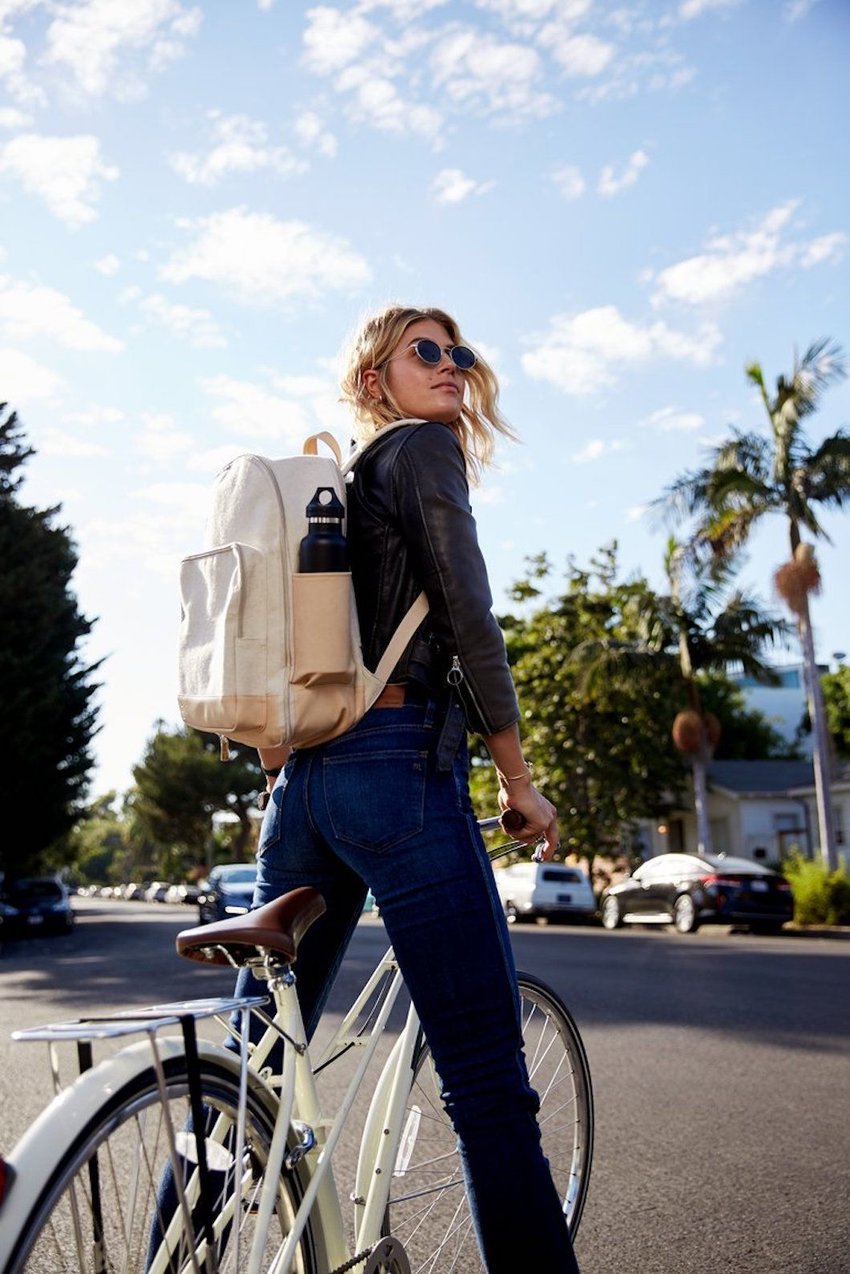 The brainchild of actress Shay Mitchell, Beis offered the solution to my backpack woes. This brand has limited luggage offerings that are not only sleek and stylish but also incredibly affordable. I don't usually line up to buy something a celebrity has created, but Beis intrigued me. Especially because the backpack looked like it had everything I wanted (and for only $78).
I've been a proud carrier of the Beis Backpack for six months now and can say with confidence it's the best backpack I've ever owned. It's now my constant travel companion, on trips abroad, domestic, or trips to the office. Here's a few reasons why I can't stop talking about this bag.
Storage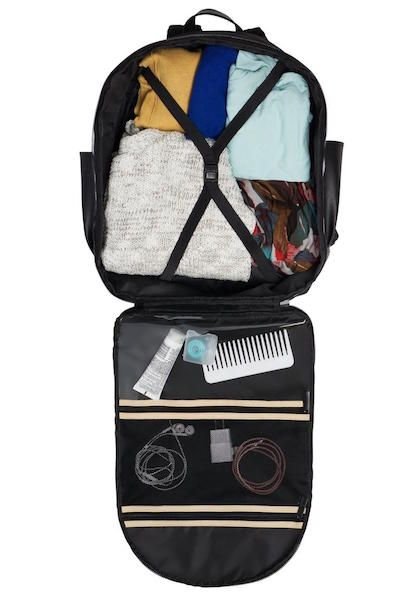 The Beis Backpack comes with three storage sections — a large front pocket, a roomy middle section, and a back laptop pocket.
The front pocket - Finally a front pocket that fits more than three pens and a tube of chapstick! This front pocket is large enough to fit anything you need quickly and easily. Slip your passport and wallet in there for fast access during security screening at the airport. Fit in a small toiletry bag for those quick touch-ups between tourist attractions. I've used this pocket to store anything I need easy access to, from headphones to a hairbrush to aspirin. I even fit a pair of flat sandals in there once during a beach vacation.
The middle pocket - Zippers and straps are the name of the game with the main storage compartment. My favorite thing about this pack is that the zippers extend all the way to the bottom so you can lay the entire backpack open flat while packing. This also helps eliminate the black-hole aspect most backpacks struggle with — you won't lose anything in this bag because you can just zip it all the way open and access the bottom easily.
There's also built-in straps in this interior compartment to hold down and compress clothes in place, and two additional storage pockets — one mesh and one plastic to store toiletries, underwear, or anything else.
The laptop pocket - I'm a sucker for a laptop pocket. Padded to protect your electronics, this pocket is roomy enough to fit a notebook, a tablet AND your laptop. It makes everything easy to pull out when going through airport security or if you reach the terminal and just want your computer without disrupting everything else that you so carefully packed away.
Extras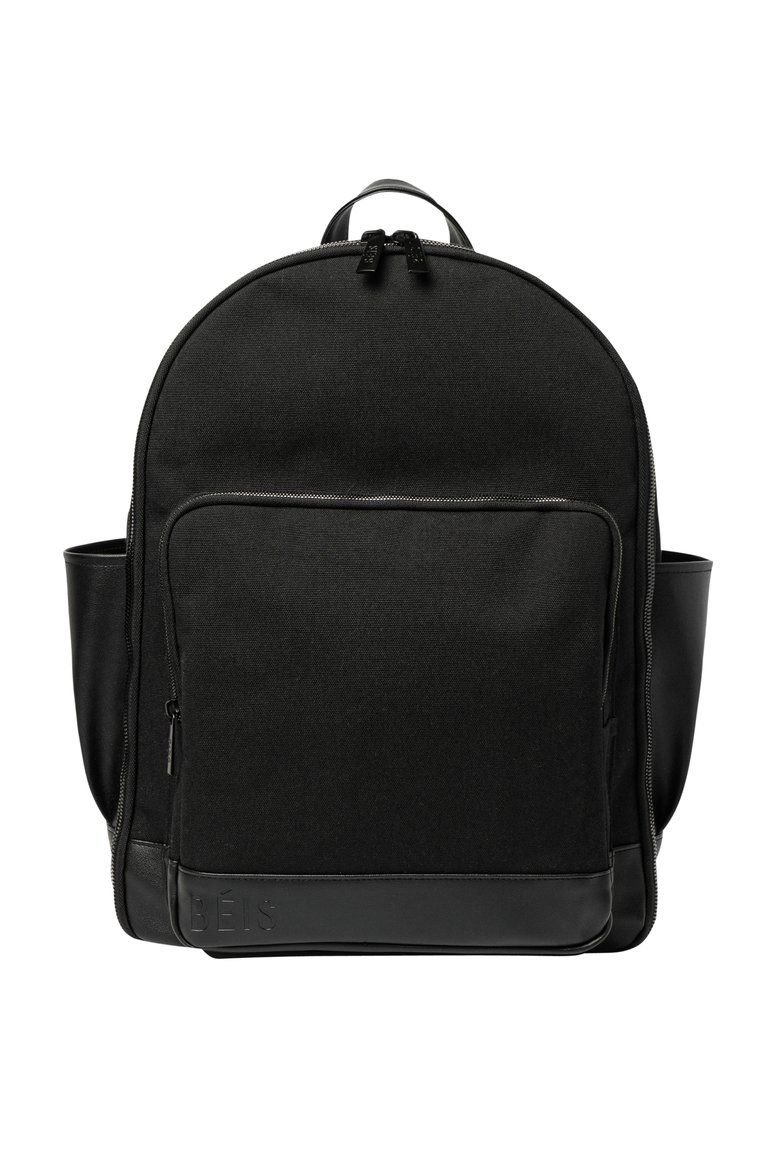 The backpack also comes with two waterbottle pockets (something my last backpack was sorely missing) and a strap of elastic on the back so you can slide it over the handle of a roller suitcase and keep it in place.
Made from waterproof material, the backpack comes in beige and black, so it goes with everything. It's stylish and sleek, with no unnecessary decoration, clips or attachments. It can easily go from the airport to the office to the museum without necessitating an outfit change.
The Cons
Of course, nothing in life is perfect, and there are a few drawbacks to this backpack. The biggest one I've found is security. Unlike some travel-specific backpacks I've seen, it doesn't come with any sort of lock or security system. Just something to keep in mind before you go traipsing through Europe with your passport in the easy-to-access front pocket.
I'll also make a note here that this backpack, while great for a day trip or as your travel accessory, probably won't be enough by itself for an extended trip. At most I've been able to fit two days worth of clothes in here, and maybe I'm a heavy packer, but I wouldn't rely on this backpack for much more than a short weekend.
But, as an accessory to your carry-on suitcase, it's perfect.