Incorporating amenities like conservatory gardens, subway-themed basement nightclubs, rooftop terrace views and fare for foodies, hostels have gone high-end. The spartan, picnic-table and bunk-bed model for backpackers still has its place for sheer cost, but the trend is toward haute hostel havens.
The "poshtel" concept has been around for a few years, but keeps evolving with travel culture. So if you've moved up from a college-student vacation budget, but still want a deal on nice digs, upscale hostels are a perfect in-between. Some decadent domiciles might employ bare brick and particle board as hostel-chic, portraying the illusion of edgy lodgings while offering all of the amenities. Other inns are obviously over-the-top.
On Inhabiting Hooked-Up Hostels
No surprise, there are hospitality chains dedicated to this type of accommodation. One such outfit, Generator, has locations in cities throughout Europe and the United States. All feature free wi-fi, 24-hour reception, female-only dorms, travel shops, bars and cafes. Miami, Amsterdam, Barcelona, Berlin, London and Madrid are among the growing chain's current offerings.
Generator Paris, located in the heart of the capital, occupies an immaculate, updated historic building. The boutique hostel benefits much from the feel of the surrounding neighborhood. Walking the streets of the 10th Arrondissement, catch a bohemian beat trodding past hip galleries, shops and cafes near Canal Saint Martin with a detour through Buttes-Chaumont Park. Inside, Generator Paris employs a sense of theatrical whimsy, vivid colors mixing with period decor throughout the inviting reception and relaxation areas.
The Khayma Rooftop terrace has a canopy-shaded bar with awe-inspiring views of Sacré-Cœur Basilica and the artsy Montmartre neighborhood. Middle floors hold accommodations that range from communal quad rooms to private en-suite up to premium rooms with private terraces. Café Fabien inhabits the ground floor, where its canteen and conservatory overlook a lush garden. Stairs within lead down to the vaulted ceilings of subterranean Le Club, the aforementioned metro-themed bar.
More Players Among Elevated Inn Purveyors
Other such prime hostel chains include  St. Christopher's Inn, which operates predominantly in the U.K., and Nomads, which serves Australia, New Zealand and Fiji.
Meanwhile, in the U.S. market, Freehand Hotels opened its first uptrend hostel in Miami. That was in 2012, with Chicago, New York and Los Angeles outposts added since. Adaptive re-use of architecturally-interesting buildings provides part of the vibe, and the original is indicative of the chain's hospitality approach. Freehand Miami's plush poolside scene, outdoor dining and superb Tiki cocktail menu draw not only sophisticated, savvy travelers, but locals, making meaningful mingling one of the prime perks.
Another sign of the "poshtel" trend's popularity is Hostelworld, among numerous specialized clearinghouses for boutique hostel bookings.
A Couple More of the Poshest Hostels for Consideration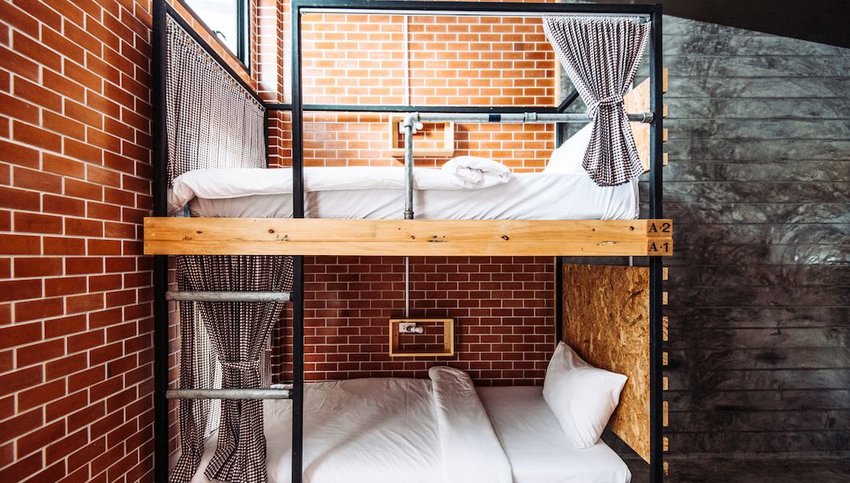 The LocalNY brings hip hostels to Queens. It's New York City location — with wonderful city views and a friendly price for the Big Apple — is mere subway stops from Brooklyn and Manhattan. Even the basic dorm room here is semi-private, with partitions between the beds. All accommodations sport premium mattresses and bedding, so there's no need to tote a sleeping bag. Individual reading lights and power outlets and underbed storage are other pluses, while each room has an en-suite bathroom with a smart layout specifically designed for sharing. For pure privacy, book a private double or twin rooms, which come with a dedicated en-suite and large windows for lots of natural light. On the building's ground floor, the Bar is an industrial-mod space with exposed brick and a huge rollup garage door that opens to the street. Espresso, coffee and light breakfast is served in the morning, while cocktails, beer and small bites are on tap beginning in the afternoon.
"Casa," Spanish for house, just in name envisages a warm hearth and homey hospitality. At ultra-hip Casa Gracia in Barcelona, Spain, turn that up to 11 — with a distinctly Euro-mod twist. Highest hospitality standards are upheld with tongue very much in cheek, proving this place can provide a fun experience along with exemplary service. The list of in-room amenities, for instance, includes items such as "Free (to steal) toiletries" and "Hairdryer (only use in head hair). Cute, or just plain quirky, this place has its charm. Spanish-influenced modern interiors come in accommodations from dorm-style to the lux suites, with city views from private balconies available in many. The pampering Super Suite is a spacious room with personal hydromassage tub. You have to step up to the Deluxe Apartment for in-room TV and a kitchenette. There's no need to cook, though, with multiple on-site eateries pouring craft cocktails and cooking up authentic local cuisine.