California and New England often play starring roles in scenic coastal road trips, but the Southeastern Coast shouldn't be relegated to a supporting role. Road tripping through the coastal towns and cities that litter the seaboard from Maryland to Florida offers an entirely different experience. Along the way you'll find undulating white sand dunes, expansive beaches, and warm water most of the year. When you add in Southern hospitality and tantalizing cuisine, you're in for a memorable trip.
You can go any time of year, but some attractions and activities close during winter. Summers are jam-packed, so aim for spring or fall if you want to avoid crowds. Here are 10 stops you shouldn't miss on the approximate 1,000-mile-long journey along the Southeastern Coast.
Annapolis, Maryland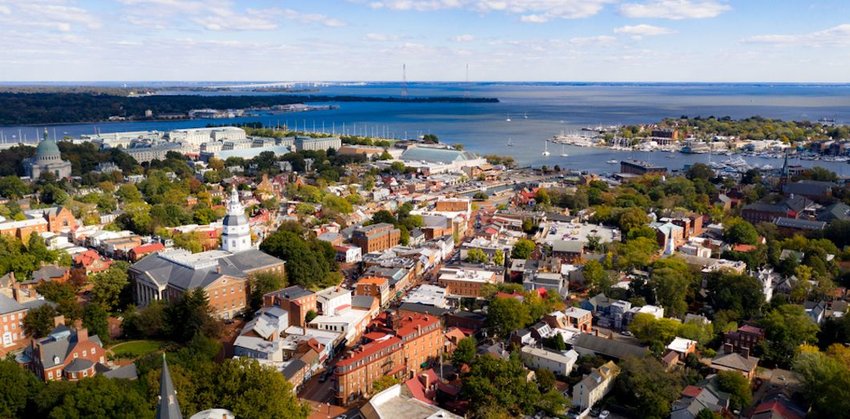 You may know bustling Annapolis is home to the U.S. Naval Academy and Maryland's capital, but if you've never been, you might be surprised at its rich history. The Maryland State House has the honor of being the oldest state capitol in continuous legislative use — and was once the nation's capitol building. George Washington resigned as commander in chief of the Continental Army in this building in 1783.
After a visit to the Naval Academy, be sure to spend some time walking along the City Dock. Stroll past art galleries, pubs, fashion boutiques, and gift shops. The highlight is "Ego Alley," named for the parade of expensive and remarkable yachts that sail past this waterfront walkway. Depending on the time of year, you might catch a festival, concert, or boat race here. For more history, check out the Banneker-Douglas Museum, Maryland's official African American heritage museum. The Annapolis Maritime Museum is another noteworthy choice with an optional boat trip out to tour the historic Thomas Point Shoal Lighthouse. You can't leave Annapolis without feasting on world-famous Maryland blue crabs, either steamed, fried soft shell, or in crab cakes.
Ocean City, Maryland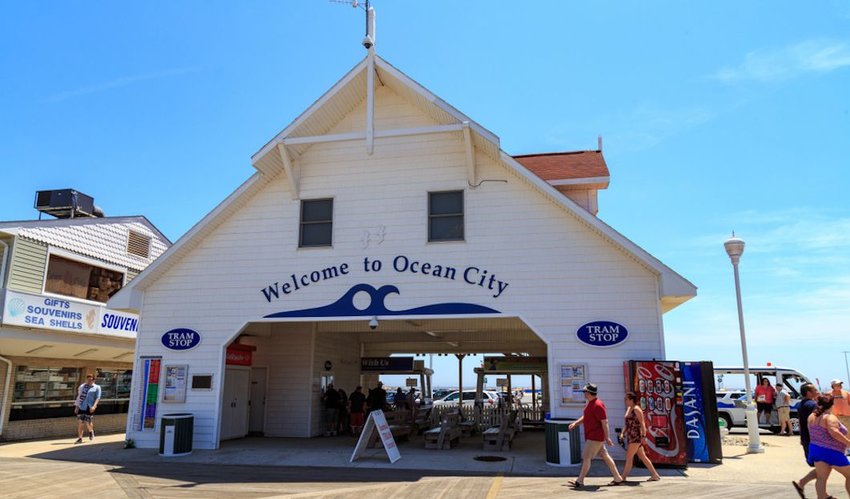 Head east out of Annapolis on Highway 50 across the Chesapeake Bay Bridge to Maryland's Eastern Shore, and you'll end up in Ocean City, a quintessential beach town with a three-mile, lively boardwalk. Get your adrenaline pumping on the historic Trimper's Amusement Park rides, sample candy from iconic candy stores, and sip a craft beer at Backshore Brewing Company.
If you prefer a more serene experience, head about eight miles south on Route 611 to the north entrance of Assateague Island National Seashore. Famous for its herds of wild ponies and beautiful beaches, this 37-mile-long island's ecosystem is so highly valued, three agencies manage it (U.S. Fish and Wildlife Service, National Park Service, and the Maryland Department of Natural Resources). Wild horses have lived here for hundreds of years, reportedly descended from shipwrecked horses in the late 17th century. This 48,000-acre island that spans into Virginia is a birdwatcher's paradise, with a large variety of sea and land birds. The best way to see the diverse wildlife is by boat, so consider taking a boat cruise on the Assateague Explorer or a guided kayak tour.
If you plan ahead, you can apply for an over-sand vehicle (OSV) permit, which allows you to drive on parts of Assateague's stunning beaches. You'll need a four-wheel-drive vehicle, shovel, car jack, jack support, tire gauge, and a tow rope or chain. Camping is the only overnight accommodation in Assateague, so you can stay in Ocean City or in any of the small towns that dot the peninsula south of Ocean City. You can't drive the entire length of Assateague Island, so you need to head back to the mainland and drive south on US-113 to US-13 into Virginia's Eastern Shore.
Virginia Beach, Virginia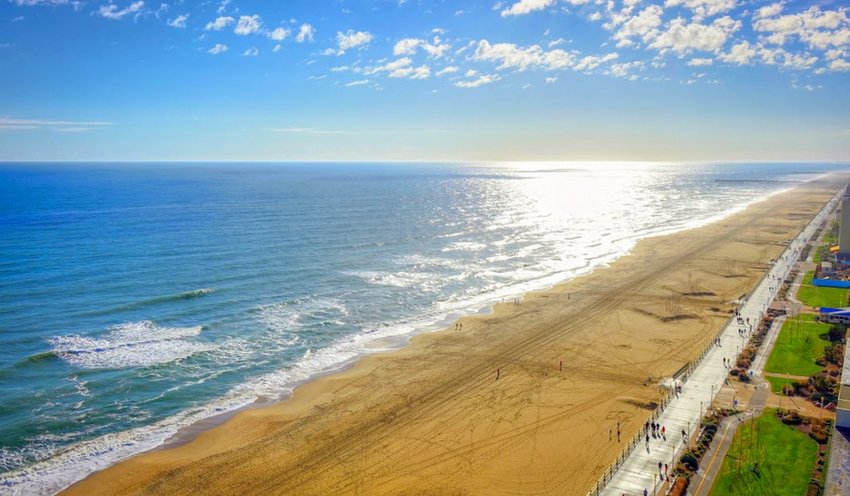 As you drive across the 20-mile-long Chesapeake Bay Bridge-Tunnel on US-13, be sure to stop at the scenic overlook where you can take in the magnitude of the Chesapeake Bay meeting the Atlantic Ocean. You might see harbor seals, whales, dolphins, and dozens of bird species. As you approach the Virginia mainland, off to the left you can see the two Cape Henry lighthouses. George Washington authorized the first lighthouse's construction 1792 (it was the first construction project and lighthouse authorized by the U.S. government). In 1881, a second one was built about 350 feet away. You can tour the original and be rewarded with sweeping, spectacular 360-degree views from the top.
Virginia Beach also has a busy, three-mile boardwalk with nightly entertainment during the summer months. You'll find plenty of fun, water-based activities here, from surf lessons to dolphin kayak tours to touring an oyster farm with Pleasure House Oysters, where you can sample fresh oysters harvested only moments before. Make time to visit the fantastic Virginia Aquarium & Marine Science Center, home to 12,000+ marine animals spread across 800,000 gallons of fresh and saltwater.
Outer Banks, North Carolina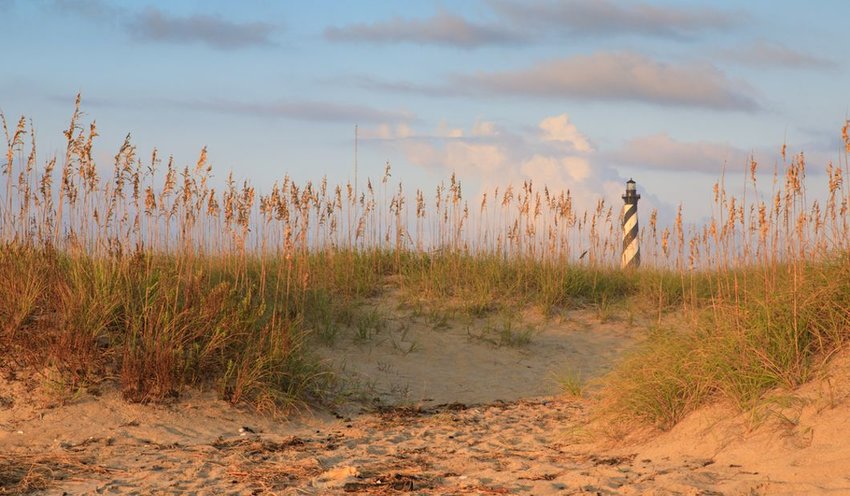 Drive about 90 minutes south on US-158 to the Wright Memorial Bridge and cross over to North Carolina's Outer Banks, a 200-mile-long string of barrier islands that runs along its eastern coast. You'll be traveling on the Outer Banks National Scenic Byway, which passes through 21 coastal villages along 138 driving miles and 25 ferry-riding miles. Once across the bridge, you can stop in Kill Devil Hills and visit the Wright Brothers National Memorial, which honors the famous brothers' first successful powered airplane flight in 1903. Continue south to Nag's Head, where you can walk out on the 1,000-foot Jennette's Pier and try your luck at one of the best fishing piers on the East Coast. If you don't want to fish, you can watch surfers, dolphins, and birds, plus check out the pier's aquarium and other exhibits. If you stay overnight in the area, for an incredible experience, take a guided bioluminescence kayak tour and marvel at the glowing organisms lighting up the sea.
You could spend an entire week exploring the Outer Banks, so if you have the time, visit Roanoke Island for a look at what life was like for the first English settlers in 1585. Roanoke Island Festival Park is a 25-acre historic park filled with costumed interpreters demonstrating how settlers lived, worked, and played. Learn about the Lost Colony, a group of settlers who vanished without a trace around 1560, at the Fort Raleigh National Historic Site. South of Roanoke is the Cape Hatteras National Seashore, a 70-mile-long shoreline with breathtaking, undisturbed beaches. Beach driving is permitted here, with similar rules and permit requirements as in Maryland. Lighthouse buffs will love a chance to climb the 257 steps in the black-and-white-striped, 208-foot tall Cape Hatteras Lighthouse, built in 1868.
You have a couple of options for continuing your journey south. The ideal option is to take a vehicle ferry south to Ocracoke Island and then another ferry across to Cedar Island, which puts you back on the mainland. In 2019, Hurricane Dorian destroyed some of the island's ferry terminal, so only island residents and necessary personnel are permitted across as of November 2019. If you can't continue south via ferry, you'll have to backtrack to Roanoke Island and cross the bridge to the mainland. If you go this route, you'll have a chance to visit the Alligator River National Wildlife Refuge.
The Crystal Coast, North Carolina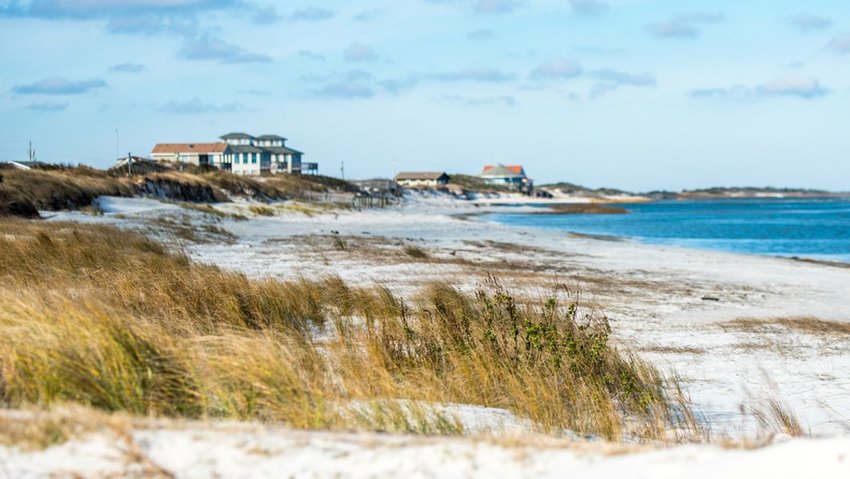 If you take the ferry from Ocracoke Island, you'll land on unpopulated Cedar Island, part of the pristine Cedar Island Wildlife Refuge. As you travel south about 35 miles, you'll reach a series of quaint, friendly coastal communities in an area known as The Crystal Coast. Stop in Beaufort, the picturesque town that novelist Nicholas Sparks references in his best-selling novels, "A Walk to Remember" and "The Choice." If you're a fan of Sparks, you can go on a guided bike tour with Hungry Town Tours and see the sights he mentions. If you're more of a foodie than a romance novel reader, they also offer a variety of fun culinary walking and biking tours.
Save time to visit the North Carolina Maritime Museum, where you can see artifacts from the infamous pirate Blackbeard's flagship, Queen Anne's Revenge, which wrecked just offshore. The little museum also has an exhibit showcasing the state's surfing legacy. You can stay in any number of quaint lodges and bed-and-breakfasts in one of the communities. This area is known for world-class sport fishing, as well as boating, paddleboarding and kayaking in the calm, inland waters.
Wilmington, North Carolina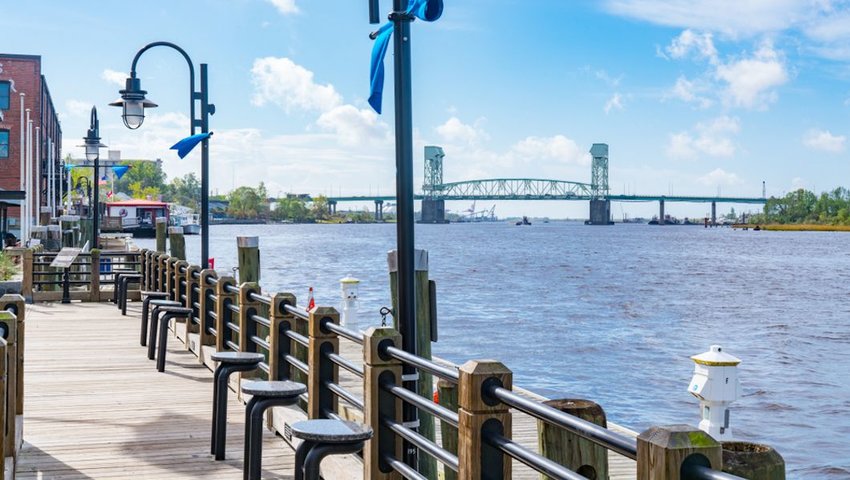 Drive about two hours south from Beaufort, and you'll reach North Carolina's largest coastal city, Wilmington. Make the 1.75-mile, wooden Wilmington Riverwalk your first stop, which runs along the Cape Fear River waterfront. In addition to shops and restaurants, sights to see along this vibrant walkway include The Cotton Exchange, a collection of restaurants and shops housed in a 19th-century building. Park your car and hop aboard the free Port City Trolley and roll throughout the city's historic district.
If you're interested in naval history, be sure to tour the USS North Carolina Battleship, moored across the river from the historic downtown district. For a change of scenery from the coastal vegetation, stroll through Airlie Gardens, a 67-acre public garden established in 1901. If you happen to visit during spring, the 75,000 blooming azaleas are a sight to behold. Formal gardens are interspersed with peaceful lakes, walking paths, and a live oak tree that dates to 1545.
Myrtle Beach, South Carolina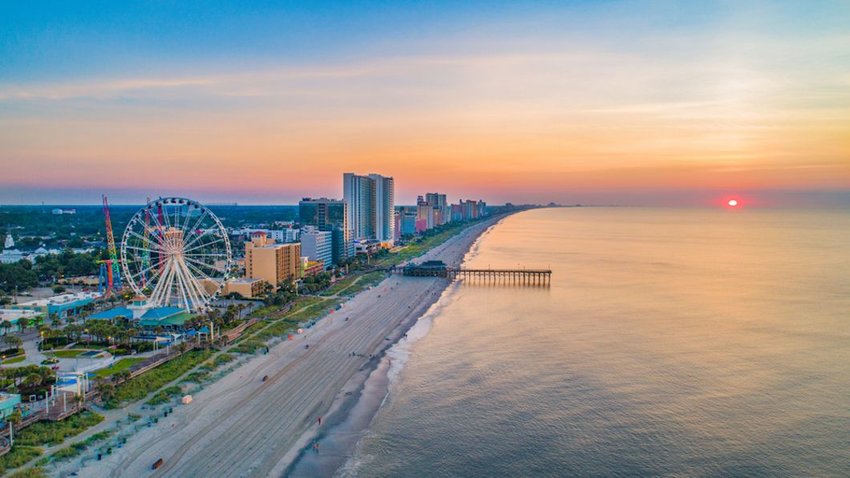 Once you leave charming, history-soaked Wilmington, Myrtle Beach offers a very different vibe. If golf is your game, you can choose from more than 100 courses across the region, designed by renowned architects such as Pete Dye, Arnold Palmer, Robert Trent Jones, Jack Nicklaus, and Greg Norman. If you want to get your adrenaline pumping, head to the Myrtle Beach Speedway, where you can drive a real NASCAR race car. Amusement park fans will get a kick out of riding the SkyWheel, a Ferris wheel that towers almost 200 feet above the Myrtle Beach Boardwalk — or for even more thrills, try the electrifying rides at Myrtle Beach Thrill Rides.
If you're looking for a more serene experience, it's well worth your time to visit Brookgreen Gardens, a 9,100-acre National Historic Landmark garden, preserve, and zoo. In addition to splendid native flora and fauna, the garden and its three galleries house more than 2,000 fascinating statues and sculptures — the largest and most comprehensive collection in the U.S. Brookgreen offers tours, programs, and exhibits for all ages, and is one of the few places to have earned accreditation from both the American Alliance of Museums and the Association of Zoos and Aquariums.
Charleston, South Carolina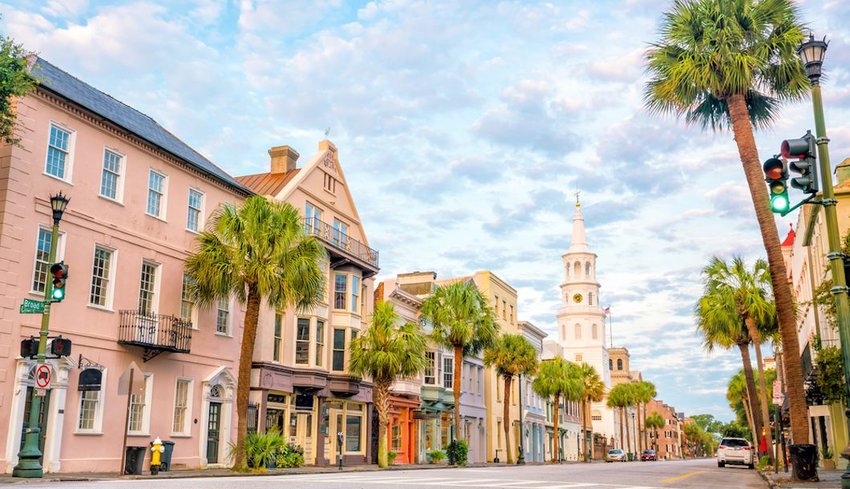 No trip to coastal South Carolina is complete without a stop in Charleston, the historic center of Southern culture. One of the best ways to explore this city steeped in history is by foot. To get the most out of what you're seeing, consider taking a private or shared guided tour. Oyster Point Historic Walking Tours offers a two-hour "Highlights of Charleston Tour" that introduces you to the city's neighborhoods, architecture, economics, and geography. Plan to tour at least one of the many plantations such as Middleton Place or Magnolia Plantation.
Even if you're not a military history buff, taking the ferry over to Fort Sumter National Monument is worth the time — plus, you get a scenic tour of the harbor. The first shots of the Civil War were fired here, and the fort played a significant role in the Revolutionary War. For more military history, spend the day at Patriot's Point Naval & Maritime Museum, where you can tour the USS Yorktown, a World War II aircraft carrier, plus tour a destroyer, see warplanes from different eras and go through an interactive Vietnam War exhibit. For a peek back into Charleston's history, the Historic Charleston Foundation periodically offers tours of beautifully restored historic homes and gardens, some of which are private and only open during scheduled tours. If you're visiting in spring, catch the Festival of Houses & Gardens. Charleston should also be on your culinary bucket list, as it is home to some of the best restaurants in the country. Must-try Lowcountry dishes include shrimp and grits, she-crab soup, oysters, and Frogmore stew.
Savannah, Georgia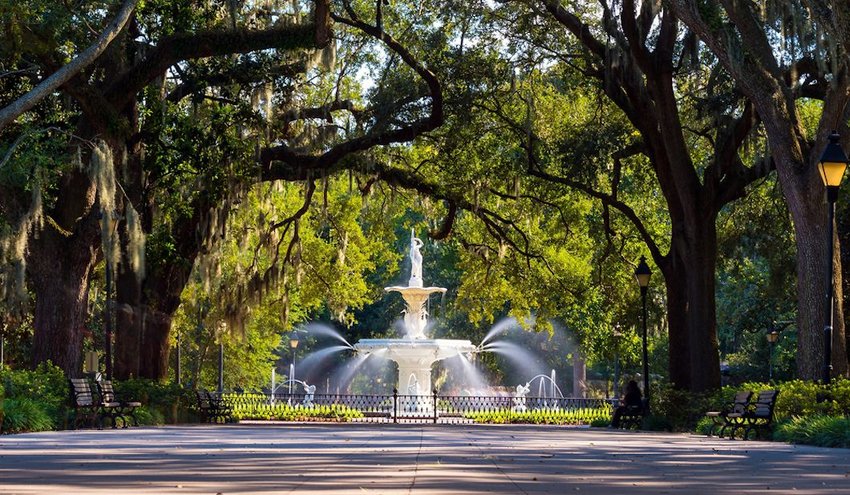 Enormous old oak trees draped in Spanish moss, spectacular fountains, historic mansions, public squares, and the reportedly haunted River Street are just a few of the things that make Savannah such an interesting city. Built by General James Oglethorpe in 1733 on a Native American burial ground, it's known as the nation's first planned city, laid out in a series of grids that allowed for plenty of public squares and parks.
Savannah has a reputation for being shrouded in mystery and paranormal activity, so for something different, consider taking a ghost tour with Ghost City Tours or Savannah History & Haunts. Another fascinating tour is of the resplendent, 100-acre Bonaventure Cemetery. The Bonaventure Historical Society offers monthly free daytime tours of this quintessential Southern gothic cemetery. If you prefer a spookier experience, you can tour the cemetery at night with Bonaventure Cemetery Tours. Most of these tours are as much about local history and folklore as the paranormal.
St. Augustine, Florida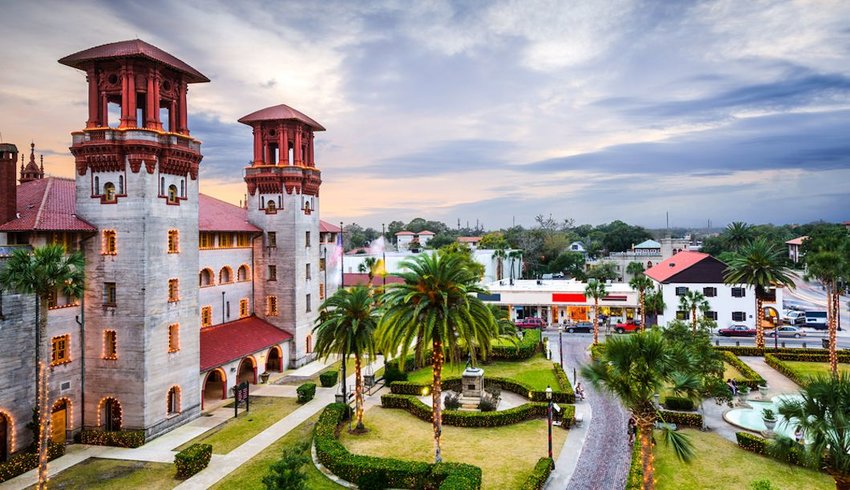 If you thought Charleston was old, you might be surprised to learn that St. Augustine is our nation's oldest, continually-occupied settlement (founded by Europeans). Spanish explorers founded the city in 1565, and it served as the capital of Spanish Florida for more than 200 years. Visit the nation's oldest masonry fort, the Castillo de San Marcos (built beginning in 1672) for a fascinating look at 300 years of constant warfare between Spain, France, and England. Another historical series of buildings worth exploring is Flagler College, built by American industrialist Henry Flagler as the Hotel Ponce de León in 1888. This masterpiece of Spanish Renaissance architecture was also one of the nation's first buildings to have electricity. Spanish explorer Ponce de Leon arrived in this area in 1513, supposedly searching for the Fountain of Youth, and today you can visit Ponce de Leon's Fountain of Youth Archaeological Park and learn more about this city's fascinating history.
St. Augustine has wonderful pedestrian-friendly streets where you can shop, dine, visit art galleries, and historical sights. If you can stomach it, you can learn about medieval torture and see artifacts at the Medieval Torture Museum. Unlike most Florida beach towns, St. Augustine has a distinctive European feel, and attracts musicians and artists from all over. You'll find plenty to do as the city hosts events year-round, including foodie festivals, art shows, concerts, and more. If you need one more beach fix, you can drive on the wide beaches in some areas without the restraints of other beach-driving destinations.