Vacationing in the great outdoors is relaxing and rejuvenating. Getting closer to nature allows us to slow down and reconnect with each other and the planet. But not all of us are ready to rough it on a wild camping trip. Luckily, many hotels do a fantastic job of blending into their environments through clever design and décor and allow you to feel as though you're lounging outdoors without ever leaving your room. Whether they feature open-air decks overlooking the rainforest or glass walls showing off snowy mountains, these hotels boast beautiful designs that dramatically bring the outdoors in.
Juvet Landscape Hotel
Valldal, Norway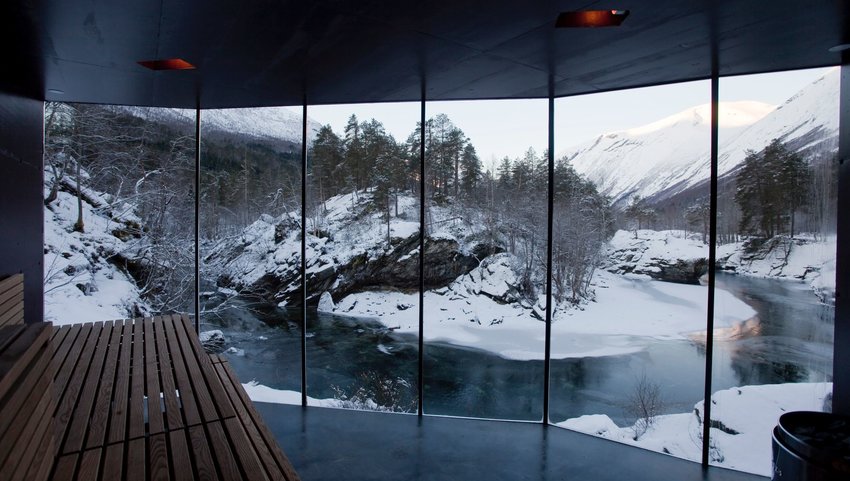 Tucked away in a remote part of Norway, the Juvet Landscape Hotel is the ultimate rural retreat. The Landscape Rooms are freestanding buildings set on stilts and designed with glass walls to optimize nature-viewing. From the outside, however, the walls are mirrored for privacy. These seven rooms overlook rugged terrain and a soothing river — a beautiful view during any season. If treehouse-inspired lodging interests you, book a Bird Room instead. Perched high on the steep slopes, these traditional Norwegian log houses sit higher than the Landscape Rooms for a bird's eye view of the area.
Matakauri Lodge
Queenstown, New Zealand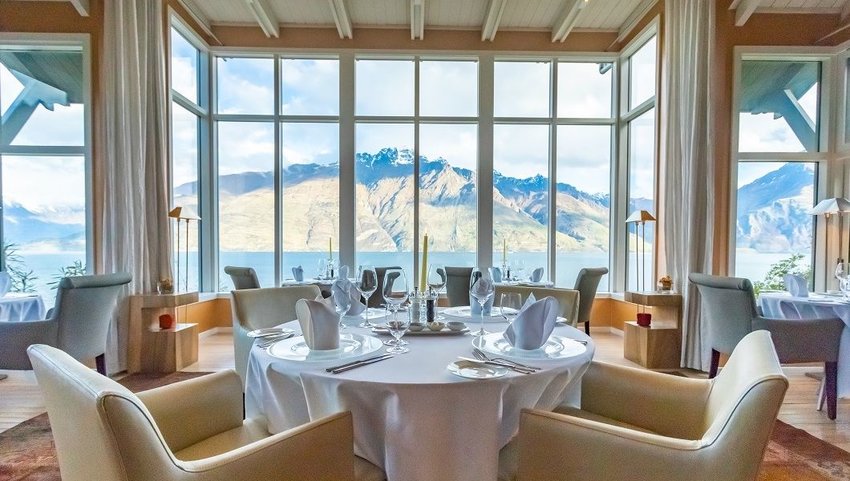 Matakauri Lodge was just named one of the top five resorts in Australia and New Zealand by Travel + Leisure in 2019 and for good reason. This luxurious resort on the shores of Lake Wakatipu lets travelers feel as though they're a part of the landscape with its panoramic views of "the big three" — the Remarkables, Cecil, and Walter Peak. Every guest at Matakauri Lodge is promised a world-class view with a variety of accommodations. The floor-to-ceiling windows, private patio, and modern lodge décor create a bright and airy feel in every room, so the focus is on the world outside.
Amangiri
Utah, USA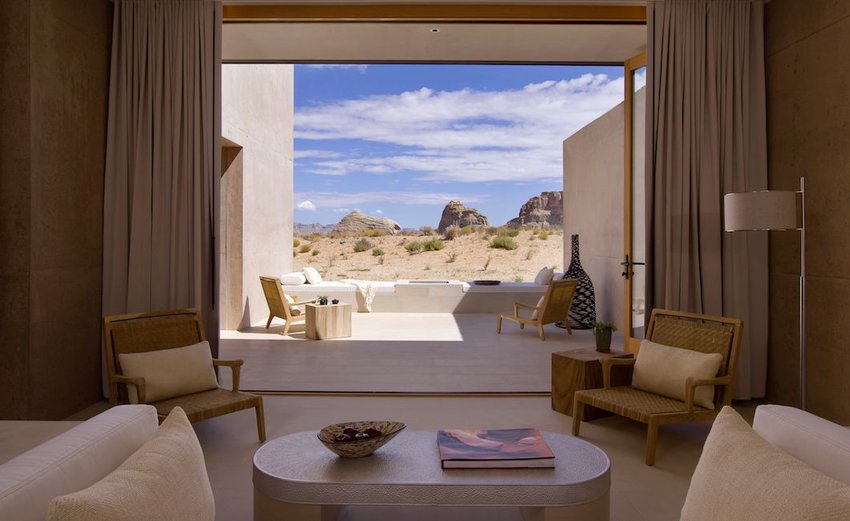 The five-star Amangiri resort in the stark deserts of southern Utah's Canyon Point embraces a minimalist design inspired by its natural desert surroundings. Rooms are built with this peaceful environment in mind, and most suites include floor-to-ceiling sliding doors that open up to patios with sweeping views of the arid desert. If you really want to commune with nature, stay in a tented pavilion with a private plunge pool. Unwind in your serene suite and awaken your mind and body as you contemplate the sublime scenery from your personal outdoor lounge.
ION Adventure Hotel
Nesjavellir, Iceland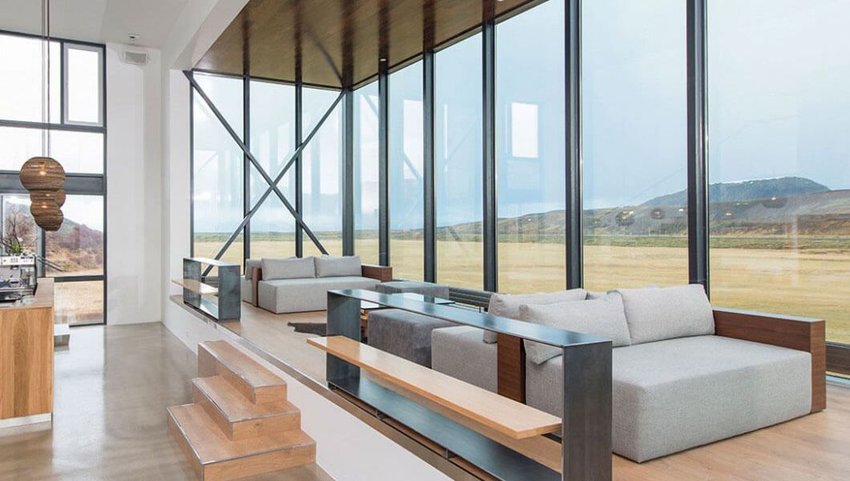 This one-of-a-kind hotel stands proudly on stilts in a lava field overlooking the vast Icelandic terrain. The ION Adventure Hotel has won awards in multiple categories such as design and environmental sustainability. Located only one hour from downtown Reykjavik, this property sits along the Golden Circle (the ultimate tourist route in southern Iceland) — making it the perfect base for exploring the country. The hotel's airy, minimalist design allows for a full appreciation of the view just outside your window, while the spa features a sauna and an outdoor heated pool that blend seamlessly into the landscape below.
Thanda Safari Lodge
KwaZulu-Natal (KZN), South Africa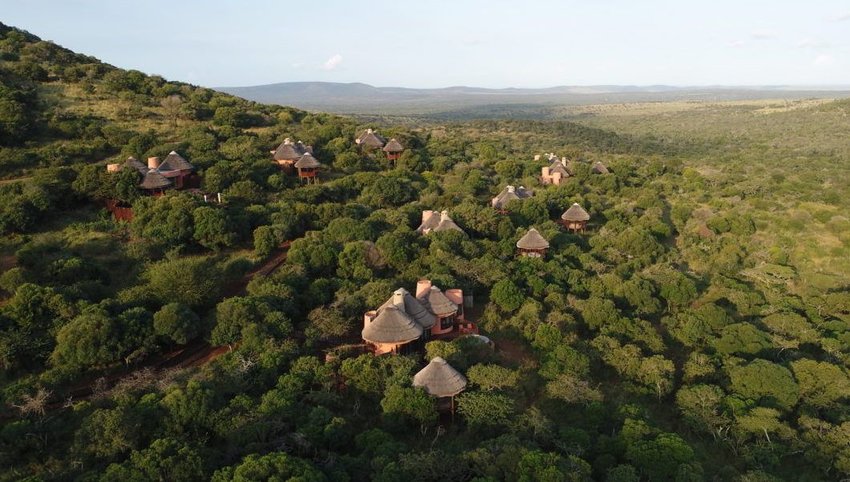 Home of the Big 5 (lions, leopards, rhinos, elephants, and cape buffalo), the Thanda Safari Private Game Reserve is a leader in animal conservation in South Africa. Luckily for visitors to the reserve, Thanda Safari also has several types of accommodations, so that you can stay just feet from the wildlife that you traveled so far to see. Choose a suite in the Safari Lodge with an expansive deck and library overlooking a waterhole, and a private pool, patio, and outdoor shower. The interior of the hotel features traditional Zulu décor with open-air dining and a spa.
For an even more adventurous stay, Thanda Safari has a 15-tent campf featuring luxurious, "safari chic" tents with wooden floors, chandeliers, indoor plumbing, and panoramic views of the reserve. Be sure to book a safari during your stay at this award-winning resort.
AQUA DOME
Otztal, Austria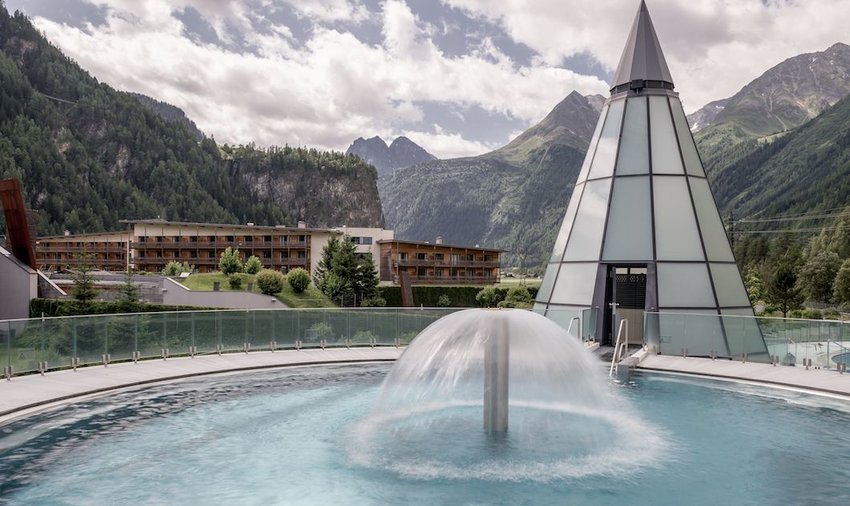 Overlooking the serene Otztal alpine valley in western Austria, the AQUA DOME is a spa hotel with unique facilities and impressive views. The massive glass dome encapsulates the resort's pools — allowing for year-round swimming in heated water with a mountain backdrop in the distance. Hotel guests also get exclusive access to Spa 3000. Its highlights include rooftop saunas with floor-to-ceiling windows overlooking the valley, an indoor mossy rock pool, indoor mineral baths, and outdoor thermal baths. The AQUA DOME pulls elements from nature inside to create a year-round oasis for its guests.
Whitepod
Valais, Switzerland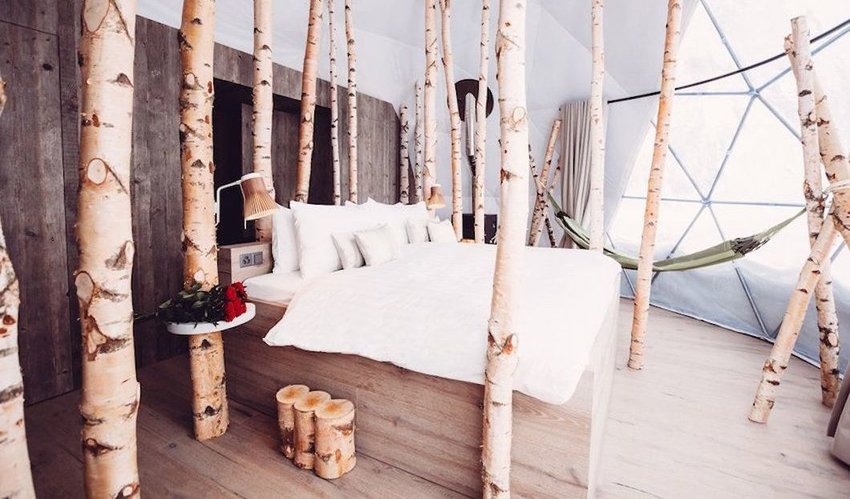 Located in the Swiss Alps, Whitepod is a series of eco-luxury pods with wood stoves heated by locally-sourced wood. There are LED bulbs to light the pods and local spring water in place of water bottles. Stay in the Forest Pod, which takes an extra step to bring the stunning mountainous landscape in with an in-room birch forest. Lounge in a hammock or sip wine on your terrace overlooking views of the surrounding Alps.  
Takefue
Kumamoto, Japan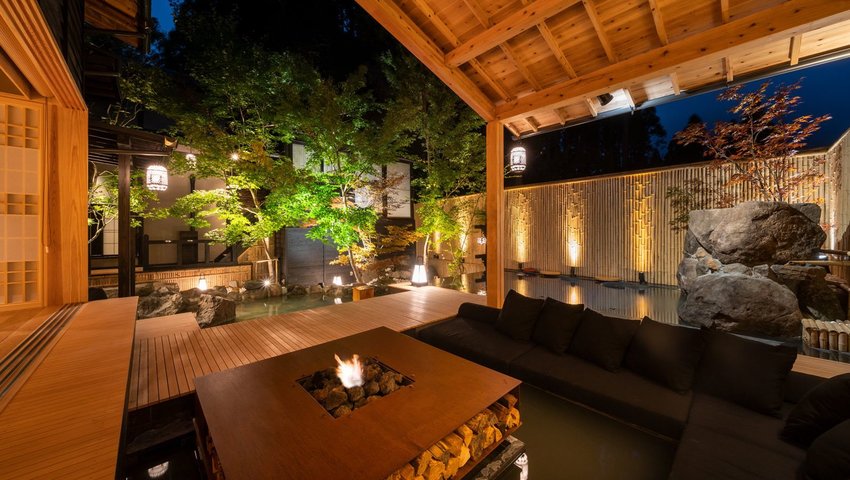 Situated on over 177,000 square feet of bamboo groves and forested terrain, Takefue's claim to fame is its self-sustaining mineral spring, Onsen Ryokan. An onsen is a Japanese hot spring and the term is typically used to describe the facilities around the hot springs too such as an inn or hotel. Each room at Takefue has a unique layout, but all have their own indoor bath, tatami mats, a chabudai dining table, and massive floor-to-ceiling doors that open for an indoor/outdoor living space. Larger rooms also feature a private garden, open-air bath, foot bath, or terrace. The traditional Japanese garden design at Takefue allows for complete relaxation off the beaten path.
Playa Viva
Juluchuca, Mexico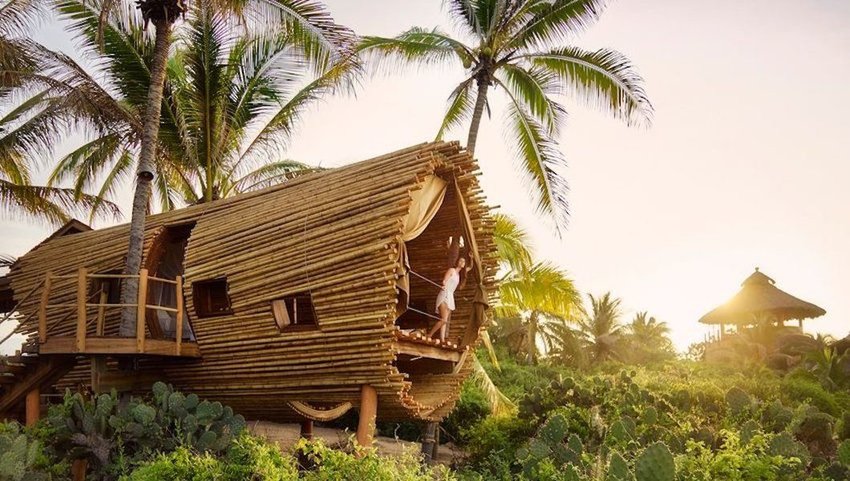 A treehouse by the ocean? Sign us up! Eco-friendly and gorgeous, Playa Viva hotel lets you enjoy the natural marvels of Mexico from your own canopy perch. The treehouse rooms, made with materials from the surrounding environment, are flanked by swaying palm trees and native cacti. Fall asleep to the sound of ocean waves and wake up with the sunrise for morning yoga practice. Spend your days volunteering in the onsite turtle sanctuary or relaxing in the hammock that comes in your treehouse room.
Kakslauttanen Arctic Resort
Lapland, Finland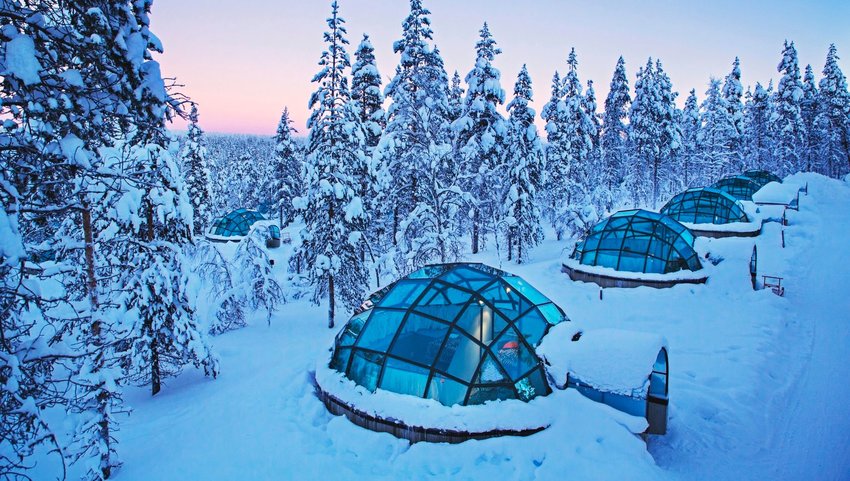 Along the Kakslauttanen River in northern Finland is an unforgettable snowy getaway. The Kakslauttanen Arctic Resort has various accommodations such as glass igloos, kelo-glass igloos, log chalets, snow igloos, and earth lodges. Perhaps the best choice in the resort is a glass igloo or kelo-glass igloo (which are part log cabin and part glass igloo) during the northern lights season from the end of August until the end of April. Some accommodations feature their own fireplace, sauna, jacuzzi, or terrace. All rooms are freestanding in order to ensure extra privacy and more time immersed in nature. Don't forget to save time for a reindeer safari during your stay.