Whether you're in search of an idyllic escape, a beach-hopping holiday, or an action-packed aquatic adventure, there's something sweetly satisfying about spending the night near the water. Waterfront properties provide afternoons of sun-soaked fun and relaxation as you gain direct access to private beaches, lake trails, and harbor fun. Whether it's lakeside or oceanfront, these waterfront hotels are worth checking into just for their mesmerizing views.
Six Senses Zil Pasyon
Félicité Island, Seychelles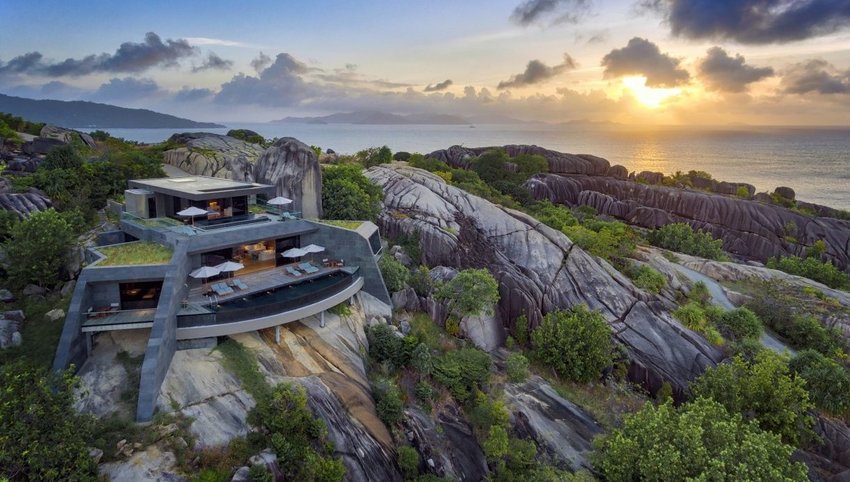 This dreamy seaside haven on the private island of Félicité is the ultimate romantic escape for island lovers and can be accessed by boat from La Digue or Praslin by helicopter from Mahé if you're adventurous. Each of the 30 ultra-sophisticated suites at Six Senses Zil Pasyon comes equipped with a Guest Experience Maker — a local ambassador who tailors your itinerary to your unique interests for the length of your stay. Schedule afternoons of bicycling along the shores of nearby La Digue Island to uncover untouched beauty and budget enough time to snorkel off the coral-fringed beaches of Cocos Island. Later, visit the resort's Oceanfront Pool Villa, where you can lounge on your personal daybed and plunge into a private infinity pool.
Prince Waikiki
Honolulu, Hawaii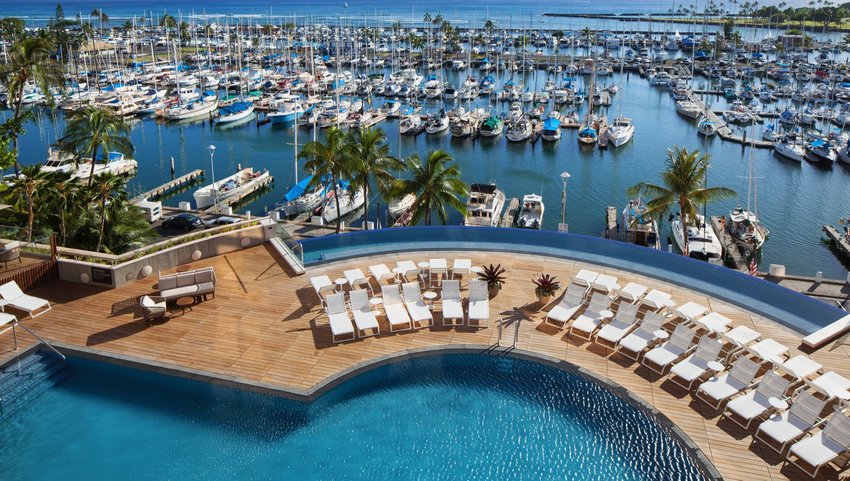 Hawaii isn't lacking for waterfront properties, but Prince Waikiki is one of the most energetic. Situated in Honolulu's vibrant neighborhood of Waikiki,  this hotel offers guests easy access to the area's fine dining establishments, cocktail bars, and golden beaches. Despite the hotel's central location and buzz of activity that surrounds it, the ultra luxe amenities of Prince Waikiki make it hard to leave the property. Each of its modern guest rooms feature floor-to-ceiling windows with views over the Ala Wai Harbor and Pacific Ocean, which can also be enjoyed from Prince Waikiki's rooftop infinity pool. Celebrate your holiday with poolside cocktails and a romantic dinner in a private oceanfront cabana for two as you watch the sun dip below the horizon.
Acqualina Resort and Spa
Sunny Isles Beach, Florida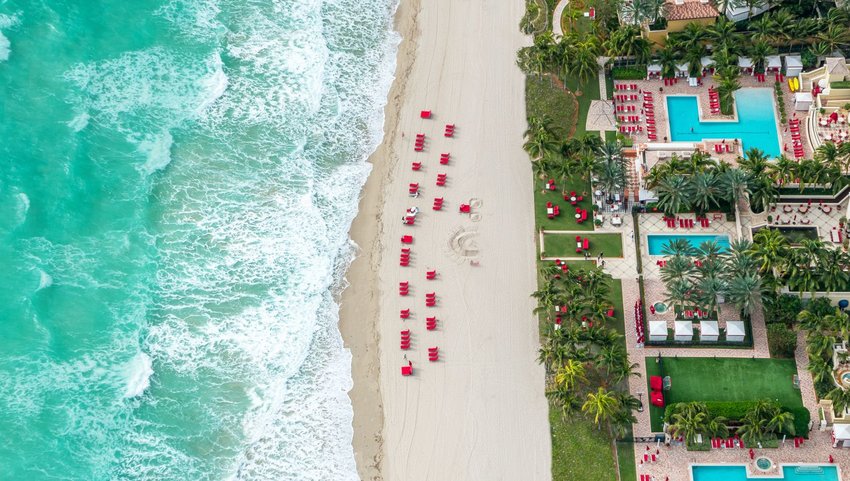 10 miles north of raucous South Beach, Acqualina Resort and Spa is an indulgent seaside getaway for sun seekers. Lounge on the golden sands of the 4.5-acre beachfront property or enjoy the sweeping seascapes from one of the property's three oceanfront pools. Stunning views of the Atlantic Ocean are featured throughout this chic, Mediterranean-inspired resort that houses 54 rooms and 44 suites — all outfitted with modern touches of marble flooring and glass-enclosed showers.
Hotel Santa Caterina
Amalfi, Italy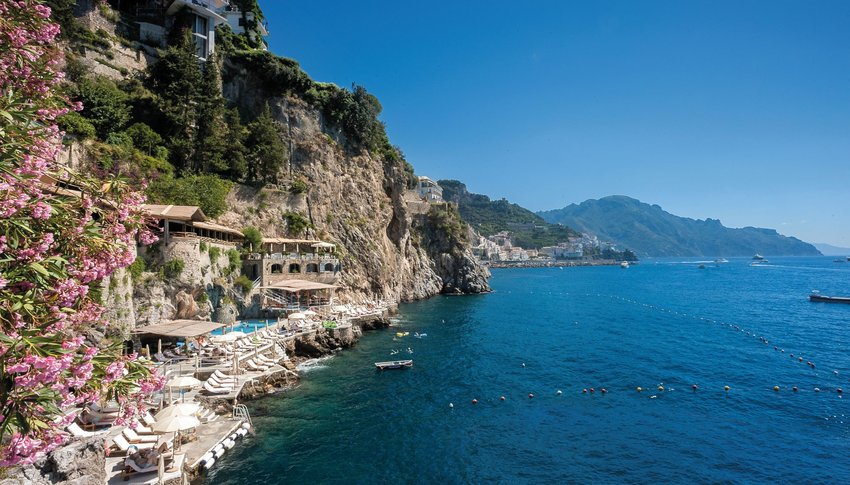 This 19th-century art nouveau villa perched elegantly on a terraced clifftop along Italy's famed Amalfi Coast is enveloped by sweeping vistas of the enchanting coastline and the enticing waters of the Tyrrhenian Sea. At Hotel Santa Caterina, the suites are adorned with priceless antiques and boast private balconies. It's the exclusive access to the property's private beach that's really worth the price of a night here. The beach invites guests to perfect their tans on loungers and deck chairs. Come lunch time, Al Mare — the onsite restaurant — will let you enjoy some fresh grilled seafood with a panoramic sea view.
Ritz Carlton
Half Moon Bay, California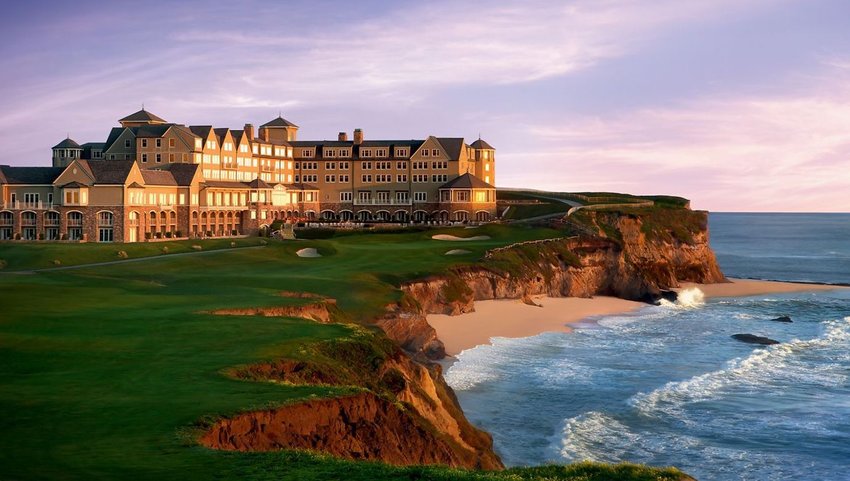 With five-star glitz and coastal glamor, the sophisticated cliffside Ritz Carlton Half Moon Bay hotel is just 45 minutes south of San Francisco. An idyllic escape from the frenzied big city life, a visit to this high-end resort will let you tee up for a round of golf at one of the two onsite championship courses or embark on a leisurely stroll along the beach. For maximum relaxation, book the Luxury Fire Pit Suite, where you'll have access to a personal outdoor patio and fire pit that overlooks the Pacific Ocean.
Fairmont Chateau Lake Louise
Banff, Canada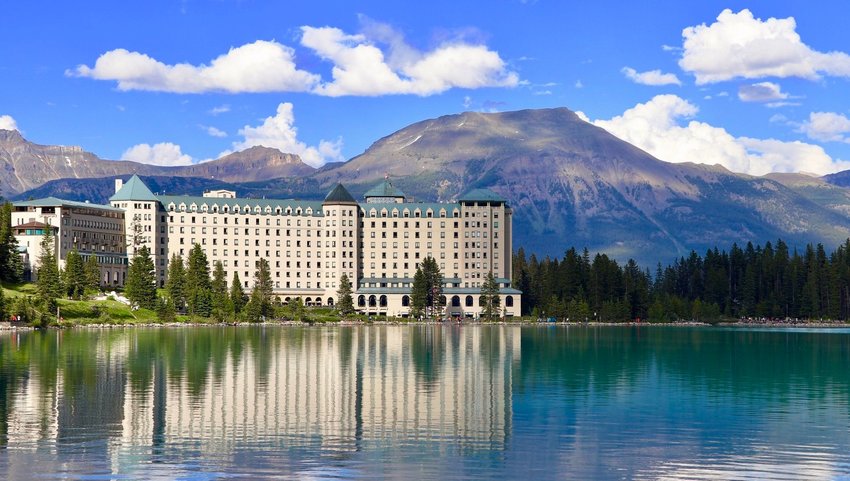 Fairmont Chateau Lake Louise in Banff National Park, Canada's first national park, began as a one-story log cabin catering to outdoor adventurers and alpinists in 1890. Over a century later, the hotel has flourished to encompass 539 polished rooms and suites — many of which display stunning views of Lake Louise. Opt for the Junior Suite Lakeview, where you can wake to panoramic views of Lake Louise and the majestic Victoria Glacier each morning. Eco-savvy travelers will be pleased to learn that Fairmont Chateau Lake Louise has received global accolades in environmental stewardship and works to protect the planet with water-saving fixtures throughout the property, sustainable ingredients on the menu, and a toiletry recycling program that re-processes leftover soaps and shampoos left behind by guests for donation to the Clean the World Foundation.
Anse Chastanet
Soufrière, St. Lucia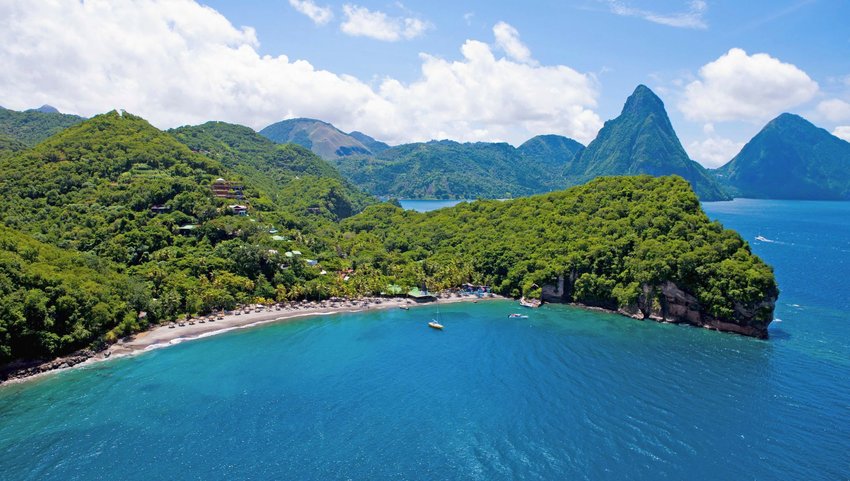 Set in Soufrière on St. Lucia's tranquil southwestern coast, Anse Chastanet features a paradisiacal setting of coconut palm-backed beaches and acres of lush, tropical greenery. Its 49 rooms are housed in whitewashed cottages with wraparound balconies. Some of the rooms are located in a garden oasis at beach level, while other are found on the vibrant hillside, which offers unrivaled views of the twin Pitons peaks and the Caribbean Sea. Commune with nature during your stay at this beachfront estate by snorkeling with tropical fish among miles of colorful coral reefs or by biking through the sugarcane and banana tree-dotted Anse Mamin valley.
Salish Lodge & Spa
Snoqualmie, Washington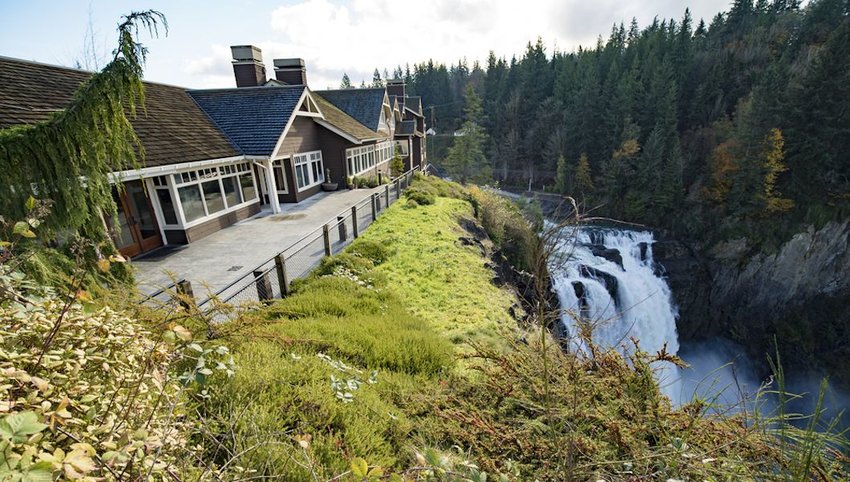 Beaches and lakes are great, but for a different kind of water experience head to the Salish Lodge & Spa outside Seattle. Perched at the top of the 268-foot breathtaking Snoqualmie Falls, this hotel enjoys unparalleled views of rushing white water and tranquil forest. Locally-crafted furnishings incorporate natural woods and textures, while the 86 guest rooms reflect the Salish Lodge & Spa's legacy and natural surroundings. The Lodge is a true romantic or relaxing getaway with all rooms featuring gas fireplaces, oversized soaking tubs, or spa-like showers with dual shower heads.
Kenoa Beach Spa & Resort
Barra de São Miguel, Brazil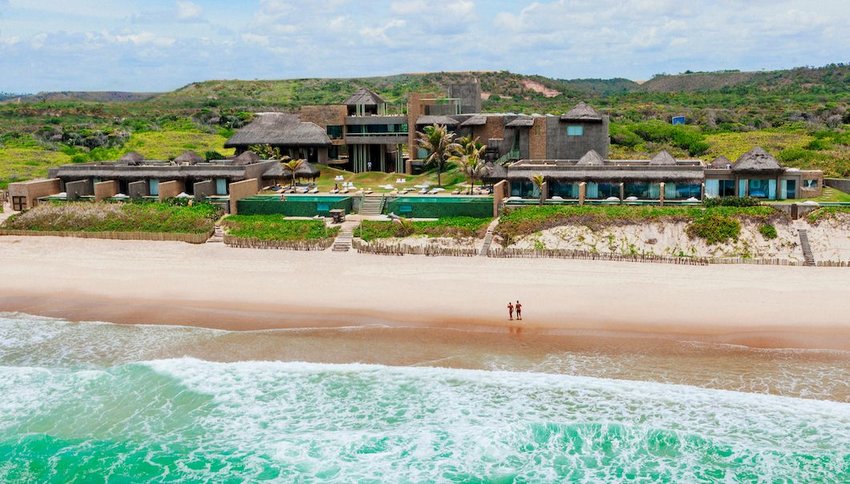 Eco-friendly and impossibly chic, this Brazilian resort is defined by the natural beauty of its location. Sandwiched between miles of lush natural reserve and the stunning Barra de São Miguel beach, Kenoa is one of Brazil's most alluring spots. This intimate experience offers world-class dining, sophisticated design and serene beachside lounging, all with the unobtrusive charm of a private sanctuary.