Robotic luggage concierge, keyless rooms, and floating beds are just a few features that make certain hotels stand out among the rest as leaders in innovative technology and futuristic architecture. Cutting-edge technology and design make things easier, faster, and just cooler to look at. These hotels from around the world impress travelers daily. Which one will you add to your travel list?
YOTEL New York
New York, United States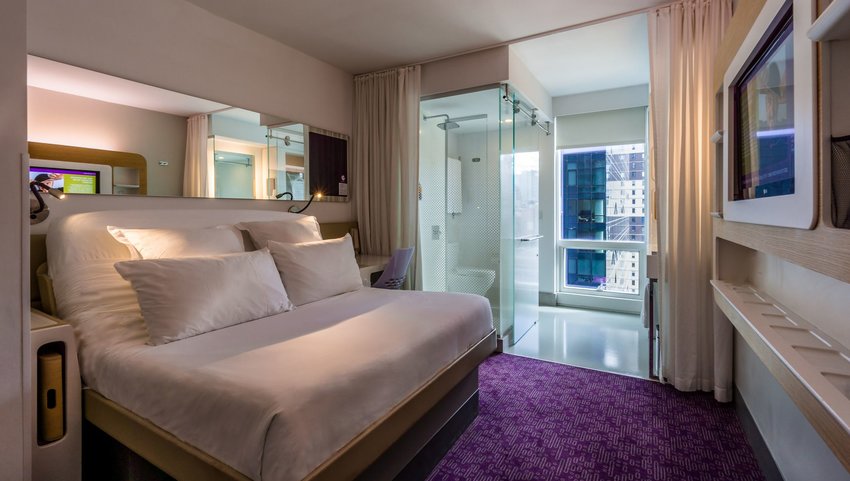 This lifestyle hotel in central Manhattan uses technology to save time and reduce the stresses of hotel stays by focusing its resources on providing guests with "everything you need and nothing you don't." So, what does that include? Begin your stay with a quick and easy check-in at an airline-style, self-service kiosk in the lobby. Then, download YOTEL's mobile concierge app to make requests, adjust your reservation, order food, and so much more during your visit. Don't forget to check out the YOBOT, the world's first robotic luggage concierge. In-room tech amenities include a heated towel rack, adjustable SmartBed™, smart TV, and adjustable mood lighting.
Hotel Puerta America
Madrid, Spain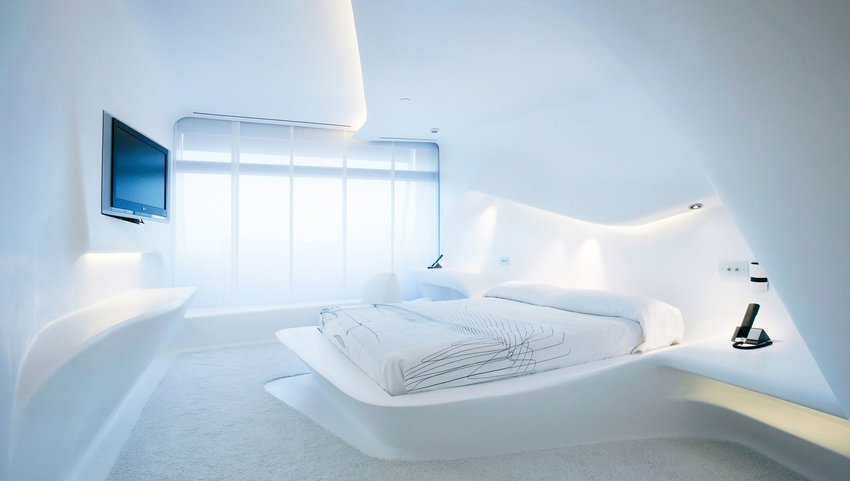 Located in downtown Madrid, Hotel Puerta America is the culmination of innovative work from four of the world's top architects including Zaha Hadid and Norman Foster. The sleek, five-star hotel is colorful on the outside and refined on the inside — boasting different design styles on each of its 12 floors. Its futuristic "Space Club" rooms and suites give guests a glimpse of what life in outer space might look like with moveable bedroom walls for room customization, floating furniture, and all the bells and whistles you could need.
Morosani Fiftyone
Davos, Switzerland
If you're looking for a quality stay in Switzerland that won't empty your wallet, Morosani Fiftyone is for you. This unique hotel building is a room-only facility, which means that guests check in and out and select upgrades on a machine that resembles an ATM. Yes, that means Morosani Fiftyone's lobby is just a machine, but the idea is to simplify the guest experience by using only technology. If you're still stuck on the thought of having a staffless hotel lobby, don't worry — another Morosani brand hotel, Morosani Posthotel, is located across the street and is available for meals and other guest services. Apart from unique technology features, the hotel's interior design feels right at home in Switzerland. Combining clean, modern themes with alpine accents, the interior is perfect in a country known for its innovative architecture.
Blow Up Hall 5050
Poznań, Poland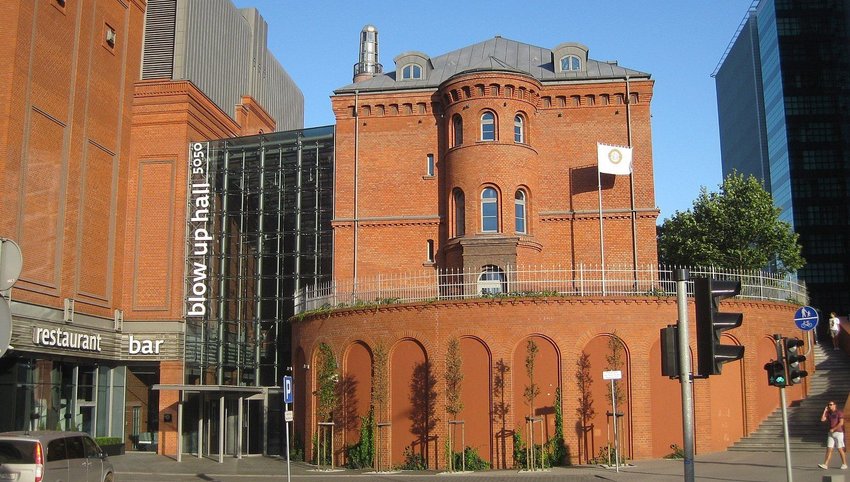 Blow Up Hall 5050 is a hotel for modern art enthusiasts and tech lovers alike. Named after an art installation by Mexican-Canadian artist Rafael Lozano-Hemmer, each guest begins their visit with a digital, interactive art exhibit you have to see to believe. The hotel features other works of art from world-famous artists, sleek monochromatic rooms, and unique amenities. Believe it or not, the hotel features get even better. Blow Up Hall 5050 does not have room numbers or a reception area. Instead, guests are provided with an iPhone at check-in, rather than a key, to locate their room and open it. This virtual concierge provides access to all hotel features and guest assistance, along with information on cultural and local events.
The Torch Doha
Doha, Qatar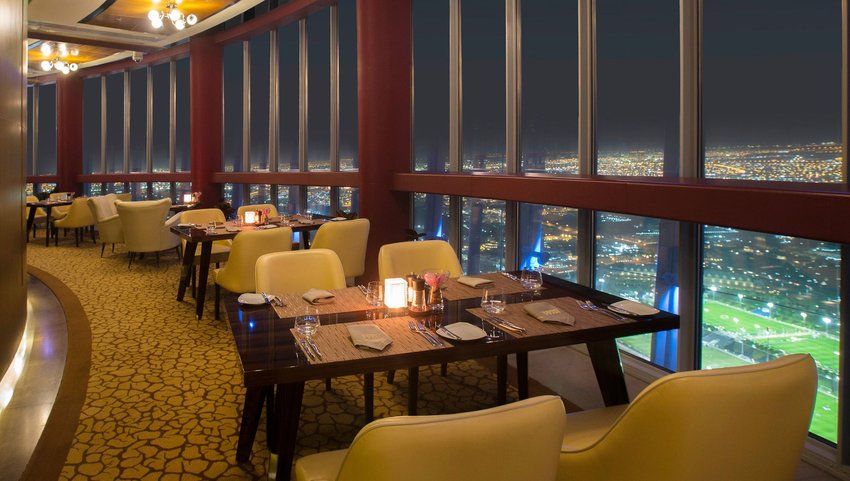 Ever dream of controlling everything in your hotel room without leaving your bed? The Torch in Doha, Qatar, provides an in-room iPad to every guest, which controls lighting, curtains, climate, locks, entertainment, guest services, and dining. Choose from 12 different colors of mood lighting on the walls and ceiling to completely switch-up the look and feel of your bedroom. Apart from in-room technology, this torch-shaped hotel features a rooftop pool and a revolving restaurant called Three Sixty. Located on the 47th floor, the restaurant gives visitors one of the best panoramic views the city has to offer.
Seven Hotel
Paris, France
A high-tech theme permeates this central Paris hotel and is evident in fiber-optic lighting, transparent furniture, and floating beds. Seven Hotel offers guests two styles of rooms — a "classic" room that looks straight out of a sci-fi film, or one of seven unique suites each with its own design concept. The "Sublime Suite" is decorated in floor-to-ceiling white textures and furniture. Featuring a round bed and an out-of-this-world orb-shaped bathtub, the sleek, curved designs in this suite provide a futuristic, yet romantic atmosphere. If that doesn't sound like your style, the "Secret Agent Suite" inspired by James Bond 007 films has a darker, bold feel with wooden and metal accents, mood lighting, and spy-worthy décor and electronics including a large, flat-screen TV in the lounge.
theWit Chicago
Chicago, United States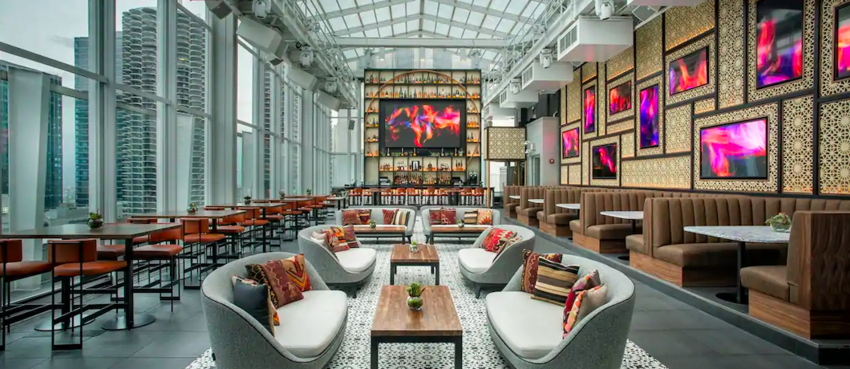 As an upscale riverfront hotel in the Theater District, theWit Chicago provides guests with any daily in-room technologies such as iPhone docks and free WiFi. The crown jewel of the hotel, however, is its award-winning rooftop lounge, ROOF, that features skyline views, a retractable roof, and a venue for famous DJs. If you know anything about Chicago weather, wintertime is chilly, which is why ROOF is equipped with a unique retractable glass ceiling for year-round climate control. Added features like a patio fireplace and floor-to-ceiling windows create a comfortable, cozy atmosphere year-round.
CUBE Boutique Capsule Hotels
Singapore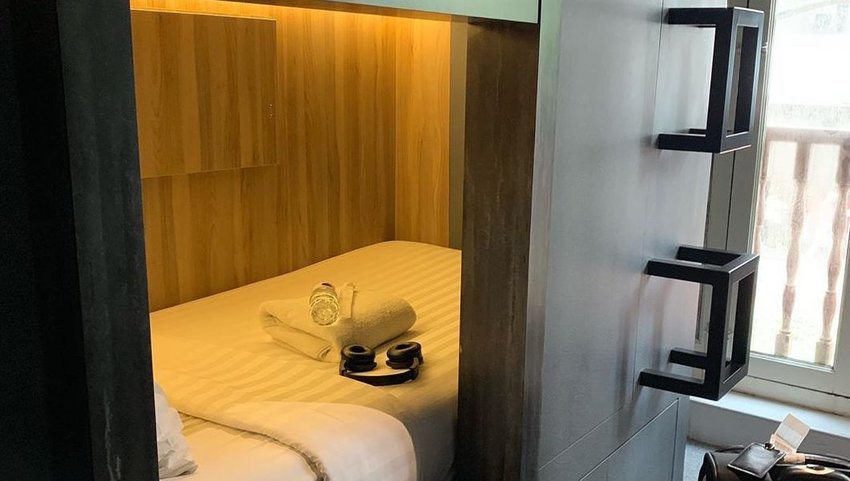 With two locations in Chinatown and Kampong Glam, CUBE Boutique Hotels offer modern, tech-focused rooms to travelers wanting a hostel-style facility. Each capsule is a private, fully-enclosed bunk with many of the same modern amenities found in full-size hotel rooms. In-capsule technology includes individual ventilation control, free, high-speed WiFi, universal plugs, USB charging ports, and dimmable lighting. This sleek hotel with vibrant accents gives central Singapore visitors affordable luxury while staying steps from popular sights.
Eccleston Square Hotel
London, United Kingdom
The exterior design of this English hotel is somewhat deceiving. While Eccleston Square Hotel might look like any historical building in central London, its cutting-edge, in-room amenities give guests the best of both worlds — world-class technology and traditional, elegant English interior design and décor. Every room comes with touchscreens for music and lighting control, a tablet with concierge service, and a Hästens bed (an electronic massage bed). Enjoy entertainment while getting ready for the day on a flat-screen TV embedded into the bathroom mirror. According to Eccleston Square, they strive to fuse "history, technology, luxury, and personal service," and we think they've gotten it right.