If you consider yourself the kind of traveler who likes to seek out hidden gems and underrated destinations, the idea of visiting a tourist hotspot might fill you with horror. Expensive and overcrowded, they often represent the worst of the tourist industry. But there's a reason why these places are so popular, and in some cases, to miss them really is to miss out. Here are ten "tourist traps" around the world that are actually worth visiting.
Niagara Falls, Canada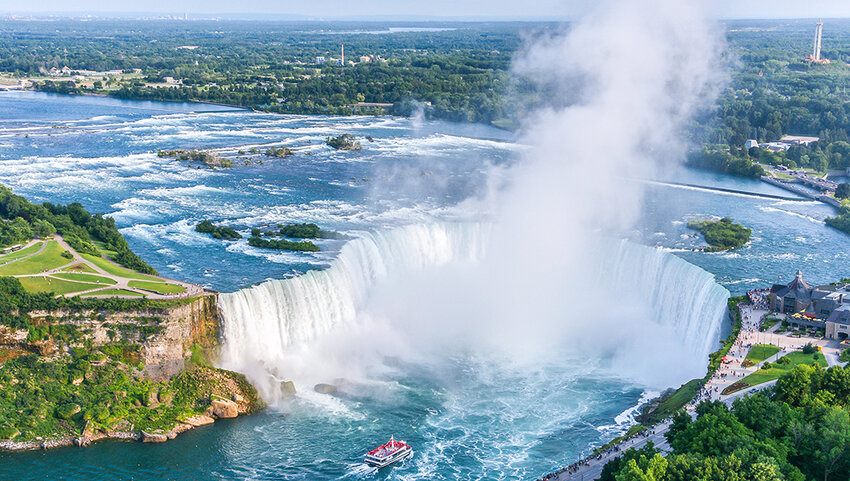 Niagara Falls is one of the most accesible major waterfalls in the world. Critics say its paths, tunnels and overlooks – not to mention the evening light show – detract from its natural beauty. However, the sight of such a huge volume of water cascading down is truly deserving of the word awesome. On average, 3160 tons of water flow over Niagara Falls every second, falling at a rate of 32 feet per second. Whether you walk behind the curtain of water or feel the spray as you approach on the iconic Maid of the Mist boat tour, it's impossible not to be impressed by this magnificent landform.
Stonehenge, England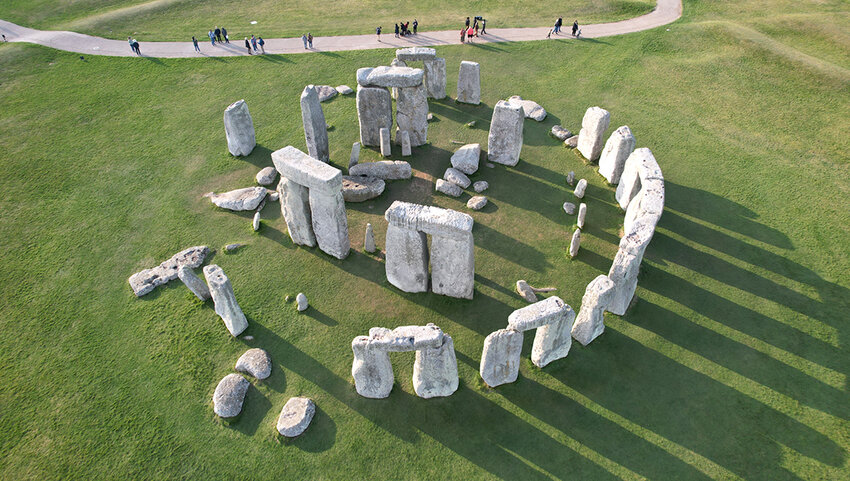 Stonehenge features on many wish lists for visitors keen to get out of London and see a bit of the English countryside. But visiting this English Heritage site, despite its value as an ancient ceremonial landscape, can be underwhelming. Still, it's hard to write off a prehistoric stone circle that comprises unique sarsens and bluestones, particularly one whose original purpose and method of construction has been the subject of so many discussions. If you're traveling on a budget, know that walkers can follow a permissive path to get close to the standing stones without having to shell out for the expensive admission fee. Make the trip out of the city extra worthwhile by stopping through a few nearby sites, as well, like the ancient ceremonial sites at Avebury.
The Long Bar, Singapore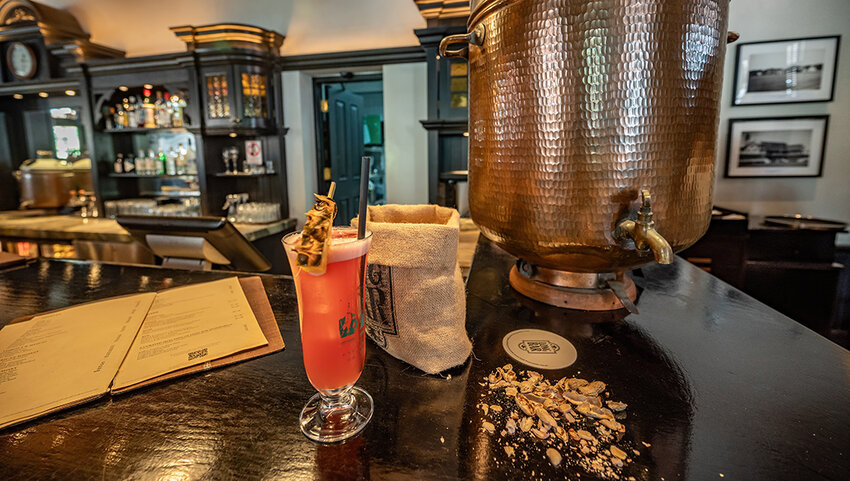 You'll need deep pockets if you want to be able to tell your friends you've sipped a Singapore Sling in the Long Bar at Raffles Hotel. This iconic pink cocktail was invented here in 1915 and later adopted as Singapore's national drink. It's a blend of gin, Bénédictine, cherry liqueur, curaçao, fruit juices and the grenadine syrup which gives it that distinctive color. In upscale surroundings, bartenders invite customers to nibble on peanuts as they drink. It's traditional to sweep the shells off the bar onto the floor, an unusual thing in a country that's normally so anti-litter. A glass will set you back an eye-watering 39 Singapore dollars (around US $28). Despite the expense, it remains a quintessential experience, so save room in the budget for at least one.
The Blue Lagoon, Iceland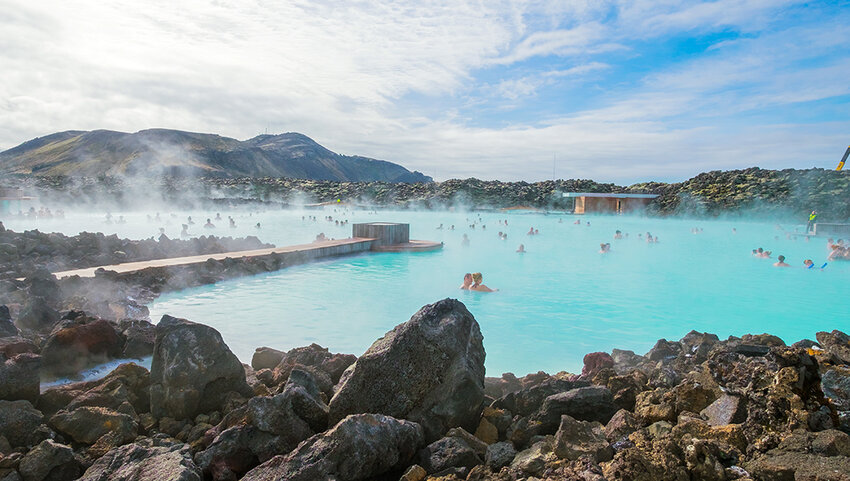 When the Blue Lagoon first opened in 1992, it was hailed as an innovative way to ensure surplus warm water from the nearby hydroelectric plant wouldn't go to waste. Over the years, the facilities have been expanded and improved; today, this luxurious – and expensive – spa is a far cry from the original geothermal lagoon. Even in the depths of winter, you won't have the warm, milky blue water to yourself. The number of visitors to Iceland has increased dramatically in recent years, spawning a clutch of high-end geothermal baths to visit. But while some travelers might extol the virtues of these competitors, the Blue Lagoon manages to hold its own and remains a must-do for anyone bound for Iceland.
Damnoen Saduak Floating Market, Thailand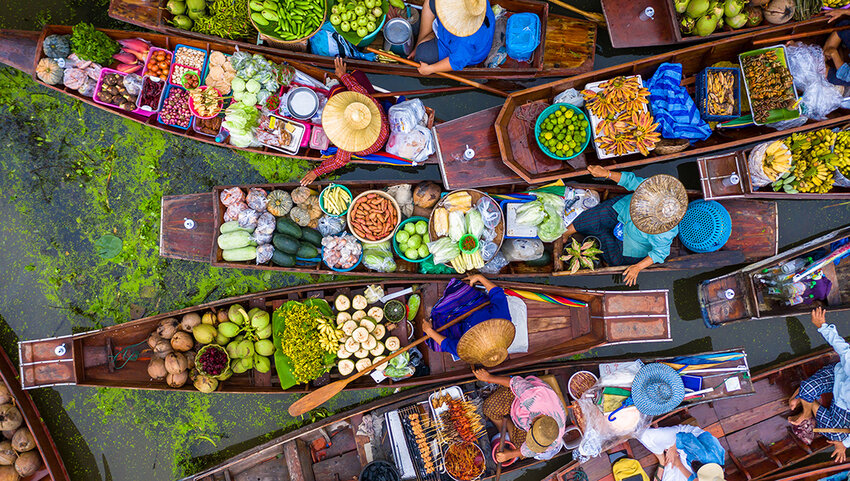 Damnoen Saduak is where you'll find Thailand's most famous floating market. A canal was dug here in the 1860s to connect the Mae Klong and the Tha Chin rivers, and soon a network of smaller waterways popped up enabling locals to sell goods from wooden barges. Located a short drive from Bangkok, it's the obvious stop for those hoping to venture beyond the capital. But such proximity makes it a prime example of a tourist trap, with vendors hawking cheap souvenirs alongside the traditional fresh produce for which the market was originally known. Still, it remains a colorful spectacle and offers the chance to learn about Thai culture and cuisine.
Temple Bar, Dublin, Ireland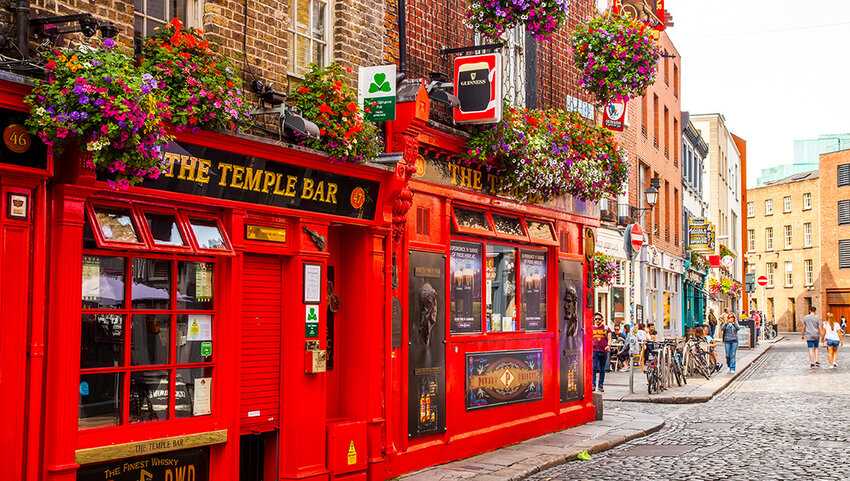 Dublin's Temple Bar district is a focus for visitors keen to experience Ireland's legendary craic on a night out. But although the place is buzzing, the clientele that frequent its pubs is often made up of other foreigners, with eye-wateringly high prices. But there's something about its namesake pub with its striking red livery and long history, which proves irresistible. Maybe it's the claim to having Ireland's largest selection of whiskeys that does it (more than 350), or just a yearning for a pint of Guinness as you listen to some catchy live music.
The Badaling Section of the Great Wall of China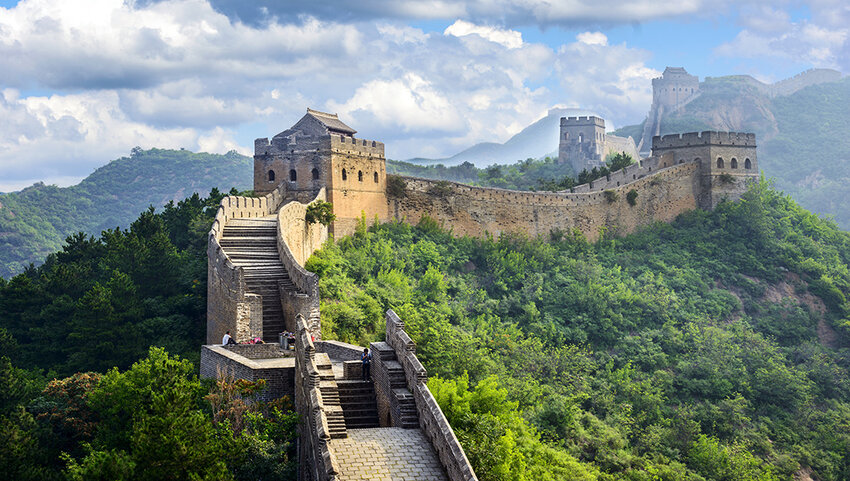 The Great Wall of China stretches for more than 13,000 miles and is designated a UNESCO World Heritage Site for its strategic, historic, and archaeological importance. Sections of this remarkable fortification were constructed at different times and have been restored to varying degrees. One of the most accessible sections is Badaling. This part of the Great Wall, the first to open to visitors, has been heavily repaired, and it's located less than 40 miles from Beijing. Unsurprisingly, that makes it far busier than more remote parts of the wall, leading the Chinese authorities to announce a visitor cap in 2019 to ease congestion. Yet even at its most crowded, the Great Wall at Badaling remains an extraordinary place.
The Grand Bazaar, Istanbul, Turkey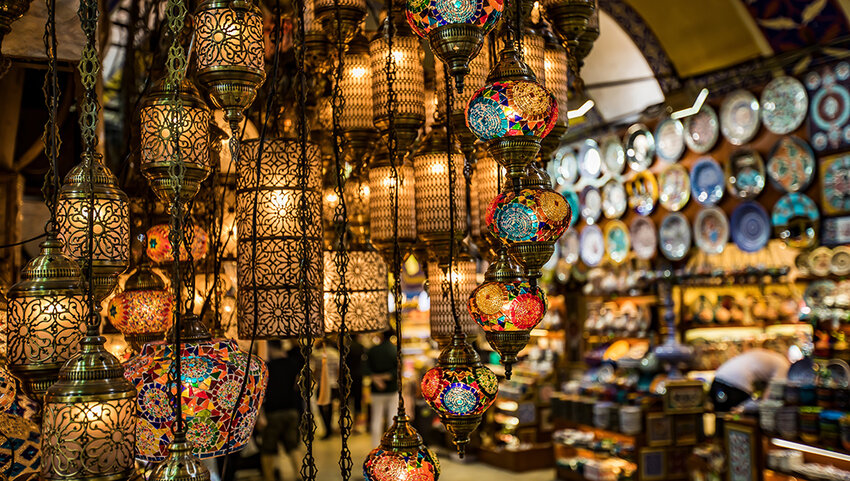 The Grand Bazaar in Istanbul attracted almost 40 million visitors in 2022. It boasts around 4,000 stalls, so it should be no surprise to learn that quite a number of them specialize in tourist keepsakes. However, don't let this be a reason to put you off coming. This sprawling covered market dates back to the 15th century, making it one of the oldest shopping malls in the world. Allow yourself plenty of time to wander its streets and browse what's on offer in the different sections of the market. For instance, bargain for an antique carpet in the Zincirli caravanserai or shop for handmade clothes at Eğin Tekstil which has stood at the entrance of the Örücüler Gate since the 19th century.
La Rambla, Barcelona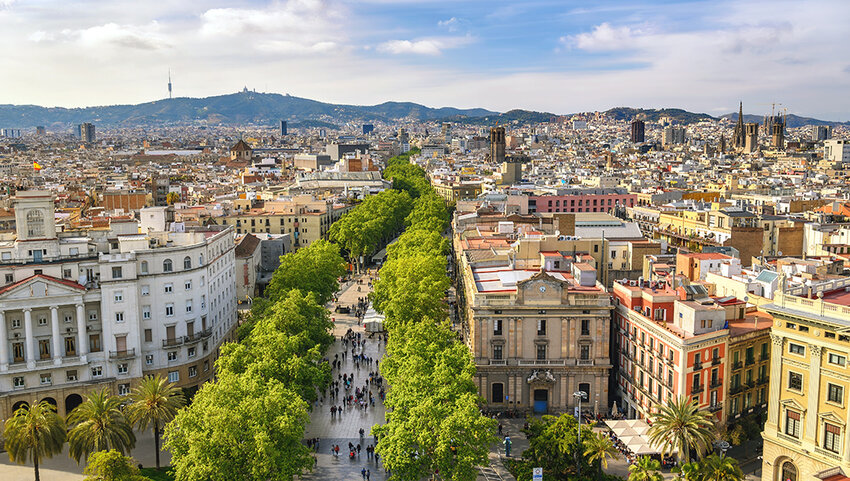 La Rambla is a broad tree-lined avenue laid out in 1766. Running perpendicular to the coast from Plaça de Catalunya and split into six sections, it's changed a lot over the years; the flower sellers who used to ply their trade along La Rambla de Sant Josep are long gone, and today it is often crowded with tourists. Human statues, caricaturists, and street vendors distract those who amble by, making this a prime location for pickpockets. Duck into its tacky museums or overpriced restaurants and you're highly unlikely to hear a local accent. So why bother? For starters this street is a convenient route to some of the city's most attractive neighborhoods, such as the Barri Gòtic (Gothic Quarter), while its palm trees and tiled mosaic floors remain a pretty sight, despite the crowds. Just keep a firm hold on your purse.
The Leaning Tower of Pisa, Italy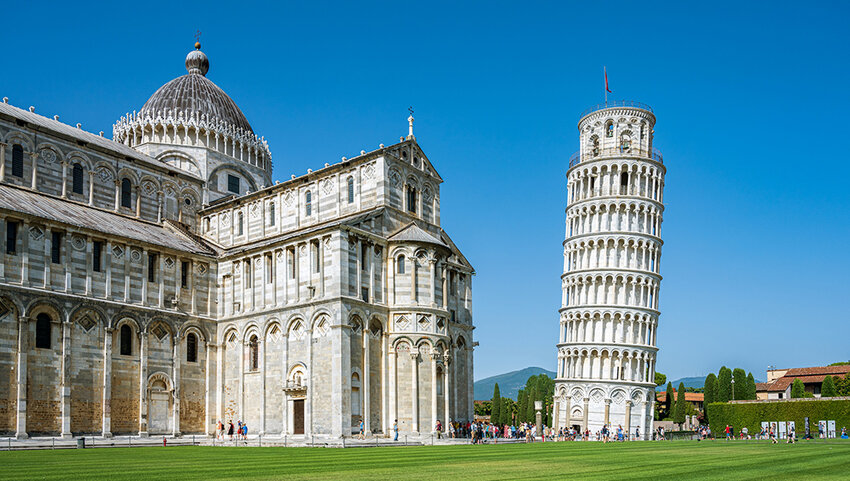 Some visitors to Italy dismiss the Leaning Tower of Pisa as nothing more than a tourist trap. On the face of it, it's not hard to see why: hordes of visitors posing for the same clichéd photograph as they prop up history's most notorious engineering fail. Many simply grab the shot and leave, keen to head off and see more of Tuscany's treasures. However, it's worth purchasing a ticket to climb the 251 steps that form the spiral staircase leading to the top of the tower. Its inclined steps have been worn smooth over the centuries and slant as dramatically as the structure itself, making this a unique ascent. At the top, you'll get a close-up look at the bells of the Campanile and enjoy a bird's eye view of this characterful university city.