It's that time of year again when we are all striving to be better versions of our last year selves. The holidays are great fun but can leave us feeling bloated and less from healthy. The New Year is the perfect time to restore our minds and our bodies. Making life changes and embracing new habits can be harder said than done though, sometimes we all need a little help.
Welcome to the rise of the wellness resort. These resorts have evolved to be much more than luxurious spas — they offer us the opportunity to be at one with nature, awaken our spirituality and start on the path to a healthy body and mind. We've found the best wellness retreats that are sure to help you escape the day-to-day distractions standing in the way of the new you.

The Amanera, Playa Grande, Dominican Republic
This stunning wellness resort is not only nestled in the Caribbean jungle but it overlooks one of the best beaches in the Dominican Republic. Stay in one of the 36 private casitas that hug the hillside and watch as the waves crash against the golden sand. The Amanera boasts a surf and sun experience, ideal for sports enthusiasts who need to get their body back in line for 2019. Chakra-balancing energy treatments, surf-inspired yoga and thought-cleansing meditation all feature on the daily spiritual menu. The resort also offers lunar journeys with the New Moon encouraging fresh beginnings. Perfect for New Year resolutions, they focus on creativity, enlightenment and purification. If you need to take a piece of perfection home, the resort now produces its own skincare line so you can let locally-sourced palo santo and jasmine infuse your new life.
Ananda, Rishikesh, India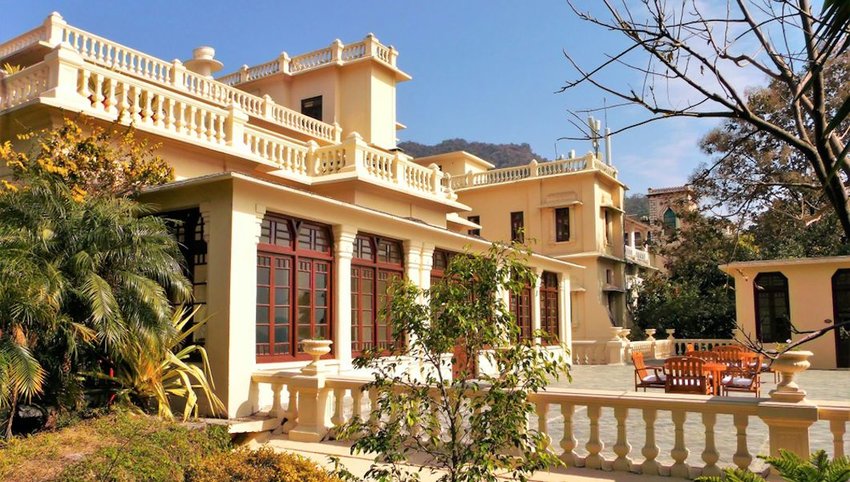 Situated on a Maharaja's Palace Estate surrounded by Sal forests and overlooking the spiritual town of Rishikesh and the Ganges River, this retreat's location alone is enough to replenish your soul. Ananda offers so much more than its enchanting surroundings. The founders are dedicated to redefining lifestyles through traditional Indian wellness regimes expertly entwined with the latest wellness experiences. Believing that what we eat is a huge part of our wellbeing, the concept of traditional Ayurvedic food has been adapted to suit international cuisines. Every inch of the retreat radiates its holistic approach and with 24 treatment rooms offering everything from yoga to whole body therapy, and a temperature-controlled outdoor lap pool on offer, you'll soon restore your life's balance.

Cala De Mar, Ixtapa Zihuatanejo, Mexico
The wellness retreat at Cala de Mar offers a divine mix of indigenous Mexican traditions, Aztec healing rituals and modern wellness practices. Snuggled between the mountains, the ocean and a tropical forest, you can't help but feel at one with nature. Each year, experts are flown into the resort to cover everything from Qigong to quantum healing. The pièce de résistance is the newly-opened temazcal, a circular domed sweat lodge of pre-Hispanic Indigenous origin, offering you the chance to purify your body. When you need to retreat to your room you won't be disappointed either — each suite has its own oceanfront terrace and private plunge pool.
Brenners Park Hotel & Spa, Baden-Baden, Germany
The grand resort at Brenners Park-Hotel & Spa has been around for nearly 145 years, making its wellness menu appear as established as the Black Forest Mountains that surround it. The country-house style hideaway offers classic rooms with views over the park and tree-lined valley. Or, for a more intimate experience, you can stay at Villa Stephanie next door, which provides cutting-edge medical facilities. Whether you're in need of a digital detox, stress management or aesthetic dentistry, you'll be in safe hands. Take some time out of your individual program to visit the beautiful pool with its stunning views over the river Oos. All this is topped off with a choice from Finnish Saunas, Aromatic whirlpools and steam baths.

BodyHoliday, Gros Islet, St Lucia
This wellness retreat perfectly balances wellness and fitness for those looking to treat their bodies to more than just relaxation. BodyHoliday hits the perfect spot, letting you tailor your retreat to find the perfect balance. If you want intensive hard-core exercise you've got it but you can also lie back with a coconut water and reclaim your inner zen. For a large resort, the service is amazingly personal, making it a Caribbean retreat to remember. The spa resembles a mirage, and its 36 treatment rooms spoil guests with a thalassotherapy pool, Ayurvedic temple and even a body science clinic. Your tummy will thank you too — with a juice bar and sushi counter on site you're never too far from a satisfyingly healthy snack.

Sha Wellness Clinic, Alicante, Spain
Sha Wellness Clinic aims to help you achieve total mind and body transformation with its incredible, life-changing activities and wellness treatments. The retreat has its own academy focusing on healthy living, giving you the tools to continue your new healthy lifestyle into 2019 and beyond. Leading natural therapies are used to rebalance your body, eliminate blockages and strengthen your immune system. The clinic doesn't just focus on physical wellbeing, either — they promote pioneering techniques to maximize cognitive function and live life to its fullest potential. Try the brain photobiomodulation treatment and let NASA-developed science accelerate and rebalance your body and soul.

1440 Multiversity, California, USA
A university for holistic learning, 1440 Multiversity aims to awaken all aspects of your being. The 75-acre campus is surrounded by ancient redwoods, a piece of tranquility at the border of Silicon Valley. Your campus room rate includes wellness classes, locally-sourced meals and access to the Healing Arts center. A university to re-energize your soul, the retreat employs stellar teachers but still gives you downtime for self-reflection. Meet with like-minded people and have conversations that matter, challenge your leadership and give into the joys of storytelling. Spend every one of 1440 minutes of the day connecting with what truly matters to you.

Waldhaus Flims Alpine Grand Hotel & Spa, Flims, Switzerland
The spa at Waldhaus Flims was opened back in 1869 and those years of experience certainly shine through today. Although still cloaked in a skyscraper woodland, it has certainly gone through a few changes since its opening. The $40 million refurb in 2016 has created a hotel that reflects its heritage with Belle Epoque rooms worthy of royalty. The spa is a piece of art in itself, arranged across a series of stone and Perspex cubes. The combination of quartz, water and fresh mountain air is enough to wash anyone's troubles away. Test your temperature-threshold by diving into the spa's ice-hole, then warming up in the earth sauna. To truly feel in tune with nature, soak in the outdoor bathing pool filled with mountain spring water.
Aro Hā Wellness Retreat, Glenorchy, New Zealand
If you want to completely overhaul your lifestyle then the Aro Hā Wellness Retreat, overlooking the expanse of Lake Wakatipu, is the place to do it. A sanctuary for those inspired by nature, adventure and self-development, everything about the resort is as epic as its setting. The rooms are inspired by Zen principles — think minimal furnishings, natural lighting and recycled timbers — and every space has been designed to encourage communal living. The retreat believes that health is built from the inside out and culinary offerings are all enzyme-active, paleo-friendly and rich in quality probiotics while managing to be pretty tasty too. You can try your hand at alpine hiking, vinyasa yoga and dynamic body movement as well as focusing on mindfulness and inner peace. Get your life back on track and make some new lifelong friends to share it with.
Six Senses Douro Valley, Lamego, Portugal
Just because you've resolved to be a better you doesn't mean you have to give up all your vices. Perched on a hill overlooking the vine-covered hills of one of the world's oldest wine regions, Six Senses Douro Valley merges speciality spa treatments with wondrous wine workshops. The hotel has its own interactive Wine Library where the resort's sommelier will guide you through the area's leading vintages. Sleep off all the vino in modern rooms with breathtaking views and then reclaim your inner balance at the spa. Portuguese traditions focus on water, stone and wood and professionals in everything from acupuncture to aerial yoga will distract you from the vines for enough time to restore yourself.