America's national parks offer some of the best places to immerse yourself in nature, with stunning coastal and mountain landscapes that provide the ultimate spot for outdoor adventure. While most national parks offer campgrounds, a select few have hotels or lodges right within their boundaries. If roughing it isn't something you relish, you'll want to consider one of these properties, from the protected Alaska wilderness to the exotic shores of Hawaii.
Old Faithful Inn – Yellowstone National Park, Wyoming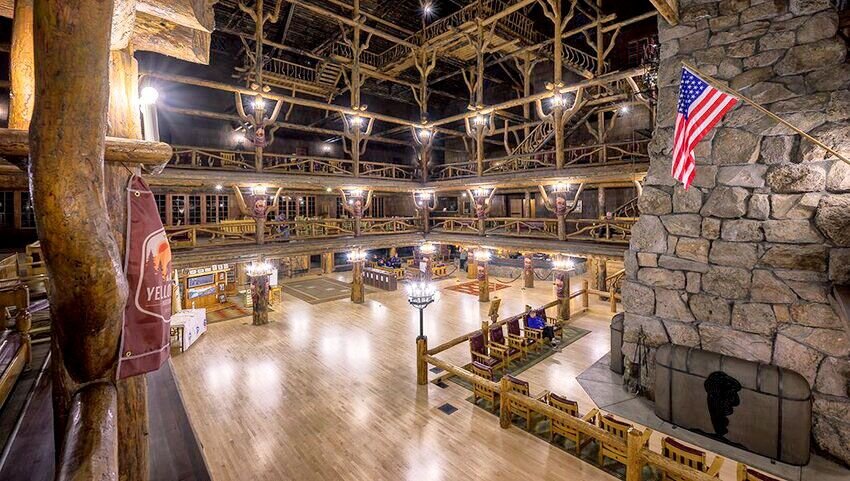 A national historic landmark, the Old Faithful Inn opened in Yellowstone National Park in 1904, with the radiators and electricity fueled by a steam generator. It's been the most popular place to stay in the park ever since, offering a warm, rustic feel, while still being spectacularly grand. The lobby is particularly impressive with its nearly 80-foot-high ceiling and huge stone fireplace. Rooms line the exterior of the seven-story log building, and each level has a balcony that overlooks the lobby. Some also boast breathtaking views of Old Faithful and the other geysers nearby. They don't include TVs or Wi-Fi, so this is a perfect opportunity to forget about those electronic devices and just enjoy all that the inn and the park have to offer.
Open only from early May through early October, the inn is the most popular accommodation option in the park, so you'll want to book your stay well in advance.
Glacier Bay Lodge – Glacier Bay National Park, Alaska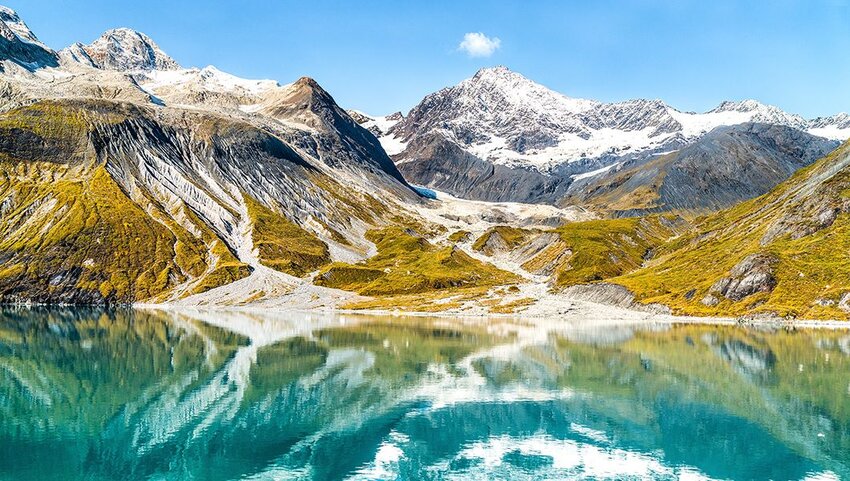 Glacier Bay Lodge is the only non-camping option for accommodation in Glacier Bay National Park. Open from around Memorial Day Weekend to Labor Day Weekend, it can only be reached by boat or plane. Most visitors take the 35-minute flight from Juneau followed by the lodge shuttle. The effort is worth the reward as you'll be surrounded by snow-capped mountains, glistening turquoise water, and a wealth of wildlife. The highlight of a stay here is the catamaran tour operated by the lodge that will bring you to the park's famous glaciers. Along the way, watch for the bald eagles and puffins that soar through the sky; mountain goats, coastal brown bears, and moose that roam the land; and sea lions, sea otters, porpoises, and whales that swim through the water.
The lodge guest rooms are tucked among the spruce trees at Bartlett Cove and include options for bay views. You won't have access to TVs or Wi-Fi in your room, but you can connect in the lobby, which features a stone fireplace, and a restaurant with floor-to-ceiling windows for dining or unwinding with a magnificent view of the bay.
Lake Quinault Lodge – Olympic National Park, Washington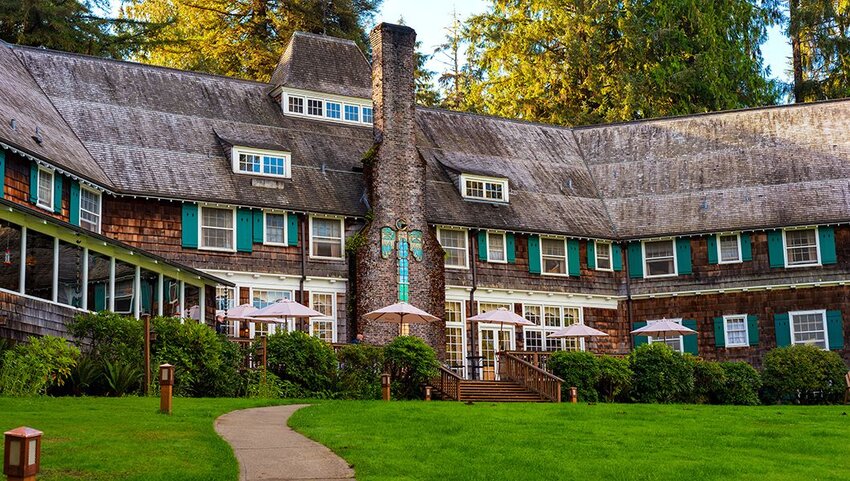 Located at the edge of Lake Quinault in the western region of lush Olympic National Park, historic Lake Quinault Lodge provides the perfect base for exploring the rainforest and enjoying activities on the lake, with paddleboards, kayaks, and canoes available for rent. Plus, the coast is less than 30 miles away if you want to enjoy the park's wild stretches of driftwood-strewn beach that's thrashed by powerful waves. The lodge offers guided boat tours and tours through the rainforest where you'll watch for black bears while learning about Quinault Indian Nation history.
A variety of lodge rooms are available year-round, including Fireplace Rooms with gas fireplaces and private lake and forest views. All come with TVs and Wi-Fi, while common amenities include an indoor pool, sauna, game rooms, and an outstanding restaurant.
The Ahwahnee – Yosemite National Park, California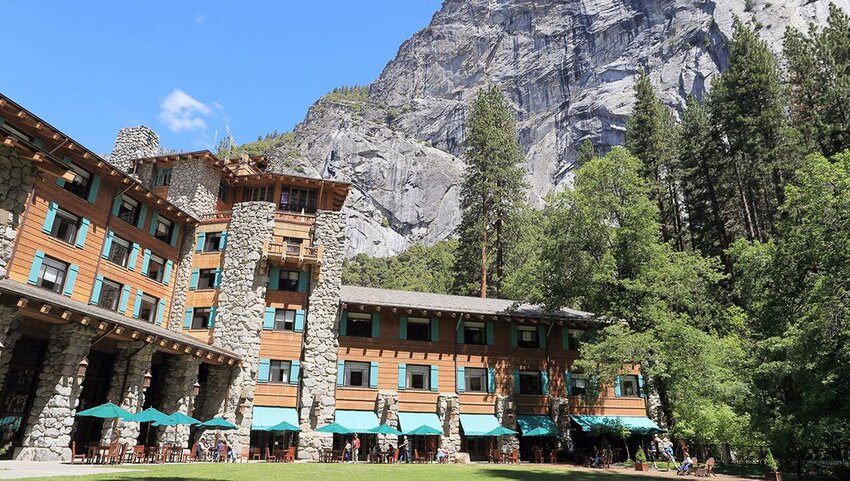 Open every season, The Ahwahnee is an iconic property in one of the most breathtaking national parks in the country, Yosemite. Nestled among the park's famous dramatic cliffs with sheer granite faces and enchanting waterfalls in Yosemite Valley, it's hosted everyone from photographer Ansel Adams to Presidents Kennedy and Obama since opening its doors nearly a century ago. Guests are steps from scenic trails that lead to the park's famous peaks and cascades. Those who prefer to hang around the hotel will enjoy awe-inspiring views from the grounds and through the massive lodge windows of Yosemite Falls, Glacier Point, and Half Dome.
There are two dozen cottages and 97 rooms in the main lodge, ranging from standard to presidential, including the Mary Curry Tresidder Suite where Queen Elizabeth II once slept. While the interior elegantly blends Native American and art deco influences, you'll have modern amenities, including a flat-screen TV and Wi-Fi.
Volcano House – Hawaii Volcanoes National Park, Hawaii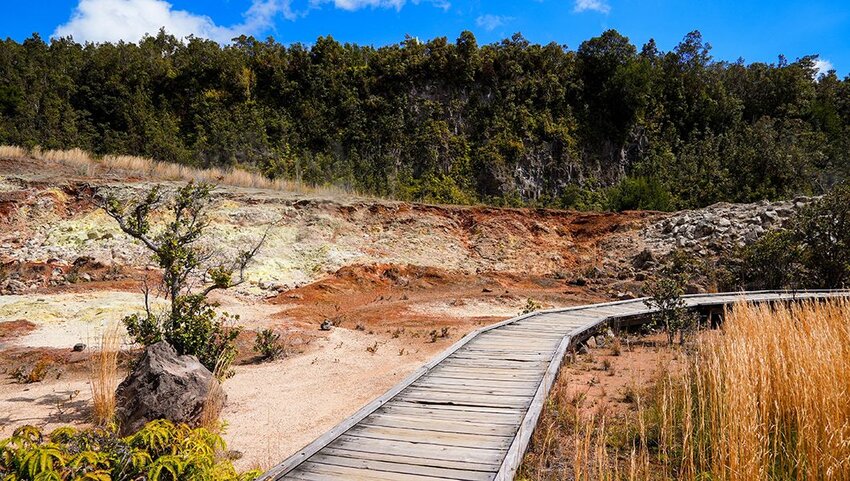 Those who are fascinated by volcanoes shouldn't miss the opportunity to stay at Volcano House. Located inside Hawaii Volcanoes National Park, it offers one of the most stunning views you'll find in any national park lodge. From the main floor, you'll be able to watch the fiery glow through the massive windows. The park protects Kilauea volcano, one of the world's most active, producing some 250,000 to 650,000 cubic yards of lava daily – that's enough to resurface a two-lane, 20-mile stretch of roadway every day.
Guests who stay at Volcano House will be just a skip and a jump from hiking trails that wind around the edge of the caldera and there are daily guided walking tours available as well. Many of the guest rooms come with volcano views, some have lanais, and all come with Wi-Fi. Dining with a backdrop of the caldera and the crater can be enjoyed at The Rim at Volcano House, which offers an impressive menu of grass-fed beef and fresh-caught fish.