When a vacation to Greece is on the horizon, or even just part of a long-term dream, it's best to think big. These are the Greek Isles, after all. So, splurge a little and let yourself sink into an oasis of posh Mediterranean hospitality while you sip on some ouzo and kick your feet up at the pool.
There are hundreds of Greek Isles for the truly ambitious, but assuming your travel plans will take you to the most desirable islands like Santorini and Crete, consider booking a room (or stopping by for a photo) at one of these luxurious hotels.
Mystique Hotel - Santorini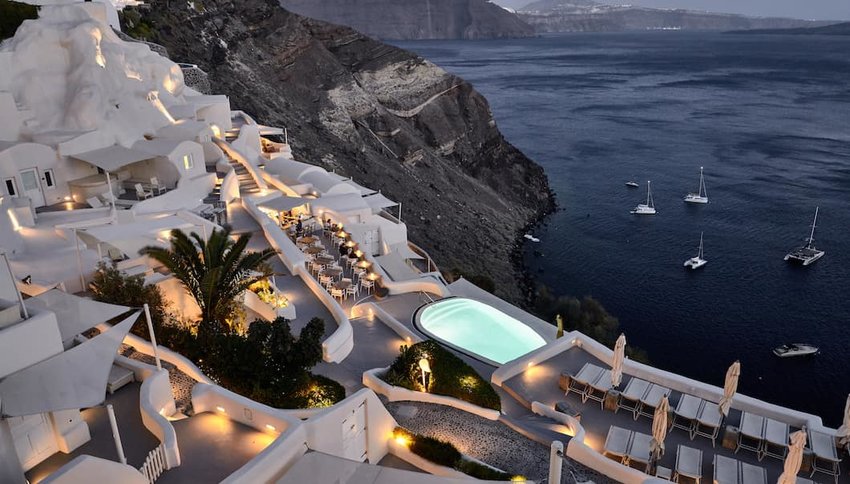 An astonishing view can make anyone swoon, but be careful when you're enjoying the vistas at Mystique Hotel, because you're basically on a cliff. This luxurious resort in Santorini provides the best in sea views. There's the crystal blue waters of the Aegean Sea below, the white-splashed architecture on the Caldera and caves opening up to the naturally splendid scenery. The hotel features two restaurants and a cocktail bar, but the real treat is the wine cave which offers tastings of local vinos.
Inside the hotel, guests will stay in one of the 40 suites or villas, which are all connected by a walking path for direct access from room to room to pool. All of the accommodations come with views of the sea, spacious bedrooms and open-air balconies. For something special, book the Secrecy Villa, which includes a private fitness room and your own plunge pool.
Amirandes Grecotel Exclusive Resort - Crete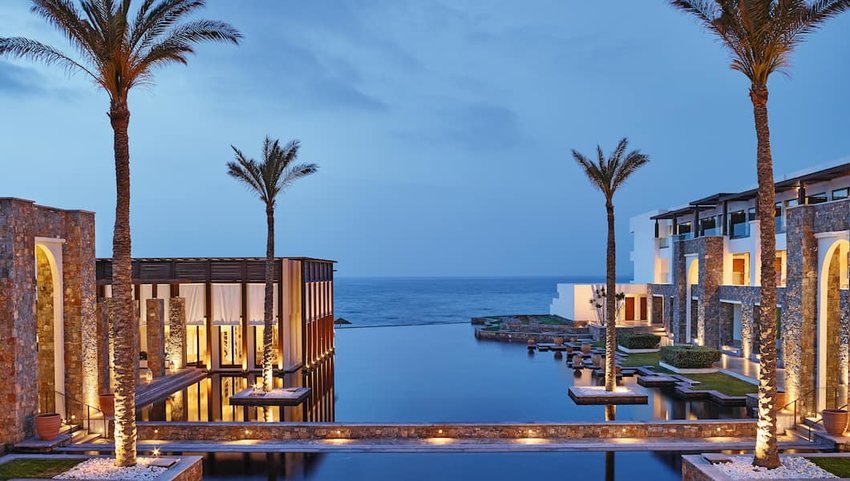 Known for its natural beauty and breathtaking gorges, Crete is famous among trekkers, hikers and vacationers who value unique experiences. Travelers who love art as much as they love luxury should check out Amirandes, located on a pretty and secluded lagoon. This hotel has its own collection of Pablo Picasso's artwork. Guests enjoy their own private beach, an enormous saltwater swimming pool and a full-service spa specializing in Ayurveda therapies.
At night, the candles illuminating the property and the hotel staff wandering around in goddess-style togas will have you feeling like you've traveled through time. Dress for dinner in one of the elegant restaurants, and then relax into your room, which will be a bungalow, villa or a suite. You're likely to have your own swimming pool, and if you book a two-story villa, you'll also get your own courtyard, terrace and beach access.
Andronis Luxury Suites - Santorini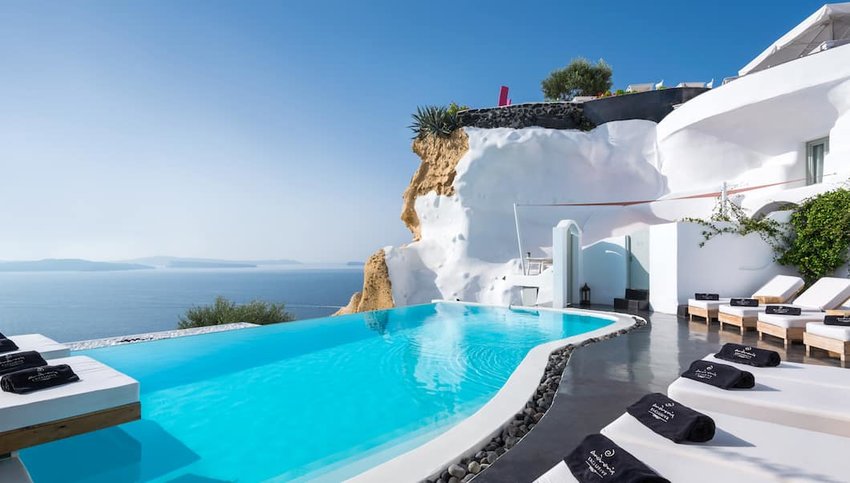 Looking to retreat into the comfort of your own private suite, complete with stunning views of turquoise sea and private cave pool? Then check into one of the 29 suites and villas at Andronis Luxury Suites. Built in the traditional white-washed style for which Santorini is famous, these suites ooze simple luxury. Book one of the sunset villas, which is a few minutes' walk from the main hotel, for extra privacy.  
The resort has everything you need for the quintessential Santorini holiday. Book an appointment at the Mare Sanus Spa in the morning, lay by the pool soaking up that Greek sun in the afternoon and then dine in the world-class Lycabettus, one of the most beautiful restaurants in the world, where you can watch the sun slip over the caldera.
Saint Andrea Seaside Resort - Paros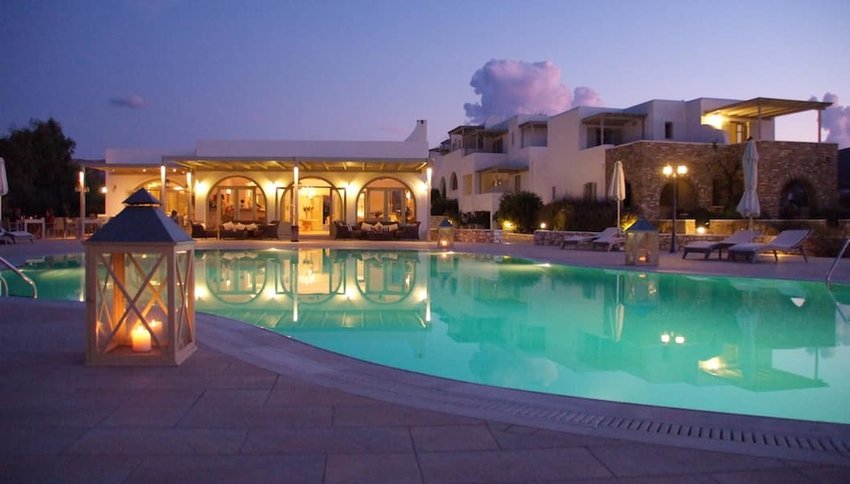 Paros has long been a star in the Aegean, but with the rise of other islands', this gem has slipped out of the limelight. And that's just fine for Paros. Between the stylish capital and its smaller fishing towns, Paros welcomes visitors with an easygoing charm that is perfect for those who want to get just off the beaten path but still enjoy everything the Greek Isles have to offer.
For those that do, Saint Andrea Seaside Resort is waiting. The resort combines classic Greek design with French elegance, making this one stay you won't soon forget. The resort sits on the way to Kolymbithres — one of the island's most beautiful beaches — so if you can pull yourself away from the pool long enough you can take a dip in the sea. And for when you need some city life, the town of Naousa is just a few minutes away.
Perivolas - Santorini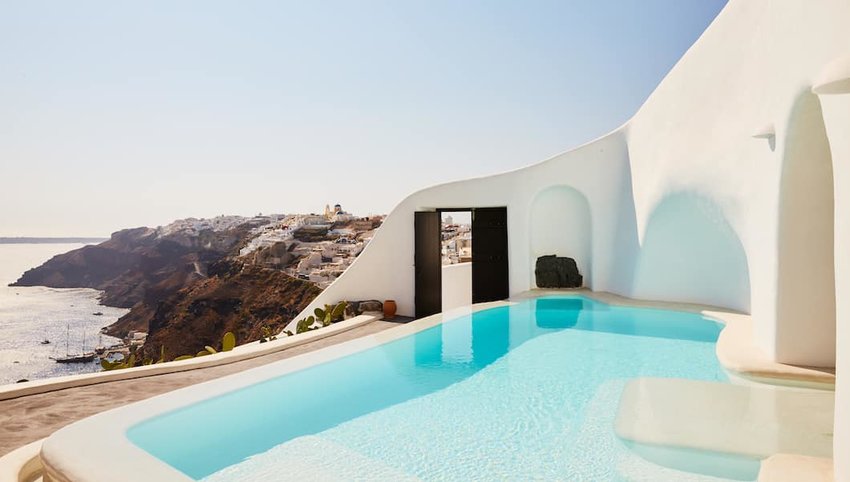 Want to dive into the historic side of Santorini? Perivolas embraces its roots, having converted 300-year-old caves that were once fishermen homes into a luxurious resort with 20 suites. You'll find that a stay in these refurbished caves is comfortable and peaceful, but still comes with the modern luxurious you want from a Santorini resort (read: infinity pool and caldera views).
Laid-back and secluded, Perivolas is set on a cliff away from the cruise ship paths, so you can skip the crowds and enjoy your own oasis. Stroll from the terraced gardens to the infinity pool with nothing but your own thoughts to keep you company. And when you want to get away from the pool and have some action, you can book boat tours and island tours directly through the hotel.